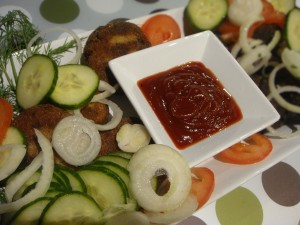 When we got married, my husband, despite being a Bong, did not like fish (blasphemous, I know). On the other hand, yours truly, in true Bong style, loved it. The health factor aside, just thinking of the rich melting flavors of fish was enough to make me whip up recipes that he would like, and maybe even love to eat. I started with fish cutlets (croquettes really, but we Bongs call it cutlets), and zing!!! Success!!
This is a true connoisseur's delight. If you are looking for healthy food, this is not it. So I am not even going bother charting the nutrition count. However, this scores a 10/10 in flavor count. The fact that it's a very easy recipe helps too.
Fish Cutlets
2 cans of chunk light tuna or any other boneless fish (if the fish has bones, debone it)
2 Medium potatoes boiled and mashed
1 onion chopped very small
1 tsp. ginger paste
½ tsp. garlic paste
4 green chilies chopped small (optional)
½ tsp. red chili/cayenne powder
¼ tsp. amchur (mango) powder [substitute: 2 tsp. lime juice]
1 cup fresh cilantro (coriander leaves)
1' cinnamon stick roasted and ground
2 green cardamoms roasted and ground
2 cloves roasted and ground
Salt to taste
½ sp sugar
A pinch of baking powder
2 cups of bread crumbs
2 eggs
1tbsp.lemon juice
1tbsp.olive oil
Oil for deep-frying
Directions:
Boil the potatoes and mash till soft.
Mix fish and all the ingredients from 3 to 15. Knead lightly.
Heat 1tbsp. olive oil in a skillet and fry the fix mixture for about 3 minutes, stirring continuously.
Add the previously mashed potato. Keep mixing and stirring for another 2-3 minutes.
Take off the heat and cool.
Break eggs in a small plate and whisk.
Spread out the bread crumbs evenly on a plate.
Make small balls of the fish mixture, shaping them into flat balls.
Dip them in the egg and roll in breadcrumbs.
Deep fry.
Serve with tomato ketchup and green/red chutney or sauces.
Note: You can use ready-made garam masala powder.
You can also substitute cardamom with nutmeg powder ( about a quarter of a nutmeg should suffice).
Refrigerate the fish balls before frying. It helps retain their consistency and stops them from breaking up in oil.
Let me know what you think.