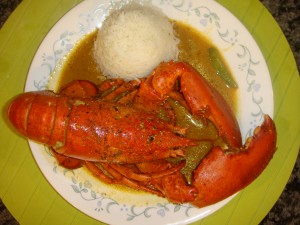 There is seafood, and then there are lobsters. There is something about the meaty gustiness of lobsters that sets them apart from most other seafood. Last weekend, our local Market Basket had a sale for Maine Lobsters. I didn't see anyone stepping out of the store without having at least 2 lbs. of lobsters in their cart. Some preferred it raw, others (like me) got it steamed – a service that the store provided at no cost.
Years ago, we visited the Western Ghats of India. The pristine sea beaches are silhouetted by statuesque palm trees, which always seem to be dancing to some delphian music of their own. We stayed in a cottage which was a little walk away from the main beach, but overlooked the sea. The cottages were supervised by a young family. I made friends with the caretaker lady, a young local and mother of two adorable kids. She also cooked local food for the guests if they requested her. She cooked for us twice in that trip. The highlight of her cooking was a lobster dish, curried in mouth tingling spices and hot chilies, tempered with coconut milk. The flavors were truly out of the world.
Over the years, I have tried to mimic her recipe. I have never really been able to recreate exactly what she made (probably because of some local mysterious ingredient, or simply a different combination of spices), I have able to develop a recipe which enriches the flavor of the lobsters without compromising their light sweetness or texture.
Ingredients:
4 lobster, shell on (weighing about a pound each)
Onions: 2 Medium – grated
Tomato puree: ½ cup
Garlic paste – 1 tbsp.
Coconut milk: 1 can
Yogurt: ½ cup
Thai Green Chilies – 8
4 tbsp. oil
Spices:
Coriander powder: 1tsp.
Fennel powder – 1 tsp.
Cumin powder – 1 tsp.
Red chili powder: 2 tsp.
Turmeric powder – 1 tsp.
Dry roast and grind into powder:
Cloves – 6
Star Anise – 2 petals
Nutmeg – 1/4th tsp.
Cinnamon – 1"
Mix the spice and dry roast powders together with a tbsp. of water and make a thick paste
How I do it:
Steam the lobsters.
Marinade the steamed lobsters with garlic paste. Place them in a baking dish and spray with olive oil.
Pre heat oven to 250 F
Place the baking dish in the pre heated oven. I let it stand in the oven while I cook the gravy.
Heat oil; fry the onions till light golden brown
Fry the spice powder paste
Add tomato puree
Spoon in the yogurt
Fry till the oil starts floating
Now add coconut milk.
Bring to a boil, and then simmer for 5 minutes.
 (At this point, remove the lobsters from the oven, then set the oven on pre heat at 300 F)
Remove the gravy from heat and pour over the lobsters
Add green chilies.
Cover the dish with aluminum foil and bake for 10 minutes.
Serve hot with rice.
This goes excellent with Basmati rice. This time, I made the gravy much lighter as hubby wanted it that way. Normally, the gravy is much creamier and thicker.
Most of the ingredients listed in this recipe can be found in Asian section of big departmental grocery stores. You can also get them from Indian and Asian stores.