Last three weeks my German, Leo, has been a little off weather. My normally very active dog was slow and restless. He was puking and having diarrhea too. His vaccines are all upto date, so I wasn't too worried about any any serious virus or bacterial infection. However, it did worry me that he wasn't really coming out of it.
He was listless, and wasn't really eating. He simply flopped on his paws and stayed there. When someone asked him to move, he just got up, walked a feet or two, and flopped down again. Bad. As a result, my Rottie Marina got upset too. She kept sniffing at him. And then she didn't eat food because he didn't eat. She NEVER, EVER leaves her food uneaten.
This was worrying. Memorial Day Monday it became worse, when he continued his puking and then started passing raspberry colored stool. Warning bells went off. I rushed him to the doctor Tuesday. The doc tested him, and figured it's some kind of an infection that he has.
Dogs can pass red stool for a number of reasons. I found an excellent article on this here http://www.veterinarypartner.com/Content.plx?P=A&S=0&C=0&A=677
and here: http://www.dog-health-guide.org/doghealthbloodinstool.html
Turns out, Leo was indeed suffering from Hemorrhagic GastroEnteritis (HGE). The doctor prescribed him a some strong medications. She also suggested I make him some homemade food.
Feeding Leo any medicine is a nightmare. I tried prying his mouth open and popping in a pill. I succeeded the first time, as he does not mind me opening his mouth. The moment the pill went in, he shut his mouth. And kept it shut.
Next, I wrapped the capsule in cheese.He took it in, popped it right out, then licked the cheese clean off the capsule.
Inserting the tablet in a sausage achieved some measure of success. He took half a bite before he realized it was the pill. He dropped the half eaten pill on the floor. Next piece of hotdog successfully got the rest down.
As per the doctor's instructions, I cooked him some chicken and rice, and added some squash in it. Squash is a cooling vegetable. I figured it's normally good on the stomach for humans, so could have the same effect on dogs too.Here's the recipe:
Cooking chicken rice meal:
1 cup boneless chicken (clean the fat out)
1 cup plain rice (brown is best, but I had run out of brown rice, so I cooked plain white rice).
1 squash diced
8 cups of water.
I mixed threw everything together and cooked it in Pressure cooker for 10 minutes. It looked something like this: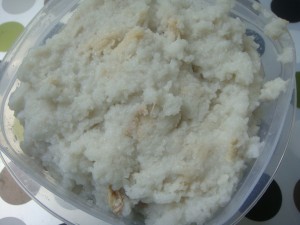 I know, it's looks a gloopy blob of white but
it smells divine to…..
this nose                                                         and                                      this nose
They gobbled it down in minutes. I snuck Leo's capsule in it too. He gobbled that down as well.
He has been so much better today, back to barking at all the unexpected noises around the house. Plenty of them around too, most on 4 legs and furry tails. And Marina is back to her perky self. And back to playing.