First and foremost, I want to start this post by thanking all those brave men and women who put their lives on line every waking hour so that we could be safe. For many of these families, Memorial Day would never be another holiday ever again. But it is also a sweet reminder to those who come back safe and sound to the arms of their loving family.
Our family spend most of the Memorial Day weekend sprucing up the yard;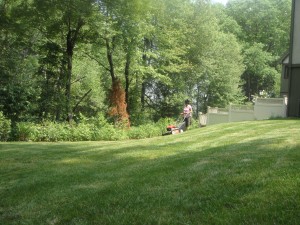 and trying to unpack the last few boxes which had been relegated to the 'last to be opened list' when we started unpacking them about 3 months ago.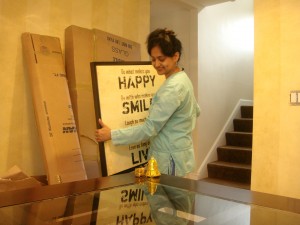 It's been almost 5 months now that we left California and 3 months since we moved into out new house in New England. Looks like still some way to go before we finally wipe our brow and cheer "DONE!".
I wanted to do something sweet and special for memorial day weekend, and came up with this recipe. I wanted something cool and creamy, but didn't want to gorge oodles of fat and calories.
I whipped up this concoction, and it turned out to be pretty interesting,  and mouthful of melting goodness. Of course, it is not totally sin free, with 1/2 cup of full whipped cream helping to create the silky texture, but the a combo of fat-free ice cream and vanilla yogurt helped in creating a pretty healthy serving. To make it more sinful, I served it in dessert shell cups, but that was mainly for the kiddos and the photo-op. Us adults preferred scooping in bowls and making merry.
Vanilla Ice Cream Fat free No Sugar added – 1 cup
Vanilla yogurt – 1 cup
Cream-1/2 cup
Gelatin – 1 pouch
pineapple juice – 2 tbsp
Vanilla Extract – 1/2 tsp
Pineapple chunks – 1 cup (I used canned)
Fresh watermelon diced – 1 cup
Lemon zest: 1/4th tsp
Directions:
Whip cream with an electric blender on its lowest setting , till it forms soft peaks
Dissolve gelatin in boiling pineapple juice and fold it into the cream.
Blend in the yogurt and ice cream
Mix watermelon chunks (Quit blending at this stage).
Layer a bowl with pineapple chucks. Alternatively, chop them small, and fill quarter of a dessert shell with them.
Pour into the bowl/Dessert shells.
Sprinkle Lemon zest.
Refrigerate for 6 hours.
Nutrition:
Rich in Vitamin A, Vitamin C, Calcium and Dietary Fiber
Calories: 73 per serving
Calories with Dessert Shells: You don't want to know.
I couldn't take the final picture as my camera battery ran out and the phone picked up a crappy pic. But this turned out to be one yummmy dessert.