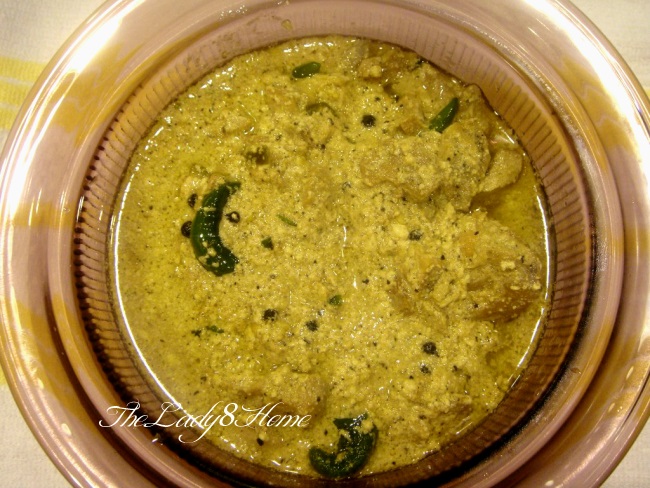 This one is a truly 'throw-it-all-together-and-forget-it' recipes that gives a chicken dish you can serve in any party and wow the crowd. This entry had once fetched me the second prize at a cooking competition. I lost the first place due to my presentation skills ( or rather the lack of it).
Right after we got married, parents of a dear friend of mine invited us over to dinner. Singh Aunty (in India, we always call our friend's parents Aunty & Uncle – it's disrespectful to call them anything else, especially by their name. So we always called them Aunty/Uncle prefixed by their name or last name – like Anita Aunty, Martin Uncle, Patel Aunty, Gupta Uncle….you get the drift) prepared this dish and we were bowled over by it. Newly married and a total novice in the kitchen, I tried to learn how she had made it. She told me the recipe like ladies normally do – a pinch of this and a dash of that – but though I'm not 100% sure I got it right, but I did somehow get it pretty good. I'm sure she is still making it for her large brood of 3 sons, 3 daughter-in-laws and houseful of grand kids. I would love to have her make it for us one more time, and maybe someday she will, but till then, I satisfy my drooling taste buds with this recipe.
The best part about this recipe is that there is no stove top cooking – really, there isn't – or any other kind of kitchen counter exercise involved. It does not even need much chopping, slicing, dicing etc etc. I have added chopped onions in the past, but I prefer to make the dish without any now a days. You can add finely chopped onions if you want to. Very high in nutrition factor, and very low in effort, cooking can't get better than this.
Difficulty level: Very Easy
Serves: 4
What I use:
A Slow Cooker
2 lbs chicken cubed (I use boneless thighs)
2 cups yogurt ( I use Stonyfield Organic certified gluten free yogurt)
1 tbsp. garlic paste
1/2 tsp salt
1 tsp sugar (You can use Organic sweetener/Stevia instead or skip it entirely)
2 tbsp. cracked/coarsely ground peppers (do not use bottled black pepper powder for this)
1 tsp. black pepper whole
4-5 Thai green chilies or jalapeno
Few cilantro leaves for garnish
How I do it:
Smear the chicken with garlic paste and salt and let it sit for half an hour.
Lay the chicken at the bottom of the slow cooker.
Sprinkle cracked black pepper all over it.
Whip the yogurt and pour it over the chicken. It should cover the chicken nicely.
Add half of whole black peppers & sugar
Cover the cooker, and set it at low.
Cook for 8-10 hours (overnight works fine if you are comfortable).
Open and add green chilies and the rest of black pepper.
Cook it for another hour. Garnish with cilantro.
Serve hot. (You can reheat if required)
Nutrition level: Very high in niacin, phosphorus, selenium,vitamin B6
Calories: 400 Appx. per serving.
thelady8home note:  Most of the heat comes from cracked peppers. Green chilies are simply added to impart colors and infuse flavor. Despite all the peppers, the end result is a richly textured dish which is mildly hot, subtle in its sweetness and amazingly tender.
Also, you can cook it without the slow cooker too. Simply put everything in a heavy bottomed pan, cover it tightly, and let it simmer on slowest setting for 4-6 hours. Check once in a while to see if it looks OK.
This post is linked to Allergy Free Wednesdays #20. For more amazing allergy free recipes and information, please visit Allergy Free Wednesdays column hosted by 7 wonderful bloggers. It is also linked to Whole Foods Wednesday Recipe Swap #53. hosted by This Chick Cooks.
Further linked to Fabulous Fridays. This is hosted by 3 wonderful bloggers:
Let me know how it turned out for you. And I would be thrilled if you could leave a comment. I promise I would reply as soon as possible, and then promptly visit your blog.