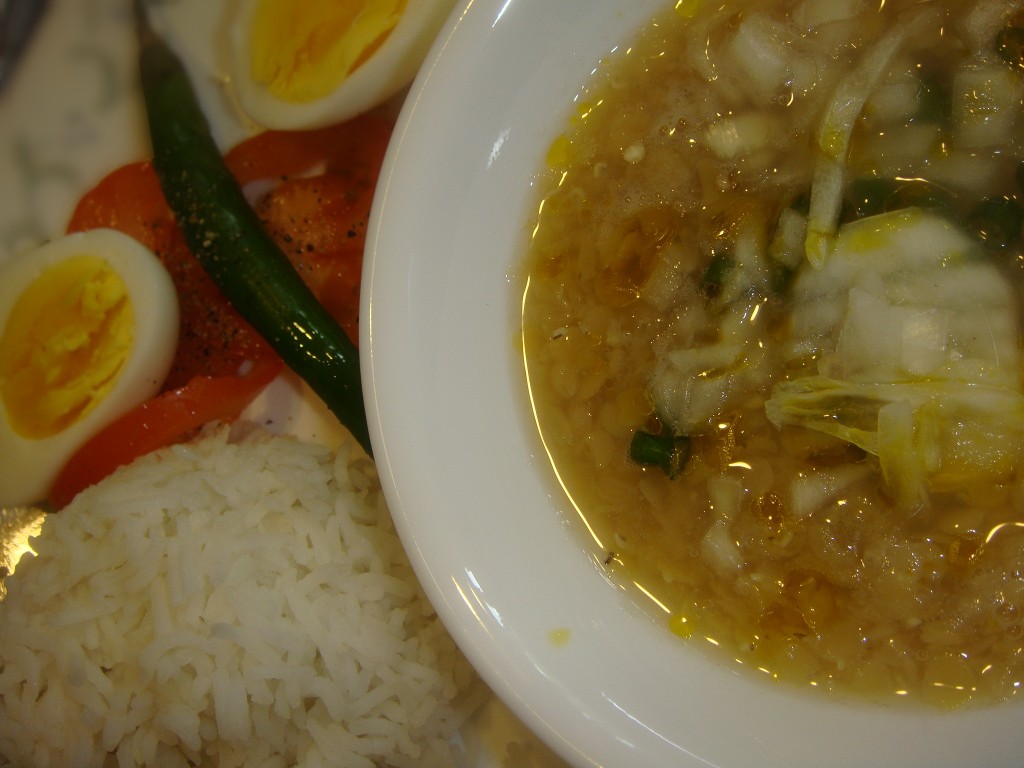 Have you ever tasted Mustard oil? It's a fantastically flavored oil, a little heavy, and has a pungent vapor that can tear you up when heated. It's rich in Omega3 fatty acids. It also imparts a nutty flavor to the dish it is cooked in. Mustard oil is also one of the few table oils that can be directly consumed without cooked. Mustard oil is the favored cooking oil in many of the states in Northern India, the entire Eastern India (especially Bengal), some parts of Korea and China, and the entire Nepal and Bangladesh.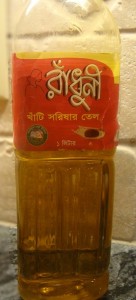 Mustard oil lends itself to multiple therapeutic uses. Massage, ear ache, tooth ache, joint pain – it has been known to bring temporary relief in most cases.  It is also very popular as a massage oil for children and adults alike. Culturally, it is thought to be a great remedy for cold and cough in infant and toddlers. Of course, due to it's very strong smell, it gives out a pungent odor, so gradually lighter and more sensory friendly aromatic oils have replaced it. When my boys were young, I would often boil a clove of garlic in mustard oil and use that oil to massage away colic discomfort, earache, and congested chest. Of course, these are not medically recommended remedies, rather cultural hand me down tips passed on through generations, but for me and my kids, they worked.
According to a paper published in 2004 American Journal in Clinical Nutrition titled 'Diet and risk of ischemic heart disease in India', the authors have observed that consumption of Mustard Oil significantly lowers the risk of cardiovascular disease. In rural Northern and Eastern India, where consumption of mustard oil is still the highest, there are lesser known incidents of cardiovascular disease, though it is not the only mitigating factor.
Today, I'm going to share two mustard oil recipes which are simple to make, and are made by every Bengali worth her salt. I should warn you though, it has a strong flavor and it is an acquired taste, like wasabi. Those who know the flavor of mustard oil will agree with me that once you have tasted this oil, there is nothing that comes close to it as far as flavors go. Some of the dishes cannot be cooked without this oil, there is simply no substitute. New York Times published a lovely article on this: "American Chefs Discover Mustard Oil". It's a fascinating read.
It's interesting how mustard seeds are pressed to get oil in villages of India, Nepal and Bangladesh. Mustard seeds are pressed into mortar like well, and a gigantic pestle is used to press the seeds in it by rotation. A bull is generally engaged to rotate the pestle, and a person manually regulates the speed of the bull and the pestle. I found some interesting images here.
The dishes I am sharing today use raw mustard oil. It's more like a drizzle, bringing a raw burst of flavor.
The first one is red lentil dish. I got inspired by a post by Lorraine in her fabulous blog Not Quite Nigella, where she posted about Egyptian Red Lentil Soup. Red lentils are such a regular fare in a Bong household, that I could not help but post this recipe.

Red Lentil Soup with mustard oil
Author:
Minnie@thelady8home
Prep time:
Cook time:
Total time:
Ingredients
I cup Basmati or any other regular white rice.
Red lentil soup
1 cup red lentils
1 pod of garlic
½th cup onions chopped fine
1 Thai green chili (jalapeno works too. Use more if you like the heat).
salt
1 tbs. mustard oil
For salad
½ cup cucumber finely sliced
1 tomato sliced
1 boiled egg halved
1 tbsp lemon juice
dash of black pepper
Instructions
Cook rice as per instructions.
Boil the lentils with salt and garlic in 3 cups of water till cooked. Boil them just enough so that they are soft, but retain their shape.The lentils should not loose their shape or get mashed.They should also have quarter inch of water floating on top.
Pour in a bowl.
Mix in onions and finely chopped green chili.
Drizzle mustard oil over it.
Salad
Lay the sliced cucumbers, tomatoes and halved eggs on a shallow bowl and drizzle lemon juice all over it.
Notes
Serve with rice and salad.
My next recipe is mashed potato recipe. This is a dish I grew up on, and just thinking of it gives me nostalgia. We call it 'Aloo sheddho bhaat'. Translated: Boiled potatoes with rice. It serves mostly as a first course, preceding a vegetable, lentil, meat and finally a sweet dish in a full course meal; or on days to fill gaps, when you really don't feel like cooking. But there is no dearth of flavors here. Given half a chance, any Bong will give you an animated discourse on how flavorful this dish is. But then, we have grown up on it. Try it yourself and see how you like it.
Mashed Potatoes with Rice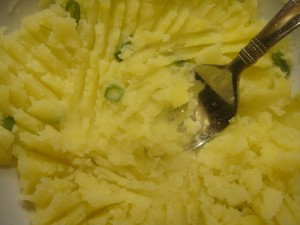 Ingredients: 
2 Potatoes
2 thai green/jalapeno chilies chopped
salt to taste
1 tbsp. mustard oil
a few leaves of coriander (optional)
Instructions:
Boil potatoes, peel and mash them.
Add salt, chopped chilies and mustard oil and mash them till the potatoes reach a creamy texture.
Drizzle some more oil.
Serve. Goes great with rice.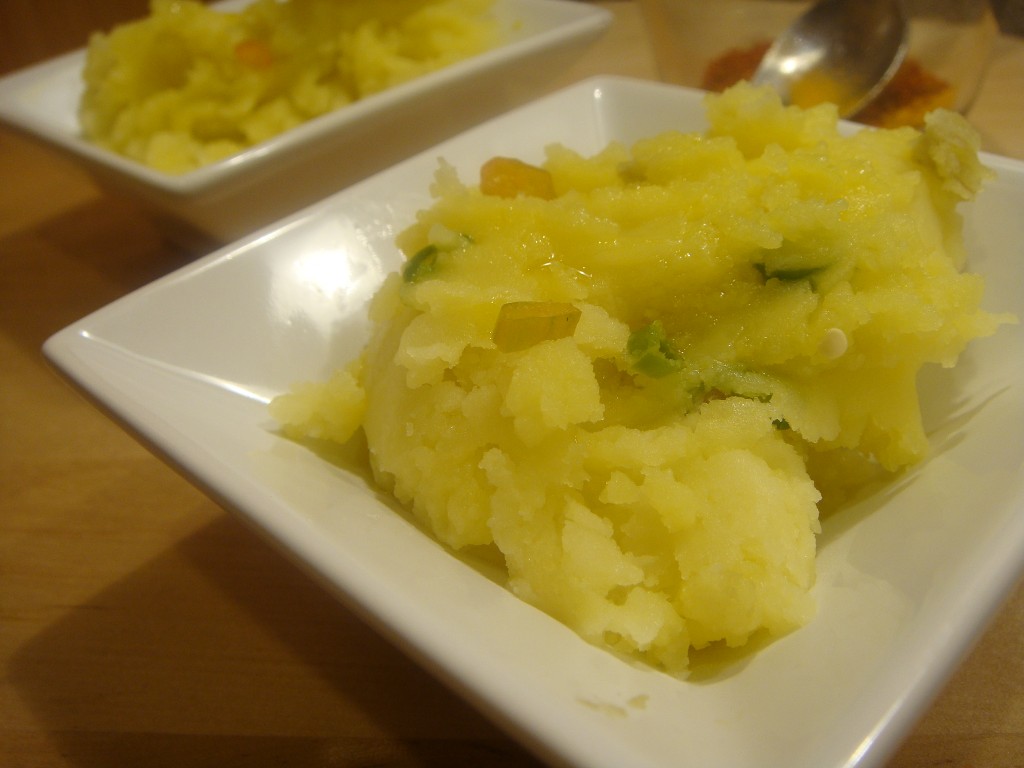 Note: If you eat with rice, then rice and the potatoes have to mixed in well to get the right flavors.
Soon, I'll be coming up with more flavorful and cooked dishes with mustard oil – Sorshe maach, Mushurer dal, Aloo posto……don't worry, I'll translate all of them for you when I post about them. A hint: The above mentioned dishes describe a fish dish, lentils and poppy seed preparation. Btw, did I tell you Bengalis take pride in eating close to seven courses in a single meal, everyday? Stay tuned, all of that coming up soon.
This post is linked to