Did I tell you that I have downloaded this awesome recipe-uploader plugin called 'Easy Recipe'? Maureen from Orgasmic Chef had her man design it for her (ain't she lucky?). But she didn't stop there. Once she found how brilliant the design was, the magnanimous person that she is, she promptly made available Easy Recipe plugin to fellow bloggers. For free. 15000 downloads later they are, in her own words, 'gobsmacked'. I am sure all those 15000 bloggers are as eternally grateful to her and her husband, as this number 15001 blogger is. Or maybe not. There are still some nasty people out there who don't equate kind gesture = gratitude. But lets not talk about them. Lets talk about Easy Recipe.
What I love most about this plugin is that it simply allows me to cut paste it, and also add notes or subject if I want to. The format is very clean, and it's easy to work with. If you, my dear reader, are a blogger, and you need to showcase your recipe writing talent, try Easy Recipe plugin. In WordPress, go to Plugins, choose Add New, type Easy Recipe in search box, download and activate. That's it. You will now have a nice little chef sitting on your Post tool bar, waiting for you to summon him. If you are blogging with any other source like Blogger, then hop over to Orgasmic Chef and check with Maureen. I have enough trouble figuring out Word Press, so I won't even try to send you on bunny trails with that one. Better still, go to their website: www.easyrecipepluin.com.
I love easy recipe. The best part is, it makes the recipe printable, and it goes out with my name on it. How cool is that!! Almost as cool as seafood. No, really.
Lets face it. I am a seafood fan. I know all about it being cholesterol heavy and all that, but there are some things I simply cannot do without. I would rather watch my portions than cut them out completely. And how the heck does Ferrero Roche create those crunchy chocolatey balls filled with sinful silky chocolate? Lets not go there. Better yet, stick to seafood. After all, there are worse things you can love.
While the cholesterol factor is already running high, why not take full advantage and take it a bit further? That was my excuse to turn up this awesome deep-fried seafood fritter dish.I am sure the bad cholesterol are singing in my veins, but what's life without a little indulgence?
I had some left over mixed seafood from a previous dinner, and but they wasn't much of it, at least not enough for a seafood loving family of 4. So I decided to turn them into fritters to give them body, and a different taste.
I paired this with a creamy smoked salmon cream cheese dip and multiseed flatbread.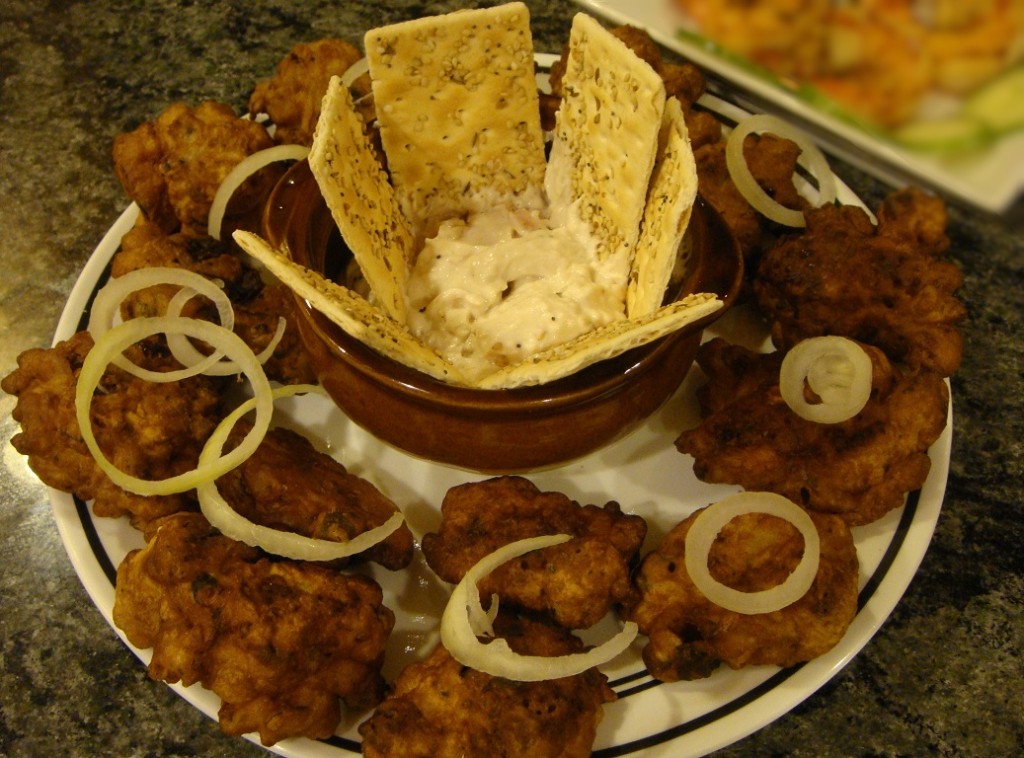 Author:
Minnie@thelady8home
Prep time:
Cook time:
Total time:
Difficulty level:Medium
Ingredients
200 gm mixed seafood of your choice
1 tsp of chopped garlic
½ tsp fennel seeds
2 tbs white cooking wine
For the batter
1 tsp cayenne pepper
1 tsp ginger paste
1 tbs garlic paste
½ cup all-purpose flour
¼ cup chick pea flour
1 tsp of baking powder
1 tbsp yogurt
Oil for deep-frying
Instructions
Heat 1 tsp oil in a shallow pan
Season with fennel seeds and then add garlic
Saute the seafood for a minute in the pan. Remove with a slotted spoon and keep aside.
Pour white wine into the pan and let it come to a boil, scrapping the pan nicely. Switch it off as soon as it starts bubbling. Let it cool in the pan.
Mix all the ingredients of the batter with the cooled down wine mixture and water into a smooth thick paste. Fold in the seafood, making sure the mixture is thick in consistency. Let it sit for 15 minutes.
Heat oil for frying. Test drop a piece of batter to see if it starts frying.
Working in batches, gently spoon in the seafood batter and fry, making sure to keep some distance between the each dumpling of batter, else they will stick to each other.
Turning occasionally, fry until deep golden, about 3 minutes per batch. Transfer with a slotted spoon to paper towels to get rid of excess oil.
Garnish with onion wedges, and serve with chilli ketchup and smoked salmon dip.
For chili ketchup: Mix 3 tbs of ketchup with 1 tsp of red chili paste, and few drops of soy sauce.
Notes
Smoked salmon dip recipe coming soon
PS: The easy recipe plugin is not an advertisement. The opinions expressed solely belong to Minnie@thelady8home, based on her experience with the Easy Recipe plugin. She has not been asked to or been compensated in any way, cash or kind, by the owners of the Easy Recipe Plugin. Thank you.