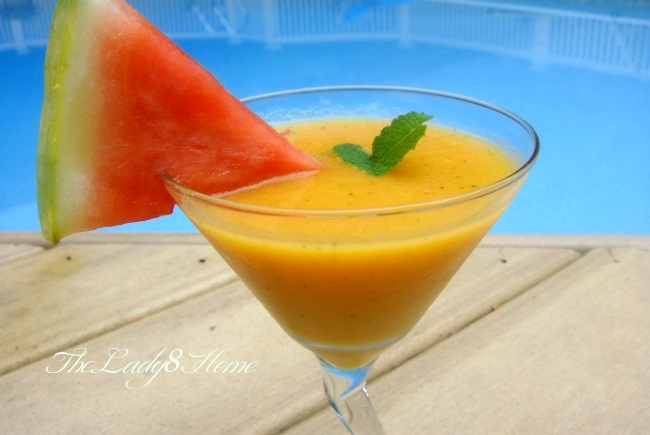 Yard work is hard work, and not necessarily a pleasant one, unless you like pulling out weeds and stepping on mushy soil and who-knows-what-else while cleaning it all up. The result is infinitely satisfying, but the journey is one of those you wish you didn't have to make.
Let me make this clear, yard work that I am referring to is not gardening, which invokes warm and fuzzy images of a petite, apron clad beauty digging daintily at the soil bed, planting gorgeously colorful pansies and tulips. The yard work I'm referring to involves removing mildew, gunky green stuff from decks and the rails, checking water quality of the water bodies inside of that yard, flushing the green slime and slush out of the fish pond with bare hands (gloved, still, pretty yucky), hosing down debris off the platformed deck, and then flopping down on a chair only to find out it has been brutally defecated upon by the flying residents of that yard.
Yuck! Scratch that. Make that 'Eww'.
All that hard work calls for a great refreshing drink. Ever the fan of mangoes, I found some in the fridge (I always do, especially the ones which are less than sweet. They are always left behind for Mom). I decided to make something cool and rejuvenating. I also have a confession to make – I like my drinks sweet. Not sugar bomb sweet (not always anyway :D), but tangy sweetness is good. Minty sweetness is even better.Somebody once told me, 'why don't you power-wash?' I do. But power-wash only does so much and no more. Nothing works like a good mop, cloth, some washing detergent and plain bucket of water.
I also had some watermelon – I love these. I could gorge on eat them whole day. My younger one loves watermelon too, and he always leaves some for Mom because he knows how much I love them. Aren't these the moments that make every drop of sweat you shed worth it? I found a couple of pieces from a previous buy and put the mangoes and the watermelon in the blender. But this was going to be too sweet, and no tang.
Orange juice! So clever. And then some mint. Perfect.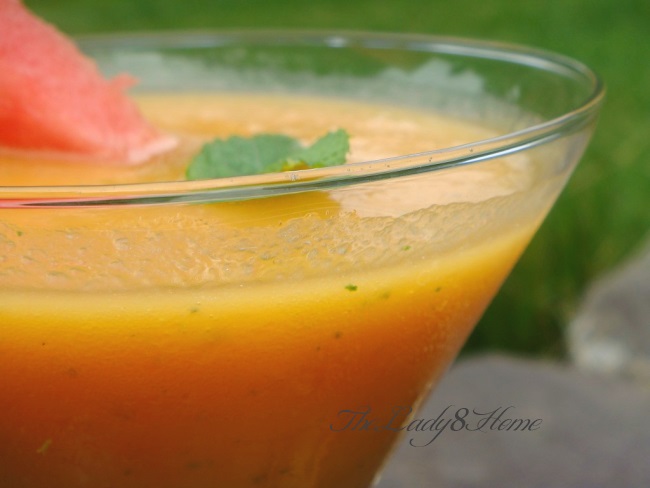 I wasn't inclined to being too health conscious a girl at this moment. So I added a dollop of sugar free Real Light whipped cream.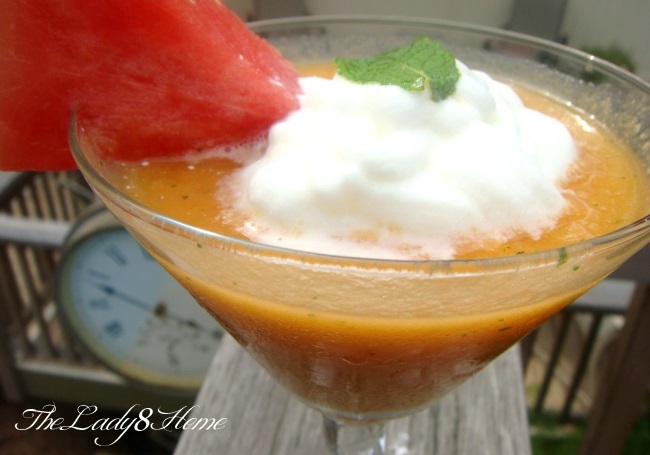 Yumm……..

Mango mint sweet and tangy
Author:
Minnie@thelady8home
A light refreshing fruit drink
Ingredients
1 cup organic pure orange juice
1 cup watermelon cubed
1 cup mango sliced
4-5 fresh mint leaves
½ cup of crushed ice
A piece of watermelon and mint leaves for garnish
a dash of salt
Instructions
Put all the ingredients in a blender with ice and blend till smooth.
Garnish with a slice of watermelon and mint leaf.
Serve.
Notes
You can add a dollop of whipped cream, but that's optional.
This recipe is linked to Fit and Fabulous Fridays #36 from Amee's Savory Dish.
thelady8home Note
: Facebook is making some changes again. To make sure you see
thelady8home
 in your feed, hover over the "Liked" button and make sure "Show in News Feed" is checked. Also, read 
this post 
from
  'Penny Pinching Mom'
about how to create lists so you never miss a post!