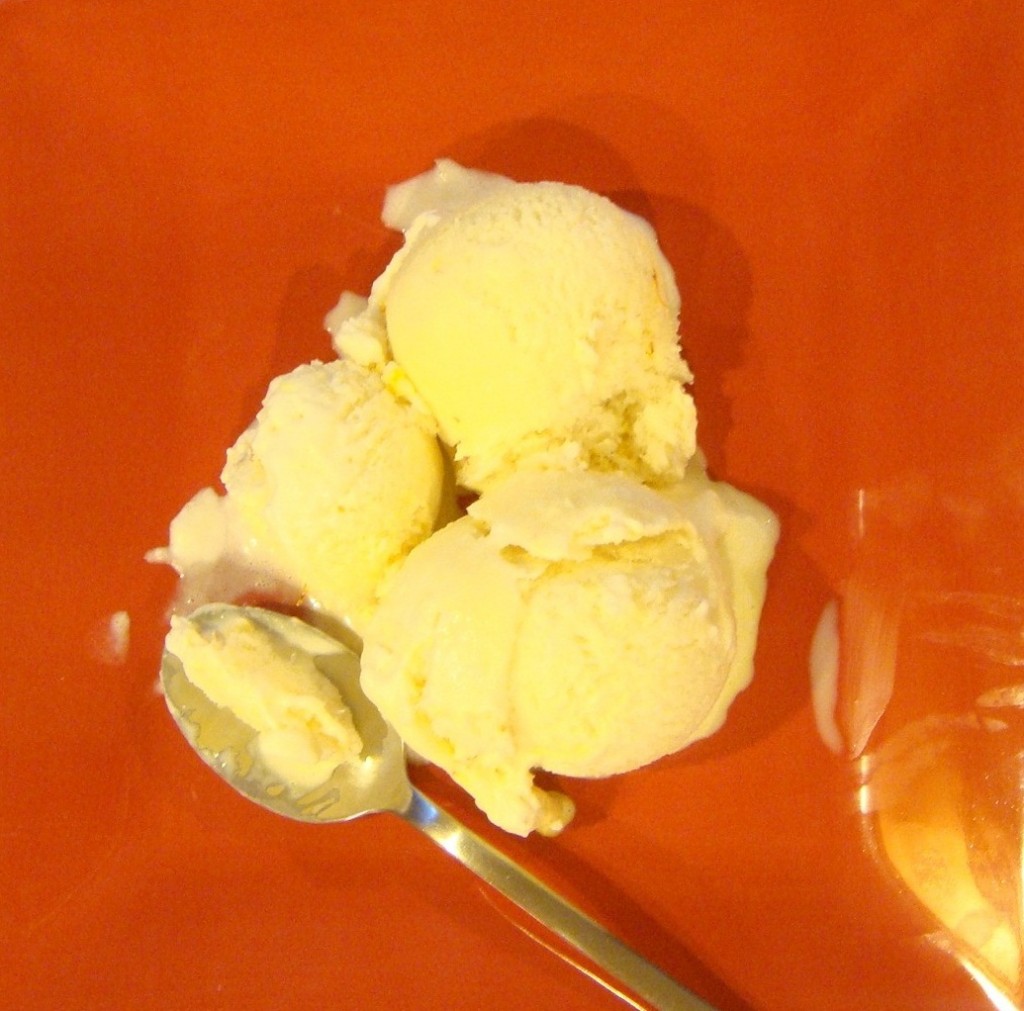 I can't resist a good scoop of ice cream. Unfortunately, my sweet tooth has been getting more and more demanding as I grow older.  I eat double the amount of sugar than I did twenty years ago. I know I know, it should be the other way around. I didn't even like chocolates, much less eat them; now I hide them in my desk drawers. Indian sweets were to be eaten only during festivals. Now I am the first one to unwrap those delicious cashew bars and gobble them two at a time – that's 150 straight fat calories PLUS sugar for one tiny bar. Yikes! Ice creams?? Don't even go there. Good that we can't taste those exquisite virtual plates. If I earned a penny for every time I had wanted to eat from a picture, I would be paying a LOT of income tax. And if there were ice creams on that picture, then I would be paying tax, AND buying new wardrobe to accommodate my ever expanding 'waste' line.                    
I have wanted to make an ice cream at home for a long time now. But dealing with all that cream, beating it (you must have guessed by now, I'm not a proud owner of an ice cream machine), beating it again, and then beating the frump out of it –literally or figuratively – again, made me keep putting it off. Then I chanced upon blogging and its endless treasure trove of ideas.
One such idea came from fellow blogger Crunchy Creamy Sweet. She had on her amazing blog a recipe that called for making an ice cream from evaporated milk (read it here).
Jackpot! I knew I wanted to do that. Damn! It had been staring at me all these years and I didn't think of it!
If you are familiar with Indian cuisine, you might know that we use a lot of evaporated milk in our sweet dishes. Difference is if you are an Indian, you don't use canned milk. You take the loftier route, and do it from scratch, which basically means stirring the simmering milk till half of its content is up in the atmosphere contributing to those clouds (and your hand is ready to fall off from exhaustion). Indian cuisine also has a special kind of ice cream, which is called 'kulfi' that's made out of evaporated milk. First the milk is flavored with herbs, spices and sugar, and then simmered on very low heat till 60% of its water content has evaporated, leaving a rich, thick, aromatic, creamy liquid behind. More flavors, nuts and fruits are added to this thick flavored milk cream, churned and poured into tight moulds. These moulds are then refrigerated. In traditional kulfi making, 'matkas' or open mouthed earthen vessels are used to freeze the kulfis, where the moulds of creamy mixture are chilled in these 'matkas' that are filled with ice and rock salt.
No wonder I didn't think of it.
So my new found idea rejuvenated my dream of making an ice cream at home after years and years. (Isn't it hard to believe that I had actually taken a course at professional ice cream making at one point in my life? It was in another life time, and I have developed amnesia where those recipes are concerned.)
The ice cream I made has some very Indian flavors that have captivated generations and generations of taste palates. It's got saffron and rose in a fascinating blend that makes it richly aromatic and delicious.
Saffron-rose ice-cream; eggless, no cream added
Author:
Minnie@thelady8home
A rich milk ice cream
Ingredients
1 can of evaporated milk, chilled overnight (won't work otherwise)
1 tsp saffron strands
1 tsp rose syrup (alternatively you can use rose extract or 2 tbs of rose water that's available in most grocery stores)
1 tsp of vanilla extract
¼th cup confectioner sugar
1 tiny pinch of salt (really tiny)
1 tbs of rose water slightly warmed (you can sub with plain water or milk)
Instructions
Save ¼th tsp of saffron strands and soak the rest in 1 tbsp warm rose water till dissolved
Beat the chilled evaporated milk at the lowest setting till it is almost double or more it's original volume (about a minute)
Pour in sugar, SLOWLY and beat until sugar is combined.
Mix in the rose,vanilla, salt and saffron water. Beat for another 30 seconds or so.
Pour in an freezer safe container (no lid) and store it for 30 minutes.
Take it out, beat for minute, and freeze again. This time freeze for an hour. Repeat this twice more.
The last time before you put it in, sprinkle the saffron strands that you had saved earlier for garnish. If you have rose petals, even better. I didn't have any.
Pour it into an airtight freezer safe container. Freeze for 2 hours for a hard scoop of ice cream.
Enjoy!
Notes
If you add saffron water, it will freeze faster and crystallize quicker, so keep track of the whip time.
Nutrition Information
Serving size:
4-6
Calories:
80 per serving
Confession: I ate a scoop even before it had frozen properly

It was too yumm.