On Thursday, I retold an amazing story I had read on news to the boys. It was about a 5 year old boy named Saroo who had gotten lost in a train in India, found his way to an adopted home in Australia, and then had used modern internet technology to find his birth mother back almost 26 years later.
An orphan herself, Saroo's mother was pregnant a fourth time with her daughter when her husband decided to take another wife. Already poor, now she was left destitute with 4 kids – aged 7, 5, 3 and new born – to feed after the scumbag of a husband and father walked out on her.
The oldest, Guddu, all of 7 years, took to sweeping the trains (it's not a paid job, it's something poor street kids do and then passengers might or might not pay them out of pity) to feed himself and his 5 year old brother Saroo who would follow him around, like all little brothers do. They would hop from train to train, always coming back home in the evening.
One afternoon, after a long day at work, Saroo fell asleep on a Railway station bench, waiting for his brother to wake him up when it was time catch the train back home. When he woke up, he couldn't find his brother. He saw a train standing on the station, thought Guddu was on it, and climbed aboard hoping to find him. After some futile search, the exhausted little kid simply fell asleep again on an empty seat, certain that his big brother would come back for him.
Saroo woke up some 14 hours later, to find himself alone in Calcutta (now Kolkata), the big beautiful bustling city teeming with millions of people, expansive architecturally rich buildings, never ending lanes, by-lanes, and all kinds of people going in every direction.
His mother, back home, became faint with worry. She lived for her kids, working hard, with no support, to take care of them. (Sadly, there is no social service, child support or Govt grants in India to help out such Mothers). With two of them disappearing in one swipe, her world fell apart. She traveled long distances, fighting hunger, molestation and battery hoping to find some news about her precious children. Her neighbors, poor as they were, helped her all they could. When all resources dried up, she started visiting wise men, saints and astrologers. One of them said, "One flower has fallen, the other is far away in the horizon, but he will find you. It will take a long time".
3 Months later the poor mother found the body of her oldest son Guddu, hacked into two by a train.
Meanwhile, unaware that his brother was dead, Saroo was on the streets, trying to find a way back to his home. He didn't know the name of his city, or anything about it. He might be young, but though petrified, he was smart, and he managed to keep himself safe. He kept his wits intact, and when common sense told him it was dangerous, he ran, even going to a point where he escaped two deceptively helpful men who might have been pedophiles. Fortunately, he was picked up by a kind soul, and placed in an orphanage.
And his fortune changed. A couple from Australia adopted him and took him all the way to Tasmania. He grew up to be a healthy, highly educated, happy young man. But he never forgot his mother or family. He never stopped looking.
Enter Google Earth. When Saroo, now Saroo Brierley, was researching his new house in Australia, he wondered if he could use it to find his hometown. All he remembered was a dam, and a waterfall. He mapped his journey, calculating the time traveled and speed of the train, and marked out an estimated area he could have traveled from. After a few years of hard work, he hit jackpot. He had finally found the town he had left so unwittingly 26 years earlier.
He flew to India, and the mother and son reunited. Isn't it incredible? (*Another tissue*)
(I have put links to this incredible story at the end of my post).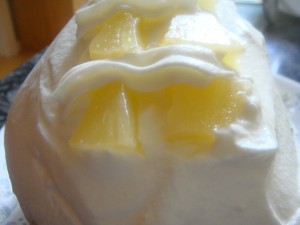 ,
The story was beautiful and inspiring. But the Mom in me also wanted to find a moral in the story. My 9 year old is a fussy  eater, and I wanted to relate how good eating means health, height and good physique. Saroo had come back as a strapping young man, tall, dark, healthy, handsome. Saroo's surviving brother is not as strong because he didn't eat well (OK, I made that up, I haven't seen Saroo's brother) because Daddy had left them, and Mommy was too poor to feed him.
Now my hubby was listening to the story too. He chipped in, "Did you guys know only 17% of Americans celebrate Father's Day while 60% celebrate Mother's Day? Poor Dads." Where did Mr GG get that number from? I have no clue. But I'm guessing all that talk of bad daddy and good Mom somehow got to him. Touche!
I was not surprised though. This man still keeps a bottle of baby lotion in his car we bought some 8 years ago, because it reminds him of the boys whenever he uses it. I have asked him to throw it away, it has to have gone bad, but he refuses. He has changed his car twice since, but the bottle always finds its way into the new car. This, from a man who hates junk and throws out anything that has not been in use for 3 months unless opposed fiercely.
So the Father's Day this year had to be something special. I'm sure most of my Mom readers have amazingly imaginative boys who have great ideas on what they want to do on Father's Day. The ideas from my boys sounded something like this:
"I think we should all watch a movie together on Netflix." (Yeah! But we do it every other day.)
"How about we play the video game that I have been asking Dad to learn since January?" (I'm sure he will be thrilled.)
"I have another idea. Lets play Monopoly together and eat Mac." (Monopoly and Mac ?? Seriously dude?)
What about presents? I ask.
"We can buy him a new video game". ( He doesn't play video games, so it might be a little inconvenient, I point out.)
So officially, they are out of ideas.
How about we bake him a special cake, make him a special card, and all of us take turns in giving him a spa treatment?
YES! The chorus was pretty loud.
"But you guys have to do most of the baking, else it won't be special." Some happy nods later, we made our plan. It was decided that they would make a card with crayon scratch technique. And then bake a cake.
Mr GG had to go to work on both days of the weekend due to some urgent ongoing work regarding a new product that is being introduced in the manufacturing facility he works in. Even when he is home, he is busy fielding calls, and checking constant emails. So we found plenty of time to squeeze in for our secret project. Saturday we had guests, so we couldn't do much. Sunday morning he left for work at 6.30am, and I dragged the kids out of bed. Poor guys were all ready to give it a go, even when half asleep. They finished the card, and then we went to work on the cake. Mr GG was supposed to be back after lunch, so we wanted to be done by then.
Mr GG loves pineapple pastry. It's not something we can find easily here. It was the perfect recipe. I do have a lovely recipe that I use, but I wanted something easier. I crawled the internet for 2-3 days to find a recipe that even the boys could work on, and finally found an awesome one here at Finger Licking Food(an amazing blog, love it. Namratha is crazily creative). The cake was a bit bready for my taste, but the end result tasted fabulous.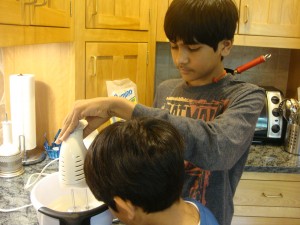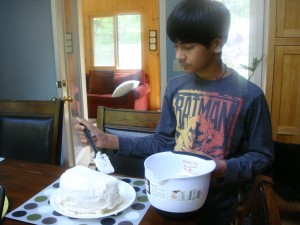 Author:
Namratha @ thefingerlickingfood modified by Minnie
Ingredients
For the cake:
1-1/2 cups self raising flour plus more for pans
1 ¾ Cups Confectioner's sugar (Powdered Sugar)
4 Eggs (Room temperature)
1 tsp Pure Vanilla Extract
For the Filling and Frosting:
1 ½ cups Heavy Whipping Cream
½ cup Confectioner's sugar
1 tsp vanilla essence
For the syrup:
½ cup pineapple syrup from can chilled
1 tbsp Powdered sugar
½ cup Ice-cold water
Instructions
Preheat Oven to 350F
Coat a 9" rectangular pan with butter and dust it with flour and keep it aside till ready to use.
Separate eggs. Whip the yellow and the white separately (the yellow should not escape into white, else the cake will fall flat).
Fold in the yellow into the white.
Mix in the sugar and essence.
Fold in the flour, making sure it's mixed in properly, about a minute on high).
Pour into the baking pan.
Bake for 20 minutes. It should rise nicely and look golden.
Invert the cake on a cooling rack.
Frosting:
Combine the cream, sugar and essence. Whip till it forms peaks.
Syrup:
In a bowl, combine chilled syrup, sugar and ice cold water.
Cut the cake neatly into two halves horizontally, slicing the top to give it an even base.
Drizzle the syrup over both pieces of the cake, letting it soak and become moist.
Final touch
Put a thin layer of cream on one half.
Place the other half of the cake on top of the cream.
Slather the whipped cream till it's covered well.
Garnish with pineapple chunks.
Slice into tall rectangular pieces and serve.
Mr GG was one happy man. Later on, the Father-son duo worked on another pet project – assembling a BBQ gas and charcoal grille that Mr GG bought for himself.
Dinner was a really creamy lobster meat fare, and Mr GG declared it as the best lobster curry I ever made. Wow! This post is already too long, so that recipe has to wait for its turn. The spa works is going into action next week.
Do you remember doing something funny and special for your Dads?
Links to Saroo's story:
http://www.theage.com.au/world/little-boy-lost-a-25year-odyssey-20120323-1vp65.html
http://www.ndtv.com/article/india/mother-son-separated-begin-25-year-global-search-229559
http://www.bbc.co.uk/news/world-asia-pacific-17772157
http://www.the-press-news.com/ap%20international/2012/06/06/25-year-global-hunt-reunites-mother-and-son
http://www.huffingtonpost.com/2012/06/11/saroo-brierley-fatima-munshi-reunited_n_1586174.html