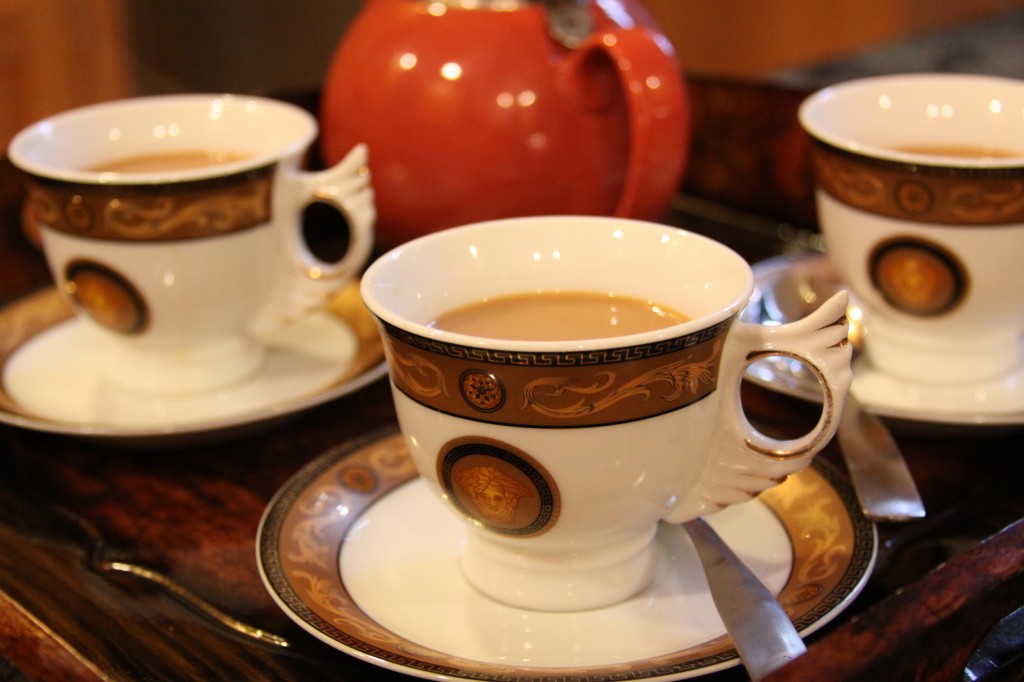 In India, no one ever calls ahead before dropping in a for a visit. Maybe you are sitting at home one fine evening, reading a fabulous book and have just come to the clincher. Or maybe watching a suspense thriller where the culprit is about to be caught. Right at that crucial moment, the doorbell chimes.
If you are like my dad, you will grit your teeth, mutter something unintelligent under your breath and open the door. If you are anything like my Mom, you will wear the biggest smile on the planet, and fly to the door to open it. And find your previous neighbor from ten years ago standing outside, visiting with his entire brood of 4 kids, Mrs previous neighbor, and maybe even his little dog Tuffy.
So what do you do? You exclaim, "Aayiye Aaiyye! Andar aaiye!' After exchanging pleasantries and pretending you are at this point thrilled to see the unannounced guests, you utter the magical words -  Chai lenge?'
Translated, you invite them in with enthusiasm (Come in! come in!) and then ask, 'Will you have tea?'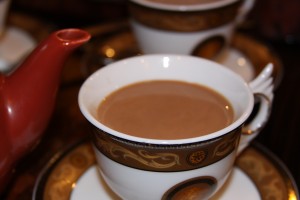 The 'chai' is often served with another rescue item – biscuits, a must in every Indian cabinet. Sitting pretty in dainty china cups placed carefully on a tray, this beautiful brown beverage has rescued many an unprepared host and has taken such 'hostage' situations to a new level of hospitality savvies.
The word garam, by the way, means 'hot'. 'Garam Chai' is 'hot tea'.
If you thought that's where the chai saga stops, well, let me tell you it hasn't even begun. Every evening, after coming back from office, Mr GG demands tea. He gets it. Half an hour later, he requests it again. More often than not, he gets it. An hour later, he cajoles me into making it. Eventually he gets it, along with a stinky eye.
Chai ( rhymes with buy) is possibly the most used food term in India. It has many different variations – cha, chai, masala chai, nimbu chai – generally a slight deviation of the main word – cha. Originally from China, Cha traveled to Persia, and then came to India through the Silk Route and made this warm, diverse and beautiful country its permanent home. Extensively grown in the North Eastern State of Assam, chai has become synonymous with 'spiced tea' in the west.
My Nana (my maternal grandpa) lived in Assam. He was a doctor by profession, and a tea lover in person. He served as a Doctor in Indian Railways, and was once posted in Assam. He fell in love with the place, quit his job, and started his practice, eventually building up a substantial pharmaceutical business. His house was bordered with miles and miles of tea estates. As a kid, I remember visiting the beautiful tea gardens, punctuated by tea garden workers carrying gunny sacks on their backs. I remember running in and around the grooved tea bushes, playing hide and seek, picking green tea leaves, and sometimes treated to warm fuzzy smiles of the tea estate workers, and at others, being chased away.
My Nani (grandmother) would make gallons and gallons of tea throughout the entire day, with maids serving one glass after the other to the 15-20 odd members who were present in that house at any given time of the day.
Doesn't matter how it is served – whether in delicate porcelain tea cups , baked clay cups (kulhad) or small glass tumblers- chai has been a part of daily life for at least a couple of centuries now, if not more. Few in the subcontinent have known life as it was before this unpretentious brown beverage made its way into the common man's daily routine. You might not find restrooms in many public places, but you will definitely find a tea vendor everywhere, pouring the hot liquid of refreshing deliciousness from large simmering pans into small glasses. Brilliant minds have often completed their thesis on Nuclear medicine or Engineering design modules in these small cramped tea vending stalls. No wonder it comes as a shock to us when Chai is treated as some kind of a specialty beverage by our western counterparts.
Like all other food ingredients, Chai too has travelled to new frontiers, creating new signature beverages that have nothing to do with the original chai – the one that had won the hearts of the colonist East India Company, who then took it to England, and made it famous all around the world. If you ever visit an Indian, Pakistani or Bangladeshi household, chances are you would be greeted with a hot cup of tea, completely original, following the chai making tradition of their own family.
The four ingredients that are a must to an Indian tea no matter which region it is from are water, milk, tea leaves, and sugar. Depending on the region, family traditions and taste, spices are added. My parents don't use any spice in their tea, while my friend who is from Maharashtra (Mumbai) uses a very special spice mix containing 7 different spices to make her cuppa. The following is a recipe that I use. This tea uses only two spice ingredients – ginger and cardamom. You can make the tea with either one, or both of them, and if you want, you can omit them completely.
Come, have some with me

Printable recipe below
This serves 4 teacups (4 sippers / 3 gusty drinkers / 1 tea addict)
Garam Chai! – The Quintessential Indian Tea
Author:
Minnie@thelady8home
Ingredients
3 cups water
1 cup milk
3 tsp Tea Leaves
Sugar to taste
If adding spices:
1 cardamom mashed
1″ ginger mashed
Instructions
Bring the water to boil
Add tea
Lower the heat and let it simmer for 30 seconds
Add milk.
Add cardamom and ginger.
Swirl the kettle so that it gets mixed in well.
Bring it to boil again, and switch off the heat.
Cover with a tight lid and let it sit for 2 minutes. Make sure the steam does not escape.
Strain and pour in a teapot.
Pour in individual cups, spoon in sugar as desired and serve hot.