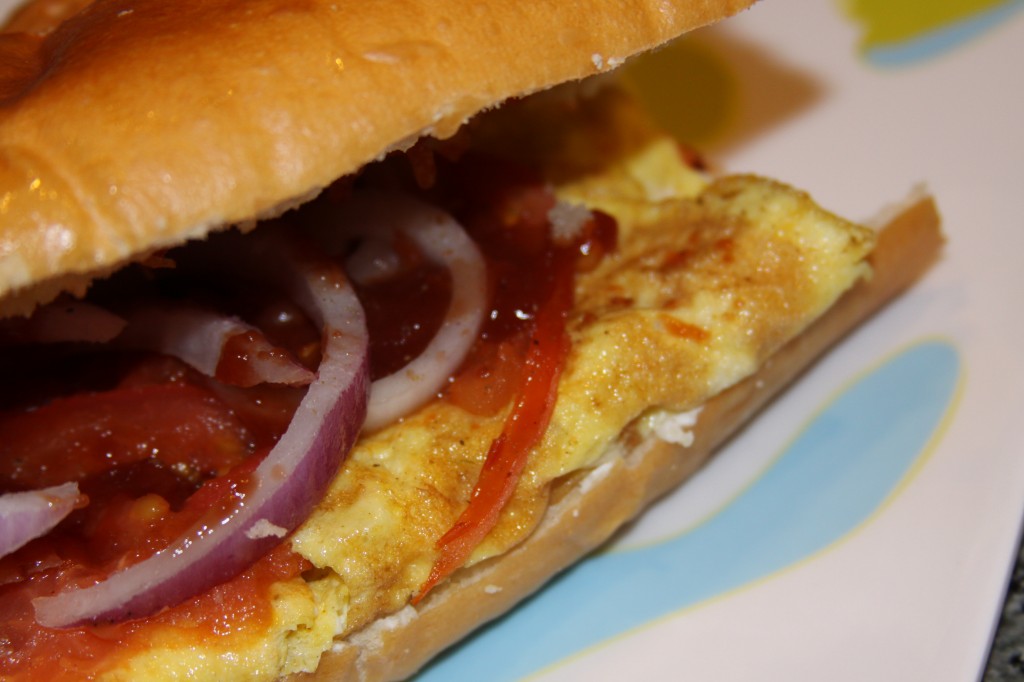 As an adult, some of us are fortunate enough to be able to buy whatever we need – the necessities and some luxuries – for a happy existence, and I have truly been blessed in that regard. Still, there is something uniquely thrilling about a receiving a gift. The joy of opening the parcel, unwrapping the package, the eagerness to see what's inside- that excitement beats little else.
I have heard the line, 'what do I give, they have everything they need' so many times that it drives me batty. Gift is not about need, it's about thoughtfulness, excitement, and yes, getting something new not bought by the individual concerned. Same goes for winning a hamper, even if that hamper contains things you already have multiples of.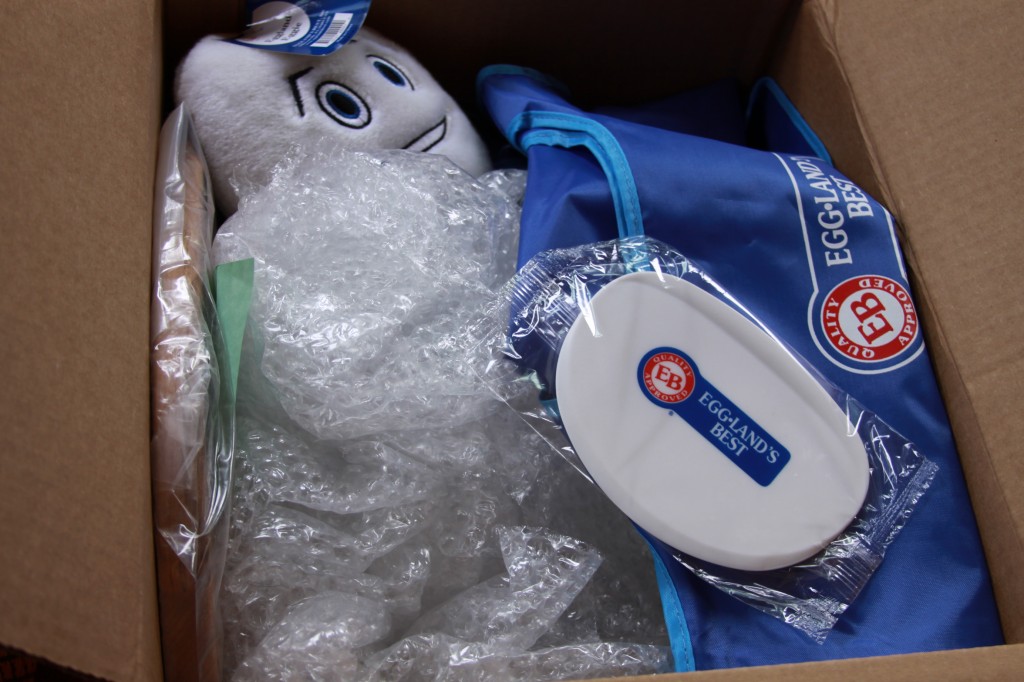 Two weeks ago Jill from Kitchen Fun with my 3 sons wrote to me that I had won a Giveaway. A few days later, one afternoon last week, while I was fiddling away with my laptop as usual, my 9 yr old came to inform me that the doorbell had rung, and he thought it was his friend, our neighbor's kid. I gave him permission to open the door. He came back a few minutes later with a sad look on his face because it wasn't his friend at the door after all. "It's only a parcel,' his voice was anything but enthusiastic. So you can imagine the shocked look he gave me when I literally flew off the sofa to fetch it. My very first giveaway hamper!!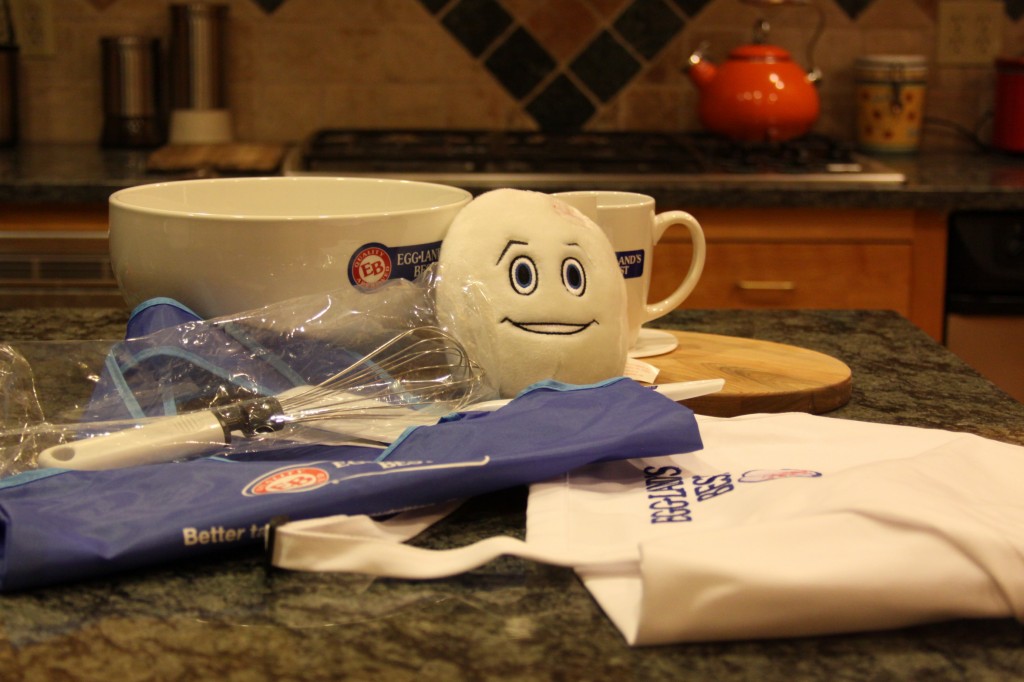 I am still so not over it. Thank you Jill for hosting the Giveaway, and thank you Egg-land's Best for the wonderful gifts in the hamper.
So now, I had to make something special with my already bought Eggland's eggs from our local grocery store.I love these eggs. Not only they are cage free, but rich in Omega 3 and rich nutrients, and absolutely delicious. They are a tad pricier, but looking at the health benefits, they are so worth it.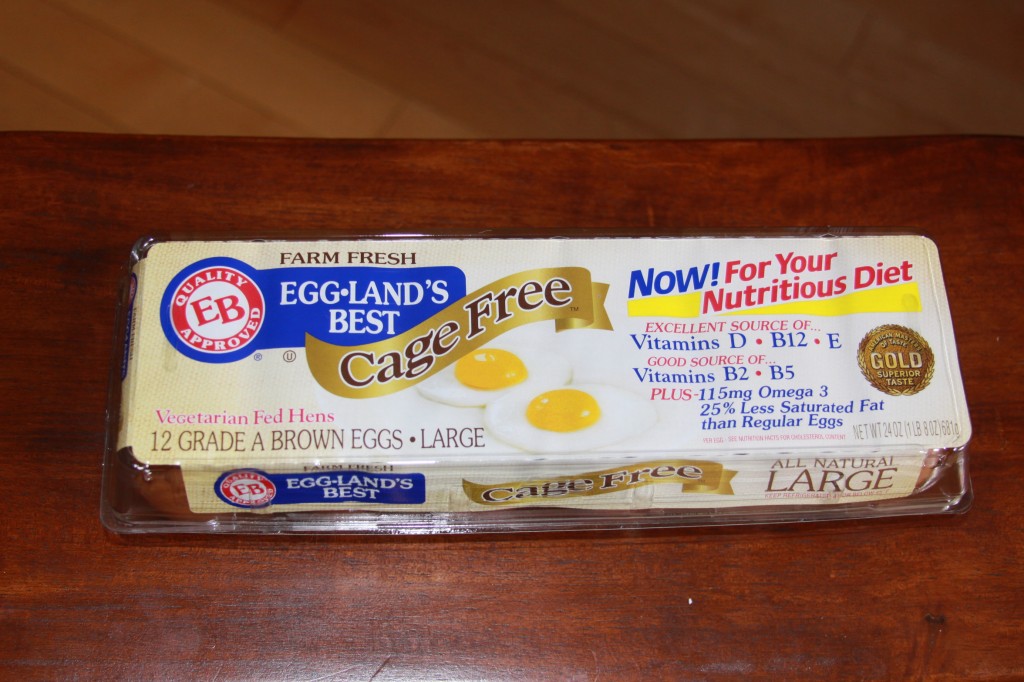 About two decades ago, when my husband was an Engineering student, he often visited his Aunt who lived in the Indian city of Indore. There, he frequented an eatery where a vendor fed him something that was called 'Banjo'. After we met, which was sometime after he had left his student life behind, he waxed eloquent about it at every opportunity he got. He even tried replicating it a couple of times. That's when I figured out that whatever this 'banjo' was, it consisted of eggs and bread. To me it looked like a plain omelet squished between two pieces of bread.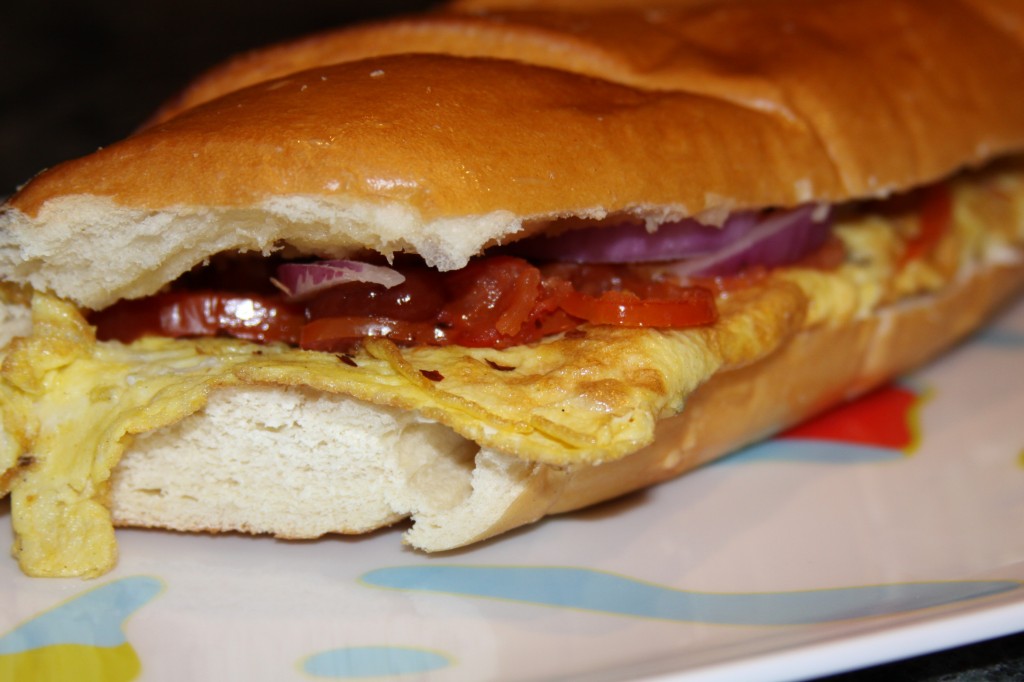 What's so great about it? I soon found out when we visited the city and the glorified banjo maker. I wasn't too far off the mark. It was indeed an omelet pressed between two pieces of wheat buns which are known as 'pao' in the local language. Not very different from the American version of Egg and ham sandwich, or an egg muffin sandwich.The first thing that struck me was the crowd waiting to have smoking hot banjos. The expert banjo maker was working at a speed that would put our pro Iron chefs to shame.
He was a street side vendor, and he had two large stoves burning. One had a large grill toasting up potato patties and wheat buns liberally drizzled with oil. The other had a large omelet skillet. He cracked open four large eggs in a bowl, tossed in some spices, cilantro and julienned ginger and hand stirred it while oil smoked in the pan.He poured in the eggs and fried it well till the omelet was nice and crisp. The important part is, the omelet is cooked on both sides, and the way to do it turn it over like you would do to a pancake. After some more drizzling of oil, he folded the omelet, cut it into three pieces, and sandwiched it between the oil toasted buns, making 3 sandwiches. He then topped the eggs with onions, lots of ketchup and handed the sanwiches over with a grace that belied the fast movement of his hands.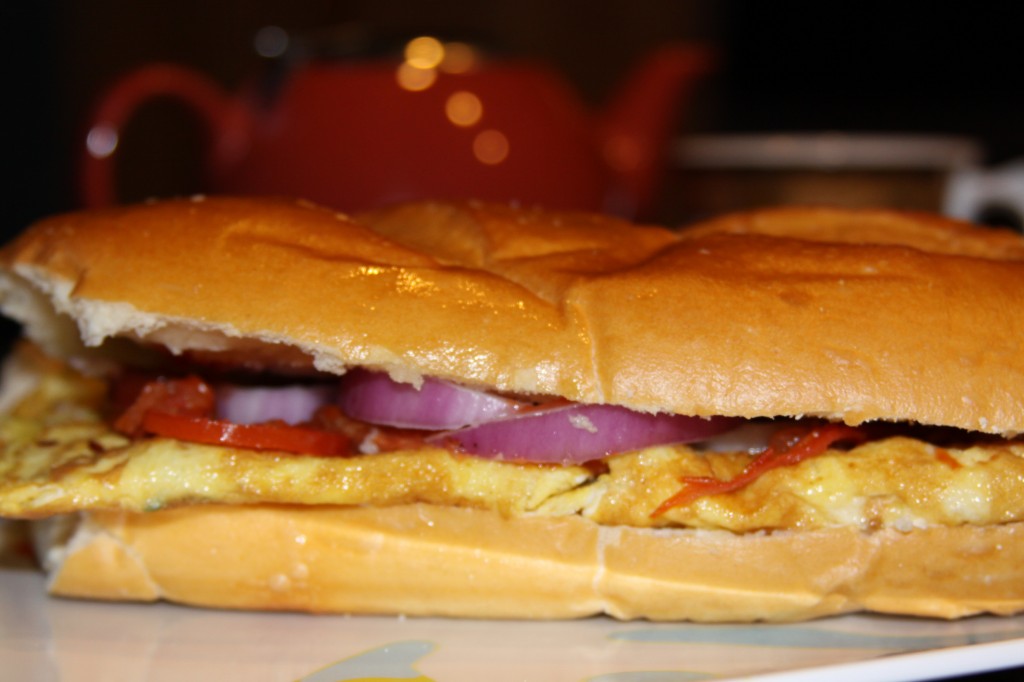 It tasted greasy, and glorious. It was everything that you should not eat – a whipped up fantasy of  large spicy omelet seasoned with exotic spices, with some vegetables folded into it, dripping in oil and pressed between two fresh pieces of oil fried breads. So why call it Banjo? The vendor was as clueless as I was. 'Everyone calls this Banjo Mam', was his candid answer to my query.
I was curious enough to look up its origins. It definitely had something do with the instrument of banjo. But what? What could a musical instrument that is not too common in India have in common with a street food that is now a specialty of a city?
What I found was truly interesting. According to wiki, "During World War 2, a popular filling snack with British troops was an "egg banjo", a sandwich of 2 thick slices of bread (buttered or with margarine where possible) enclosing a runny fried egg, accompanied by a mug of "gunfire" (hot, strong, sweetened tea with milk). The term 'Banjo' coming from the actions taken when one bit into it. The yolk would drip down onto ones chest, and the sandwich would be held out to the side with one hand whilst the other hand would rub at the drips using the fingers. This gave the impression of playing an invisible banjo.
Maybe the vendor's ancestors had something to do with those British soldiers? Was he a soldier? Did he drive carriages for them? Maybe he polished their guns, or carried their luggage. Maybe he simply became friends with a British soldier who taught him how to eat eggs with bread, or cooked for one who instructed him to cook the 'egg banjo'. Brits have left an astounding amount of legacy in the Indian sub continent. That an omelet be a part of it, hardly surprising. Hmnn..don't you just love these little bits and pieces of mysterious history of mankind in general, and food in particular?
While you ponder on that heavy philosophical question, let me go and whip up some light fluffy healthier version of banjo.

Author:
Minnie@thelady8home
Prep time:
Cook time:
Total time:
Ingredients
4 Large eggs (I used Eggland's best cage free Omega 3 eggs)
¼ cup cilantro finely chopped
2 tbsp water
a pinch of cumin seeds
few strips of julienned ginger
¼ tsp red chili pepper
a dash of turmeric powder
2 Thai chilies chopped (optional)
salt and pepper
3 hamburger wheat buns or bread of your choice
2 tsp olive oil for drizzle
Olive Oil Spray (I use Pam)
Garnish
Sliced red onions
Tomato ketchup
sliced tomatoes (optional)
Instructions
Crack the eggs in a bowl and mix in all the ingredients except for the buns and oil. Beat it till smooth but not too frothy.
Heal a large girdle or skillet
Coat it well with Pam olive oil spray
Pour the eggs, and let it spread till takes on your desired shape. Fry it well on one side. Drizzle oil on the sides so that the ends don't stick to the pan. Fry for 1 minute or so till it's firm.
Turn it over gently with a large flat spatula, taking care not to break it.
Fry for 30 seconds, turn it back over again.
Fold the omelet over. Slice it into 3 pieces.
Buns
Drizzle some pam on a skillet and pan toast the buns till light golden
To assemble
Remove the buns and place the omelet, one bun at a time.
Top it with sliced onions and tomato ketchup
Bite into juicy, delicious egg sandwich that is so fondly called 'banjo'.
** This post is my way of saying Thank you to Eggland's Best for their generous gift hamper. All opinions are of my own.
Sharing with: