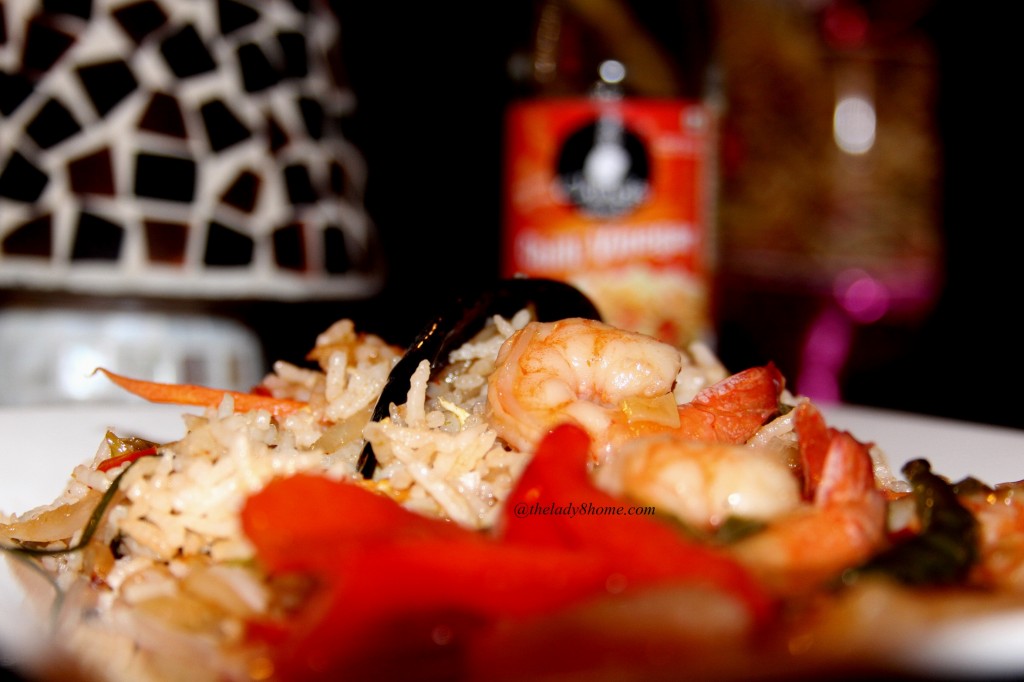 In India, we have a Chinese cuisine that is unique to India. It's called Indo-Chinese cuisine and tastes very different from the regular fare that you get in USA, or even mainland China for that matter.
India boasts of a huge Chinese population who migrated to India centuries ago. They adapted to the local traditions and customs, but brought loads of theirs along too. The Indo-Chinese aficionados believe the Chinese in India took their cuisine, and put a local spin on it, the fusion producing a unique blend of flavor that has delighted generations of Indians and Chinese alike. The Chinatowns are famous for their fabulous noodles, fried rice, extraordinary Chili chicken and Manchurians.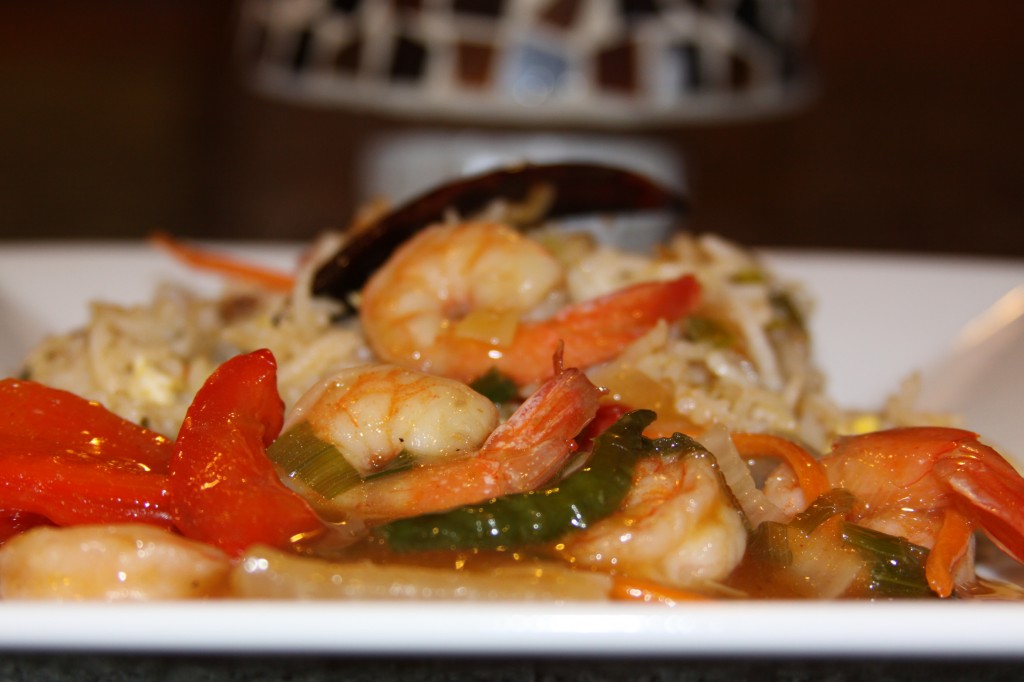 Unlike Chinese chinese, the ingredients in Indo Chinese tend to more simple, mostly soy, chili and vinegar based. They also add less amount of vegetables, owing to non availability of many of their regular additions, like water chestnut or broccoli.

Chili Shrimps served with Fried Rice - an Indo-Chinese delight
Author:
Minnie@thelady8home
Prep time:
Cook time:
Total time:
Shrimps in cornflour starch gravy served on a bed of Fried rice
Ingredients
For the fried rice
2 cups cooked white rice
1 small onion chopped fine
1 whole red chili
1 tbsp garlic minced
½ tsp ginger julienned
½ c green bell pepper chopped fine
½ c red bell pepper chopped fine
½ c spring onions chopped fine
½ c carrots chopped fine or shredded
½ c green beans cut into 2" length (normally I add, but I didn't add here)
2 eggs scrambled separately with 1 tsp oil and 1 tsp water
2 tbsp olive oil
1 tbsp Chinese green chili sauce
1 tbsp Chinese red chili sauce
1 tp soya sauce
1 tsp white vinegar
freshly cracked pepper
salt to taste
For chili shrimps
1 lbs large size shrimps
1 cup onions sliced fine
1 cup spring onions (shallots/scallions) chopped small
1 tsp garlic chopped
1 cup red bell peppers cut into 1' squares
1 tbsp cornstarch
2 cups cold water
1 tbsp soy sauce
1 tsp of green chili sauce
1 tsp of red chili sauce
1 tsp tomato ketchup
1 tsp of plain white vinegar
5 Thai green chiles
¼ cup oil
Instructions
To prepare the Fried Rice:
Heat 1 tbsp oil in a wok
Scramble eggs with 1 tsp of water. Keep aside.
Add rest of the oil.
Still on high heat, season with red chili and minced garlic.
Add onions and fry till translucent.
Now add ginger, and then rest of the vegetables.
Combine the sauces and vinegar and pour into the mix.
Shake the pan well so that all the ingredients are well coated.
Add rice, little at a time, stirring constantly, till it's well blended.
Sprinkle the previously scrambled eggs, cracked pepper, and salt. Mix well.
To prepare shrimps
Heat oil in a wok
Lightly fry the shrimps and keep aside (they should be slightly orangish in color)
Slit 2 green Thai chilies, fry them and drain them on paper.
Add onions, shallots and green pepper
Slit Thai red chilies and add to the vegetables
Mix in the sauces and vinegar.
Next add shrimps and saute for 1 minute.
In a bowl, combine the cold water and cornstarch, mixing well till the cornstarch is dissolved.
Add the cornstarch mixture to the shrimps, stirring well.
Once it comes to a boil, check for seasonings, add the previously fried green chilies, and simmer for 2 minutes. The shrimps should be done.
To serve:
In a serving dish, lay the shrimps over a bed of friend rice and serve hot.
Notes
I add ½ tsp of MSG in rice and ½ tsp of MSG in shrimps. You can skip it if you want.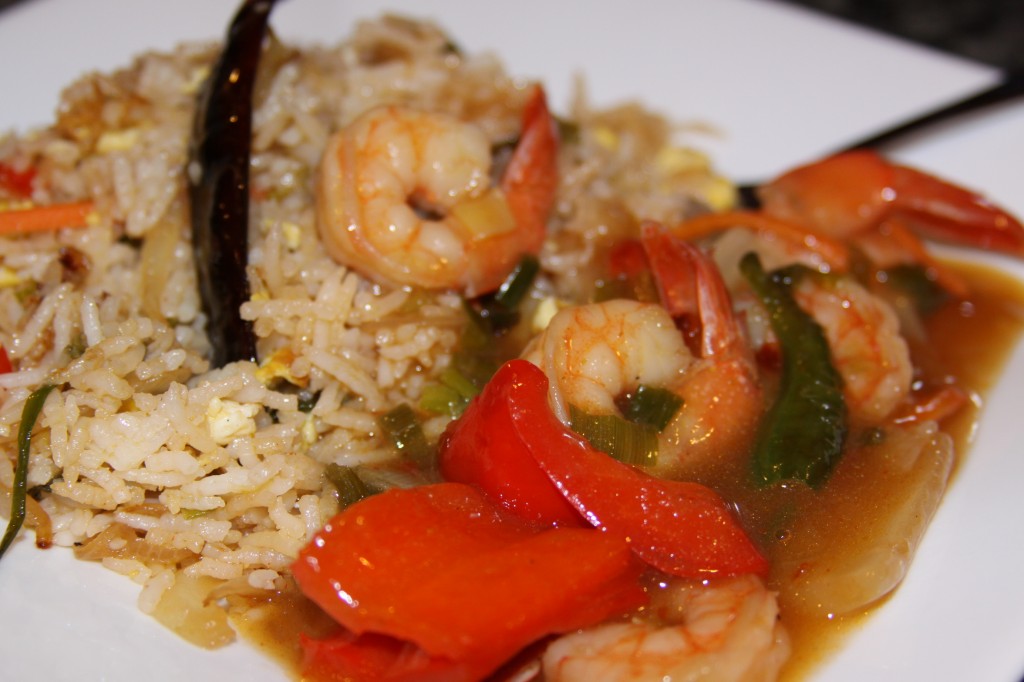 As you can see, the ingredients are actually quite simple, and in earlier times, MSG used to be a mandatory ingredient. I minus MSG from all my dishes, on most days that is. However, I make an exception when I cook this dish. I know I know – it's VERY bad. But considering we eat MSG every day in some form or the other under glitzy creative packaging (as a Yahoo answer poster points out, find it under Hydrolyzed Vegetable Protein, 'Accent', 'Ajinomoto', 'Natural Meet Tenderizer' and in almost every second item in the kitchen: The Campbell's soups, the Doritos, the Lays potato chips, Top Ramen, Betty Crocker's Hamburger Helper, Heinz canned gravy, Swanson frozen prepared meals, Kraft salad dressings, especially the 'healthy low fat' ones etc etc), adding a pinch or two just to flavor a dish once in a year isn't going to take the house down. But honestly, if you are uncomfortable, do avoid it. That is what is so good about making a meal from scratch! You are in total control of any ingredient that you add.
So tell me, is there any forbidden ingredient thing that you add once in a while in your dishes?