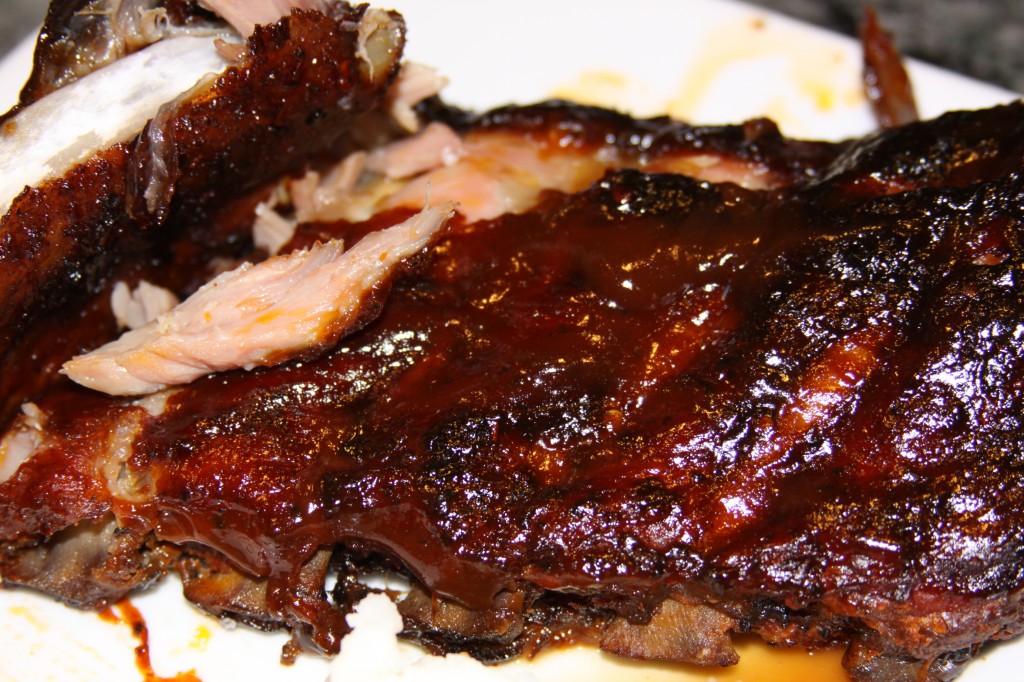 Recently, I was featured on GoNannies.com's post on best kid friendly crock pot recipes on the web. Say, 'Wow!' ;p
I am on a crock pot roll. I invested some 40 odd dollars in a big, beautiful looking crock pot and that has been one of my best investments yet. Crock Pots successfully cook a lot of stuff, but I feel meat comes out the best. Soft, succulent and yet luxurious, the silken texture of a meat fiber often bursts with flavor that has been cooked in the slow cooker in its own juices.
Initially when I came to US, I didn't eat much of anything offered on the restaurant menu other than chicken. Not even fish, as most preparations had a strong fishy smell that I couldn't stomach. Beef was off the charts, and I wasn't sure if I liked pork either. It took a while to find out what worked for me, and slowly, I got used to so many flavors that now I wonder how did I ever lived without them.
Once, I got a taste of Baby Back ribs and St Louise ribs. It was lip-smacking delicious. But the problem was, both hubby and I were under the impression that it was beef. He of course had no qualms in relishing it. I, on the other hand, looked at it longingly, but just couldn't bring myself to eat it.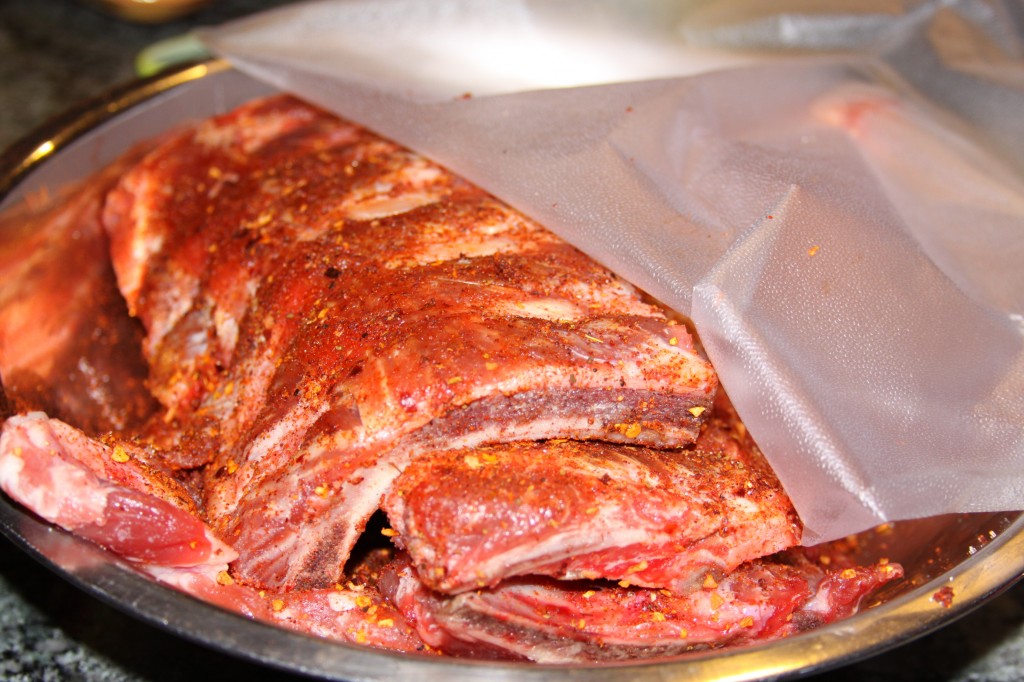 Weird are the ways of humans. What could be a problem eating it even if it was beef? I truly can't explain. I don't like the taste, or the texture.  I never have managed to develop a taste for it. I guess a lot has to do with how you are brought up. More often than not, subconsciously, that does play a role in deciding much of your lifestyle, choices, and even your food.
So even as my kids and hubby enjoyed those mouthwatering ribs, I picked at my chicken. Then someone told me that St Louise ribs are pork. Yay! I attacked them with gusto. So you can imagine my joy when I discovered that Baby back were, well, just another cut of the same pork !
That day itself I decided to make up for all the lost time. I hunted down recipes for BBQ ribs, and bought them ready made from stores. Eventually I started cooking them from scratch, and finally landed up with this recipe which guarantees a top dollar meal without the mandatory slog accompanying it.
Beware! It's going to be messy, and delicious. Ditch those knives and forks, and free your fingers. You are going to need them.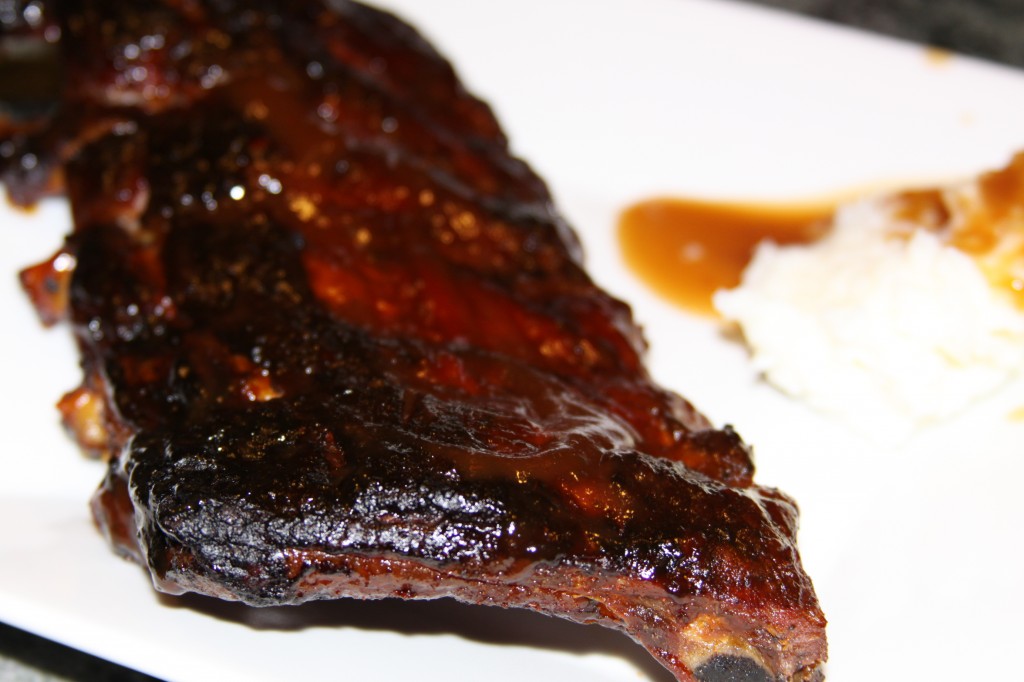 Another crock pot gem - BBQ Baby Back Ribs
Ingredients
4 medium Racks of Baby back ribs
Marinade
Combine the following to prepare the marinade:
½ cup brown sugar
1 tsp cumin powder
1tsp of fennel powder
1 tsp red chili flakes
1 tsp cracked black pepper
1 tsp cayenne powder
¼ tsp of nutmeg powder
¼ tsp cinnamon powder
¼ cup tomato ketchup
1 tbsp of Wright's Liquid Smoke (optional)
2 tbsp BBQ sauce
For braising:
¾ cup BBQ sauce
2 tbsp white wine (optional)
1 tbsp tomato ketchup
1 tsp Worcestershire sauce
Instructions
Wash and pat dry the ribs with kitchen towel.
Coat the ribs well with the marinade.
Refrigerate for two hours to over night.
Transfer the ribs to a deep and large enough Crock Pot. (You do not need to add any juice, sauce or water. It needs to dry cook).
Cook on slow for 6 hours on the low.
Braise
Combine the ingredients and heat it in a pan, and stir till it becomes a consistently thick syrup.
Fire your grill and place the ribs, cooking them for 3-5 minutes on each side, basting them with the braising liquid until the ribs are nice glazed.
Alternatively, broil them for 5 minutes, till they are nicely browned.
Apply braising sauce all over,and return to broil for another minute or so, until the braise begins to caramalize. Take care not to burn the sauce.
Serve Hot.
Yummm!
Notes
I am still new to timing my recipes. It's still 'a pinch of this and a dash of that' for me. While grilling/broiling AFTER the ribs are cooked, I strongly advise to use your judgement. For those who are new, the time given are approximate, to feel free to check on the ribs constantly while you broil or grill them.

Bon Appetit!
*UPDATE*
A reader asked me whether it was important to broil or grill these ribs after they are cooked in the pot. No, they are not. It's not at all important, because the ribs are already thoroughly cooked and have the smokey flavor. Recently, I cooked these ribs, and had no time to broil them, and they turned out great, though just a tad soft as broiling gives them a bit of a crispy texture on the outside. But served with sauce, even store bought ones, make up for it. So it is perfectly OK to transfer them from the pot to the table. Just make sure they are cooked all through, as different crock pots have different temperature settings.