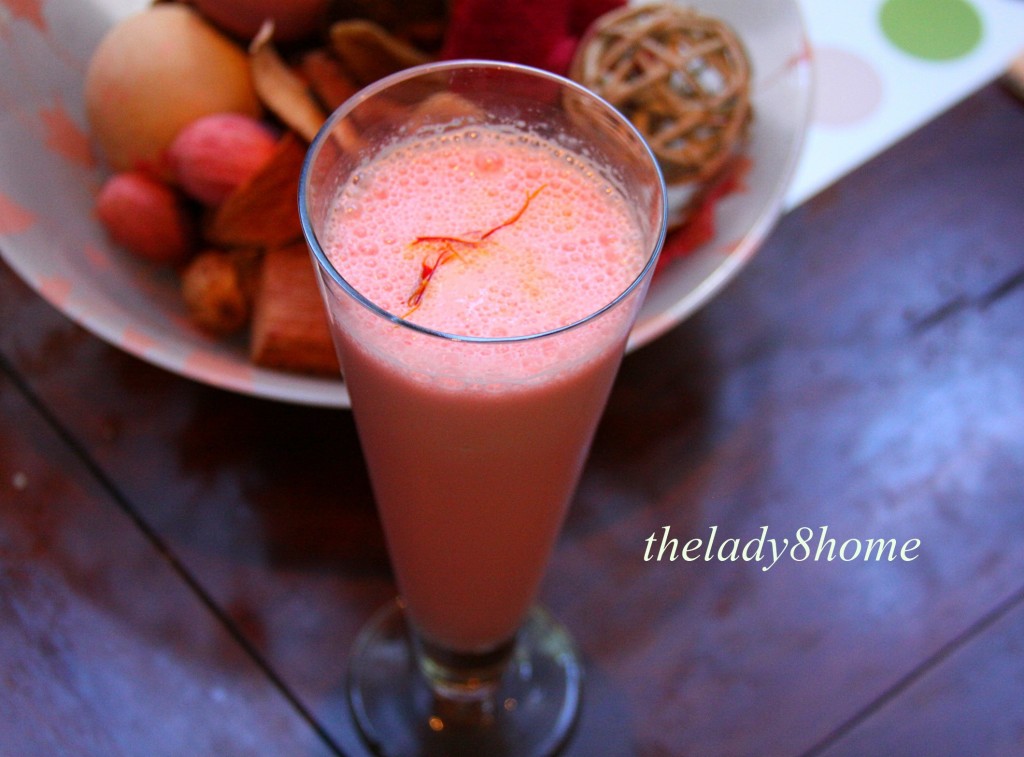 I hope you all had a terrific weekend. For me, it was fabulous. Not only did I get to have some truly relaxing and quality time at home with hubs, kids and my K9 companions, but also my blogger friends, my family and dear dear friends made sure I had enough votes to win CJ's Foodstory photo contest. I am over the moon that I won, but more than that what made my day was the notes I received from so many people who loved the picture.
Carol has a unique blog. There is so much going on there all the time, that it always feels like a party. Her September Food Stories contest has started. Do make your submission to win some exciting prizes.
Those who have been following my blog since I started it about 4 months ago know how miserable my pictures were when I started. My point and shoot Sony Cybershot is fabulous not bad, but I hardly spent any time figuring out its options. So imagine my surprise when I discovered that not only does it have 'food photography' option, it also has editing and filter options. My pictures became better overnight. Still it wasn't enough.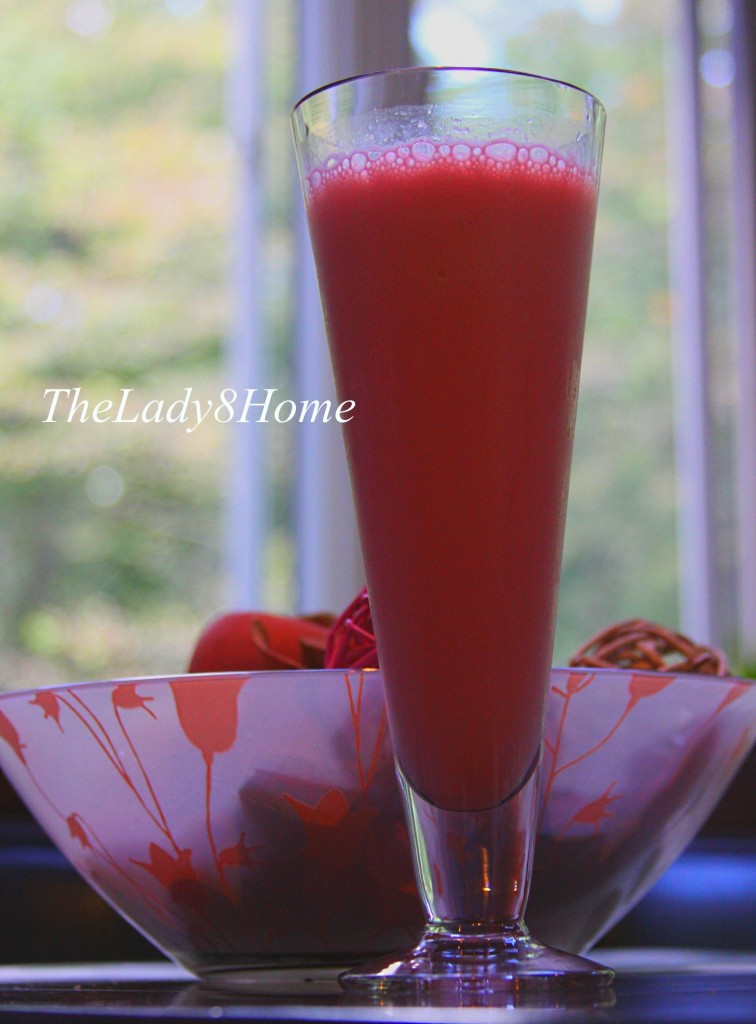 Then one day I eyed my hubby's coveted Canon DS. He is a miser when it comes to sharing his electronic gadgets. More so when the one that I was eying had caused such a stink in the house when he was buying it. For me, photography meant aim and shoot. Literally. To me, it didn't make sense that we had to splurge on something so expensive when I already had a great point and shoot and he had a Fuji that used to be top of the line at one time. After all, all we ever did with a camera was to look at it and smile. Right?
Wrong. I had not discovered blogging yet. Food photography to be precise. It took me about a week into blogging to realize how PATHETIC my pictures were. Amateur Photoshopping made them worse. Hence now I eyed the camera that had caused so much heart burn between hubs and me. And my normally reluctant-to-share-electronic-toys hubs benevolently lent me his camera.
He has been gloating ever since.
I still have to go a loooooong way. One only needs to visit Pinterest for 5 minutes to realize HOW long. I did learn a few lessons on photography on the way though.
a) Invest in a good camera. You don't need to spend a LOT of money (well, I got lucky, but nevertheless, I had some great bloggers tell me they do fine with inexpensive camera with a good lens).
b) Click click click. Click as many pictures and from as many angles you possibly can. Sometimes what you THINK is the best possible angle ends up being too bright/too dark/too shiny and so on. Out of 20 clicks, you might end up with only one that you like.
c) A photographer friend of mine suggested that I should 'FEEL' the picture. I am still not 100% sure what she meant, but I guess it means if a click feels good from inside, it will be good.
d) Learn about lighting. This part still eludes me, but I am trying.
e) Photoshop: This is a great tool which can make your pictures more focused and crispier. If you don't want to spend on Photoshop, then there are some free softwares too. I use Paint.net very often and love it.
If you want to be more savvy, check out these great posts:
My take on Food Styling and Photography from 6 Bittersweets
Food Photography Tips by Hotly Spiced
Nevertheless, this truly made my day. A BIG thank you to all who voted.
I also made some rose drinks during the long weekend. This one is an ice cream shake.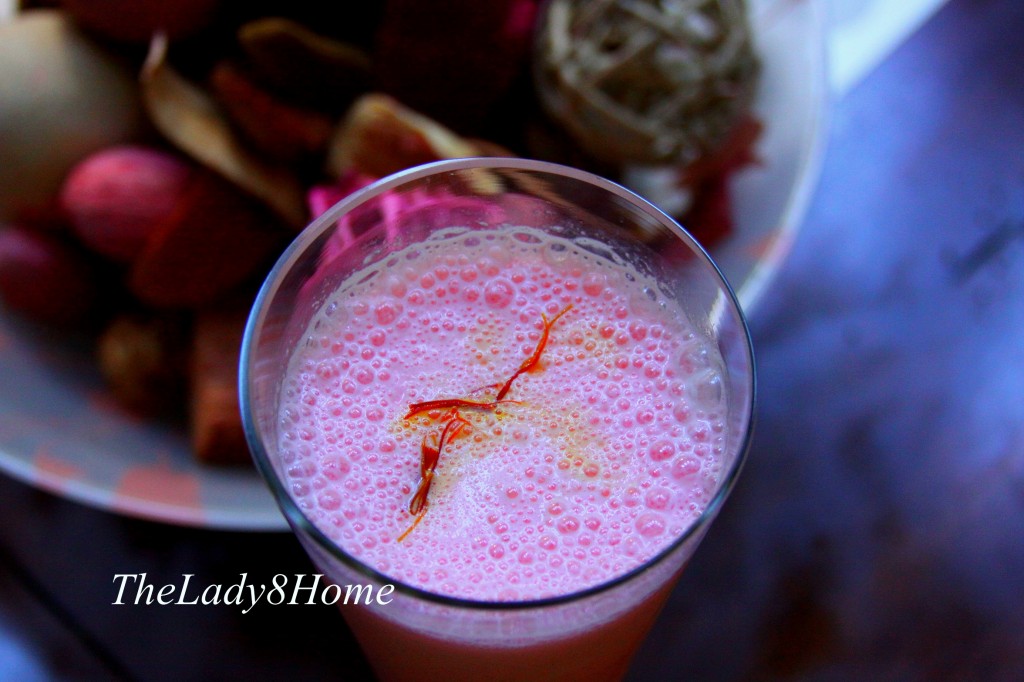 Exotic Rose Ice cream shake
Author:
Minnie@thelady8home
Recipe type:
Drink/Dessert
Ingredients
2 cups Plain Milk or almond milk
3 scoops Fat free Vanilla ice cream plus 2 more
2 tbsp Rose syrup
2 drops almond essence
¼ tsp saffron strands soaked in 2 tbsp warm water
Instructions
Blend milk, ice cream, rose syrup, almond.
Pour in a tall glass.
Pop in Vanilla ice cream scoop.
Drizzle saffron water on top.
Serve immediately.
Coming Weekend, I will be hosting my very first
Lady 8 Home Dinner Extravaganza
linky party!! Starting Thursday midnight, the linky will be open till Saturday. Following Thursday, I will pick a Menu for the Dinner – 2 Appetizers, 3 Entrees, 2 desserts. In addition, the menu will include the most viewed dish. Also, the linky party also welcomes party ideas – games, tips, craft and decoration ideas. Can't wait to see your creations!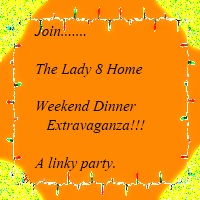 This post is linked to: