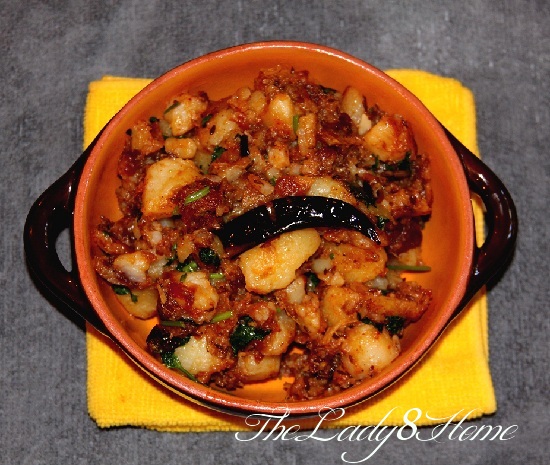 Once when I was around 11 years old, my Mom went into an emergency hospital situation, and I stayed with a kindly neighbor's family. They were very sweet, simple, north Indian vegetarian people. Unfortunately, the ungrateful pre-teen that I was, I didn't appreciate their food.
They seem to eat a lot of squash, potatoes and of course, chappatis and parathas (Indian tortillas).
I even complained to another neighbor, who was young, always seemed fun and open to anyone who had dreadful woes to tell. In my case, at that time, was the terrible food that poor me had to eat while my parents were away.
The gleeful neighbor spiced it all up and presented it to my kindly host at the very first opportunity she got. I learned my first important lesson of life – never be ungrateful of kindness, and NEVER complain about one neighbor to another. All that shines is not gold, right?
My host turned out to be truly magnanimous people. Turns out they were well aware of the vicious nature of my other friendly neighbor. They decided to forgive me and even made me some sweet, apologetic that they couldn't make what I wanted to eat. They were such wonderful people. I was so overwhelmed by their kindness that I made an extra effort to appreciate whatever they did for me after that.
Today I have learned to appreciate vegetarian dishes and love cooking them. We Indians cook a lot of potatoes. There, potatoes are often cooked dry, seasoned with spices, or in a variety of gravy. They are also added to curries to add to the flavor or increase quantity of a dish. This particular dish is very popular homemade potato recipe and best part is, it takes minimum effort and is ready in minutes.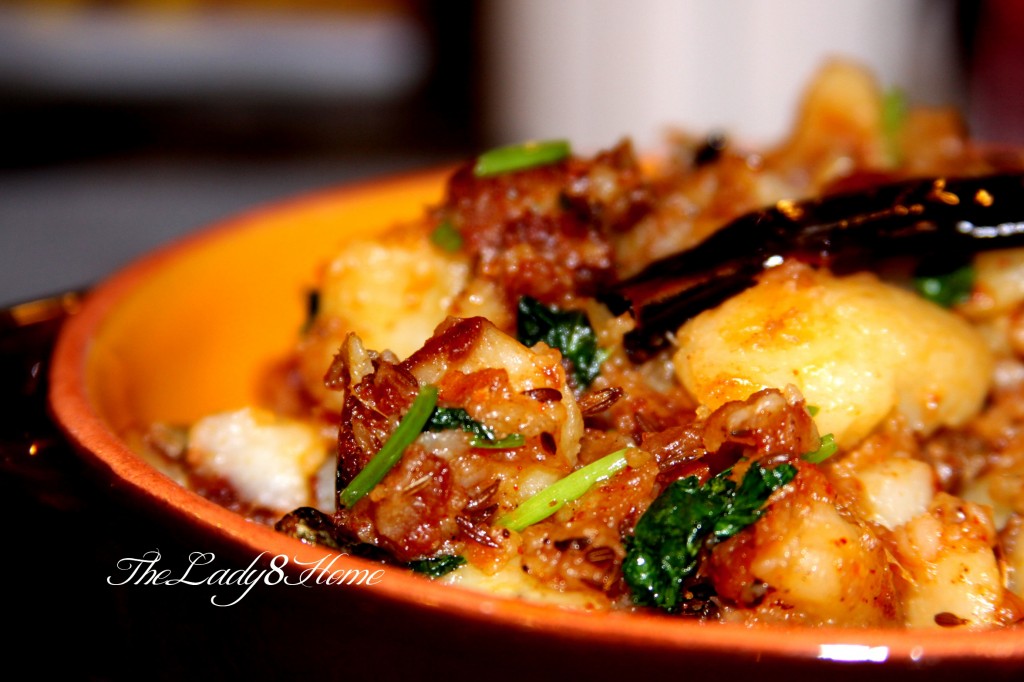 Spiced dry potatoes
Instructions
#instruction#
Author:
Prep time:
Cook time:
Total time:
Ingredients
1 lbs potatoes boiled and roughly smashed.
1 tsp cumin seeds
2 whole red chilies
2 tsp red chili powder/cayenne pepper
1 tsp turmeric powder
1 tsp minced ginger
1 tsp chopped green chilies (Thai peppers or jalapeno)
1 tsp garam masala powder
1 tsp whipped yogurt (optional)
1/4 c finely chopped cilantro leaves
1 tsp salt
2 tbsp oil or clarified butter
Instructions
Boil, peel and roughly break the potatoes by hand (the should be uneven but solid)
In a skillet, heat oil or clarified butter and season whole red chili and cumin seeds.
Once the seeds start crackling, fry minced ginger and green chilies
Add the potatoes. Fry well. They will start forming a nice crisp crust.
When the potatoes have nice crispy look to them , add cayenne/red chili, turmeric and garam-masala powder.
Turn them over till the potatoes are well coated with all the spices.
Add whipped yogurt at this point.
Add garam masala, turn around the potatoes.
Garnish with cilantro leaves.
http://www.thelady8home.com/2012/09/20/weekend-gala-dinner-extravaganza-party-3/
Shared with: