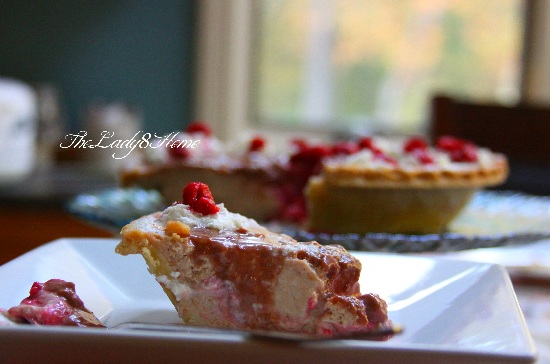 I have been trying to post about this pie for three days now. However, a long weekend, an official trip preparation for hubby, fighting the fall pile up of leaves, some very important errands, shopping and watching movies moved this way down on the priority list. I loved the watching movie part. Saturday night hubby and I stayed up to watch movies, so that he could start for the airport at 2 AM without feeling brain-dead. I stayed up some more to finish a movie that we had already started. Next morning we both slept in late – hubs on his flight, and I on my bed. The kids were quite amazed seeing me getting up so late. But when you have a teen in the house, there are some perks as well. Your dogs get fed, breakfast is taken care of – pouring milk and cereal in a bowl actually is quite easy – and entertainment is not that big an issue. If I had a Facebook like sign here, I would click it.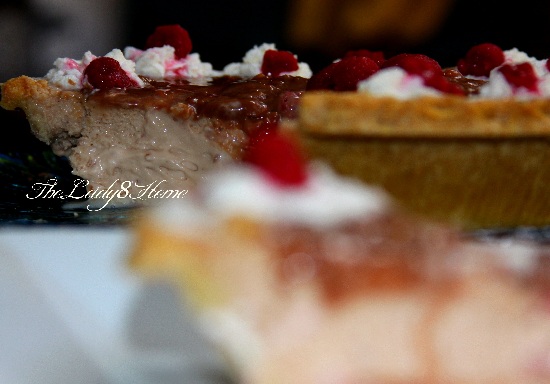 Also the fact that I had initially planned a shake – Oreo cookie and raspberry thick shake. Easy to make, and hence easier to post. It turned out to be pretty eeewiw to taste. However, you might feel differently about it. Blend some Oreo cookies with raspberries and milk. For my trouble, I got to watch my kids make faces and grumble about how I wasted precious cookies.  
So I decided to make something seriously decadent. A creamy raspberry and Mascarpone cheese cake flavored with Kahlua cream topped with melted hazelnut chocolate sauce. Spoon in the heaven and sigh with satisfaction.
Why raspberry pie? Recently, I met a very interesting group of bloggers who are powering their way through a series of power foods every week, based on Power Foods: 150 Recipes with the 38 Healthiest Ingredients, (from the editors at Martha Stewart's Living Magazine). Mireya- from My Healthy Eating Habits introduced me to them (a big Thank you Mireya :D) It's a challenge I could not resist. More so because some of the foods I have never cooked with, and others, I would not even think of cooking unless someone was forcing my hand. This week's ingredient is Berries.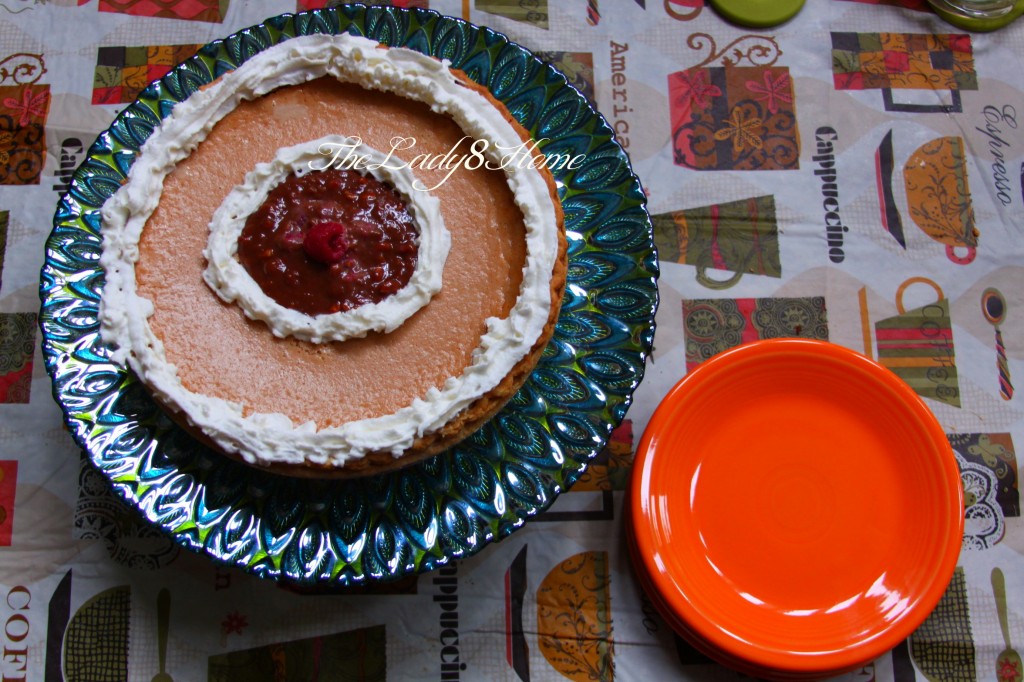 If you want to find our more terrific recipes on power foods, do visit these wonderful bloggers: Alanna – Kitchen Parade Veggie Adventure – Alyce – More Time at the Table, Ansh – Spice Roots,  Casey –SweetSav  Jeanette – Jeanette's Healthy Living, Jill – Saucy Cooks Martha – Simple-Nourished-Living, Mireya- My Healthy Eating Habits So again, why raspberries? a) Because that is pretty much about the only berry my older son will eat. b) Besides being a low glycemic index food, it is rich in manganese, vitamin C, vitamin B, folic acid, copper and iron. A 100 gm of raspberries can serve up to 8 gm of dietary fiber – highest in the whole food group. c) It also looks pretty. d) Plus, when you make something like a 'cheesecake pie', it eases your conscious  that it's partly healthy. Plus there is always power in comfort. Don't you agree?
Raspberry Kahlua Mascarpone Cheese Pie with Hazelnut Sauce Topping
Author:
Minnie@thelady8home
An original recipe by Minnie@thelady8home
Ingredients
For the cheesecake
For the cheesecake
8 oz Mascarpone Cheese
8 oz Mascarpone Cheese
1 can condensed milk
1 can condensed milk
1 cup raspberries
1 cup raspberries
1 cup milk
1 cup milk
1 tbsp cornstarch
1 tbsp cornstarch
2 large eggs (room temperature)
2 large eggs (room temperature)
½ cup Kahlua coffee cream (you can sub with coffee if you don't do liqueur, but the taste will be slightly more of a coffee cake).
½ cup Kahlua coffee cream (you can sub with coffee if you don't do liqueur, but the taste will be slightly more of a coffee cake).
1 tsp Vanilla extract
1 tsp Vanilla extract
1 pie shell
1 pie shell
For Hazelnut sauce:
For Hazelnut sauce:
60 gm of chopped Hazelnut chocolate bar
60 gm of chopped Hazelnut chocolate bar
1 cup milk
1 cup milk
2 leveled tsp sugar
2 leveled tsp sugar
1 tsp corn starch
1 tsp corn starch
For garnish: Fresh raspberries
For garnish: Fresh raspberries
Light whipped cream (optional)
Instructions
To make the cheesecake
Blend raspberries with milk and strain to get the seeds out.
Combine strained raspberry mixture with condensed milk in a mixing bowl.
Whip for 2 minutes.
Whisk in the cheese. Speed for 2 minutes, till the cheese is creamy and dissolved.
Add Kahlua cream, vanilla extract and cornstarch.
Whip till creamy, about 30-60 seconds.
Scrape the sides with a spatula, then continue beating for another 30 seconds.
Fold in eggs, one at a time.
Whisk for two more minutes. The mixture should be thick but creamy. Don't over beat or the cake will be dense instead of soft and airy.
Set your oven to preheat at 350 degree F
Pour the mixture in the pie shell. Let it sit on the counter while the oven heats up.
Bake for 45 minutes.
Once done, take it out and let it cool down. It will be a little soft in the middle, but that's fine.
When it's sufficiently cooled down, refrigerate for 4 hours to over night.
To make the hazelnut sauce.
Blend cornstarch in cold milk and set aside.
Melt hazelnut chocolate in a double broiler or a bowl kept on barely simmering water.
The chocolate melts in about 3-5 minutes.
Fold in the milk and cornstarch mixture and stir well.
Add sugar (if required)
Stir for another minute. The sauce should now be thick and creamy.
To garnish
Pour the sauce on the pie, and decorate as you like with raspberries and cream. I used some frozen strawberries thawed, which gave a nice fruity flavor to the pie.
Enjoy.
This recipe is linked to:
http://www.thelady8home.com/2012/10/11/menu-finds-with-weekend-gala-extravaganza-dinner-party-5/