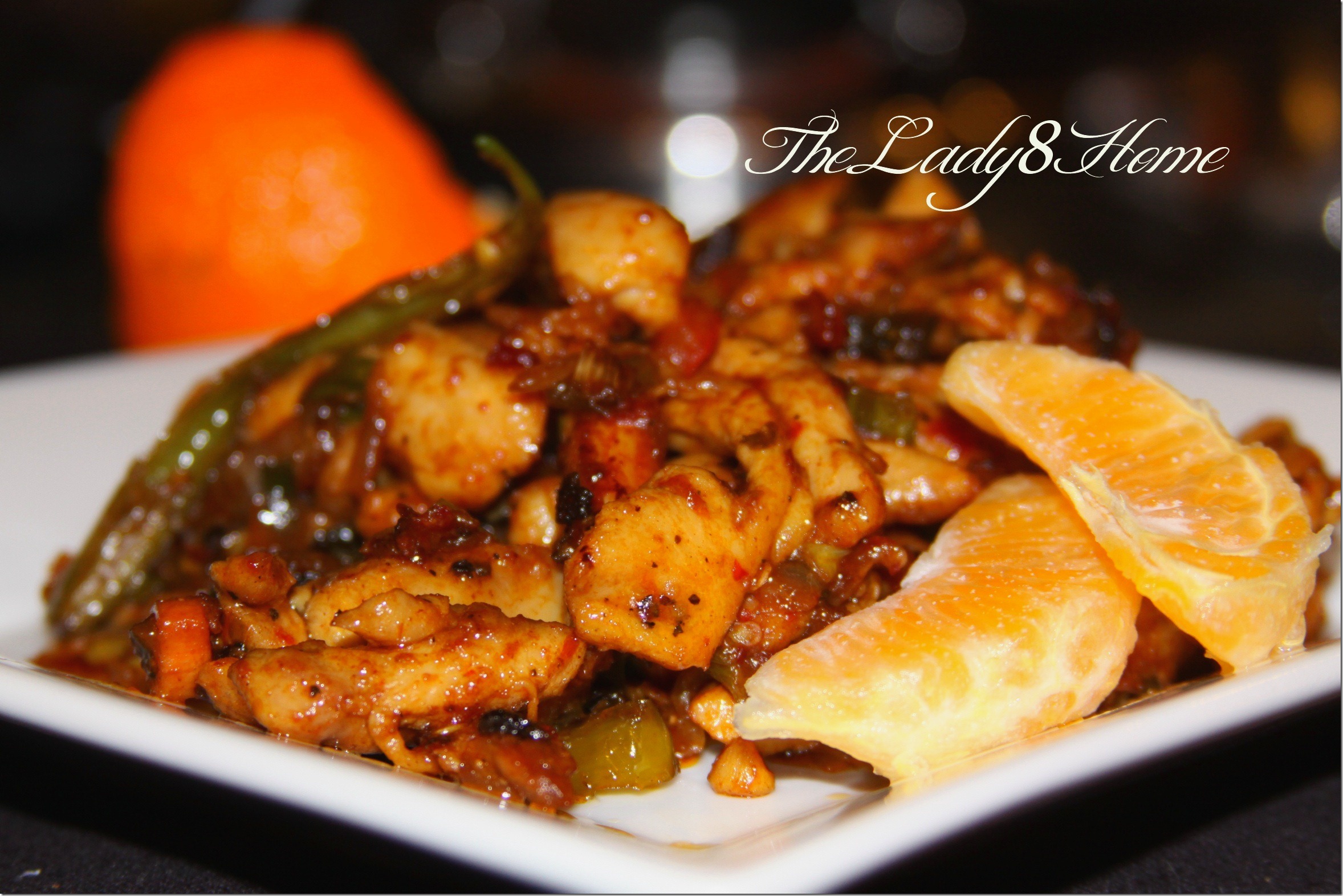 When I was a kid, my favorite pastime during the winter months was to sit outside in the sun and compete with my mother and sister as to who would peel an orange fastest. Later, we would take the segments apart, dip them in rock salt and chew on them in delight.
Clementine comes closest to the kind of oranges I loved back then. So when this week's ingredient for Power food blogging came up, I knew I had to make something with it. I am a part of this exceptionally talented blogging group that showcases a Power Food each week. The Power Food ingredient each week is based on the book Power Foods: 150 delicious recipes with 38 Healthiest Ingredients from the editors of Martha Stewart's Whole Living Magazine. It's amazing the kind of food that fall under the purview of Power Foods. You can find these ingredients in everyday kitchen. They provide an outrageous amount of nutrients – fiber, vitamins, iron, calcium, magnesium, minerals, phytonutrients, fatty acids – and anything else that you can think of that aids in promoting good health and healthy food habits.
This week's power food is Citrus. Every kitchen in the world works with this acid. Be it lime, lemon, or an oranges, citrus is vital to every cuisine, and with reason. They not only impart sizzling flavors, they are also one of the most nutrient rich foods on planet. They scavenge free radicals, reduce risk of many forms of cancer, and provide our bodies with the daily dose of much needed Vitamin C that is essential to a healthy immune system.
For more amazing recipes on Citrus this week, do check out my fellow group members:  Alanna – Kitchen Parade Veggie Adventure – Alyce – More Time at the Table, Ansh – Spice Roots,  Casey –SweetSav Jeanette – Jeanette's Healthy Living, Jill – Saucy Cooks Martha – Simple-Nourished-Living, Mireya- My Healthy Eating Habits
The recipe I chose is quick, different and delicious. It is adapted from the all time favorite 'Orange Chicken' that is a staple on almost every Chinese menu. However, instead of being sweet, this is spicier and hot (you can adjust the heat factor according to taste).
You will need a cup of sweet clementine juice, red chilies cored, vinegar and cored Thai green chilies. You will have to make sure the seeds are all taken out of the chilies.
EDIT: I remade this and added soy sauce and vinegar to the marinate. It tasted even better. I have updated the recipe accordingly.
Marinate chicken for 1 hour.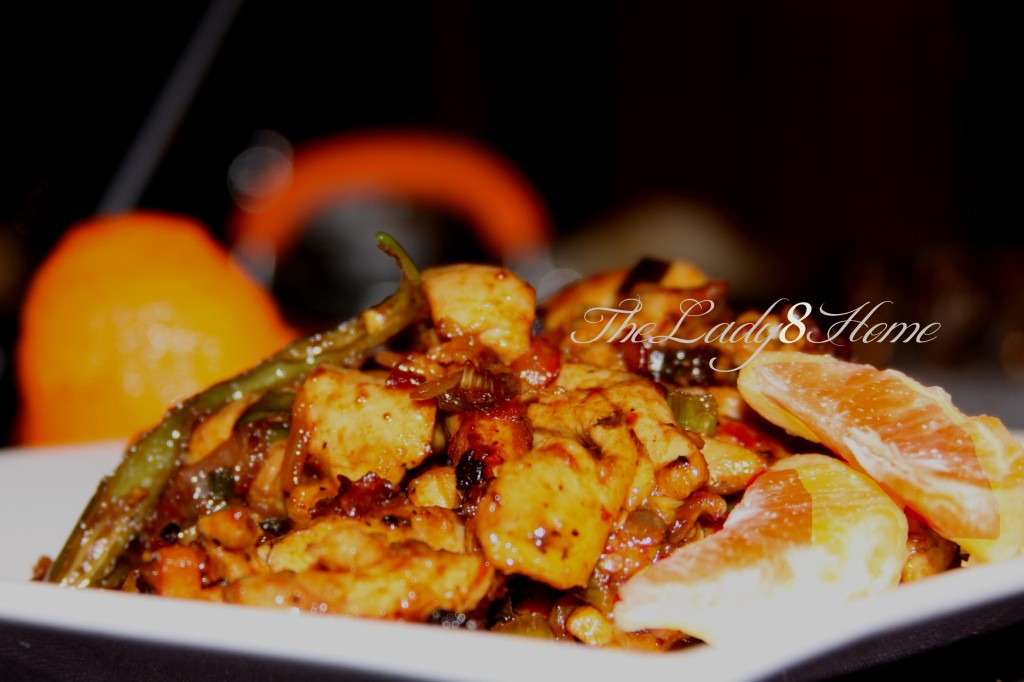 Citrus Chili Chicken _ Power food blogging
Author:
Minnie@thelady8home
An original recipe by Minnie@thelady8home
Ingredients
1 lbs chicken sliced thin
1 tsp cracked black pepper
1 tsp white pepper
1 tbsp cornflour (regular all-purpose will do as well)
1 tsp garlic chopped
1 tbsp soy sauce
1 tsp salt
1 cup fresh clementine juice (make sure it's sweet)
4-5 dry red chilies cored and sliced into half
2 tbsp vinegar
3-4 green chili
2 tbsp oil
½ cup chopped spring onions
½ cup diced carrots
½ cup chopped green and red bell peppers
½ cup chopped onions
½ cup button mushrooms
Instructions
Step 1
Soak dry chilies in orange juice for 1 hour
Soak green chilies in vinegar
Marinade chicken with cornflour, black pepper. white pepper, 1 tsp vinegar, soy sauce, chopped garlic and salt for one hour.
Heat 2 tsp oil and saute onions, mushrooms, spring onions, carrots and bell peppers on high. Add salt and 1 tbsp chili soaked vinegar.They should be softened, but retain their crunchiness. Keep aside.
Step 2
Blend orange juice and red dry chilies.
Heat rest of the oil.
Fry the marinated chicken.
Using a fork, pick up the green chilies from vinegar and add to the chicken.
Cook for 5 minutes on the high
Now, add ½ cup orange juice and cook till it's all evaporated
Add rest of the juice and again cook till it's all evaporated
Add the vegetables
Saute for a minute.
Serve hot
Note: You can add a little more soy sauce and a few drops of sesame seed oil towards the end if you prefer.
Linked to: