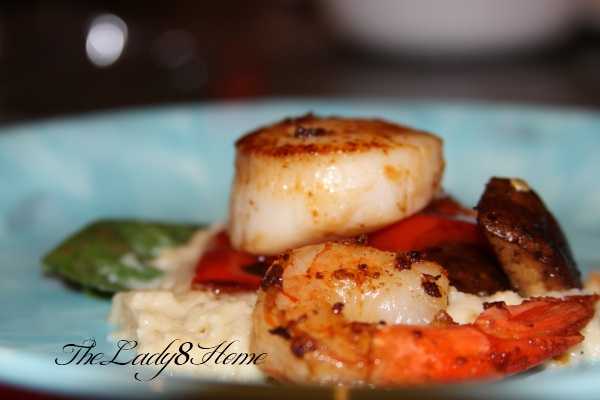 I am a part of this exceptionally talented blogging group that showcases a Power Food each week. The Power Food ingredient each week is based on the book Power Foods: 150 delicious recipes with 38 Healthiest Ingredients from the editors of Martha Stewart's Whole Living Magazine. It's amazing the kind of food that fall under the purview of Power Foods. You can find these ingredients in everyday kitchen. They provide an outrageous amount of nutrients – fiber, vitamins, iron, calcium, magnesium, minerals, phytonutrients, fatty acids – and anything else that you can think of that aids in promoting good health and healthy food habits.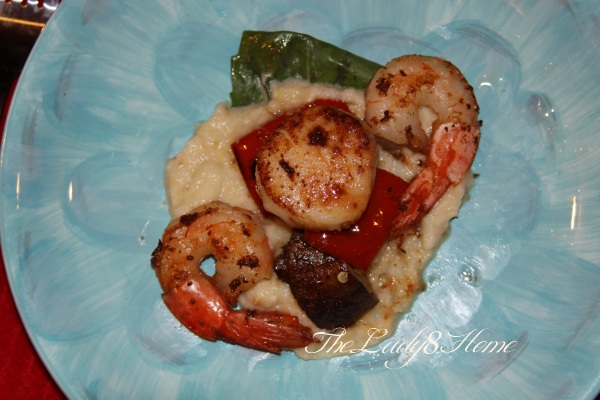 This week the Power Food we are covering is Pears. As a fruit, I love pears. This bell-shaped golden fruit once inspired the great poet Homer call it 'gift from the Gods'. Pear is one of the most succulent, juicy, buttery fruit that graces the shelves of fall and winter stores.
At first I thought I will whip up a healthy salad. Then I spotted the enormous, fresh sea scallops in the fish section. And I thought – pear puree! The mildly sweet flavors of Bosc pears married with fennel and basil would be a perfect foil for pan seared scallops. I wasn't wrong. This was an amazing fare, if I may say so myself. Enjoy!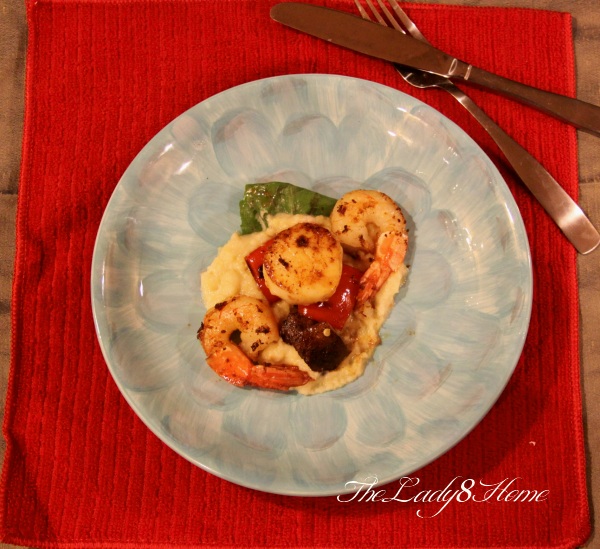 Seared Scallops with basil infused Pear Puree
Author:
An original recipe by Minnie@thelady8home
Ingredients
8 sea scallops
12 ct large shrimps
2 tbsp butter
1 large portabella mushroom diced into 2X2 chunks
1 red bell pepper cut into large squares
For pear puree
1 Bosc pear peeled, cored and sliced
1 d'Anjou pear peeled, cored and sliced
2 tbsp butter
1 jalapeno cored
¼ tsp ground fennel powder
¼ tsp lemon zest
2 large basil leaves
salt and pepper to taste
Instructions
Wash and dry the scallops on a paper towel. Sprinkle salt
Melt butter in a skillet
Sear the scallops in the pan for 5 minutes, 3 on one side and 2 on the other.
Drain and keep aside.
Add 1 tbsp butter, and shallow fry the shrimps till they are cooked.
Drain and keep aside.
In the remaining butter, fry the pears and jalapeno till soft.
Transfer into a separate dish and let it cool.
In the same pan, add another 1 tbsp butter.
Season with chopped garlic
Then fry the mushrooms and the red peppers till soft. Add salt and pepper to taste. Keep aside. Reserve the pan.
For the Puree:
Blend pears and jalapeno into a smooth paste. Add a tbsp of milk to help it along (optional).
Add fennel, salt to the puree.
In the left over oil, toss two large basil leaves around till soaked in the oil.
Add it to the puree. Using a fork, mix it till the basil is shredded and mixed in with the puree.
Finish with lemon zest.
Plating:
Spread pear puree
Place red peppers and mushrooms
Top with scallops and shrimps.
Serve immediately.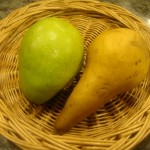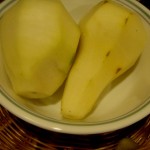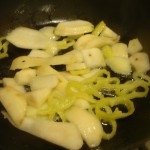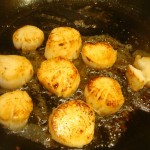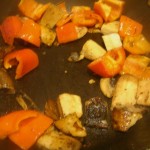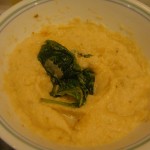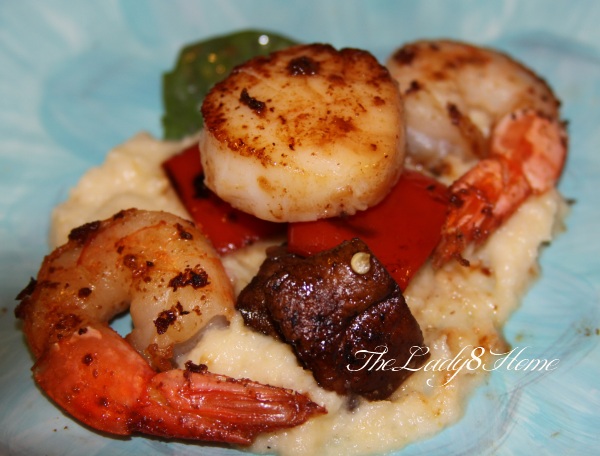 For more fabulous pear recipes, do check out my fellow Power food bloggers: