Have you ever heard of Diwali? We Indians kind of go bonkers over this festival. You can call it our Christmas. We clean houses, paint them new, dress them with beautiful lights. We pray to Goddess 'Lakshmi' for prosperity and wealth.
We draw 'Rangoli' – beautiful patterns that are drawn onto the ground of our living rooms or courtyards, using chalk or colorful powders and then embellished with a variety of fillers like flower petals or shimmering metallic sand, like this one that I drew.
Today we are celebrating Diwali, which is also called a festival of lights. It is primarily celebrated to mark the victory of good over evil. Diwali is short for 'Deepavali' or row of 'deeps'. Deep is a clay lamp the size of a tea-light candles. This festival is celebrated with great pomp and show across India. Interestingly, it is also one of the few festivals that is celebrated by few different faiths – Hindu, Jain and Sikh.
In Hinduism, it is observed to celebrate the triumphant return of Lord Ram to his kingdom Ayodhya', after vanquishing Ravana, the monster king who had kidnapped Sita, Lord Ram's wife. The kidnap and rescue story of 'Ramayana' makes a great read in itself, but it also provides some great life lessons, like all holy books do.
Oh, let me not miss the most important part. We love to dress up – silk and gold if we can. Completely traditional of course, complete with 'bindi – the famous 'red dot' on the forehead. Quite like this: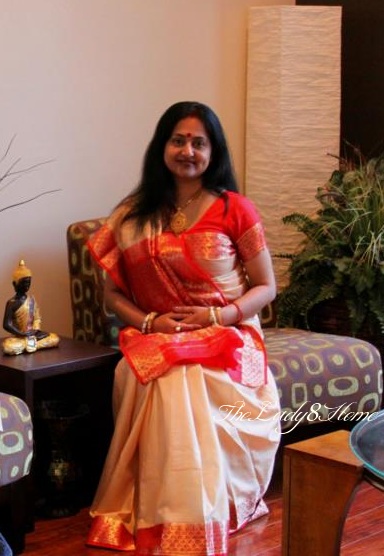 Can't miss the food part, right? We cook, a lot. Lots of food.
I would love to write all the recipes right away, but it will have to wait. While I am running around making preparations, I will squeeze in the recipe for 'Payesh' – the rice pudding.
It's a traditional Indian dessert made out of rice and thickened milk. It has quite a few names – rice pudding, kheer, payasam. We Bengalis call it Payesh.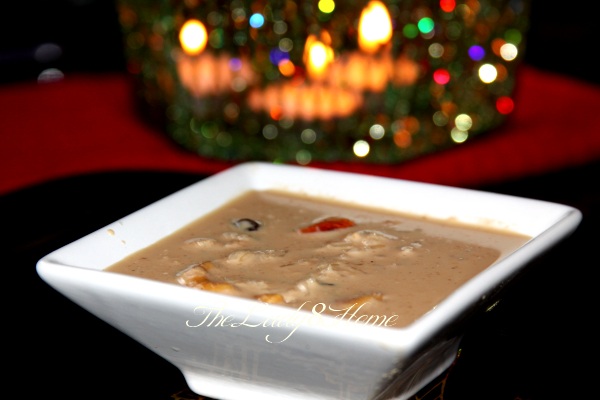 I gave this traditional sweet a twist – I made it out of brown rice and added agave nectar instead of sugar. The flavors that came out were very similar to the 'gud payesh' we cook in Bengal. Gud is jaggery, and cooking payesh with date jaggery is a delicacy many of us crave for. Unfortunately, date jaggery is not to be found anywhere outside rural Bengal.
Why Brown Rice? It is a Power Food, that's why.
I am a part of this exceptionally talented blogging group that showcases a Power Food each week. The Power Food ingredient each week is based on the book Power Foods: 150 delicious recipes with 38 Healthiest Ingredients from the editors of Martha Stewart's Whole Living Magazine. It's amazing the kind of food that fall under the purview of Power Foods. You can find these ingredients in everyday kitchen. They provide an outrageous amount of nutrients – fiber, vitamins, iron, calcium, magnesium, minerals, phytonutrients, fatty acids – and anything else that you can think of that aids in promoting good health and healthy food habits.
This week, we blog about Brown Rice. Do check out my fellow Power food bloggers: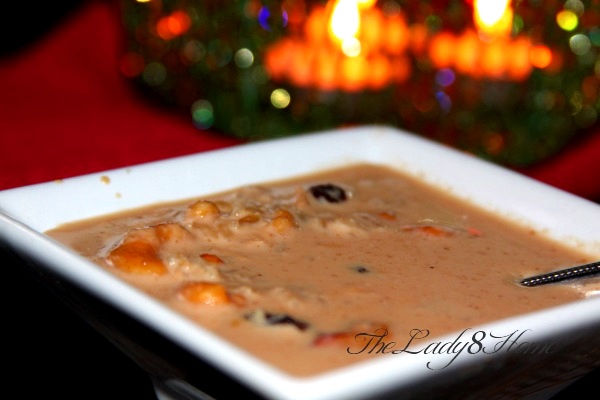 Payesh (Rice Pudding) with Brown Rice
Author:
Minnie@thelady8home
A rich creamy dessert of rice and milk
Ingredients
1 ltr Whole Milk
2 tbsp brown rice
1 cardamom
1 bay leaf
¼th c cashews
½ tsp unsalted butter
¼ c sultanas or golden raisins if available
2 tbsp Agave nectar (adjust to taste)
few strands of saffron (optional)
Instructions
Rinse the rice thoroughly in warm water, and soak it for at least 2 hours or more in 2 cups of water. (See *Notes below)
Bring the milk to boil in a heavy bottomed pan. (See **Notes below)
Don't let it flow over. As it nears boiling point, start stirring it.
Add cardamom and bay leaf.
Reduce to low, and simmer the milk. Stir it gently every few minutes so that the milk does not stick to the bottom.
Drain the rice, and let it dry for 15-20 minutes while the milk is getting reduced.
Reduce the milk till it's about ¾ the quantity.
Add rice, and cook on low for 25-30 minutes, stirring every 5 minutes or so.
Check for doneness.
While the rice is cooking, toss the cashews and raisins in ½ tsp butter and add to the rice and milk.
Once the rice is cooked, switch off the flame. Now add Agave Nectar, very slowly. Adjust sweetness to your taste.
Add the saffron strands.
You can serve it hot or Chill for 4 hours and serve cold.
Notes:
* I soaked it overnight. Brown rice can be tough to cook, soaking helps it cook faster.
**A dutch oven is good, but it should have a thick heavy bottom, or the milk will stick to the bottom and burn, spoiling the milk. Stir the milk to avoid this. It's VERY important.)