Happy Thanksgiving to all of you! To celebrate Thanksgiving, I decided to make some different sort of cookies, that would blend the old world American dessert with old world Indian flavors.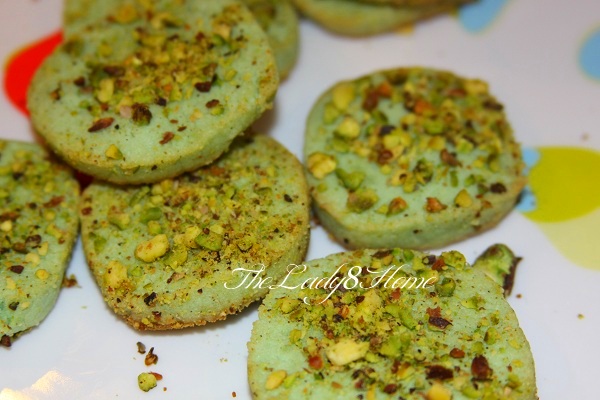 It's an old style sugar cookie recipe, flavored with a very Indian spice – cardamom. Cardamom is possibly the most used spice in Indian desserts, an equivalent of cinnamon in American desserts.
Last few weeks, I am craving for Indian food, and I think I know why. I am about to start on a month long trip to India, and I can't wait!!!!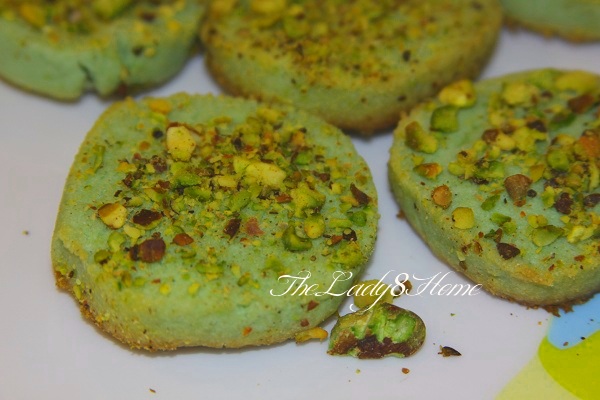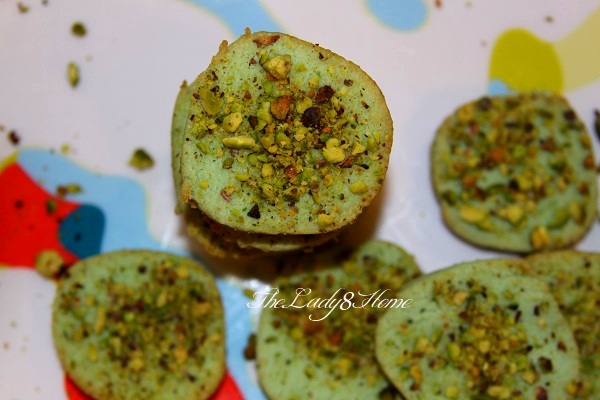 Pistachio Cookies – Eggless
Author:
Prep time:
Cook time:
Total time:
Ingredients
1-2/3 cup All Purpose Flour
1 heaped Tbsp yogurt whipped
1 tsp baking powder
1/2 tsp cardamom powder
2/3 cup granulated sugar
1 tsp tsp Vanilla extract
1/2 cup butter softened
1/2 cup fresh pistachios
1 tbsp sugar
1 tsp butter
Few drops of Food color
Plastic wrap (like Glad plastic wrap) to roll dough in and refrigerate. If you don't have clear plastic wrap, you can use aluminum foil
Instructions
Sift flour, cardamom powder and baking powder together and keep aside
Toss the pistachios in a pan with warm butter and 1 tbsp of sugar. Cool them, and then coarsely crush pistachios and keep aside. (I put them in a zip loc and rolled the rolling pin over them.)
Soften butter and whip in sugar, making a smooth creamy paste. Add green food color.
Add yogurt and cream till smooth
Now mix in the sifted flour into the creamed mixture, making a nice smooth dough.
Now, roll the dough into a nice long log about two inches thick.
Wrap this dough log in the plastic wrap and refrigerate for at least an hour.
Preheat Oven to 400 degree F
Slice the cookie dough into 1/4 inch thick cookies, and place them on an ungreased cookie sheets. You might need to bake in batches.
Bake for 8 minutes.
You can bake for 2 more minutes if you want more crispy cookies.
Remove from oven, and sprinkle the crushed pistachios over the cookies evenly.
Once the cookies are completely cooled, store them in an airtight jar.