I am about to kick off a trip to India, my 'native' place, as we call it in India. I am going there primarily to be by my Mom who is having a surgery, but make no mistake, I have full plans to make the best of it and have a blast. With all my cousins flocking into Kolkata to meet with me, it's going to be a veritable visual feast. I can't wait.
Will you miss me while I am gone? I bet not too much. Because you see, I have some absolutely fabulous bloggers to guest post on my blog during this time. They are just not food bloggers, they are story tellers and entertainers of the sublime kind.
This is the first ever Guest Post on my blog. To start with, I bring you a very special blogger, who is very close to my heart – Meena from Chattermusings.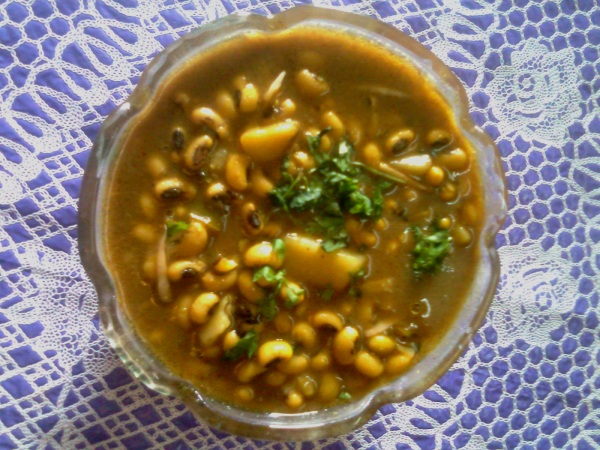 Meena is not only a very talented food blogger, she also happens to be someone I have known personally for a long time. Our association started almost a decade ago. We used to frequent a forum long time back, and I came to know her as 'chatterbox', which used to be her handle there. She is a true chatterbox, and a dear one that. But chatting is not the only thing that she does, she can whip up some seriously great Indian food. She has a completely vegetarian blog, and if you ever want to find out what authentic home cooked Indian food looks like, do head over to her blog. Simple, delicious and oh so tasty. And yes, completely vegetarian Indian.

Thank you so much Meena for guest posting on my blog.  
——————————–
Hi My name is Meena and I am from Mumbai. I am a well a multi-tasker managing a lot of things. I have a total vegetarian blog called Random Ramblings. I started writing about recipes much after I started my blog which contains a lot of random stuff from Computers, jokes to travel tales but now its total foodie blog. Do visit me to know more.
When Minnie asked me for a guest post, I was delighted but wondered what can I share and then I decided on this simple easy to make Black eyed beans curry or as we call it Lobiya.. It is delicious gravy and can be eaten with roti, chapati or even plain rice.Let me start how to make this Lobiya.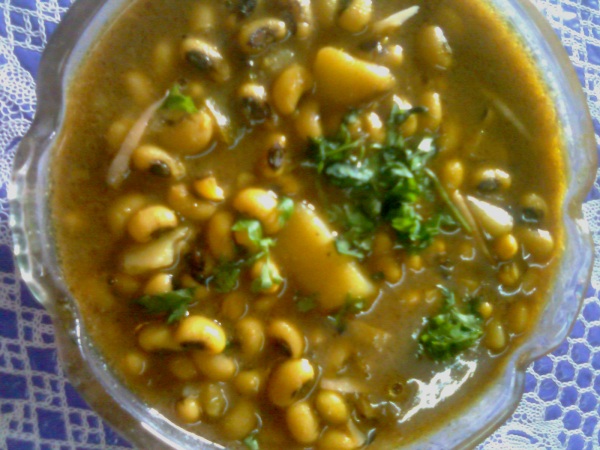 Lobiya
Ingredients
2 cups Black eyed peas
2 potatoes medium sized
2tbsps gram flour
½ tsp red chilli powder
½ tsp coriander powder
½ tsp turmeric powder
½ tsp garam masala powder
½ tbsp tamarind
salt to taste
Asafoetida a pinch
2tbsp oil
4 green chillies
coriander leaves to garnish
ginger juliennes to garnish.
Instructions
Soak the beans in water 3-4 hours prior to cooking.
Boil the potatoes and dice them and keep them aside.
Boil the beans separately till they are cooked and soft, but not mushy.
Soak tamarind in little water for 10-15mins. Squeeze the pulp and strain out tamarind water.
Add gram flour,chilli powder,coriander powder and a little water to tamarind water and mix it properly. Keep it aside.
In a big vessel, heat oil and add chopped green chillies.
Add asafoetida and stir for a few minutes.
Add tamarind water mixture to it and saute for 2-3 minutes.
Add the boiled beans and potatoes and some more water.
Add the remaining spices along with salt and let it cook for some time till you get required consistency of the gravy.
Serve hot garnished with coriander leaves and ginger juliennes.
Notes: This gravy has been made without use of onion, garlic or tomatoes. Feel free to add them.
Hope you all like this dish. Thanks Minnie for giving me opportunity to share on your space.