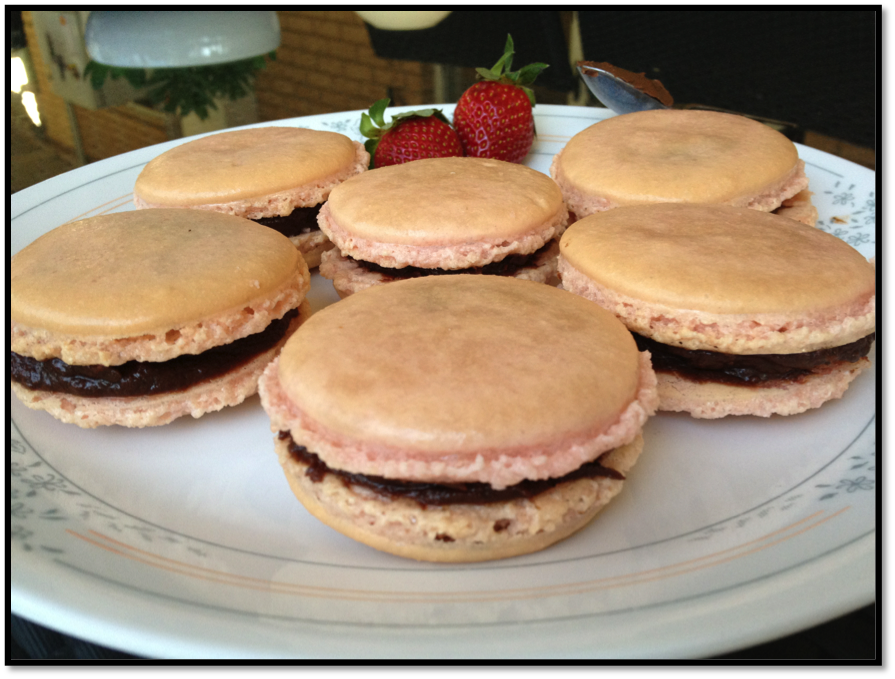 Today is very special. X-tra ordinarily special. Why? There are three reasons for it. Make it four.
a) I married my soul mate today 14 years ago.
b) It is 4th Dec in US, so tomorrow is 5th Dec. Happy Birthday to me. Yes!! It is my birthday 😀
c) My Ma's surgery went fabulous, and she is doing fantastic.
d) Today Uru is Guest Posting at my Blog.
Yesss!! So you see, it 'vera-vera' special day for me.
Early on in my short blogging life, I met one of the most ingenious bakers who is known as Choco Chip Uru. She is this amazing kid, all of 17, who bakes as if she was born to do so. Those who follow my blog know what a big fan I am. I call her a sweet genius, and if you don't believe me, see for yourself. No kidding!!!
So when she agreed to come to my rescue while I make merry in India, I knew whatever she made, it would be something I would love sink my teeth into on my special day. Do celebrate my birthday on my blog with this absolutely mouth watering creation from Cho Chip Uru, whose luscious saccharine confections light up her blog she calls 'Go Bake Yourself'.
Hi to all readers, new and old, it is very nice to meet you 😀
I go by the alias, Choc Chip Uru and am a 17 year old baking fanatic from the blog, Go Bake Yourself 😀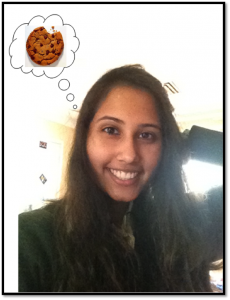 There is not much to say about me – I am your usual, teenage girl whose head is spun by the likes of Andrew Garfield and One Direction and who has a slight aversion to studying 😉
One thing, which is a little unique about me, is my significant love for chocolate and desserts. Did I say love? I meant obsession, sorry, my bad 😉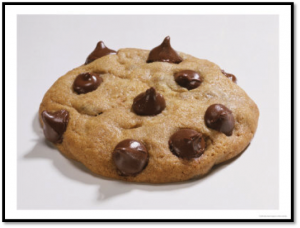 As you shall see in this post, I do not believe in the idea of over-indulgence 😀
I hope you all enjoy this, especially you Minnie who gave me such a wonderful opportunity – thank you J
****************************************************************************
So Minnie is a master craftswomen at cooking. Every time I see her creations, I swoon a little bit and wander down to the kitchen to… you know… casually make myself another meal 😉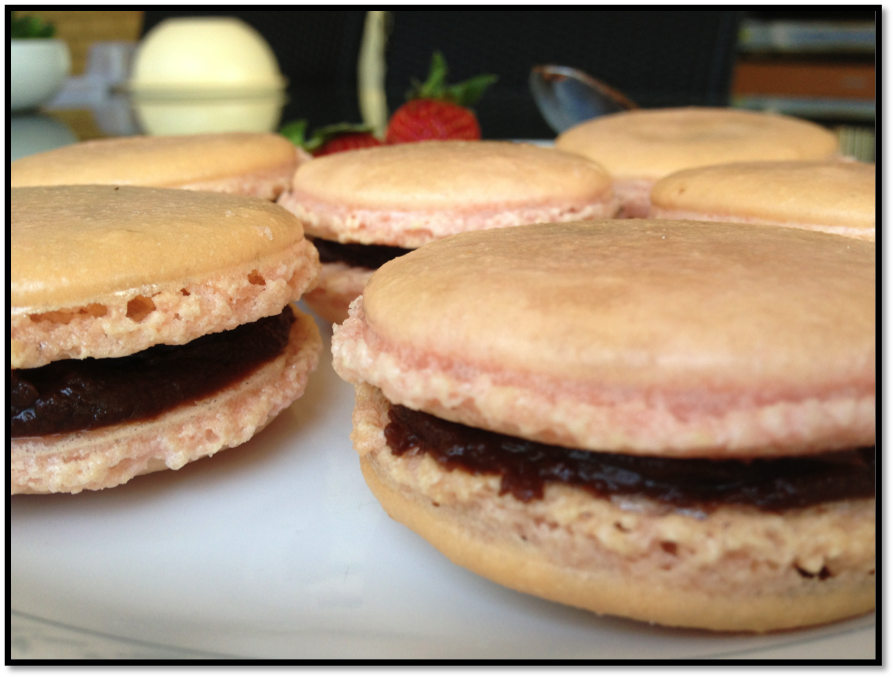 But I have noticed she has a propensity to make savoury dishes as opposed to my sweet dishes. I think that is one of the reasons why we, as blogger buddies, get along so well. It is all about the balance no?
When thinking about a blog post for Minnie, I contemplated many different things. Should I make something chocolate-y or non-chocolate-y, should I make something highly decadent or just a little? So many questions to contemplate because for Minnie's blog, it had to be perfect!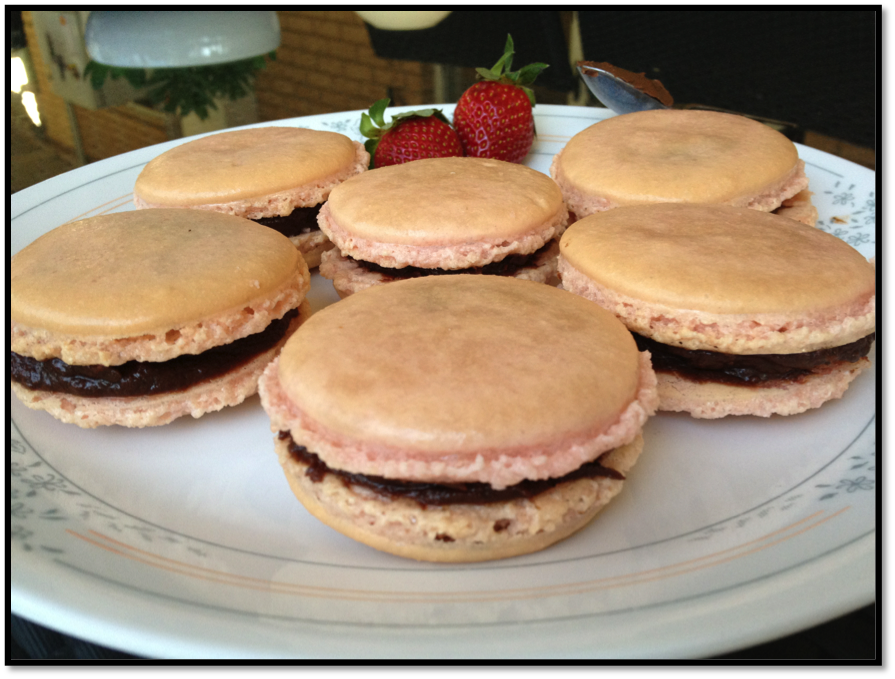 I was looking through my recipes when I found a backlog of some desserts I had made during my exam period, but had not posted because I had guest posts going on then. Shhhh… don't tell anyone I was cooking during my yearlies 😉
I defend my actions by saying it was only my second last year of school as opposed to this year which is much more intense 😛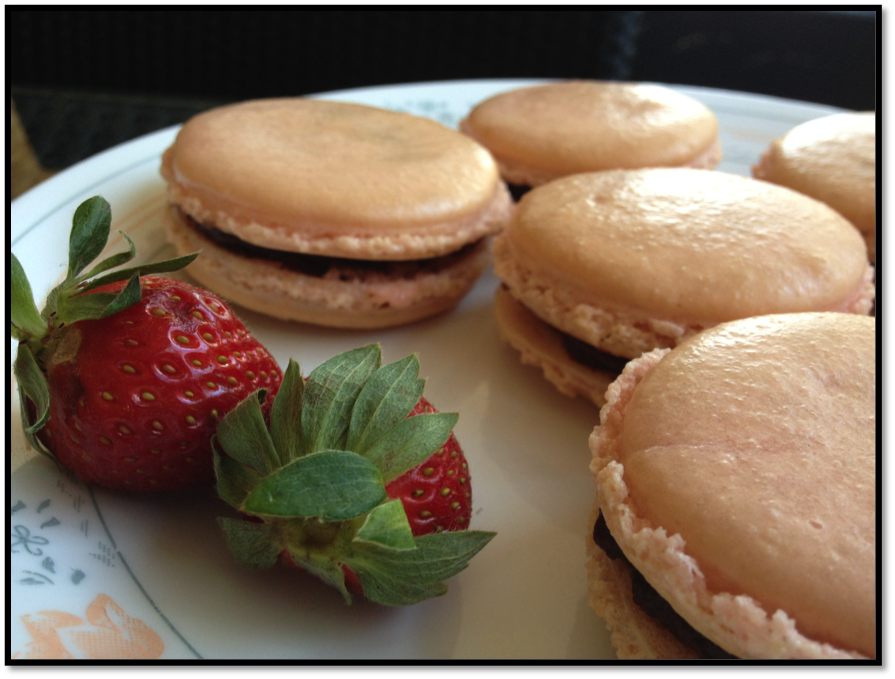 Anyway, in this backlog of recipes, I found something which literally struck me as perfect for Minnie. I am hoping by now you know from the pictures but I will say it anyway, MACARONS 😀
Macarons – a French delicacy which melts in your mouth, has a stunning crack and has such a large flavour range you would not even believe it!
These certainly were a challenge to make but the results were well worth it. I believe these macarons and their recipe is well worth your blog my dear friend, alors voila!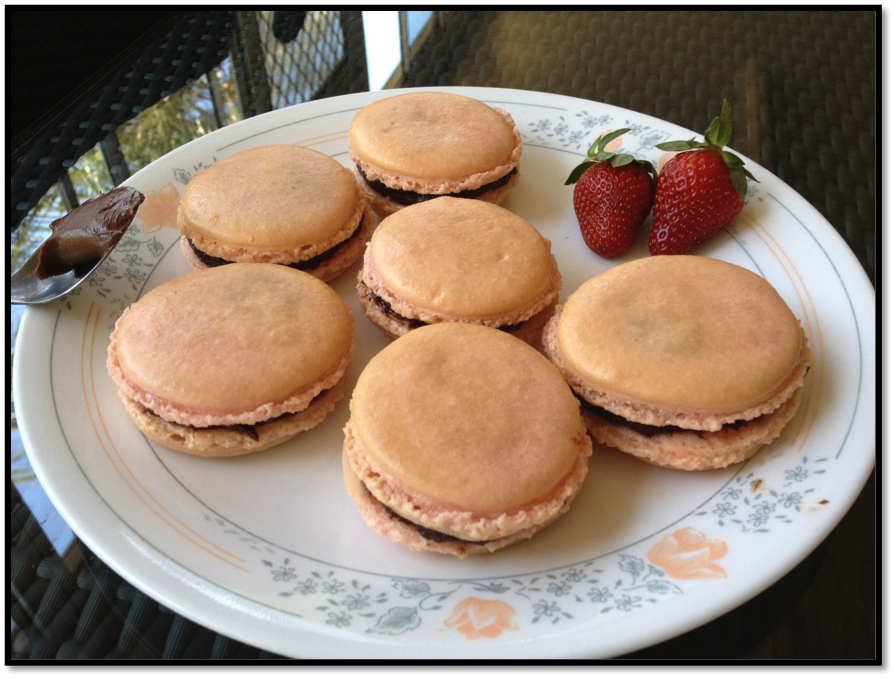 J'espere que vous aimez mes macarons aujourd'hui (See practicing my French 😉
**I hope that you like my macarons today**
Note: My changes are in bold
Strawberry Nutella Macarons
Source: Mastering The Art Of Baking
Makes: 24
Ingredients:
Macarons
125g almond meal
215g icing sugar
3 egg whites, at room temperature (I aged it for 3 days – to age, simply leave out the whites at room temperature covered by a plate in a draught-free place)
55g caster sugar (I used white sugar)
Red food colouring
1 quantity Gianduja ganache (chocolate hazelnut combination)
Gianduja Ganache
60g dark chocolate
¼ cup thickened cream
¼ cup Nutella (or chocolate hazelnut spread of choice)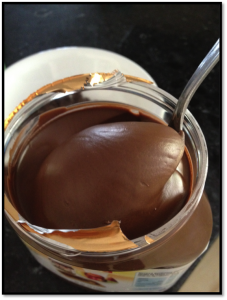 Method:
Grease 3 large baking trays then line with non-stick baking paper
Process the almond meal and icing sugar in a food processor until fine and well combined
Whisk egg whites until soft peaks form, then gradually add the sugar until thick and glossy, whipping on medium speed – aged whites take longer to do this (In the book: Beat sugar and egg whites together until thick and glossy) Half way through folding, add in a few drops of red food colouring and the essence.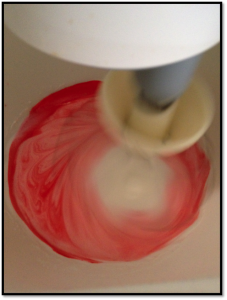 Sift the almond mixture over the egg whites and use a spatula or large metal spoon to fold together until combined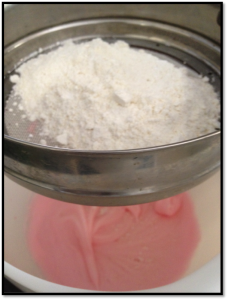 As you continue to fold, the mixture will loosen up – the texture you need is when it falls slowly off the spatula– I slightly over-mixed and it made them spread a little too much – when you get to the perfect stage just stop 😉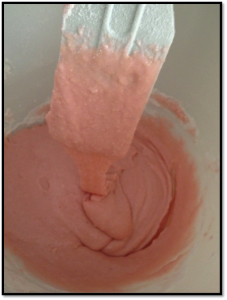 Transfer the mixture to a piping bag fitted with a 1cm plain nozzle. Hold the nozzle straight about 1cm above the tray and pipe straight down to make 4cm rounds, leaving 3 cm in between each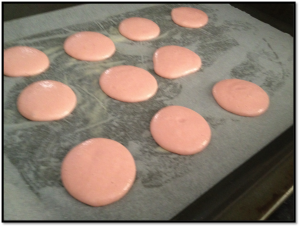 The macarons should soften slightly once piped and spread to about 4.5cm. The peak should also soften, leaving a smooth top (if not, gently flatten with a wet finger)
Set aside at room temperature for 25 minutes or until a skin forms.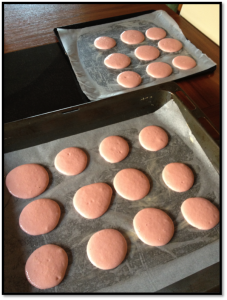 After 10 minutes preheat the oven to 140 degrees C (I used a fan forced and found that 140 degrees was too high leading to too much spread therefore I cooked mine at 125-130 degrees C)
Bake the macarons, one tray at a time, for 12-15 minutes or until they have a firm outer shell (mine were larger and at a lower temperature so took 18-20 minutes)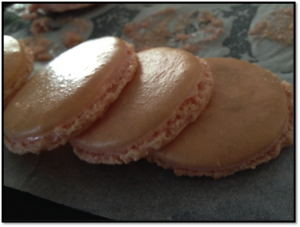 Leave on tray for 2 minutes then remove the macaron and check the base is cooked. If slightly sticky, return to oven for 2-3 minutes and then check again. Cool completely on the trays.
Meanwhile make ganache: In a large microwave safe bowl, place cream and heat up in 20 second spurts until simmering. Add in chocolate and Nutella and let sit for 1 minutes before whisking until smooth and glossy. Let cool to room temperature or spreadable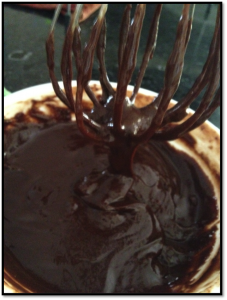 Match up similar sized macarons. Use a small spoon or a piping bag to place a small portion of ganache in the centre of one macaron. Top each macaron with its pair and chill for 30 minutes in the fridge. Before serving let sit for 10 minutes at room temperature.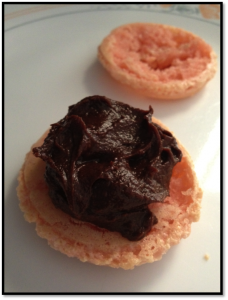 Notes:
To make chocolate macaron shells, process 1 ½ tbs of cocoa powder (sifted) with the icing sugar and almond meal
Keep the macarons in an airtight container in the refrigerator for up to 4 days for freshest results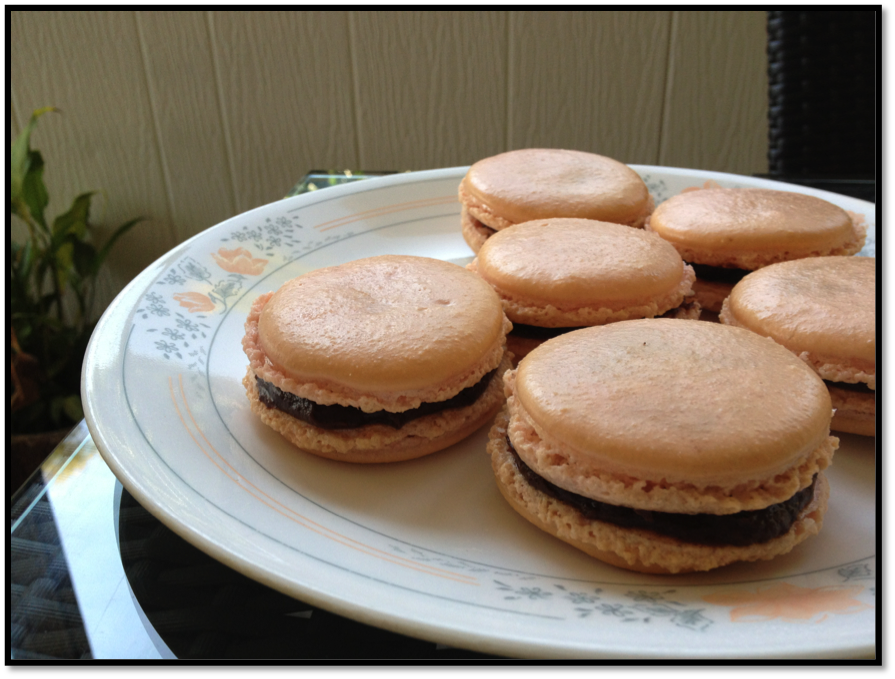 ****************************************************************************
And there you go mes cheris, honest to goodness, full of over-indulgence macarons! They were very soft and delicious on the inside, crackly on top and that Nutella ganache is made to be combined with strawberries 😀
I very much hope you all enjoyed them as much as I enjoyed being on your blog today Minnie. Thank you so much for the opportunity!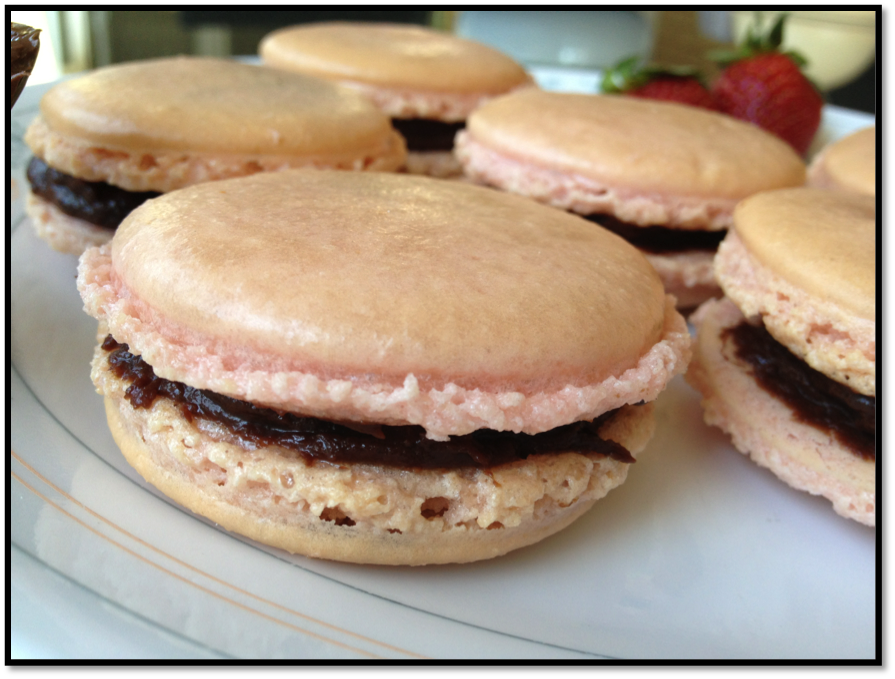 If anyone would like to see more treats like this, I would love to have you visit Go Bake Yourself 😀
Ciao!
https://twitter.com/#!/indiablogging