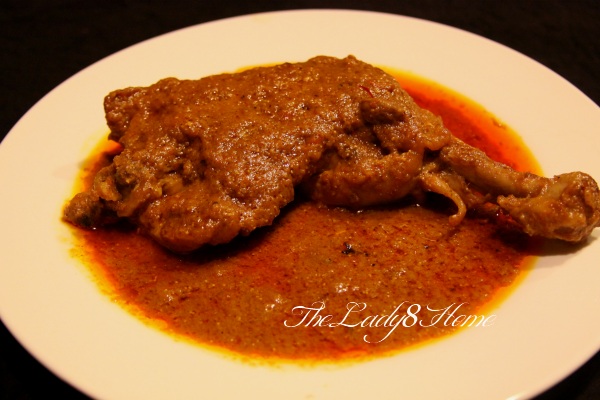 In India, one evening, my brother-in-law (my sister's husband) ordered dinner from a nearby restaurant that specialized in Biryani and an aromatically brilliant dish known as Chicken Chaap. It was so delicious that I have not been able to get it out of my mind since. What astounded me more was the fact that in spite of being a quintessential Bengali all my life, I had never actually come across this dish. Oh! What a miss it would have been!!!
It's not surprising though, that I missed tasting something so popular and easily found food on streets of Kolkata.
Flavors in Bengali cuisine are vast and the variety of food prepared and served is mind-boggling. With so much variety, it is quite natural to miss out on many such exquisitely prepared dishes.  In a normal Bengali house hold, meals are served in multi-course tradition, much like the French or English tradition of serving food service à la russe, where the food is served in courses rather than being served all at once.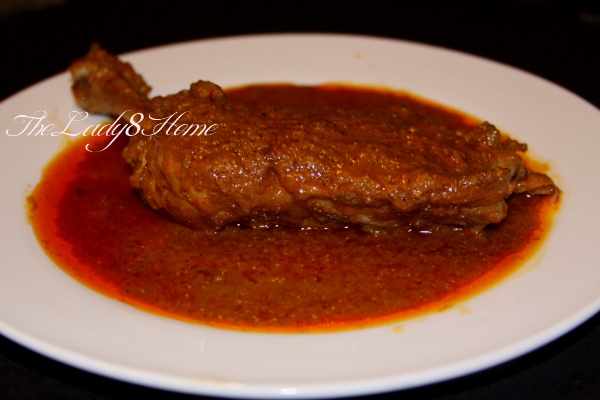 Even today, most traditional Bengali women take great satisfaction in cooking a dish with exquisite precision. When I say 'precision', I mean it. One cut of vegetable cannot be replaced by another in a certain dish. If, say, a vegetable is sliced instead of diced, the preparation will undergo a complete name change, along with the spices that go into it. You will also receive a frown and a dressing down that will compel you to get the cut right next time.
They also make it a matter of pride to serve it with extravagant finesse.  There is a distinct convention to be followed when serving each dish. There is an intricate methodical pairing that goes with every dish, and it is served in a meticulous sequence. For example, the first to be served will be a 'teto' – something sour, like bitter gourd. 'Dal' is always paired with a 'bhaja' (fried vegetables). A mixed vegetable like 'chochodi' or 'ghonto' will always be served before fish. Meat will always be served after fish. All these will of course be served on a bed of rice. "Papad' or lentil chips, and a sweet chutney are served towards the end, signifying end of the savory meal.  But that's not it, yet. Now it's time for dessert.
Each meal can consist of 12 – 14 different foods, and the spread consists of  rice, fish, meat, vegetables, fries, chutney, confectionaries and deserts. ( I was treated to this kind of feast for at least 20 days out of my 28 day stay, sometimes twice a day. Burrrrp!!!!).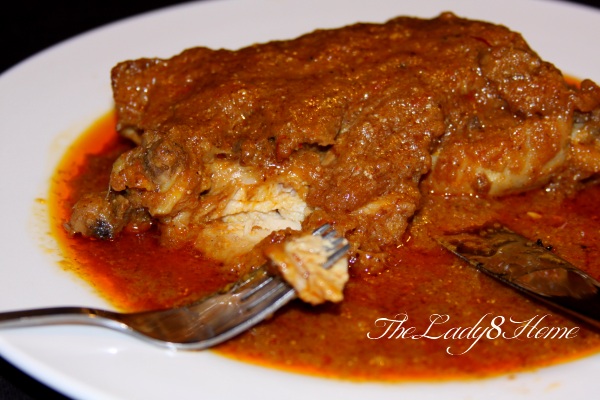 Thankfully, meals that are served in one go have found enough favors over the centuries, and into today's modern Bengali cuisine. The street food in Kolkata is possibly one of the best  in the world.  It's just not confined to street shops. Kolkata also houses some of the finest restaurants you can visit. Chops, Cutlets, Biryanis, Rolls, Tandoor, Fried foods, Luchi, Kachori, Samosa, Pakoda, Steamed Momos, Fried dumplings, Phuchka, Sandwich, Rumali Rotis or Naan, Chicken wings, Chowmein, Manchurian – you name it and they have it. And then of course, sweets – the famous Bengali sweets.  Kid you not, every second shop there is a food shop of some kind. As my son exclaimed during one such trip on the roads of Kolkata, "So many food stores, I am hungry!" But that's a story for another day.
Back to the scintillating Chicken Chaap. The Nawabs of Bengal brought in the celebrated Awadhi cuisine to Bengal way back in early 18th century. When they moved their capital from Dhaka to Murshidabad, the cuisine developed a life of its own. One such dish that was obviously influenced was 'Chicken Chaap'. "Chaap' is a cut of chicken. Basically, in English, it is whole legs – drumsticks still attached to thighs. This rich, full-bodied aromatic gravy of chicken serves as a perfect foil to the light Chicken Biryani that is served with it.
I haven't figured out the Biryani yet. But falling back on the memory of what I ate that night, I tried recreating the Chicken as best as I could remember. It was outstanding, if I may say so myself. This time I served it with Naan. But as I said, pairing are an integral part of Bengali cuisine. So I plan to make the Biryani next and serve it with this exquisitely aromatic wonder of a dish.

Chicken Chaap - A Gorgeous recipe
Author:
Minnie@thelady8home
Whole legs cooked in aromatic flavors on low heat.
Ingredients
4 whole legs of chicken
3 large onions ground to a paste with a little water ( should make about 3 cups)
3 tbsp ginger garlic paste
2 tomatoes grated
1 tbsp poppy seeds ground to a paste
1 cup hung yogurt
¼ cup milk
1 tbsp red chilli powder
2 Thai green chillis
1 tsp turmeric powder
2 tsp garam masala powder
1 tsp Kewra essence ( found in Indian stores)
1 tsp rose water
1 cup oil
2 tbsp Ghee
For seasoning: 1 tsp Caraway seeds, 1 Bay Leaf, 4 cloves, 4-5 pods cardamoms
Instructions
Marinade the chicken in half of ginger-garlic paste and salt for at least an hour or more.
In a pan large enough to hold the chicken pieces, heat oil.
Season with caraway seeds, Bay Leaf, cloves and cardamom.
Fry the onion paste. The oil should float on top.
Stir and fry for 15 minutes. As the water dries out, it will splatter, so cover with a screen.
Once the onion turns golden, add the remaining ginger garlic paste.
Put in red chilli powder, turmeric powder, salt.
Now ad grated tomatoes.
As the gravy thickens, and oil leaves sides, lower the flame, and add in poppy-seed paste.
Then spoon in hung yogurt.
Fry the gravy till oil is leaving sides.
Once the gravy looks thick, add garam masala powder (save ½ tsp for later) and stir well.
Add one glass of water and lower the flame.
Simultaneously, while the gravy is cooking, in a Dutch oven, heat Ghee.
Fry the chicken pieces one by one, till they are light golden in color.
Add the golden chicken 'chaap' pieces to the gravy.
Bring it to a boil.
Lower the flame, add ¼ cup milk. Cover, and cook for an hour.
The chicken needs to stew in its juices, cooking slowly to achieve the flavors.
Check for tenderness.
Finally, add remaining garam masala, rose water and kewda essence.
Serve hot with Biryani, Naan, rotis/Chappatis or Rice.