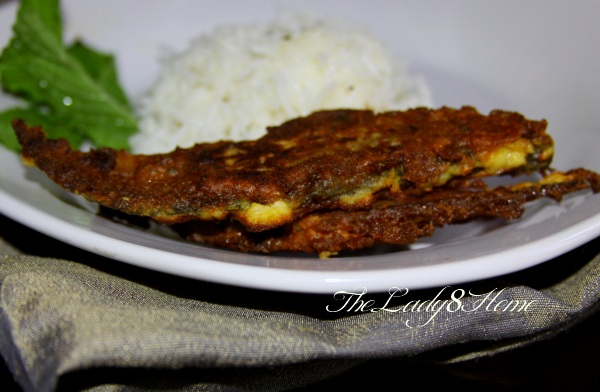 I so apologize for MIA for so many days after my last post. I haven't been busy. I haven't been sick. I haven't had guests. I haven't been cleaning. I have been cooking (but clicking no pictures).
I have been lazy. There, I said it.
I know, its not good for my blog. I have been drilled about that from my numerous friends who also happen to be awesome bloggers themselves. But the truth is, I have been awfully, stinkingly, depressingly, shamelessly lazy all of last week. The temperatures plummeted to where we could be packaged as frozen foods were there any cannibals around, and then steadily rose to where the wind did not melt your cheeks – just.
And that is my sorry excuse for being lazy. I got up, packed off my men -little and big-  to wherever they were headed to, fed and walked the dogs, and dived in under the covers on my bed to snuggle and read. Or talk on phone. Or surf net for no good reason. I resurfaced in the afternoon to look after my brood of men and animals, and walked through the motions of cooking and cleaning before diving back in. B-r-rrrrrrr.
These aimless searches did yield some great results. Like I found this site which tells you at least 100 different ways to tie a scarf. Check it out:
http://www.scarves.net/scarf-tying-index.html  
Some of the styles that I loved:
(I haven't been paid or been asked to promote this site. I genuinely wanted to share something fun with all my readers and know this would be useful to all the scarf lovers out there.)
I got interested in how one can sell on Amazon. It is very interesting, and as I discover more about it, I will let you guys know 🙂
So what did I do? I cooked a few things. One of them is this fabulous fish dish that my FIL told me to. It's his recipe. As I said, I have been too lazy to use my own brain.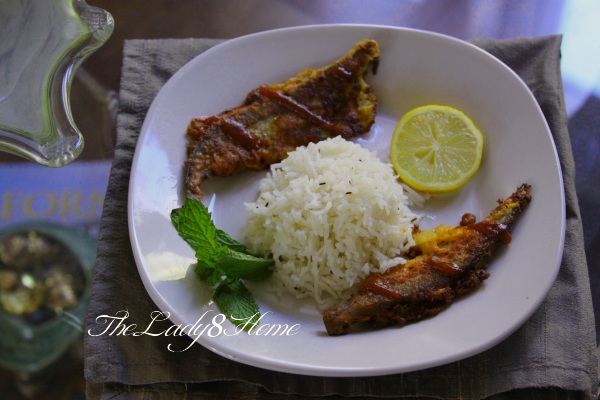 This is fairly easy to cook, and tastes really yumm. It can eaten as an appetizer, but I found it fantastic on a bed of jeera rice.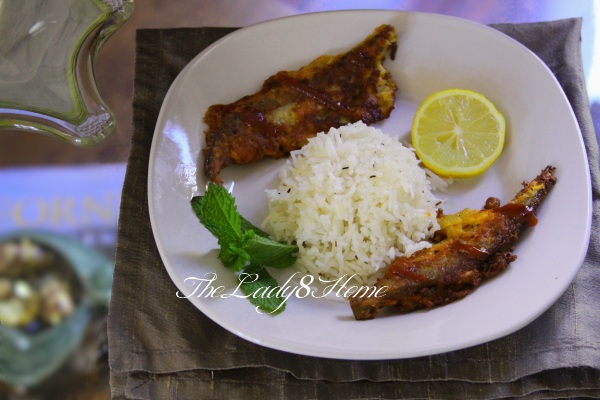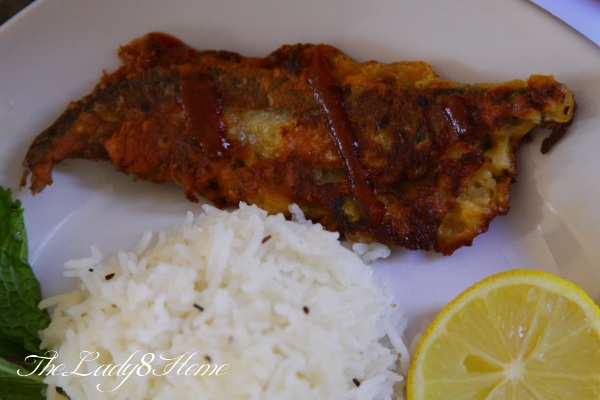 'Besan' Fish Fry and Jeera Rice
Ingredients
4 whole fish or fish fillets (Trout, Tilapia)
1 cup besan (gram/chick pea flour)
½ cup grated onions
¼ cup yogurt
1 tsp red chili powder
1 Thai chilies chopped
½ tsp turmeric powder plus another half tsp for marination
Salt to taste
1 tbsp juice of fresh lemon
Oil to fry the fish
For Jeera Rice
2 cup long grained Basmati rice
2 tsp olive/vegetable oil or ghee (clarified butter)
1 tsp cumin seeds
1 tsp salt
2 tsp sugar (optional)
3-3/4 cup water
Instructions
Marinade the fish pieces in salt and turmeric for 10-15 minutes
Heat oil till smoking and lightly fry the fish pieces till they look very light brown on both sides.
Besan paste:
Mix besan, yogurt, onions, red chili powder, chopped Thai chilies and salt into a smooth paste
For the fish fry:
Dip the lightly fried fish in the besan paste
Fry in hot oil till golden.
Serve hot.
Jeera Rice
Wash the rice well, and drain equally well
In a dutch oven, heat oil
Season with cumin seeds
When they start crackling, add rice
Stir fry the rice for 1 minute. Stir gently, but constantly, else it will stick to the pan
Now add water.
Add salt and sugar
Bring to a boil, and lower the flame to a low.
Cover the pan, leaving a partial opening
Cook for 10-12 minutes, till the rice is done.
Cover for another 10 minutes. The rice should be fluffy and nice.
Serve immediately