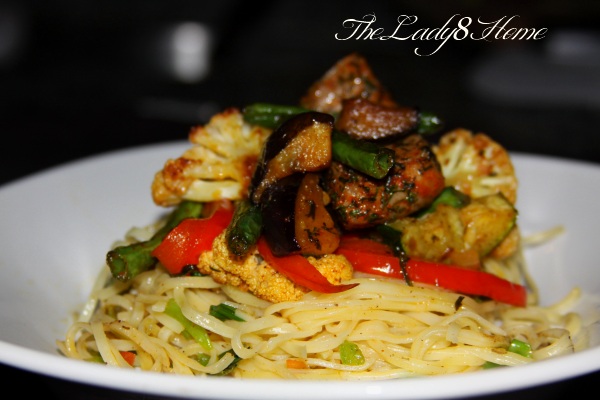 My Koi pond is frozen. Last two days, my brain had frozen over in the biting cold. Literally. Today, as the golden morning sun kissed the snow sprinkled trees of my backyard, it compelled me to shake myself up and step out.
I have a small fish pond. I inherited it with the house when we bought it last winter. It's quaint, and initially it had just one Koi that had not made an appearance till early March last year. In May, I added three more Koi to the pond, tiny wiggly little things in packets that I bought from Petsmart. They were about two inches long, and 1/4 inch wide, and looked more like colorful tadpoles than fish. Over the summer, I watched them grow 20 times their size. Two of them resembled Nemo (from the movie), but one turned out to be a beautiful golden goldfish.
Koi are known to be very well suited for harsh cold winter. They are known to survive extreme cold weather, digging deep into the bottom of a Koi pond. However, the pond should be properly aerated and should be debris free to keep circulation going. A water filter pump works great in this kind of a pond, as it essentially keeps the water circulation up. If the pond freezes right to the bottom, then the fish will freeze too, and not even a hardy Koi can survive that.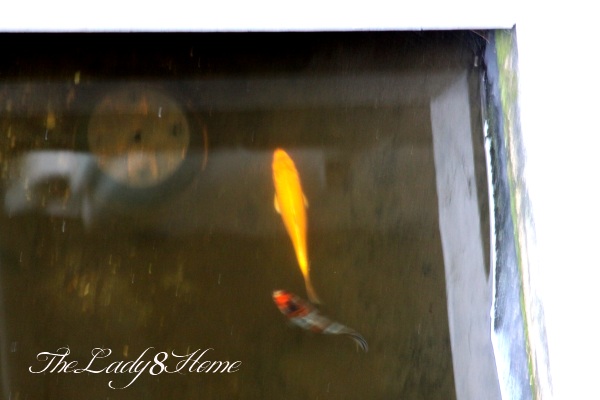 Normally when it's this bitter cold, I keep a close eye on the fish pond. Last two days, I didn't. Today I stepped out to discover that the little pond had morphed into a block of ice. The filter pump was off, its pipes frozen. The area of the fountain snout resembled a stalactite formation, with spikes of ice making for a nice ice carving. Seen through the lens of a camera, you could be forgiven for thinking of it as an entrance to a mysterious cave. I don't think the fish found it too fancy though.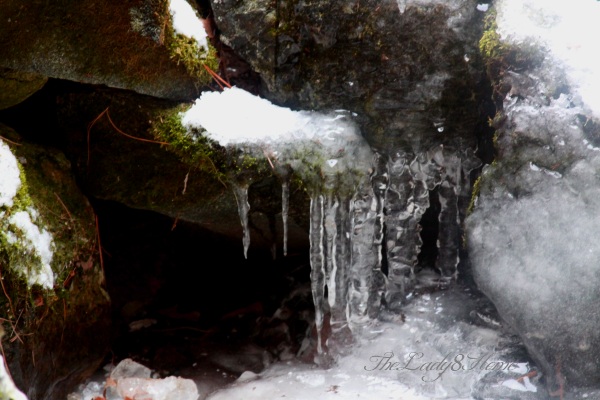 I know that there would be water underneath all that ice. Still, I wanted to be sure. So I dug a little hole with a sharp long claw tool that I had found in the shed. I dug right through the ice and hit the bottom, and to my utter dismay, not only hit a dry tarp, but ripped right through it. So, now, not only I faced the prospect of a dry iced pond, but a ripped tarp as well!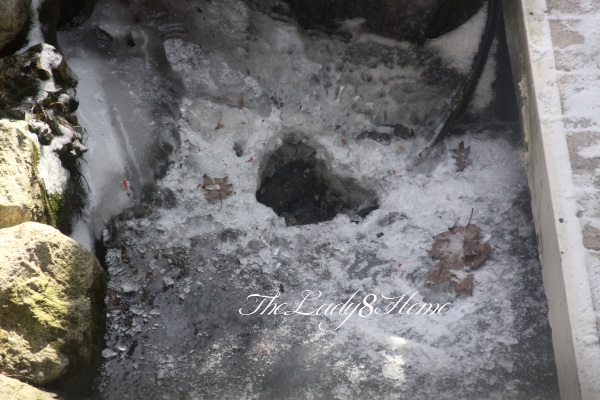 I bent over and peered over the pond, underneath the wooden plank that doubles as a bridge for us to walk over and a covering for the fish to hide under all through the year over the deep center of the pool. I could see pockets of water sloshing around, and glimpsed three of the four Koi. They were precariously close to the surface of the water, indicating there might not be enough water for them to go and hide under (remember how I didn't see the lone Koi last winter till March?). My heart sank. Were they dead?
Then I noticed my hardy little goldfish wagging its tail fin.
I dug another tiny hole at the other end of the pond, where the water is little deep.
Though that too seemed icy right to the bottom, still, I spied some moisture.  I decided to boil some water to make it chlorine free (chlorine can be fatal for fish), and cooled it completely (so that the fish do not get shocked from the temperature difference, that can be fatal too). Then I poured it down the hole. As the hole is quite some distance away from where the fish are, and there is so much ice all around, hopefully this water will help loosen up the ice from below without altering the base water temperature too much.
Couple of hours later, the fish had disappeared from sight. On close inspection, I saw a trace of gold underneath a block of ice. Which meant they are finning  their way down to the bottom of the pool.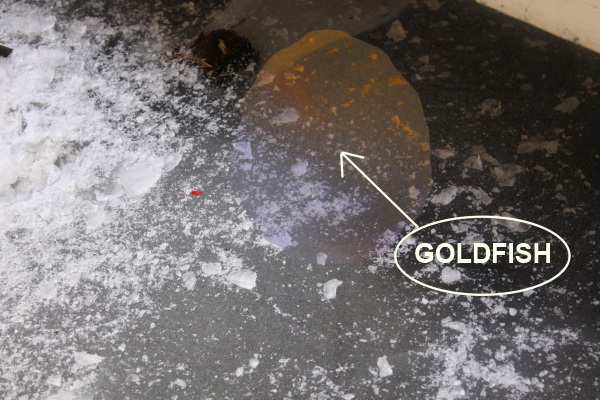 How is it that I worry so much about the goldfish in the pond while I pick delicately at the flavorful tuna on my plate? Isn't it amazing how we can disengage ourselves so completely from the life that once was as soon as it becomes food? We squirm in horror watching a raging lion tear a baby zebra apart, all the while enjoying a juicy leg of chicken ourselves.
Now this tuna I am talking about does not resemble the goldfish in my pond in any way. It's actually as far removed as it possibly can be. Hunted from the deep, fathomless ocean somewhere, this piece of delicious steak beckoned me at the Grocer's and I knew I had to buy it.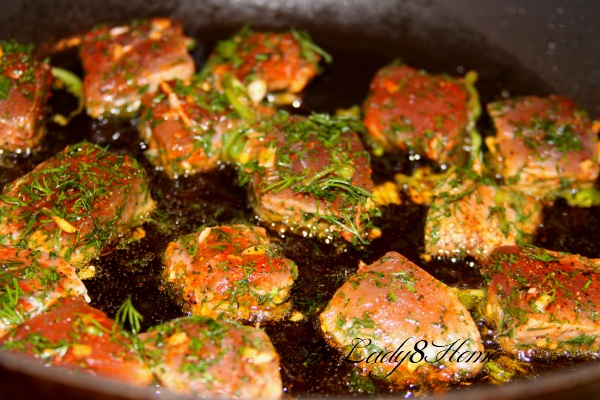 I seldom cook Tuna steaks as it has a strong fishy smell that I find tad too over powering. But I also love the taste. So I decided to make some tuna bites, to go with spiced up pasta and a vegetable platter.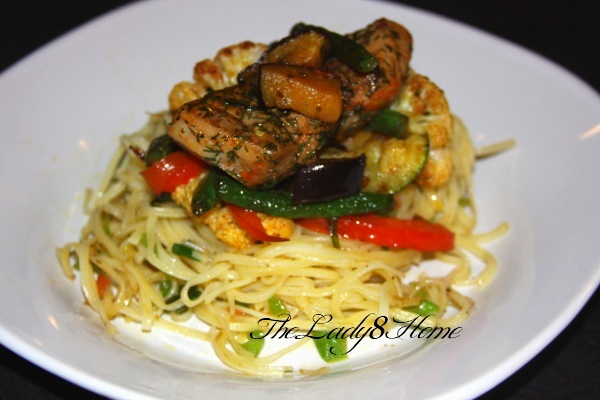 Of course, you can completely skip the Tuna part and stick to pasta and vegetables, or maybe replace tuna with tofu and dill.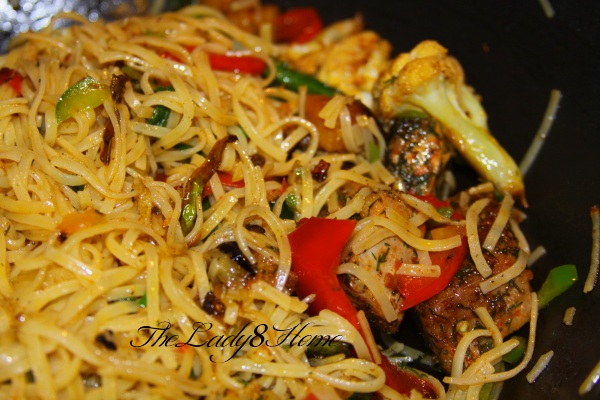 Tuna Bites on Pasta with vegetable platter
Ingredients
For the Tuna
1 lbs fresh Tuna steak cut into 1' squares
2 Fresh Habanero chilies sliced wafer thin
2 tbsp finely chopped fresh dill leaves
1 tsp fresh garlic chopped
1 tsp cayenne pepper
1 tsp salt
1 tsp black pepper
1 tbsp lemon juice
1 tbsp Balsamic vinaigrette
Vegetables
2 cups cauliflower florets
2 cups eggplant cubed small
1 cup green beans cut into 2" sticks
1 cup Red bell pepper finely chopped
½ cup zucchini
½ cup yellow squash
2 tsp tarragon leaves
1 tbsp cayenne pepper
salt to taste
1 tbsp cayenne pepper
Pasta
8-10 rounds of Pastene Pasta
Water
1 tbsp salt
Also need:
¾ cup olive oil
salt and pepper to taste
½ cup shallots chopped fine
½ cup tomatoes chopped fine
1 tsp garlic chopped fine
2 tbsp Tarragon leaves
Instructions
To prepare the Tuna
Marinade: Combine the first 7 items together (exclude Balsamic Vinegar) and marinade the Tuna pieces in a bowl for 30 minutes or more.
In a deep-frying pan, heat olive oil.
Fry the fish pieces, 5 minutes on each side or until they are nice and golden brown.
Save the remaining marinade
Drain on a paper towel and transfer to a bowl.
Drizzle Balsamic Vinegar on the Tuna pieces and keep aside.
To make the vegetable platter
While the fish is frying, coat the cauliflower florets in the remaining fish marinade.
Once the fish is done, fry the florets in the same oil.
Working in batches, marinade the rest of the vegetables by turns with salt and cayenne pepper and stir fry till they are done.
Note:
Fry the red bell peppers last, and fry them with fresh tarragon leaves. That gives a slight smoky anise flavor to the peppers. Also, the peppers need to be cooked till soft.
Pasta
Boil a pan of water with 1 tbsp salt.
Cook the pasta till done, drain.
To assemble:
In the remaining oil (add a bit more if required), saute garlic, shallots and green pepper.
Add the tarragon leaves
Add the pasta and turn over till the noodles are nicely mixed
Adjust salt and pepper.
Serve the pasta hot topped with vegetables and tuna pieces.
You can also mix in the fish and vegetables with the pasta if you so wish (that is how my husband prefers it.)
NOTE:
You can also have the tuna by itself as a snack or a side.
Linked to: