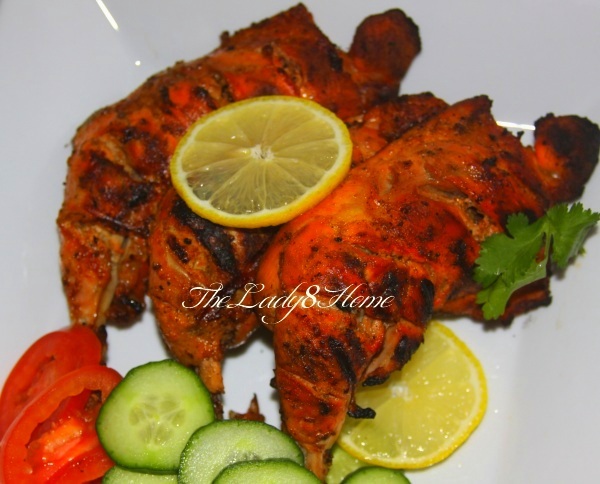 Once my Dad was posted in the northern part of Punjab, a small state in the north-west India, that also borders Pakistan. The people of Punjab are famous for their flamboyant style, hospitality, zest for life and of course food. 75% of North Indian restaurant food menu all over the world consist of dishes that come from this little state alone.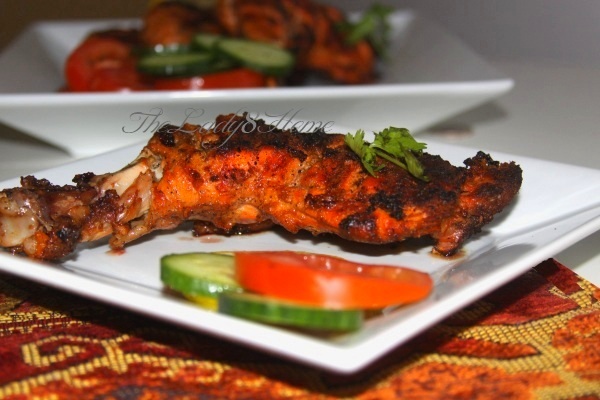 The small 'dhabas' or the roadside eateries in Punjab serve the best of the best North Indian cuisine that you can find. Hot from the Tandoor ( a clay oven which uses charcoal for fuel), their chicken is so delicious that you can eat it for days together without ever getting tired of the taste. I had a taste of it when my visited my parents in Pathankot, and it still tickles my taste buds to think of it. Especially their Tandoori chicken – seriously, no one makes it like they do.
It would be presumptuous of me to say that I have been successful in recreating it. However, over the years, trial and error has taught me a couple of recipes that turn out the chicken almost as delectable.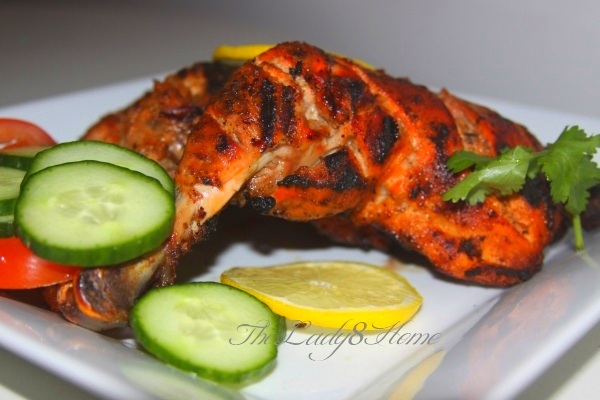 It's an easy dish to make, but the process needs to be diligent. It does take some patience, but the result is so worth it. Marinade the chicken in spices and hung yogurt. You can make hung yogurt by tying about 1-1/2 cups of yogurt in a muslin/thin cloth and hanging it somewhere where it can drip, draining all the water. I hang it on the kitchen sink faucet, letting the water drip in the basin directly. It yields a little more than 1/2 cup of hung yogurt.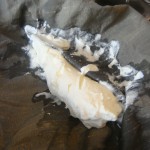 First marinade the chicken in lemon juice and other spices and let it sit for 6-8 hours. Apply yogurt at least an hr before grilling.
Wrap the chicken leg pieces in individual foil sheets and grill for 20-25 minutes till they are well done. Unwrap and place them on direct grill for about 10 minutes, 5 minutes each side. The interior temperature of the chicken legs should reach 165 degrees F.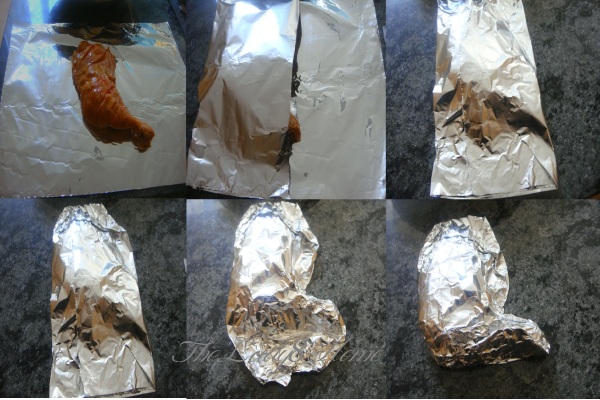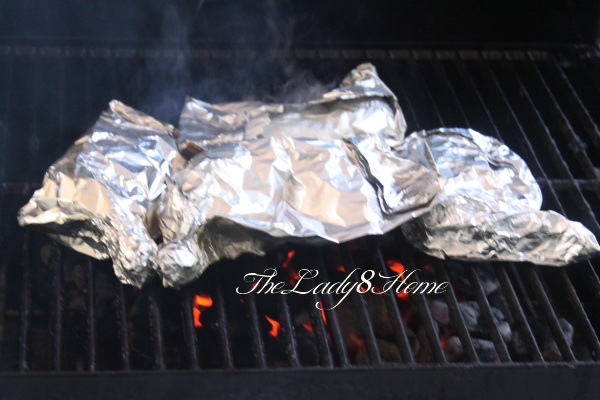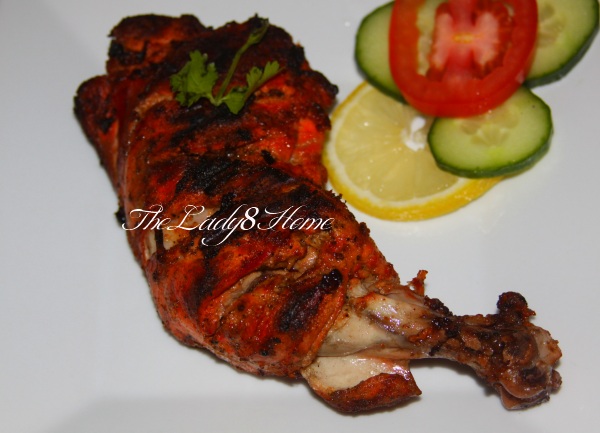 Tandoori Chicken - from scratch
Prep time:
Cook time:
Total time:
Ingredients
4 Whole chicken legs skinned
½ cup lemon juice
1 tsp salt
2 tbsp ginger garlic paste
1 tbsp paprika
1 tsp black pepper
½ cup of hung yogurt
Dry roast and grind:
4" stick of cinnamon
2 tbsp cumin
6 black cardamom pods
1 tbsp aniseed
Orange food color (optional)
Oil for basting
Instructions
Clean the chicken legs and make diagonal slits
Marinade with lemon juice and salt for 30 minutes.
Add ginger garlic paste to the chicken legs, turning them over till it's nicely covered.
Rub in the dry roast powder and freshly cracked black pepper powder till all are well coated.
Add food color.
Refrigerate for 6-8 or more hours.
Coat well with hung yogurt and refrigerate back for at 30 minutes or more.
Wrap in aluminium foil and cook over charcoal or gas grill till the chicken is cooked through and the juices are running clear.
Note: Wrapping the chicken in foil locks in the moisture and prevents the meat from drying out.
To serve:
Unwrap and place on direct grill and cook for another 10 minutes, 5 on each side till they look nicely browned. Spray or coat with oil to lock the moisture in and prevent the meat from drying out. This also enhances the flavor of the meat.
Check the temperature, the interior should be 165 degree F.
Sprinkle with lemon juice and serve hot with onion/tomato wedges.