This post is all about Power Foods.  I am a part of this exceptionally talented blogging group that showcases a Power Food each week. The Power Food ingredient each week is based on the book Power Foods: 150 delicious recipes with 38 Healthiest Ingredients from the editors of Martha Stewart's Whole Living Magazine. It's amazing the kind of food that fall under the purview of Power Foods. You can find these ingredients in everyday kitchen. They provide an outrageous amount of nutrients – fiber, vitamins, iron, calcium, magnesium, minerals, phytonutrients, fatty acids – and anything else that you can think of that aids in promoting good health and healthy food habits.
This week's Power Foods is Flax seed. I wish I could wax eloquent about this without gagging. Yes, Flax seed, meal or in any other form, is one ingredient that truly makes me gag. I can't really have it without feeling like the food will fall out of my mouth. Yet we all know that if there is one ingredient that will keep the machinations of your heart from clogging and help it purr along without hiccups, it is Flax seed.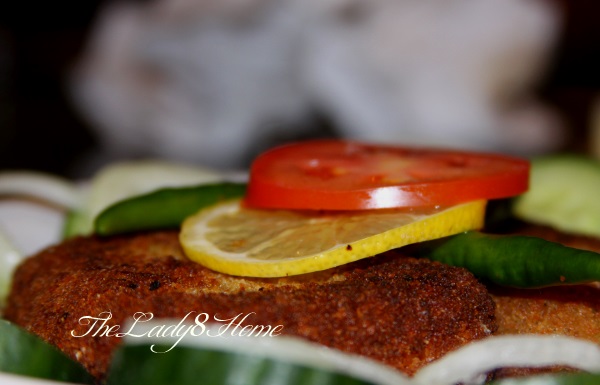 So I devised a way that really banishes its weird taste and makes me savor each bite instead is to add it to fish croquettes. That too sardines, no less. What comes out is a delicious dish that disguises the flavors of flax seed without compromising its nutrition quotient. OK, I admit, maybe it compromises a lot little, lol!. At the end of the day, it's fried food, and if I say it's healthy, then it would be like ordering diet coke at McDonald with a Big Mac in all its glory and gloat about being healthy ;p However, a sardine and flax seed combo is always good even when deep fried, and you will have your kids licking their fingers in no time.
Maybe some day I will also acquire a taste for flax seeds.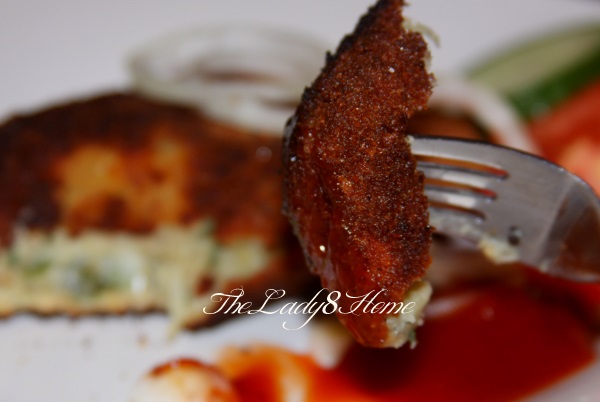 Sardine croquettes with Flax seed
Author:
Minnie@thelady8home
Makes 6 fish croquettes.
Ingredients
2 cans of 4 oz Sardines
3 med size potatoes boiled and mashed fine
1 cup onions diced fine
2 tsp ginger minced
2 Thai green chilies chopped (optional)
½ cup cilantro leaves chopped fine (optional)
1 tsp red chili powder/ paprika
2 cup Plain bread crumbs
½ cup Panko breadcrumbs
2 tbsp Flax seed meal
2 eggs whisked
Salt and pepper to taste
1 tbsp oil
Oil for deep frying.
Instructions
Mash potatoes and knead with half of onions, ginger, salt, pepper and all of red chili powder.
In a skillet, heat 1 tbsp oil, and fry rest of onions and ginger.
Add fish and saute well for 2 minutes.
Transfer to a dish and let it cool.
Combine the mashed potato with the fish till it makes a makes a nice soft dough.
Add cilantro and green chopped chilies and salt.
Lay out the bread crumbs on a flat plate and the eggs in a deep dish so that the fish cakes can be dipped in.
Divide the fish-potato mixture roughly into six portions and shape into flat oval-shaped cakes by pressing them on the palm of one hand with your fingers of the other. You can grease your palm with oil to prevent the cakes from sticking.
Dip them in eggs.
Coat them in the break crumbs, flax-seed and panko mixture.
Arrange them on a plate and refrigerate the cakes for 10 minutes.
Take them out, roll them again in eggs, and coat them in crumbs.
Lightly dust them to remove excess crumbs.
Place them back in the fridge for 15 more minutes.
Deep fry the croquettes and serve with onion wedges and ketchup.
For more amazing recipes and information on Flax seeds this week, do check out my fellow group members:  Alanna – 
Kitchen Parade Veggie Adventure
 – Alyce – 
More Time at the Table
, Ansh – 
Spice Roots
,  Casey –
SweetSav 
Jeanette – 
Jeanette's Healthy Living
, Jill – 
Saucy Cooks
 Martha – 
Simple-Nourished-Living
, Mireya- 
My Healthy Eating Habits