At dentist office, the doctor informed me that she would have to extract a broken tooth out of my younger son's mouth . The rest of the broken half was sitting in a big cavity that needed to be removed. A few week's earlier, he had come to me with broken half of a tooth, and asked me, "would the Tooth Fairy give me just half the money because I can give her only half a tooth?"
The tooth belonged to the lower jaw. Hence, I wasn't at all surprised at what the good dentist told me. "Yes, I know, he has one broken part in his lower jaw'. The doctor looked confused. "No, this one is in his upper jaw."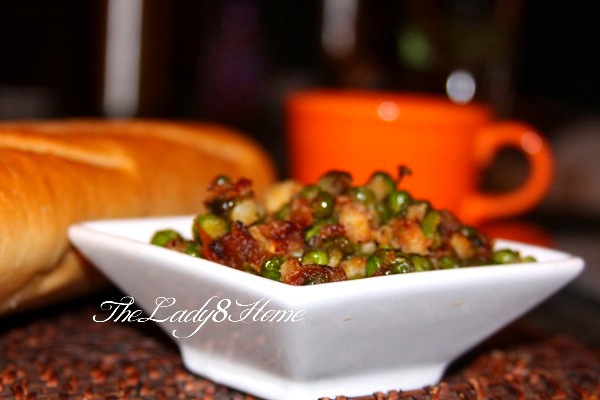 Now it was my turn to look confused. I looked at my son in askance. "Didn't you tell me your tooth had broken in the lower jaw?"
"Yes, it did," he replied.
"Then when did the upper one happen?"
He looked at me solemnly from the swanky new dentist bed and informed me," Few days ago."
"And what did you do with it? Give it to the Tooth Fairy?"
"No, I swallowed it," he replied calmly, without missing a beat.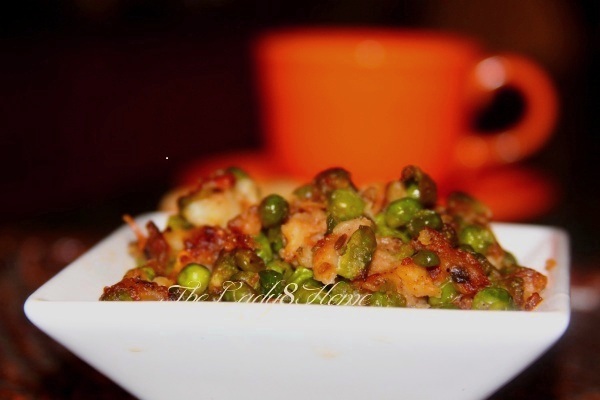 I would do a lot to see what my face looked like at that moment. I sure felt like the offending piece of that broken tooth was stuck in my throat somewhere, because the doctor took one look at my horrified expression and offered comfortingly, "Don't worry, his system will digest it. No harm done."
I wish my queasy system was soothed as easily.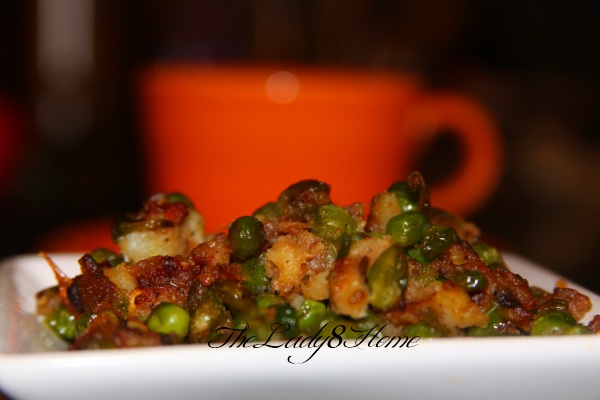 Kauraishooti (pronounced as kau-raee-shooti) is a Bengali word that means Green peas. The green peas when tossed with boiled potatoes and some spices make for one great dish called 'ghoogni', ideal for breakfast or a midday snack.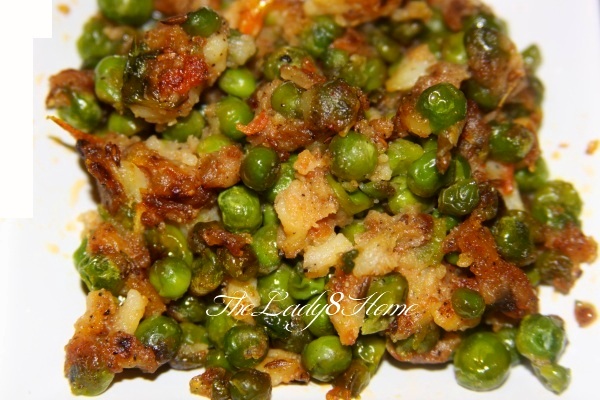 This is quite a popular dish in Bengali households, and this particular version is inspired from my Father-in-law who makes this often when he is staying with us.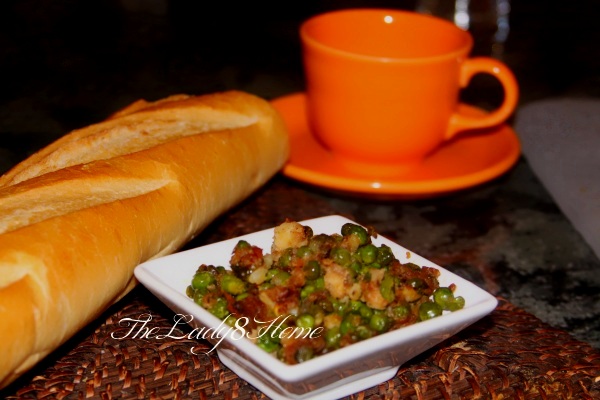 The Tooth Fairy did give my kiddo full money for his half tooth, and none for his swallowed tooth. The verdict is she is still a bit queasy about the whole issue.
Kauraishootir Ghoogni
Author:
Minnie@thelady8home
Prep time:
Cook time:
Total time:
Ingredients
3 cups sweet peas frozen
2 medium potatoes
1 tsp cumin seeds
1 tsp red chili powder
½ tsp sugar
2 tsp fresh cracked black pepper
½ tsp julienned ginger
2 green chilies chopped
salt to taste
2 tbsp Oil
Instructions
Peel, boil and roughly break the potatoes
Heat oil in a skillet and season with cumin seeds and ginger.
Add potatoes and fry on a high flame for a few minutes. Then lower the flame and cook till they look nicely browned.
Put in the peas.
Sprinkle red chili powder, sugar and salt.
Cook till done.
Now add fresh black pepper. Adjust according to taste (too much will make it too spicy, so go easy on this,but add enough to give a punch).
Add green chilies (optional).