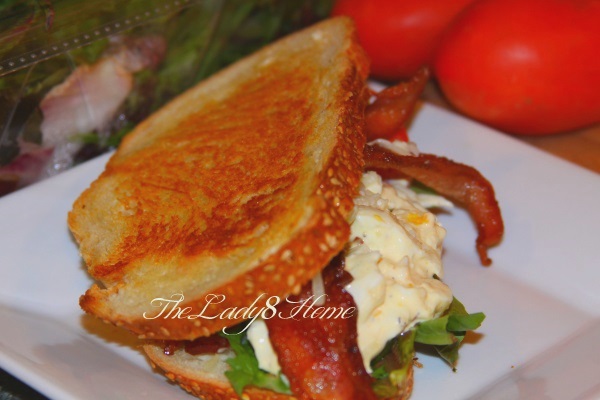 "Can I have a BELT ?" rasped a very big man with a voice that sounded like it was coming out of a hollow tube.
"You mean a BLT, sir?', asked the cashier.
"No, I meant a BELT. Roger knows it."
Roger apparently knew more than the present cashier because she seemed totally confused.
"We serve only BLTs sir, no BELT," the cashier sounded troubled.
"You sure do, ask Roger," Hollow tube was insistent.
The cashier excused herself, went somewhere, and came back with a smile. "You mean you want an egg on your BLT," she looked at him expectantly.
"The same," said a vindicated Hollow Tube.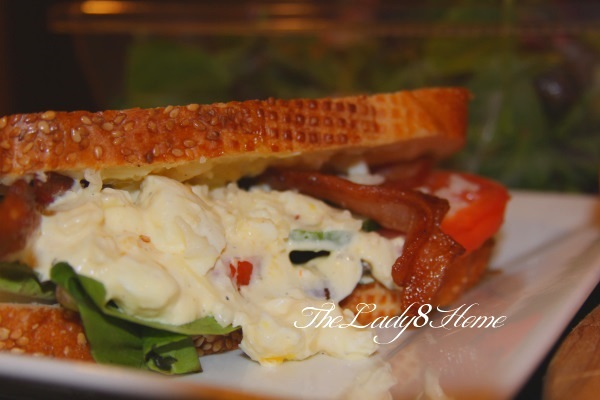 That was my introduction to BLT – Bacon, Lettuce, and tomato sandwich. Of course I made them at home, quite often in fact, but never knew they were called BLTs. Since then I have heard it's a crime to add anything to a BLT, purely for the reason of committing a traditional food atrocity. They are BLT no more. That is, Bacon, Lettuce and Tomato.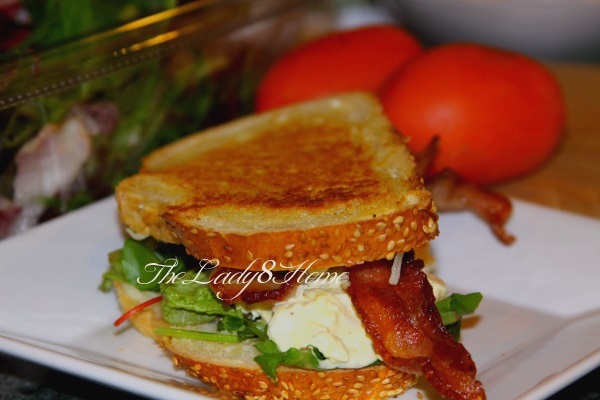 So were I to add an egg and make it into a salad, and pile it on top of a BLT, what would that be? Now I also have a son who has to have cheese in ALL his sandwiches, BLT included. So now, what do we call this?
BLT with C and E and a Y for yumm.
Or Y for yogurt.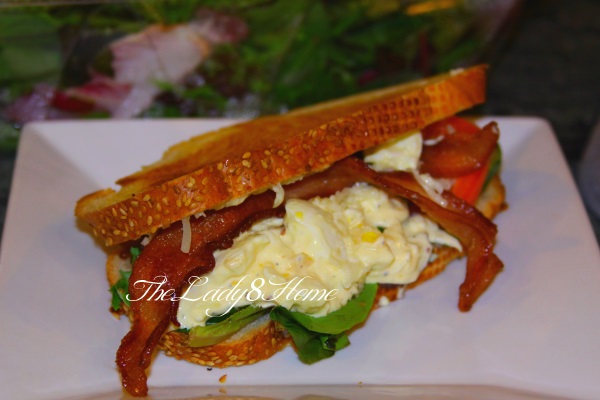 So if you are still hanging on to this post about this crazy wild concoction of everything from the fridge and wondering what I am up to, well, I promise you, this is one fabulous, filling and rocking sandwich that, if you add to your must make menu list, you won't be disappointed.
When this week's Power food ingredient came up, it made me happy as a clam. As the Power food weeks wind down, the ingredients get more and more awesome, delicious, and full of rock solid goodness that has kept mankind in its finest form for centuries. Few can beat yogurt in that department. Delicious, flexible, filling, and integral part of the kitchen across the world, the versatility of yogurt is a matter of lore.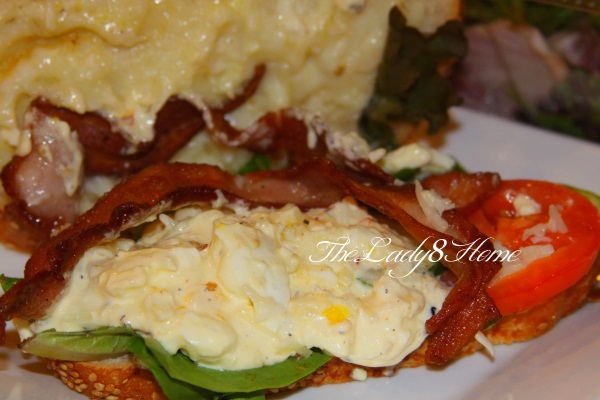 Almost everyone knows that the live active cultures in yogurt does wonders for your digestive system, and provides calcium, B12 and protein in the mix. But did you know you could also get a GLOWING skin in a matter of minutes by having a yogurt facial? Or that Yogurt can be a powerful tool to fight against dandruff? More on that in my upcoming articles on Examiner.com
Also, daily intake of yogurt helps keep yeast infection at bay, great for people who have lactose intolerance, and can be a boon to people who are prone to suffering urinary tract infection.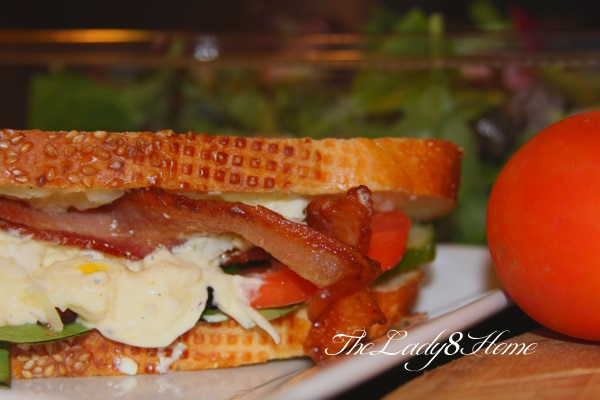 So now, if I used yogurt in an egg salad, and then used that egg salad in a BLT sandwich, and then melted some good old cheese to add some glamour to it, would creating this monster BLT really be that much of a crime? And would you really really mind if I added a dash of horseradish in it?
I knew you too love being a wee bit crazy, like me.

BLT with C and E and a Y for yumm
Author:
Minnie@thelady8home
Makes 2 sandwiches
Ingredients
4 large pieces of Scala Bread or Italian loaf
handful of fresh spring leaf lettuce
1 tomato sliced into ½ inch slices
4 pieces of smoked bacon well done
2-3 slices of cucumbers (optional)
2-3 slices of red onions (optional)
2 tbsp shredded mozzarella and provolone cheese (optional)
For egg salad
1 egg hard boiled
1 tbsp whipped yogurt
1 tsp softened cream cheese
1 tbsp good quality low fat mayonnaise
¼ spoon horseradish paste
sprinkling of salt and pepper
Instructions
Toast bread.
Pile lettuce, tomato and the salad.
Add onions and cucumber as you like.
Heap a big spoon of egg salad on the bread.
Top with bacon.
Eat with delight, eyes closed, savoring each glutinous bite with glee.
Note: I never add cheese in my sandwich, but this one was made for my son, so it has cheese, you can totally skip the cheese part.
Yogurt is the ingredient this week for the Power Food group that I am part of. The lovely partners of mine in that group are:
Alanna – Kitchen Parade Veggie Adventure – Alyce – More Time at the Table, Ansh – Spice Roots,  Casey –SweetSav Jeanette – Jeanette's Healthy Living, Jill – Saucy Cooks Martha – Simple-Nourished-Living, Mireya- My Healthy Eating Habits