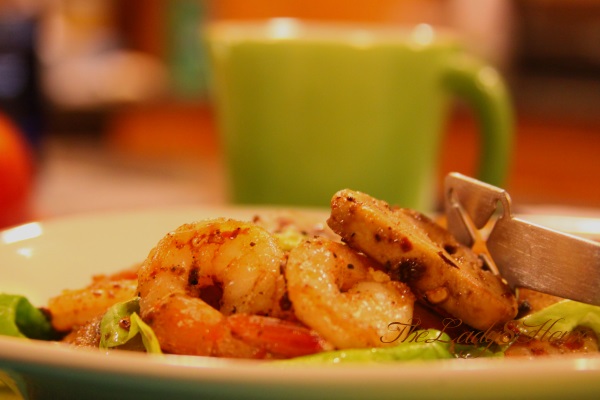 Welcome to #InaFridays! Starting today,we are going to blog First Friday of every month a recipe from Ina Garten's kitchen.  For the uninitiated, Ina Garten is a beloved chef who has trailblazed through the cooking world with her simple-to-make-yet-fabulous-to-eat recipes. A former White House nuclear analyst, Ina is noted for using fresh ingredients and wonderful time saving tips on cooking. Her foray into chef stardom started with opening of her Gourmet store 'Barefoot Contessa', followed by writing of numerous mega successful cookbooks and she continues to evolve as a celebrity chef in the popular Food Network decade long show 'The Barefoot Contessa'.
Sounds exciting, no? If you want to join the group, please connect with Alyce Morgan from More Time At The Table
April is the Appetizer Month. Today, I am doing a take off from a recipe by Ina she calls  'Grilled Herb Shrimps'. Keeping the basic idea of cooking with herbs, I made some changes. Ina's recipe uses parsley which I don't use in my cooking. So I came up with a slight variation, combining basil with allspice and lettuce.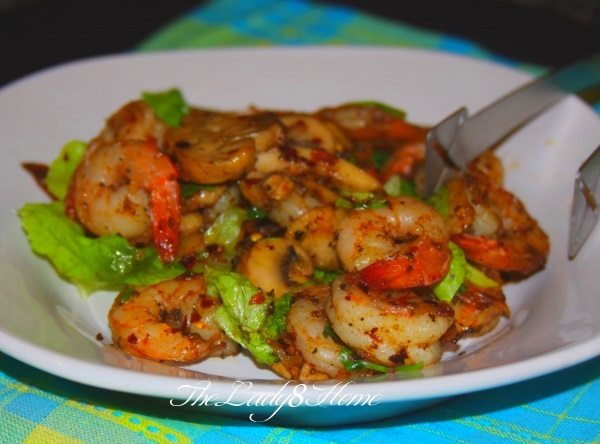 Adapted from Ina Garten's Grilled Herb Shrimps.

Ina Fridays - Grilled Herb Shrimps
Author:
Ina Garten; Adaptation by Minnie@thelady8home
Prep time:
Cook time:
Total time:
Level: 2/5
Ingredients
2 pounds large shrimp (16 to 20 per pound), peeled and deveined (you can keep tails on)
1 cup large white mushrooms sliced
Spices and Herbs:
3 cloves garlic, minced - reserve ½ tsp
1 medium yellow onion, small-diced
¼ cup minced fresh basil
2 tbsp Balsamic vinegar teaspoons
1 tsp sea salt
1 tsp ground allspice
¼ cup shredded lettuce
½ teaspoon freshly cracked black pepper
¼ tsp red chili flakes (optional)
¼ cup extra virgin olive oil
1 lemon, juiced
Instructions
Combine shrimps and mushrooms with first five ingredients and marinade at room temperature for one hour.
Coat a pan grill with olive oil, and grill the mushrooms, about 3 minutes on each side.
Add the shrimps, and cook 3 minutes on each side along with the mushrooms.
Drizzle some olive oil in a pan.
Fry reserved garlic and then lettuce.
Transfer the shrimps and the mushrooms.
Sprinkle allspice powder, cracked pepper, red chili flakes (optional) and lemon juice.
Stir on high for 1 more minute.
Remove from heat and serve hot.
Read more at: http://www.foodnetwork.com/recipes/ina-garten/grilled-herb-shrimp-recipe/index.html?oc=linkback
Meet the members of our Ina Fridays group: #InaFriday
document.write('
Join us and cook Ina Garten\'s recipes.  We post the first Friday of each month.  We truly believe – the more the merrier.
');