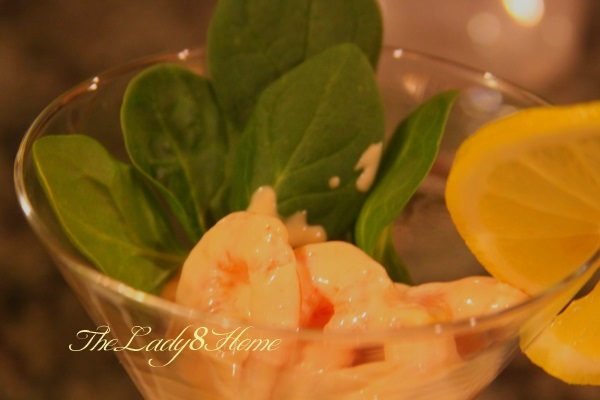 For our second anniversary, my husband took me to a very high end place that served many different types of shrimp/prawn recipes. The one that I remember the most was 'Shrimp Cocktail'. It was fabulous, and the flavors stayed with me for all these years (I am quite good at recalling taste and texture of long ago eaten foods).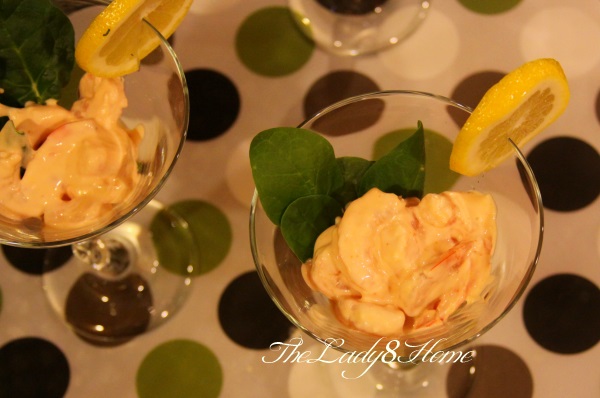 In US, I tried Shrimp Cocktail many times, and while they were all quite nice, but nothing compared to what I had eaten back then. Being a novice to many kitchen ingredients those days, I had a very hard time figuring out what went into making that rich, creamy, amazingly flavorful sauce.
The only ingredient that I could figure out was Mayonnaise. I tried making the cocktail by using Mayo, sour cream, various herbs – but they all tasted different. Some tasted quite good, others were terrible.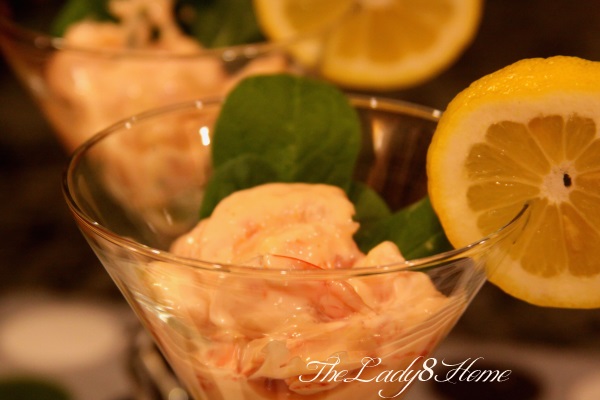 My research continued, and after a lot of digging around, I found that shrimp cocktails made in US are quite different than those made in UK. French have an entirely different method of making this delectable dish. In US, sauce is used as a dip, in UK, the shrimps are tossed in the sauce, and French cook the shrimps in a wine broth and make a second sauce to toss the shrimps in.
One ingredient that jumped out at me from all the recipes that I researched was horseradish. I tried to streamline, and going by the memory of that sauce, I kept it simple. Jackpot!!! Finally, I had the recipe that had had me hooked all those years ago. This recipe is closest to the way Shrimp Cocktail is made in UK.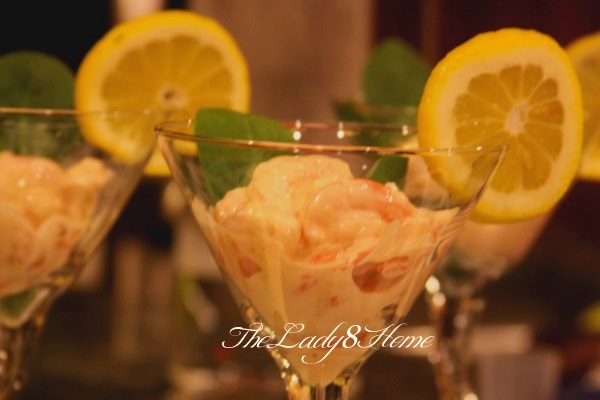 Shrimp Cocktail English style
Author:
Minnie@thelady8home
Ingredients
½ lbs shrimps
6 cups of water.
½ tsp salt
6 tbsp light Mayonnaise (use very good quality)
2 tsp horseradish
1 tsp lemon juice
2 tbsp tomato ketchup
dash of white pepper
a few sprigs of chives (optional)
handful of fresh spring lettuce
lemon slices for decoration
Instructions
Peel and devein the shrimp.
Bring water to boil in a pan, and add salt.
Cook the shrimps till translucent - about six minutes.
Drain, and chill the shrimps. * See Note
In a large bowl, mix Mayonnaise, ketchup, horseradish, white pepper and lemon juice till smooth.
Toss the shrimps in the sauce.
Refrigerate till ready to serve.
To serve:
In a tall Martini glass, arrange spring lettuce at the bottom.
Spoon in the shrimps carefully.
Sprinkle chive leaves.
Wedge a lemon slice on the side of the glass, and serve.
Note: You can use pre-cooked frozen shrimps. Thaw them in the fridge and run them through very cold water before mixing with the sauce.