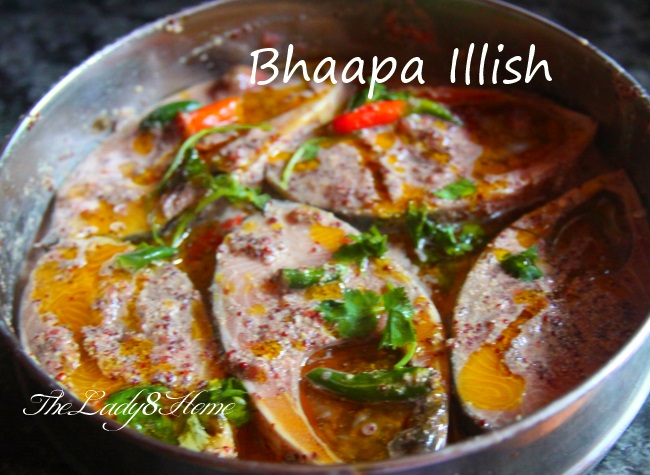 When my sister was a toddler, she loved accompanying my Dad to the market. In India, we have fresh fish and vegetable markets that sell fresh produce and recent catch.
Whenever my Dad would go to the fish market, she would not let him buy fish. "They have so many bones!" she would cry. Most fresh water fish do have lot of bones, some really fine and large in numbers. But the ones that my Dad liked to buy were not as bad, meaning they had easier bones to pick – no pun intended 😀 Yet, she would cry and whine until he gave up and walked out shaking his head, empty handed. She was his pet, and he loved indulging her. So if she said 'no fish because they have bones', then no fish it was. Never mind that my mother would throw a fit back at home when she found out he came back without her favorite food that she could not do without even for one day.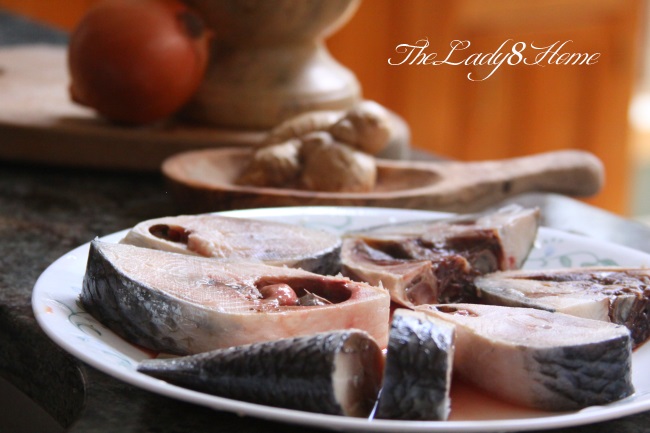 However, come 'Illish' season, and my little sister would grab hold of Dad's sleeves and drag him to the vendor who would be displaying his 'Illish' catch with pride. She would then point to the fish, and implore him to buy them. 'But the have so many bones', my Dad would cry in mock horror. 'No, they don't have any bones', she would reply with an emphatic shake of her head, her eyes glued, unwavering, to the catch basket like a moth to a light source. And my Dad would give her his brightest smile and buy Illish fish.
After my Mom cooked this delectable fish, my sister would sit for at least two hours, patiently eating her piece of the fish that was bursting with bones, declining any help extended to her (especially by me, as I was notorious for swooping away food from her plate, horrendous little big sister that I was) till she polished off every available piece of meat on the plate. And she never lodged a single bone in her throat, ever, not one.
You see, if there was ever a competition for the most flavorful fish with maximum number of bones, 'Illish' would win the title fins tied. This fish is not made up of flesh and bones, it is made up of bones and flesh. I am not kidding. It possibly has  1000 bones networking for every square inch of its body, progressively increasing in numbers as one moves down its tail. Separating the bones from the flesh is done while eating the fish. It's nothing short of an art that "Illish" or "Hilsa" lovers have perfected over the centuries. Most of us can actually swirl our tongue inside of ouu mouth and separate the bones, discard them and eat the flesh. It needs patience, practice, and makes for messy eating. But it's so worth it.
If you know a Bengali, from India or Bangladesh, who does not know about Illish fish – more popularly known as Hilsa – then know that something somewhere is wrong. It would be like an Italian not knowing about cheese, or a Greek not knowing about Gyro, or an American not knowing about BBQ Ribs or a Japanese not knowing about Sushi…..you get the drift. Yes, Illish is THAT integral to Bengali cuisine. It is also equally popular in Oriya and most of East Indian cuisine, and some parts of North western India – like Sindh part of Pakistan and some parts of Gujrat. It's actually a sea fish. However, it lays eggs in the sweet waters of the Ganga and Padma rivers in the east, and Narmada river in the west. Then it swims back in the ocean and that is it is caught. This fish swims in large schools and is mostly seasonal.
I will be posting two recipes of this fish that are super popular in Eastern Cuisine of India. The first one is "Bhapa Illish". "Bhapa" is steamed fish. The next recipe will be "Doi Illish".
Bhapa Illish is based on everything mustard – mustard seeds, paste and oil. This fish is best when cooked in good quality mustard oil, but you can sub with olive or any other mild vegetable oil.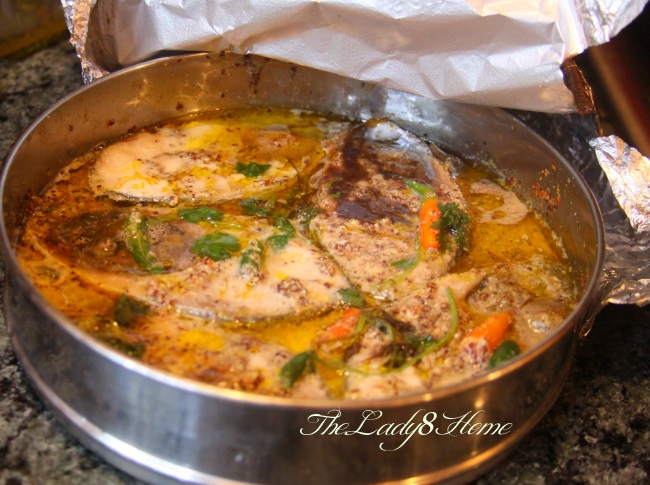 Bhapa Illish – Steamed 'Illish' or 'Hilsa' in mustard sauce
Bhapa Illish - Steamed Hilsa Fish in mustard sauce made from scratch
Author:
Minnie@thelady8home
Ingredients
Illish Fish - cut into steaks about ½ inch thick
mustard seeds - 2 tsp
turmeric powder - 1 tsp
tomato - 1
tamarind (optional) - ¼ tsp
salt to taste
garlic - 1 pod
green chilies - 6
mustard oil - 2 tbsp
coriander leaves (optional)
Instructions
Soak mustard seeds for 4-6 hours in ½ cup of water
Drain the water, then transfer them onto a strainer to drain and dry overnight. They will be easier to grind.
Wash and dry the fish. Make sure you take off scales along its skin.
Toss the fish gently with turmeric and salt and keep aside
Grind mustard seeds with 2 tbsp of water, 2 green chillies and a pinch of salt till smooth.
Add 1 tbsp of mustard oil and stir until smooth.
Transfer the fish in a container that you will use to steam the fish in.
Pour the mustard paste over the fish, coating all the pieces well.
Add slit green chilies, garlic pod, tamarind, coriander leaves.
Grate the tomatoes and add it to the mix.
Cover the pan with aluminum foil.
Place it in a larger pan filled with water. Bring to a boil, and then simmer for 15 minutes.
Check for doneness ( insert a fork, it should come out clean, much like it does in a cake).
Transfer in a serving dish, taking care not to break the fish pieces.
Serve hot on a bed of rice.