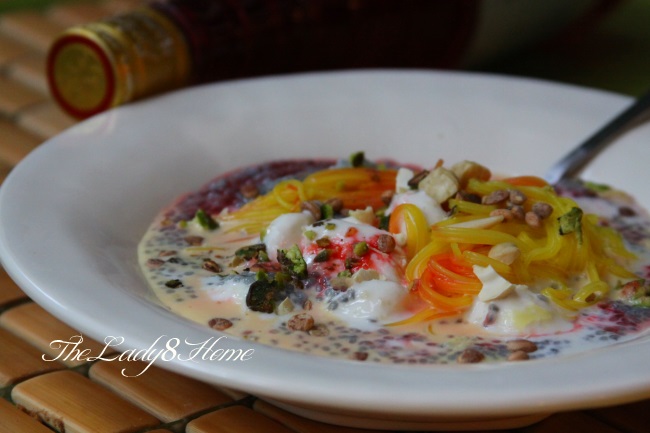 I am thrilled to announce that I shall be hosting this month's SNC challenge. Divya Pramil from You too can cook indian food started this challenge in October last year. Divided in to two teams of North and South, it's fun and competitive because every month, one group wins the 'trophy' but it also remains true to its spirit – bringing the most authentic recipes from regional kitchens of India.  It's almost an year now, and I have learned so many different dishes in this period.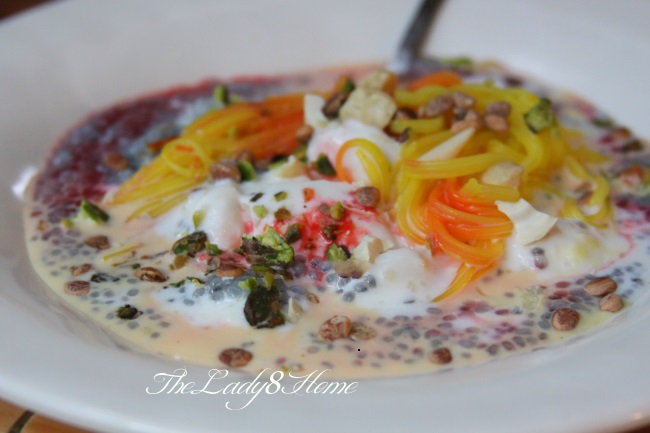 Divya has devised a wonderful point tally system that decides on the winner or the loser each time. The innovative system awards the members for their participation and content, while the team as a whole gains when the members participate with enthusiasm. It's fair and very interesting. If the challenges of learning Indian food of different regions interest you, then this is definitely your kind of challenge and you should check out the South vs North Challenge page:)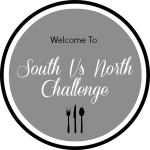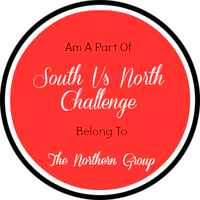 September is a special month for me. My oldest was born a few, (OK a LOT of few) moons ago this month.  Though I love everything savoury and never really liked sweet much, I craved sweets and desserts when I was pregnant with him. There were days when my husband would come back very late from office and I would send him right away to the nearest sweet place to fetch me something sweet to eat. And one thing that I craved – and it wasn't easily available where we lived at that time – was Falooda. When Divya asked me to host this month's challenge for Southern team, I knew that was what I wanted to make.
Falooda is a beautiful looking dessert made up of translucent arrowroot or cornflour noodles, basil seeds, rose syrup, milk, and ice cream or kulfi. It is arguably the most popular street dessert in Northern India and Pakistan, possibly because it combines the two most favorite street sweet ingredients – kulfi and rose syrup.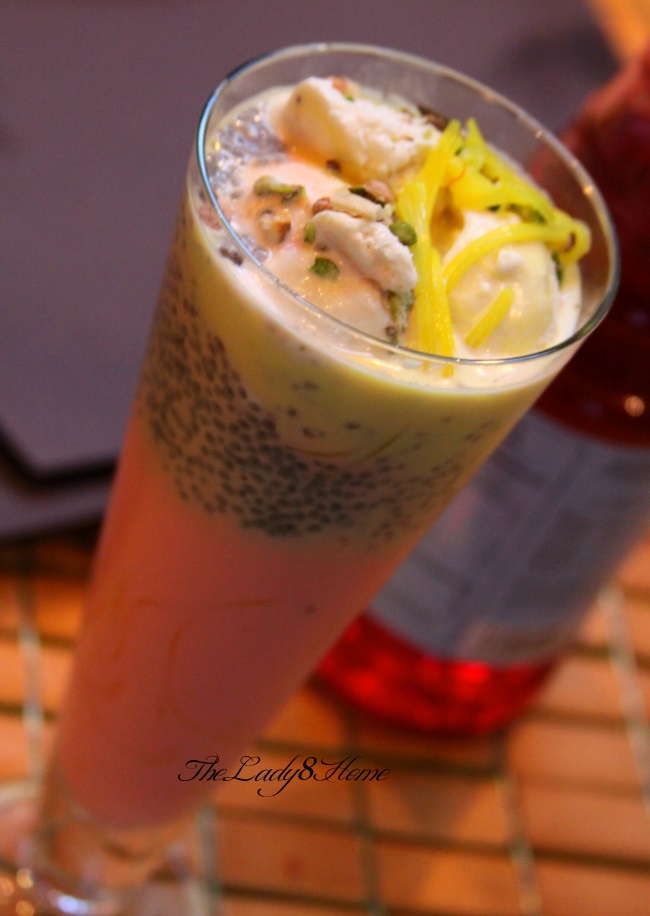 Lore has it that Falooda was brought to India by the Mughals. Thereafter it gained mass popularity and has lorded it over the other frozen desserts since. The special factor of falooda are the noodles. They are made of cornflour or arrowroot and not from wheat that other typical Indian noodles are made of. They are translucent and have a glassy look.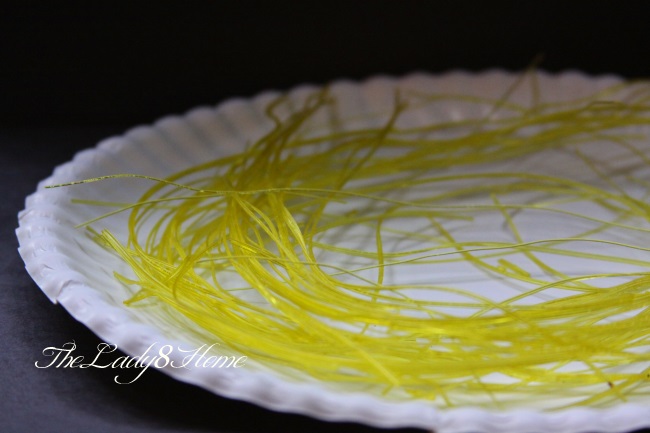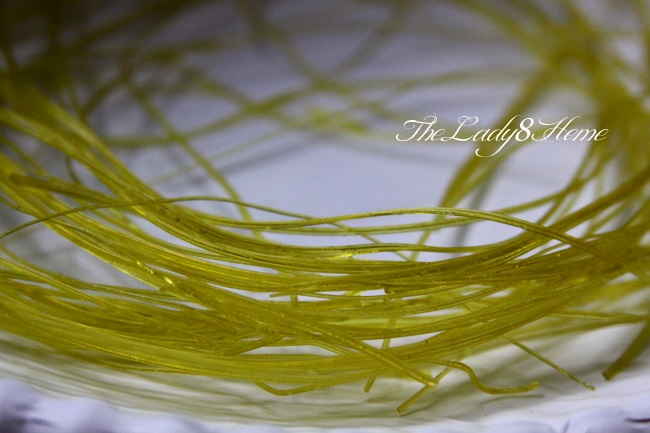 Another typical ingredient is tukmaria or basil seeds. They are tiny black little specks that more than double in size and resemble a mini hairy tapioca with an eye in the center. They don't have a flavor of their own but add body and texture to this dessert.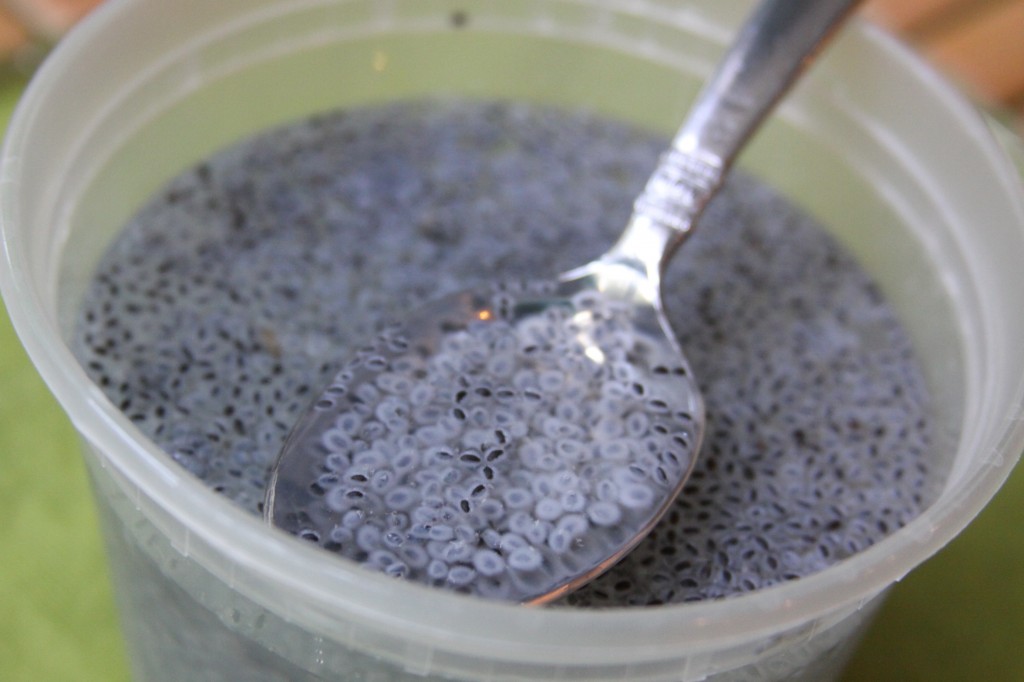 While you can make variations, two most popular forms of Falooda are ice-cream falooda and kulfi falooda. While most of the ingredients are common, the way they are served differ a little.
So lets learn how to make Falooda dessert. In am going to make both versions here: Ice-cream falooda and Kulfi falooda. The following ingredients are common, unless mentioned specifically.
Ingredients:
1 cup of milk chilled plus 1 cup more cup more
1/4 tsp saffron
2 tbsp rose water
4-5 almonds soaked in a small bowl of water
8-10 pistachios
1 tsp chironji/ charoli (optional) (These are small seeds primarily found in Indian stores.)
3-4 cashews chopped fine
4 tbsp rose syrup
1 handful of whole falooda noodles
3 cups of water
1/4 cup tukmaria (basil) seeds
2 full scopps of Vanila ice cream. 
2 cups malai kulfi cubed
Preparation:
Add 2 tbsp rose syrup in one cup of milk and chill. Place it in the refrigerator until ready to use. (This is to be used for ice-cream falooda only)
Soak tukmaria seeds in one cup of water till they are plump. Typically takes one hour and you can do this a week in advance.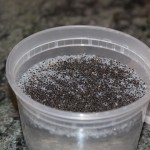 Warm 1 cup of milk, soak saffron, add 2 tbsp of rose water, cover and chill for at least one hour or till ready to use.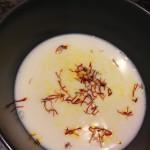 Peel and sliver the almonds ( you can use ready-made ones).
Place the pistachios in a ziploc bag and run a rolling-pin over it so that the pistachios are coarsely ground.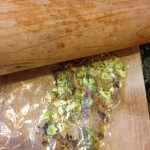 Chop cashews. Transfer all the nuts in a bowl till ready to use.
Boil falooda noodles in 3 cups of water till soft. Drain the water.
Immerse the noodles in saffron soaked milk and place it in the refrigerator for 1 hour or more. Then divide this into two equal portions and then transfer 3/4 of noodles in one portion. Use the portion that has more noodles while assembling Kulfi falooda as it will need more noodles than the ice cream version.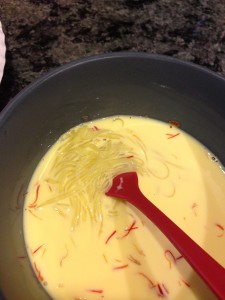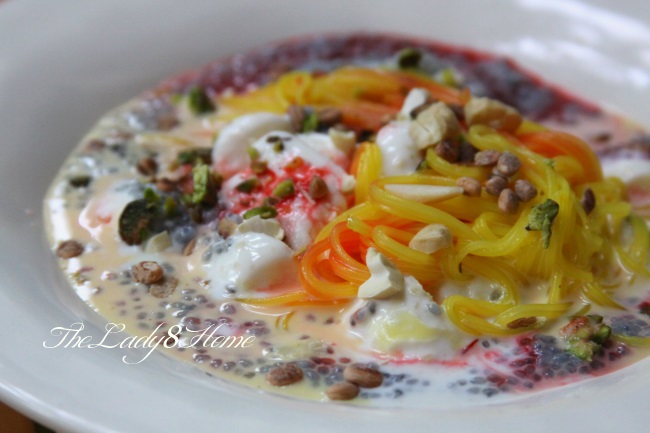 To assemble Falooda Kulfi:
Place the cubed kulfi in a plate
Add tukmaria/basil seeds on the sides
Place the noodles and pour 1/2 cup of saffron milk gently around the kulfi.
Drizzle 2 tbsp rose syrup over it.
Garnish generously with nuts all over.
Serve with flourish.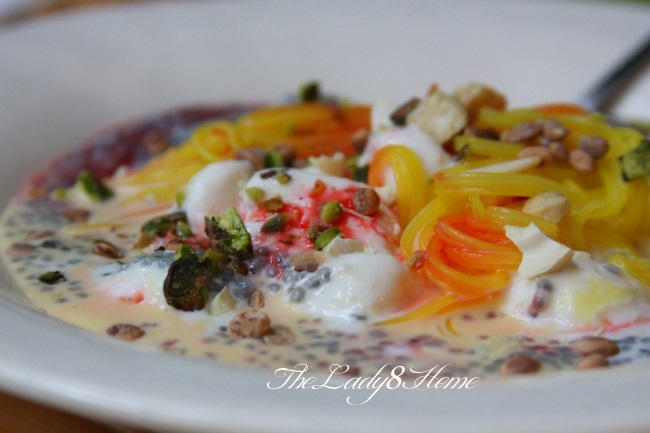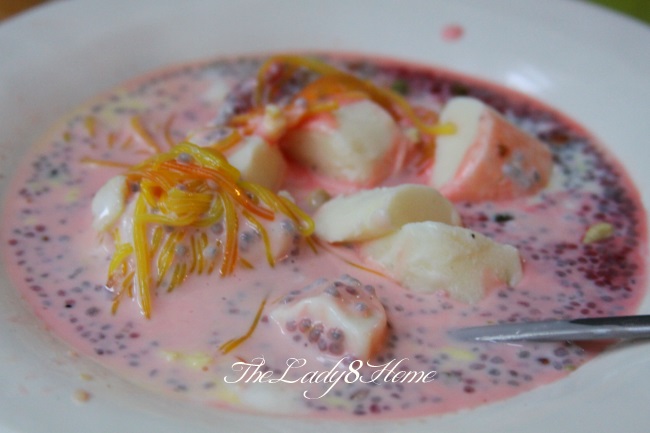 To assemble Ice-cream falooda:
In a tall glass, place 3/4 of the remaining chilled noodles with 1/4 cup of saffron milk at the bottom.
Layer it with 2 full tbsp of tukmaria (basil) seeds
Pour the cup of chilled rose syrup milk gently into the glass. To maintain the layers, invert a spoon at 45 degrees in the glass while pouring milk. ( Sometimes it works, at other times it doesn't, so don't worry too much).
Add two scoops of vanilla ice cream.
Pour the remaining saffron milk and rest of noodles on the top.
Garnish it with slivered almonds and ground pistachios.
Serve with a tall spoon.
Note: If you want more sweet, drizzle a little more rose syrup.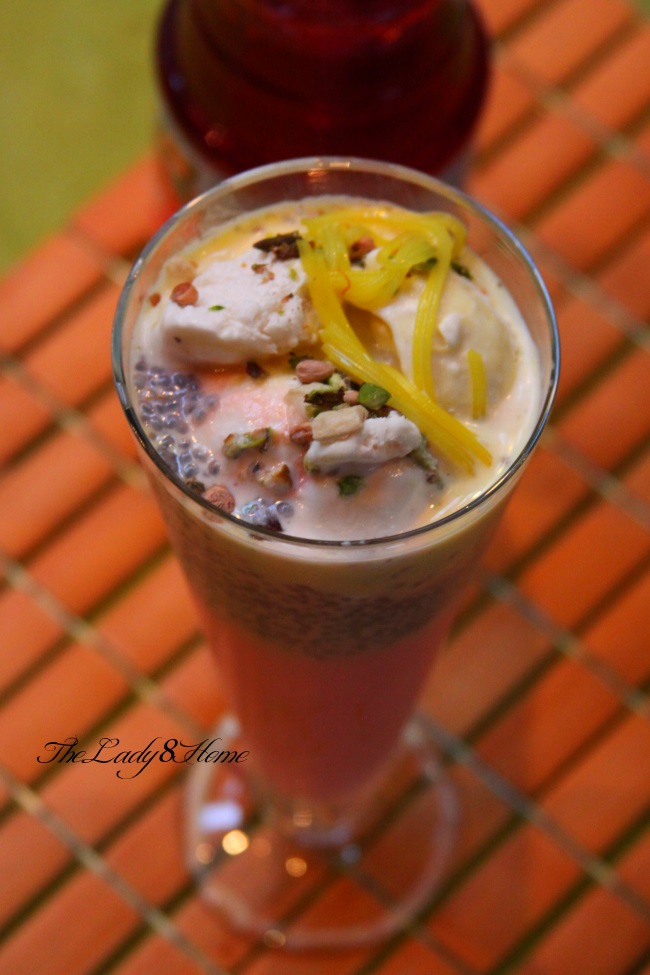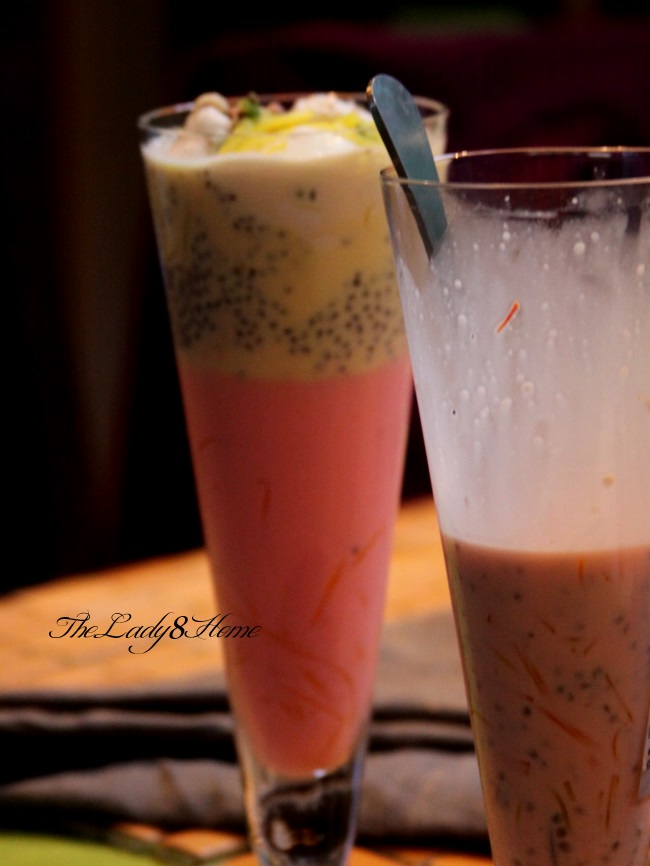 You can buy vanilla ice cream and malai kulfi both from stores. You will find malai kulfi at any Indian store. If you are looking for homemade malai kulfi recipe, then click here: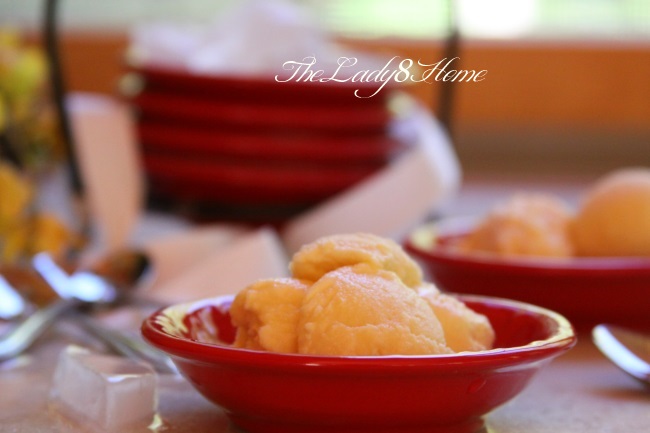 For Eggless Vanilla Ice cream recipe, please click here (made without machine):