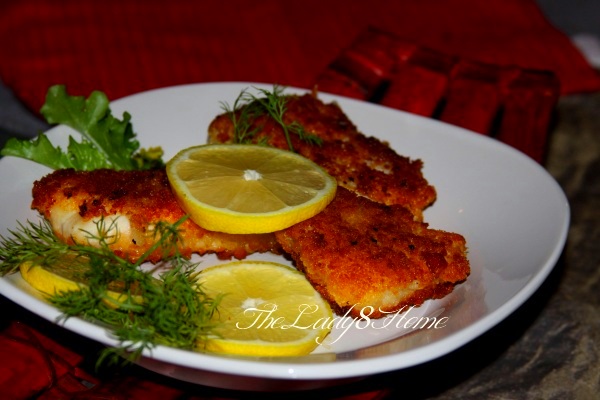 You got it right – Fish and chaps. And it's not what you think either. Read on.
Few years ago, we went into a tavern style steakhouse in a suburban Californian town that had female servers with outfits straight out of a bad R rated cowboy movie. As we entered the lobby whose decor shrieked of Southern/western country, twenty-something girls with glossy hair and glossier lips greeted us at the door.
Usually, welcoming pair of eyes, out of faces that have flawless glowing skin, warm up the air. Now, when the said faces are attached to shapely, long limbed, supple, young female bodies that are dressed in chaps (yes, chaps – leather pants with no bottom that horse riders wear to protect their legs) over minuscule leather tops, and even tinier panties shorts held up with a holster that bare more than they cover, they practically generate tornado style air currents.
Which literally sucked the oxygen from around us, leaving us looking like fish gulping air at the water surface.
The girls, scantily clad as they were, had a ready smile, with cowboy hats perched on their head only adding to the risque look. I have to admit that the girls were quite easy on the eyes, and I would not mind hanging out in such a place on a Sunday afternoon cozying up to my man.
Only problem – our kids were with us.
We had ventured into this restaurant that was located on a strip that was opposite to a popular shopping plaza. Hungry after a long afternoon of shopping, and craving for some good American food, our eyes fell on it, and we went in. There was no sign on the outside that the waitresses were in competition with Hooters dress code (and winning in X-rated category hands down).
At first, we thought we had chanced upon an adult joint or something until the waitress handed us kids menu, bending over to welcome my kids, even while her ample bosom threatened to spill out of her tiny top.
My younger, no more than 5 at that time, gaped at the girl, open mouthed, giving her a once-over many times over, his gaze lingering on her bare thighs that disappeared into folds of black leather. As she turned to lead us to our table, three pairs of male eyes that ranged from 5 to 35 followed her barely covered behind, much to my amusement and chagrin.
By the time she came for our order, two of the trio had overcome their shock and had collected themselves, almost wearing a nonchalant air, their nose digging the menu . The youngest, however, could not help doing another once-over, before dimpling into a broad smile and quipping, "You are very beautiful!"
Hmnn…they start young, don't they!
Later I learned they even do a lingerie show during the afternoon on weekdays.   O-o
I didn't blog at that time, so I don't have any pictures to share. But Texas Loosey's left memories that were a lot more traditional than the showgirl waitresses. They served us with complimentary corn bread straight from the oven with honey butter. Sublime. They also made amazing beer battered fish, crispy, crunchy and full of flaky flesh.
Beer battered fish is one of my favorites. Super crunchy yet moist at the same time, I prefer to coat them with Panko crumbs to give that extra crunch. I also like to season them with some turmeric and red chili powder which add an extra punch to the taste of the fish.
They are so easy to put together.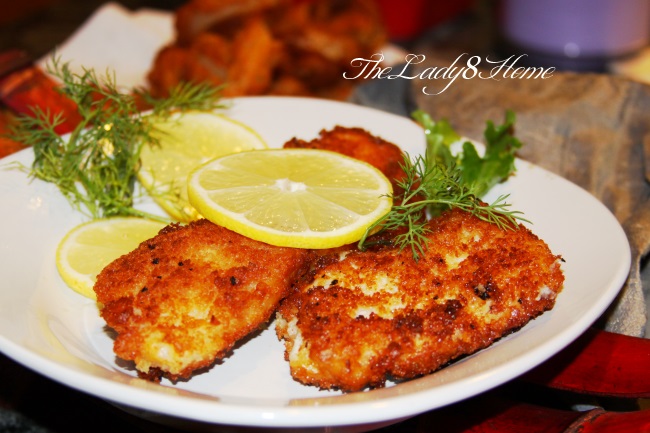 Beer battered Fish fry with turmeric twist
Author:
Minnie@thelady8home
Ingredients
6-8 thick pieces of cod fish
1 tsp salt
1 tsp red chili powder
1 tsp turmeric
Batter
1 cup corn flour
½ cup all purpose flour
1 12 oz beer bottle
1 tsp red chili powder
1 tsp cracked pepper
½ tsp garlic powder
1 egg beaten
salt to taste
Panko breadcrumbs for dredging
Oil for frying
Pam for spraying
Instructions
If frozen, thaw the fish and pat dry
Season with salt, turmeric and red chili powder and keep aside for 15 minutes.
Batter:
Combine corn flour, AP flour, chili powder, garlic powder, pepper, and salt
Stir in beaten egg
Whisk in the beer until the mixture is creamy but thin. You won't need the whole bottle. If you want, drink it, or use it as a hair conditioner.
Stand the mixture for 30 minutes.
To fry:
Heat about ½ cup oil in a shallow skillet. (You can deep fry if you want)
Add baking soda into the batter
Dip the fish into the batter
Dredge the fish into panko crumbs
Fry the fish till golden on both sides. Spray Pam before turning over for the fish to fry evenly.
Drain, transfer on kitchen towel to soak excess oil.
Serve hot.