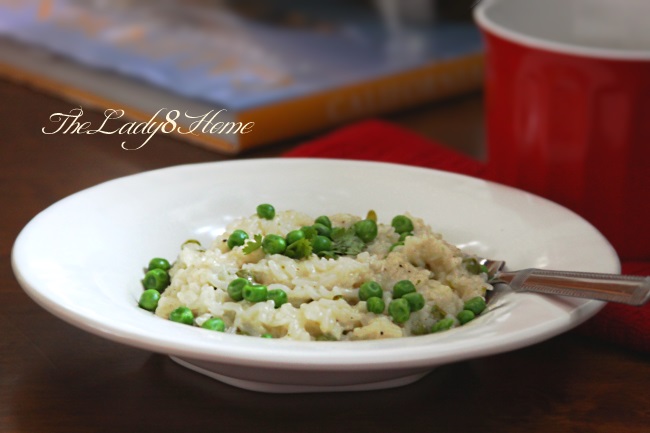 First Friday of every month we blog a recipe from Ina Garten's kitchen. A former White House nuclear analyst (does it not make you say 'Wow!') Ina Garten is a beloved chef who has mesmerized the food industry for more than two decades with her comfort style of cooking. Her foray into chef stardom started with opening of her Gourmet store 'Barefoot Contessa', followed by writing of numerous mega successful cookbooks. She continues to enthrall as a celebrity chef in the popular Food Network show 'The Barefoot Contessa'.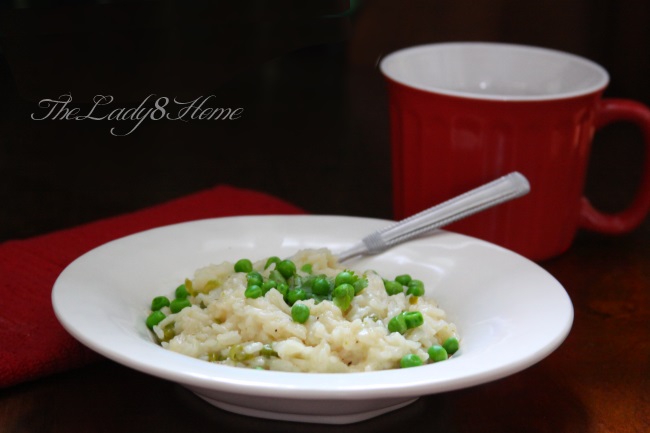 The recipe I picked today as a main is Parmesan risotto. While this dish is normally a side, I decided to use it as a main course just because it's so wholesome and filling. Rice, chicken stock, peas, all that cheese…a bowl of this and I am done for the meal. Any more and I would be over eating, hahaha! Normally, I prefer to add some ground meat in it to add some body to it. This time though, I followed Ina's recipe faithfully, well, almost.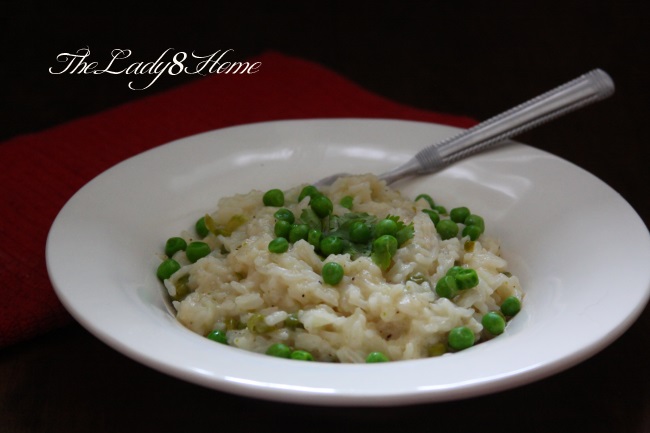 Adapted from Food Network's Barefoot Contessa and you can find the original recipe here.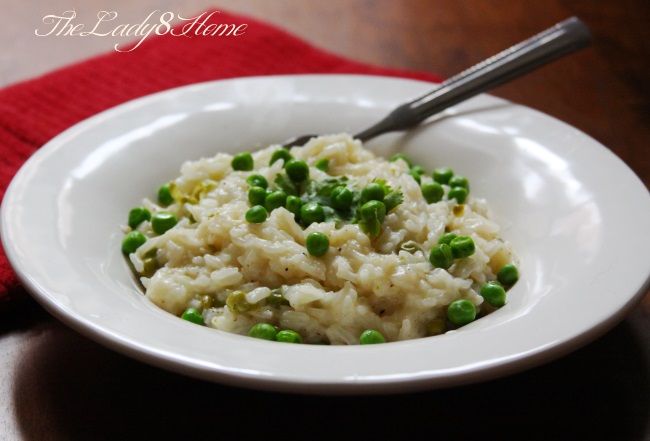 Easy Parmesan Risotto #InaFridays
Author:
Minnie@thelady8home adapted from Ina Garten
Ingredients
1½ cup Jasmine rice
5 cups simmering chicken stock, divided
1 cup freshly grated Parmesan cheese
½ cup dry white wine ( I used Moscato, it's not dry, and it gave a very sweet flavor to the rice)
3 tablespoons unsalted butter, diced
2 teaspoons salt
1 teaspoon freshly ground black pepper
1 cup frozen peas
Instructions
Put the rice and 4 cups of the chicken stock in a Dutch oven and place on High flame.
Bring to a boil, then lower the flame, cover and cook for 30 minutes, until most of the liquid is absorbed and the rice is soft.
Remove from the flame, add the remaining cup of chicken stock, the Parmesan, wine, butter, salt, and pepper, and stir vigorously for 2 to 3 minutes, until the rice is thick and creamy.
Add the peas and stir until heated through. Serve hot.
My partners for this event:
If you want to be a part of this group, please connect with lovely Alyce Morgan, the fabulous blogger who initiated this.