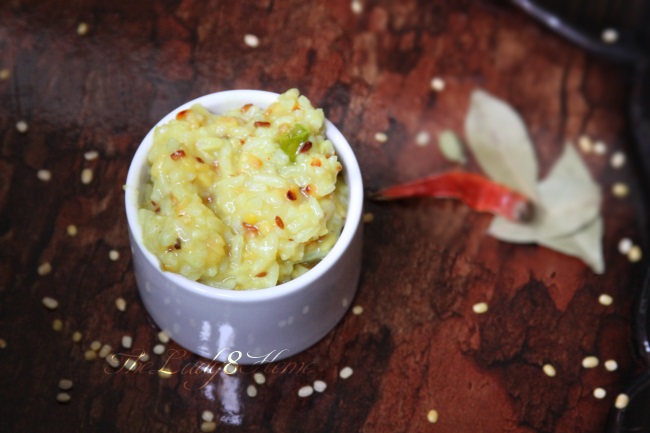 Sweet rose, jasmine and sandalwood fragrances from hundreds of incense sticks intoxicate the senses. Smoke from 'dhunuchi' (a lamp that has coconut husk fired up with charcoal and camphor, emanating what is considered to be a purifying smoke) fills the air. "Arti' - fire lit lamps that have oil soaked wicks are offered to a deity by the priests accompanied by a devotional song or chanting of mantras as a part of the 'puja' or the prayer – mesmerize you. The bells accompanying the 'arti' jingle with resounding beat of the drums around the high school auditorium, as the priest chants enchanting 'mantras' that promise divine blessings to all.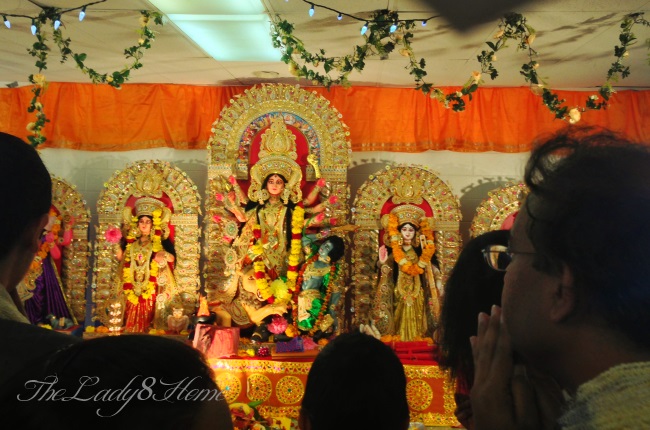 Steel, copper and paper plates filled with fresh fruits and sweets cover the jade jute mat that sits in front of the graceful idol of Ma Durga, magnificent on her ride – a lion – resplendent in shimmering red, gold, silk and satin. Coarse, glossy, black hair cascade down her back and garlanded front, thick strands weaving themselves around her gold adorned arms, ten in all that hold weapons of various shapes and sizes high in the air, with one long spear buried deep into the heart of the monster prone at her feet. The idol's heart-shaped clay face framed with the exquisite headpiece has a sublime radiance. Doe shaped kohl lined eyes are mesmerizing as she looks down from her dahlia and marigold covered pedestal at her devotees standing around her with head bowed, hands folded, seeking her blessings. She is here to vanquish 'Mahishasur', the devil that embodies all that is evil in the world.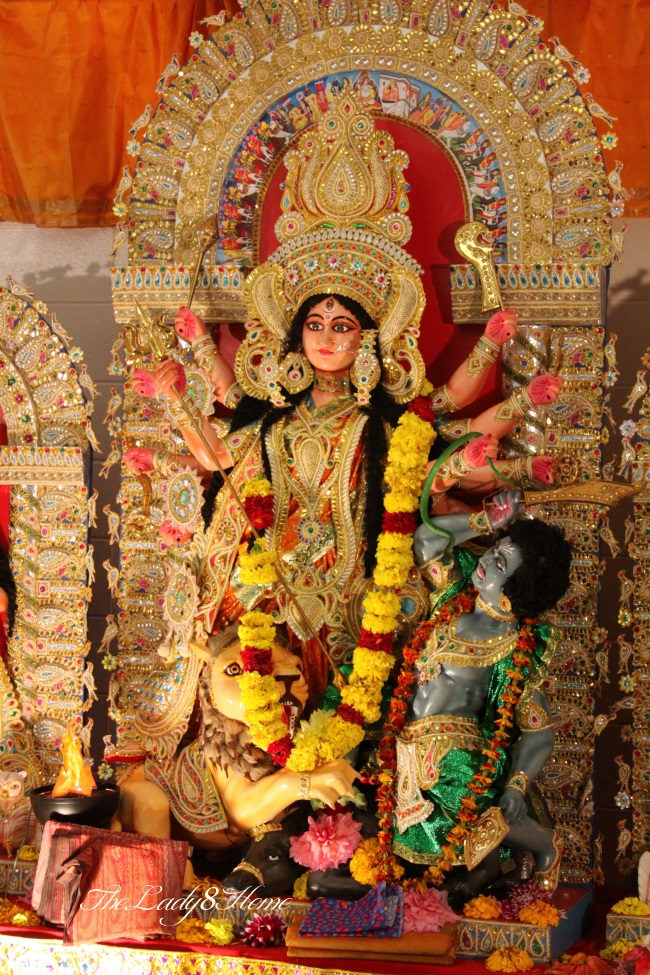 Come October, and almost every Bengali family outside of India follows a routine that has become fairly standard, even ritualistic, in nature, which is to find a venue and dates for 'Durga Puja' online. In states that have a sizable Bengali population, choices are often more than one. They use a complex form of data analysis to factor in items like distance from the house, entry fee and of course food available at the venue, to decide on a destination for that year.
On the said date (usually a weekend), they dress in their finest ethnic wear that is often sourced from designer outlets in India, expensive jewelry, and the brightest smile they can muster and land up at the venue (usually a school) to celebrate the Bengali equivalent of Christmas – Durga Puja.
Bongs (an indulgent nickname we Bengalis have given ourselves) have spread out around the planet, and today we see a plethora of Durga Puja celebrations in almost all corners of the world. Five days worth of festivities are crammed into a two-day weekend, often before or after the actual festival. It is much like celebrating Easter, Thanksgiving and Christmas together on a weekend in January.
That does not take even an iota away from the enthusiasm that is shared across the board by all Bongs. Every year, each of us is immersed in recreating the festive magic that tries to imitate the glory of Durga Puja back home.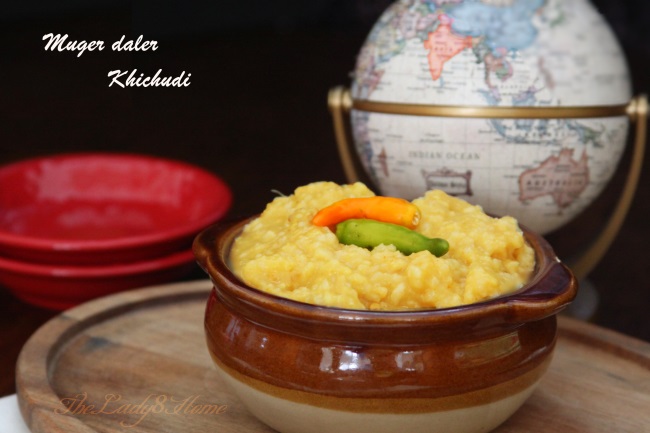 Nothing is more poignant than the memories of eating freshly cooked 'Khichudi', a dish of rice and lentil risotto cooked in fragrant spices, on plantain leaves sitting inside magnificent dome like structures that are erected just for the duration of the festival, many of them being stunning architectural marvels that often compete with other similar creations for grandiosity.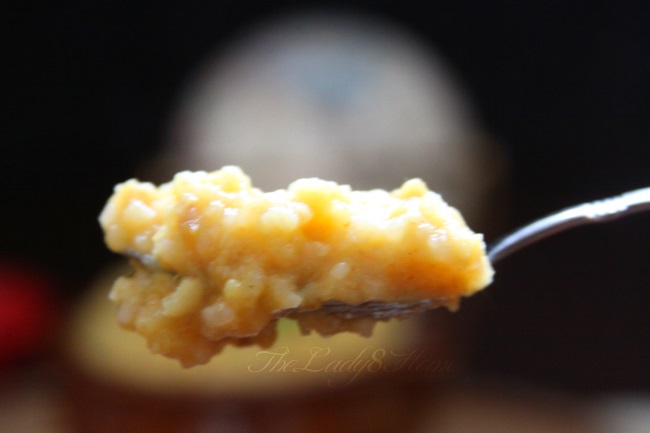 Back into the present, where school auditoriums substitute for the flamboyant tents, we wait patiently for the 'puja' to be over so that we could line up for the 'Khichudi' and other mouth-watering delicacies served on Styrofoam plates. Far removed from plantain days of India, we savor each bite with delight, eyes closed, focused on filling our spoons with this lentil-rice mush, a variety of fries and curries that complement the 'khichudi'.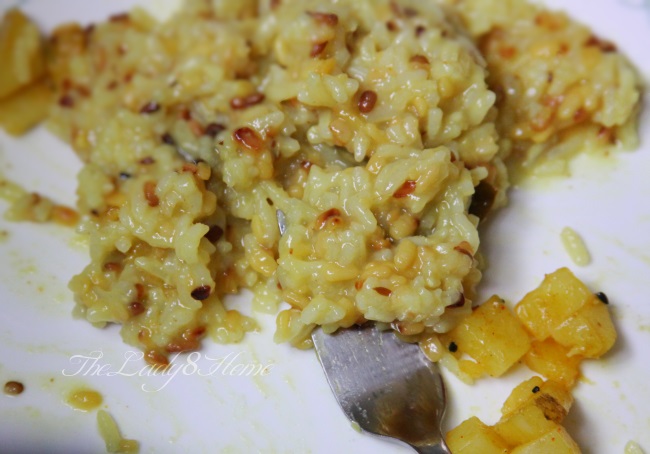 As the weekend gets over, we head back home, nostalgic, the taste of the hot 'khichudi' still lingering in our senses, the smoke of 'dhunuchi' emanating a musky smell from the silk of our clothes, gold jewelry tinkling for one last time before getting locked up in their respective cases, waiting for the next year when the ritual will start all over.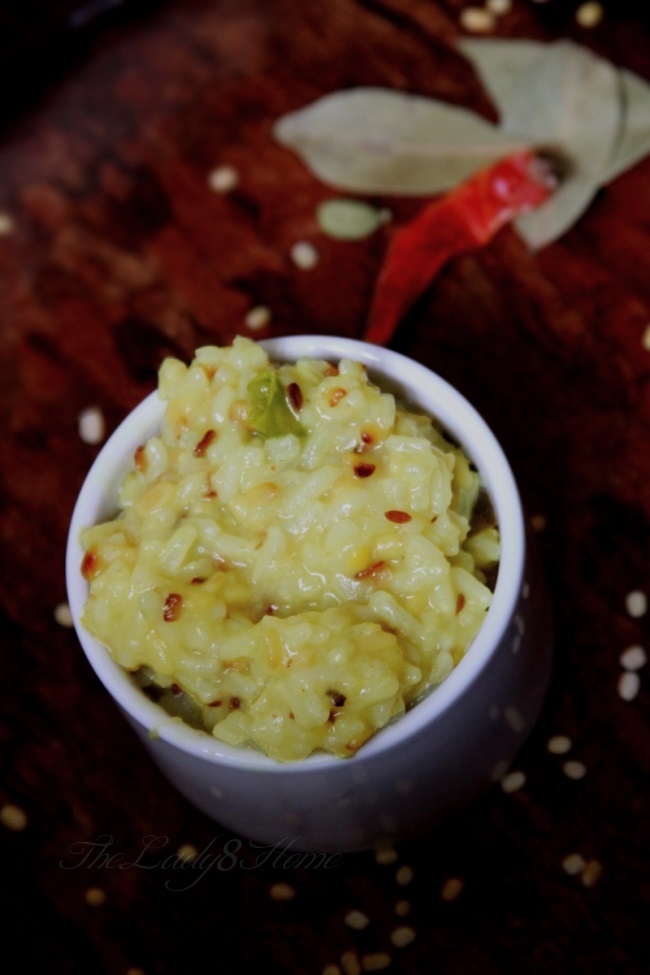 Eating Khichudi is a food ritual that has identified itself with Durga Puja for centuries now. While khichudi can be made with any lentil, "Bhog" khichudi is specifically made of Moong dal.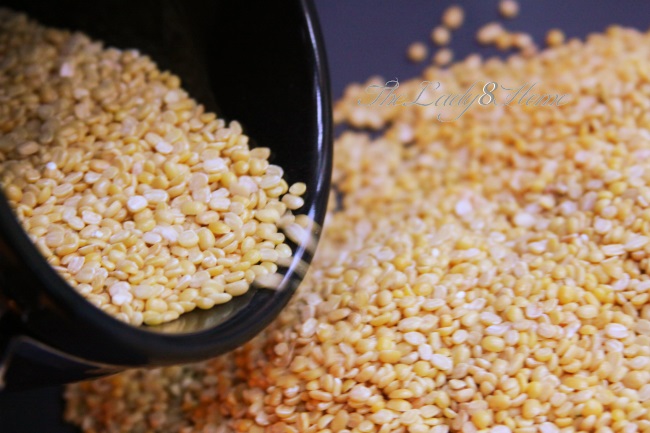 Bhog is the food offered to Goddess. The interesting thing is this is made without the use of onions or garlic, as they are not considered 'satvik' food.'Satvik' food would be those that do not mess up with the equilibrium of the mind, is pure and do not cause desire or lust.
Phew!! I follow it just because, well, my Mom follows it. This khichudi is my Mom's recipe.
Bhoger Khichudi – Traditional lentil risotto in aromatic spices
Author:
Minnie@thelady8home
Ingredients
1 cup Moong dal
1-1/4 cup Jasmine rice
1″ ginger
1 tsp cumin seeds plus ½ tsp for seasoning
1 dry red chili
2 pods green cardamom
1″ stick cinnamon
2 bay leaves
½ tsp turmeric powder
1 tsp sugar
1 tsp salt
2 Thai green chilies
1 tbsp ghee/ clarified butter (you can use olive oil) plus 1 tsp reserved
¼ tsp garam masala powder
½ cup peas (optional – I did not add)
2 full glasses of water plus one cup warm water
Instructions
Wash rice, drain and keep aside.
Lightly roast 1 tsp cumin seeds, cool down and grind to powder. Make a paste of ginger and cumin powder.
Roast moong dal in a pan till some of the beans start turning dark brown. Do not roast for too long, the beans will get charred and ruined. Soak them for five minutes in warm water. Drain the water and keep aside.
In a pressure cooker, heat clarified butter and season ½ tsp cumin seeds, 1 bay leaf, dry red chili, cinnamon stick and green cardamom.
Add dal and saute for 30 seconds.
Now add the rice. Saute for another 30 seconds.
Add peas at this time if you want them.
Stir in cumin and ginger paste. Saute for 10-15 seconds.
Add 2 glasses of water.
Spoon in turmeric, red chili powder, thai green chilies, sugar and salt.
Add the remaining bay leaf.
Put the lid on the cooker and let it whistle once. Lower the flame and cook for 15 minutes.
Open the lid, and using a spatula, mash the risotto to make it a bit mushy. Add 2 cups of warm water. Add 1 tsp ghee and garam masala powder.
Serve hot with fries.
 Khichudi goes well with these as sides: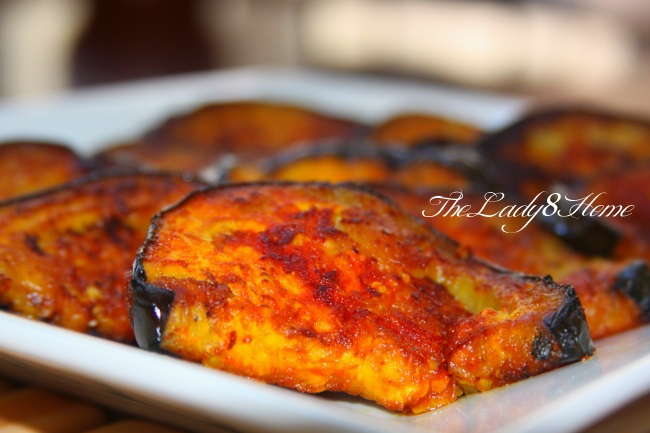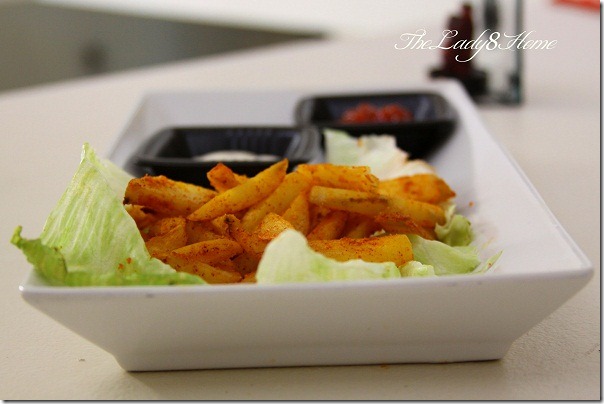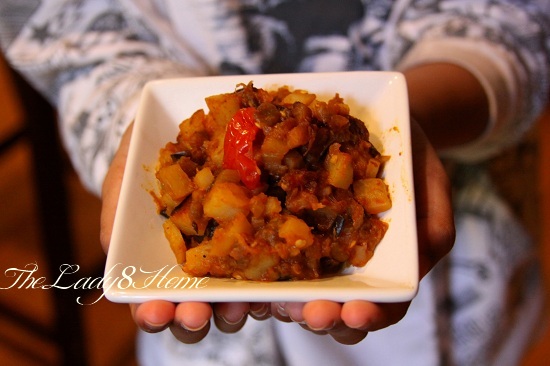 Bijoya to all my Bengali friends and Happy Dusshera to all!