Did I tell you guys that I was in the middle of arranging for a community event to celebrate Diwali? It was a lot of people, lots of food and lots of dancing.
It also had lots of kids dancing to meticulously choreographed numbers at Indian folk and Bollywood tunes. I choreographed not one, not two, but three groups for kids ranging from 3-15.
That is besides making many other arrangements that comes with the territory of arranging a event on a large scale. Coordination, ticket sales, food, scheduling, etc etc etc. I have a very talented group of people who helped me out in this venture, and we all hoped that this very first attempt in this city would be successful.
Meanwhile, through all this, I have been kind of MIA in visiting other blogs. I apologize for that. With all this going on, plus the kids and their crazy schedule, it's been a bit more hectic than I bargained for.
It was fun though, especially seeing the kids mirroring my moves and actually skipping and jumping with happy expressions at what they were achieving.
Priceless.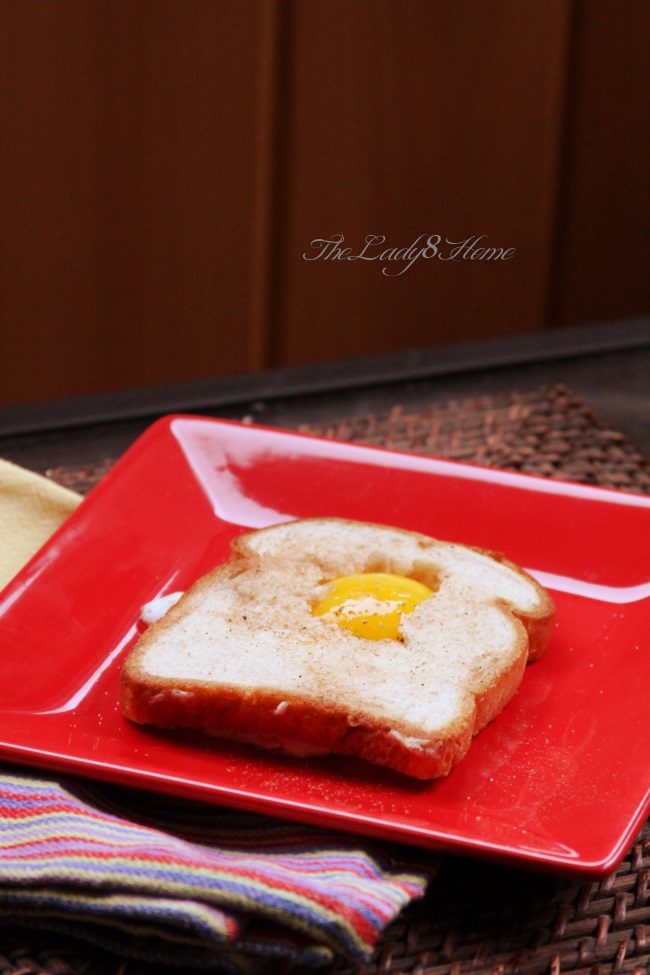 I have also met some very interesting people in the process. Like this gentleman who pledged a full auto detailing gift card to our event in response to our pledge to support local business. Not only he pledged a magnanimous GC, he was also super friendly, despite the fact that he was full of grease that comes from being stuck under the chassis of a truck for most part of the day. And then I learned that he is just not someone who owns an auto repair business, but a fireman too.
Respect.
I am not sure who won that raffle prize, lucky person, but the night was a huge success. Then there was this small matter of me performing in a folk dance and while doing some steps, skidding on a piece of cloth and falling..on the stage….with the audience watching….well that video is never making its way to the You Tube.
Embarrassment.
At such hectic times, eating can be a chore. Seriously, who has time to sit down for a proper meal? Not when your smart ph just buzzed with the 74th email, and you have 3 different documents to update, and then call and co-ordinate with vendors, return 7 missed calls, hunt for that perfect green thread to fix your son's costume….
At such times, quick meals are the order of the day. But the tongue balks at eating something straight out of the refrigerator. This is when I fall back on eggs and toast. My idea of comfort food. Everyone eats them, so what's so special about it? Not much, other than that it's brown butter, and that the egg and the bread are married together.
I saw this on a television show, and was hooked. So simple, and yet just amazing…..and so easy that I almost did not blog it. But Hubby pointed out that it's simple recipes that should be blogged about, because sometimes simplest of things sometimes escape the best of chefs.
Could not agree more. Three ingredients – eggs, toast and butter. But it's like eating something completely new…it's amazing how a simple change in technique can create a whole new dish.
| | |
| --- | --- |
| | |
| Heat butter | Let it brown |
Scoop a little hole in the bread

and the fry it in butter. Cook the

egg on the side.

Place the un-fried side over the egg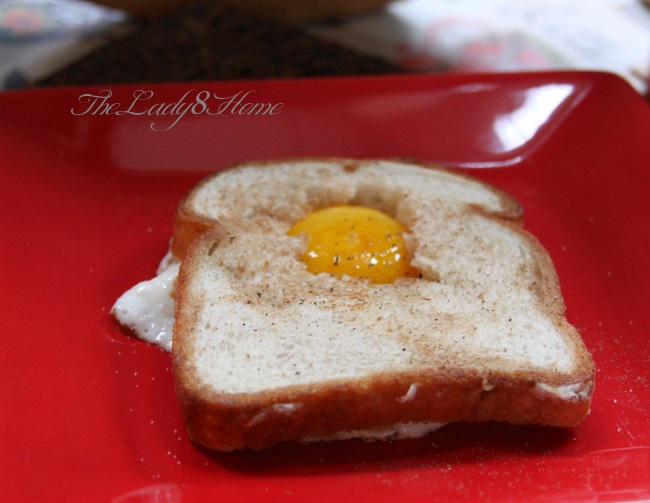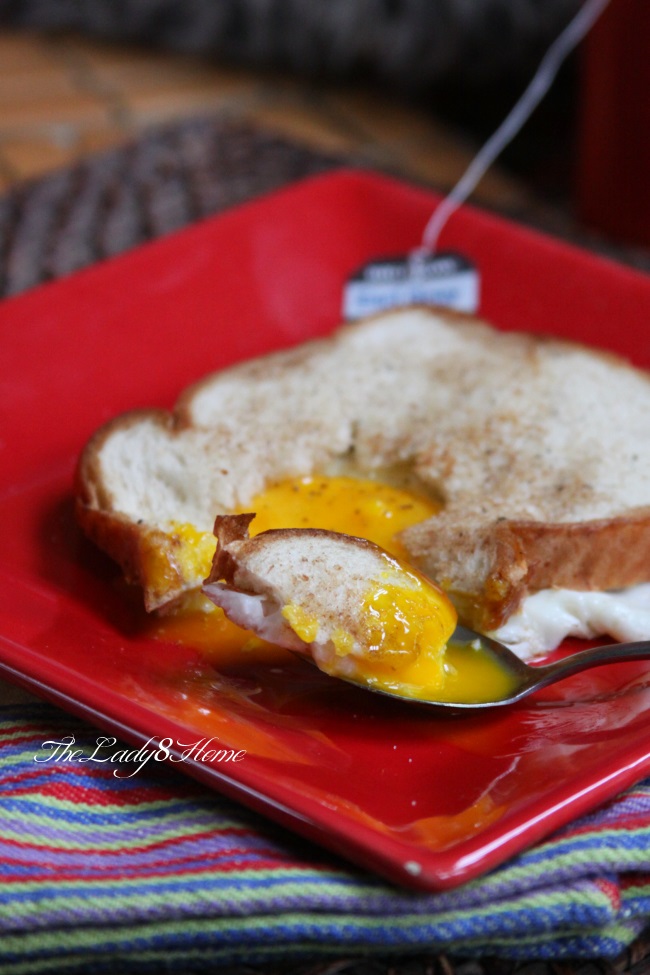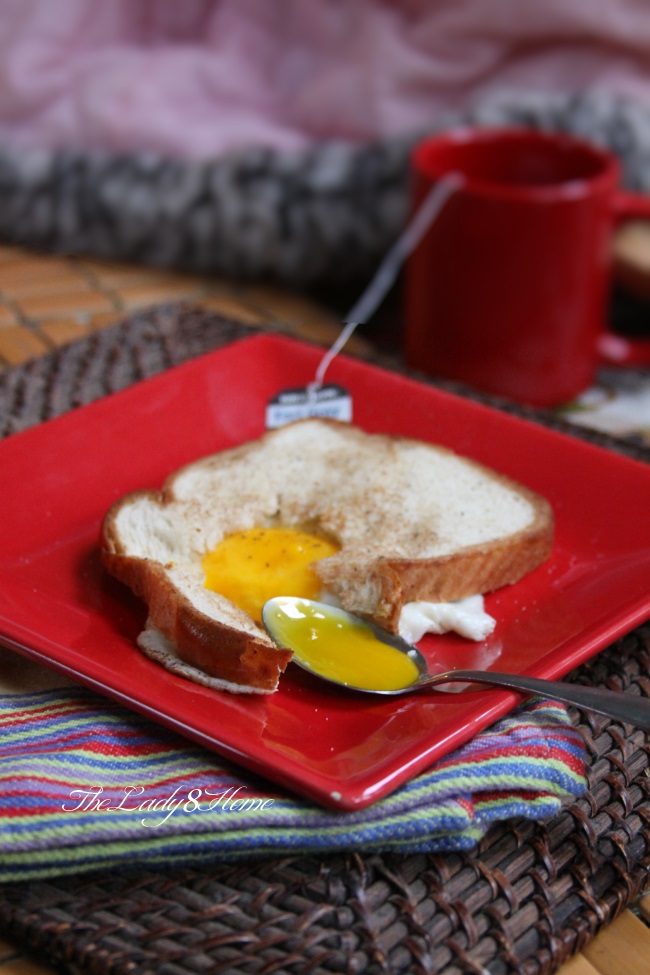 Brown butter toast and egg
Author:
Minnie@thelady8home
Ingredients
1 egg
1 piece of whole wheat bread
1 tsp of butter
Sprinkling of salt and pepper
Instructions
In a non stick pan, heat the butter, keeping the flame low. Swirl it around gently, until it starts turning brown.
Crack an egg, sunny side up.
Depending on where the egg yolk is sitting, make a hole in that area of the bread (approximate), and place is beside the eggs.
Once the egg is a bit firm, and the bread looks nicely toasted, flip it over and place it on the egg, un-fried side down, positioning the hole over the yolk.
Let it cook for another 30 seconds.
Sprinkle salt and pepper.