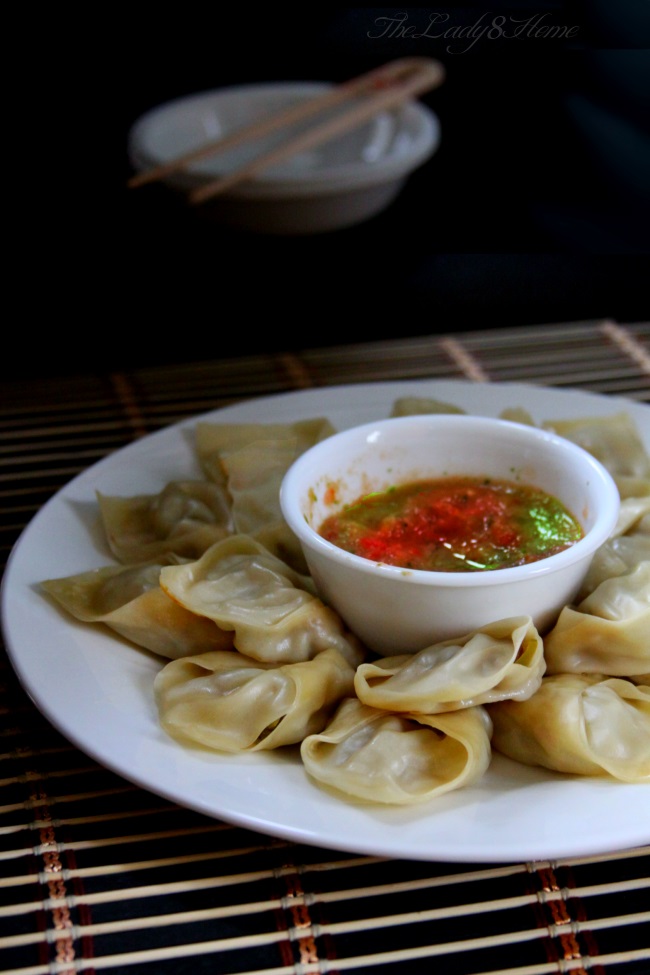 As winter sets in, having a plate full of aromatic dumplings straight from the steamer tastes like heaven.
Right after the birth of my younger son, I ate Momos, lots of them. They were healthy, which meant as a new nursing mother it was OK for me to have them, and spicy, which was a break from the normal mundane food that I was forced to eat so as not to give my little one heartburn. Recently, a friend made them for dinner and that had the memories flooding back. I took her recipe, but as it was verbal, so I didn't remember if I got the ingredients right. But I did hark back to memories to the momos back in India, and of course searched the internet and then settled for today's recipe. It was just what I had wanted.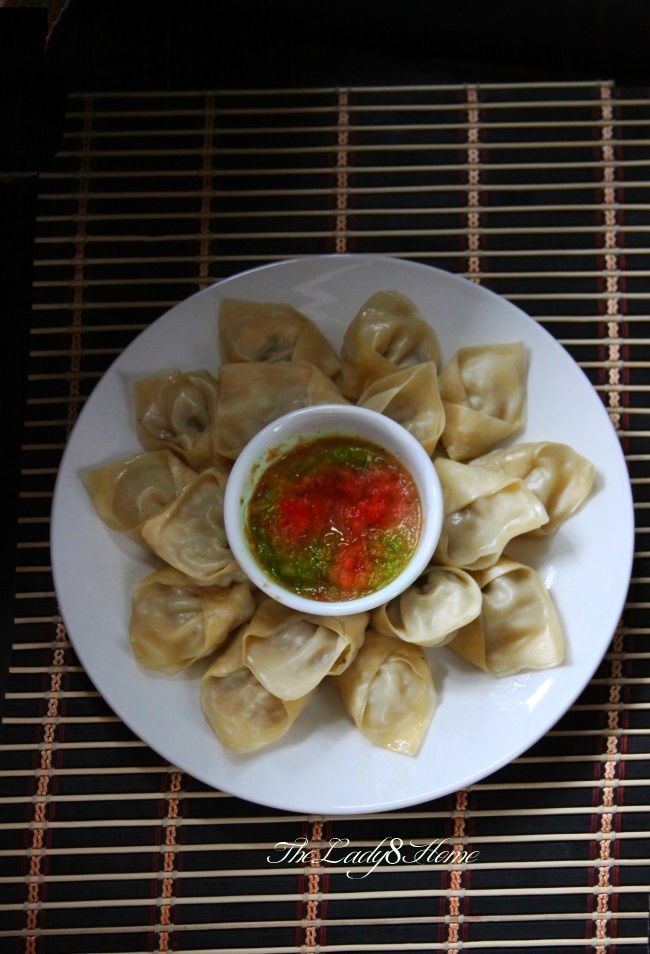 Momo or steamed meat filled dumplings are a crossover from Nepal to the streets of India. The history of Momos are murky, but considering dumplings form such an important part of most South Asian cuisine, it is possibly a cross over from their Chinese neighbors in to the Himalayan country – or vice versa.
As the name suggests, momos are pastry dough filled with meat and vegetable fillings. Many different kinds of meat is used in making momos – most popular being buffalo meat, besides goat meat, pork, yak, lamb or even seafood where available. One of the most popular street food in North Eastern India, Momos have now acquired a legendary status as a street food that is actually healthy.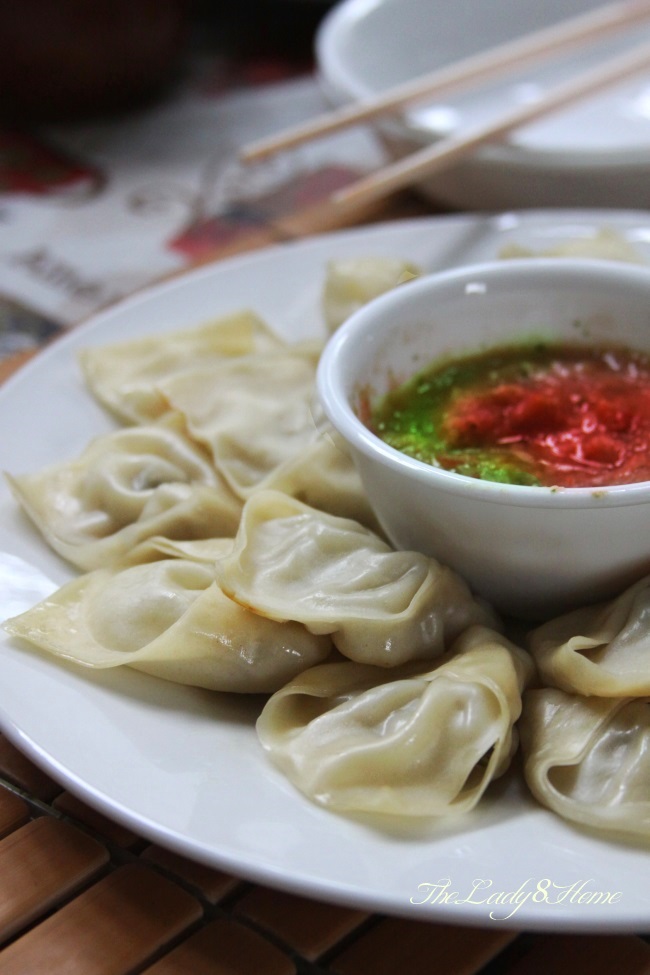 Mix 3 full cups of ground meat (I used goat meat, but chicken, beef and pork work just as well) with equal amount of finely chopped onions as the ground meat, 2 tbsp finely grated ginger, 1/2 cups of celery, 1/2 cup spring onions, 1/2 cup of coriander leaves, 2 thai green chilies chopped fine (optional), 1/4th cup oil, 1/4th cup warm water. Using your fingers, mix all the ingredients well, like you would knead a dough. Add water to make the mixture moist and more homogeneous.
Now place a small amount of the meat mixture on a pastry sheet.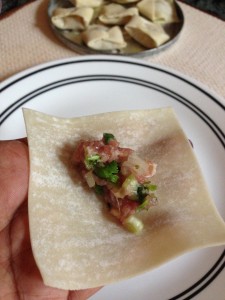 Fold it over.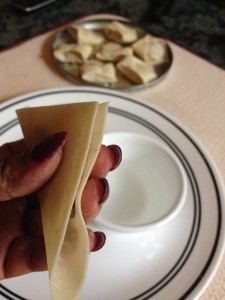 Using water, seal the side.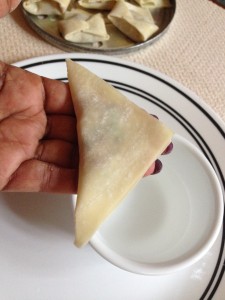 Bring the corners around and paste them together using water.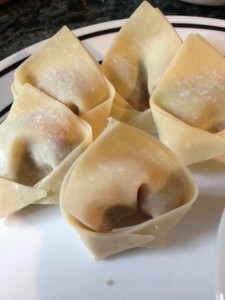 I don't have a steamer, so I used a big pressure cooker, and steamed the momos on the slotted plates that come with pressure cookers, using other smaller steel bowls to create a tier.
Bring water to boil in all the containers (all of them steam the plate on top). Add a spoon of mixture to the water, it adds to the aroma. You can use this as a soup or stock later.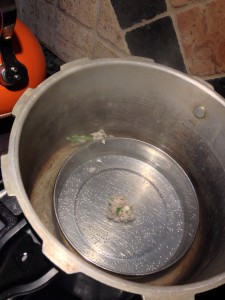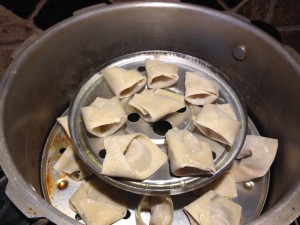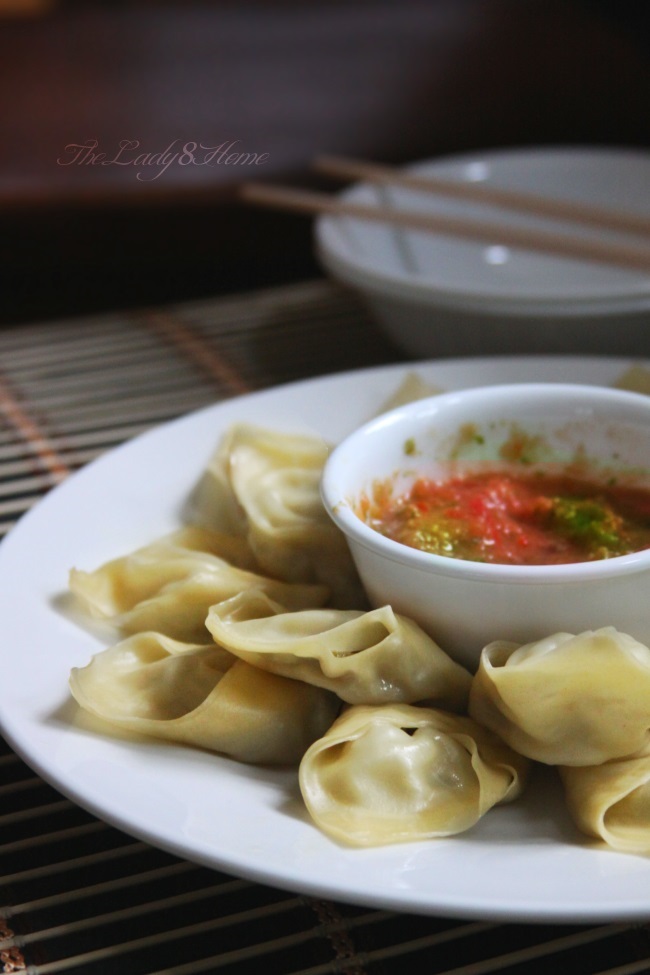 The chutney that goes with it is something that lends to the Momo eating experience.It provided a perfect foil to Momo's subtle taste.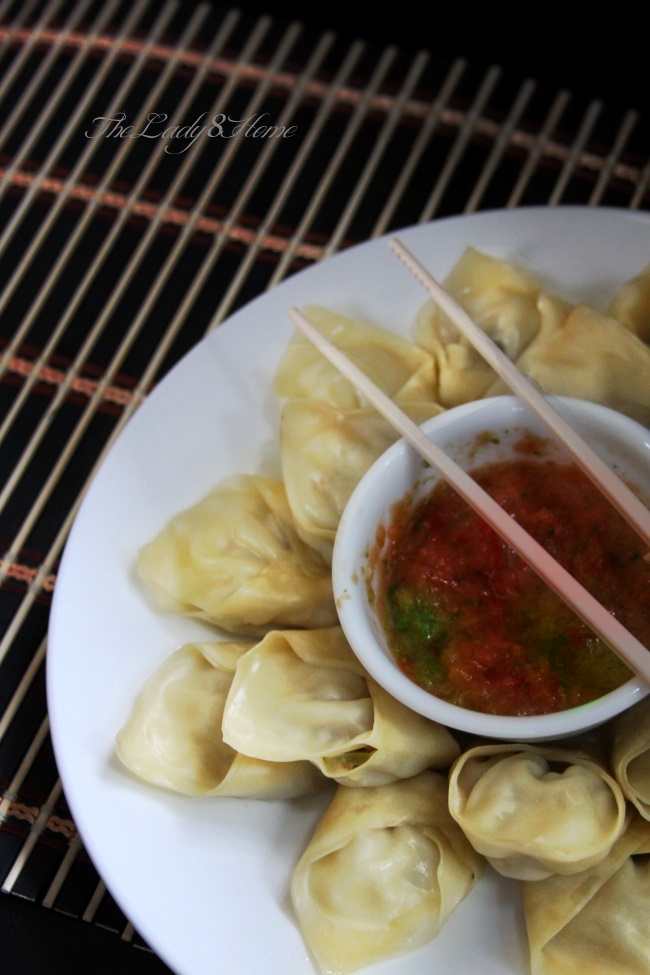 Momo - Nepali style steamed dumplings with hot tomato chili sauce
Author:
Minnie@thelady8home
Prep time:
Cook time:
Total time:
Ingredients
2 packets wanton wrappers
For filling
3 cups ground meat (mutton/pork/chicken/beef)
3 cups chopped onions
2 tbsp grated ginger
¼ cup celery chopped
¼ cup chopped coriander leaves
½ cup spring onions chopped
2 Thai chilies chopped (optional)
¼ cup olive oil
¼ cup water
1 tsp salt
For chutney
2 large tomato grated
5 thai red chilies
1 tbsp spring onions
¼ cup green coriander
water as needed
1 tsp lemon juice
salt
Instructions
Mix all ingredients for filling and knead it like a dough for 2 minutes, adding water to make it more homogeneous
Place a small amount of filling in the wrapper and fold it over and form a dumpling by sealing the ends.
Steam the dumplings for 18 minutes.
For chutney
Grate tomatoes
Grind the rest of the ingredients except lemon juice in a blender with little water, taking care not to puree them. Alternatively, you can grind the rest of the ingredients of the chutney in a mortar-pestle.
Using a fork, mix in the tomatoes until they are well mixed together. Add lemon juice.
Note: Coat the slotted plates with a little oil or PAM. That prevents the dumplings from getting stuck. Also, when cooked well, the dumplings should not stick.