There is an air of celebration to 2014. I don't know why I feel that way. The world still looks like it has gone to the dogs, weather still sucks – we left for East coast in midst of a blizzard and came back to the beginning of another one – and well, you get the drift. Yet, the air feels fresh, and the world feels new, and all set to start with panache. Happy New Year to all my beautiful readers.
A friend sent me something in the mail that I want to share. I don't know who to credit it to, but thanks to whoever created it.
 Boarding on Flight 2014 has been announced….. Your luggage should only
contain the best souvenirs from 2013 …the bad and sad moments should be left
in the garbage… 
The duration of the flight will be 12 months. 
The next stop-overs will be : Health, Love, Joy, Harmony, Well-being and Peace.
The Captain offers you the following menu which will be served during the flight
…..
A Cocktail of Friendship 
Supreme Health 
A gratin of prosperity 
A Bowl of Excellent News 
A Salad of Success
A Cake of Happiness
All accompanied by burst of laughter….
Wishing you and the family an enjoyable trip on board of flight
2014….
 YOU A VERY HAPPY NEW YEAR
It's time for Ina Fridays! This month it's soup and salads. This time I am posting a very simple potato salad that is easy and quick from the kitchen of Ina Garten. It's a combination of mustard and dill to make a fantastic sauce for potatoes. The original recipe can be found at foodnetwork.com's Barefoot Contessa Potato salad.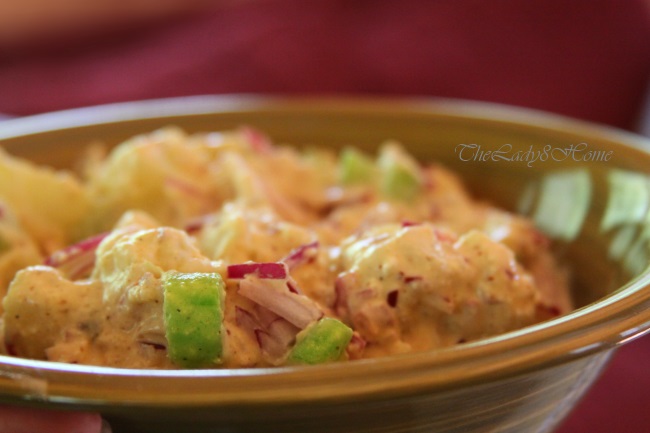 Potato Salad #InaFridays
Author:
adapted from Ina Garten
Ingredients
3 pounds small white potatoes with skin on
Kosher salt
1 cup light mayonnaise
¼ cup buttermilk
½ cup chopped fresh dill
2 tablespoons Dijon mustard
2 tablespoons whole-grain mustard
Freshly ground black pepper
½ cup chopped celery
½ cup chopped red onion
Instructions
Place the potatoes with skin on in a large pot of water with two tablespoon of salt and bring it to boil. Then simmer for 15 minutes. Once the potatoes are tender enough to be pierced with a knife, drain them in a colander.Place the potatoes back in the pot, and cover with a clean dry kitchen towel. Allow the potatoes to steam for 15 to 20 minutes.
As the potatoes steam, in a small bowl, whisk together the mayonnaise, buttermilk, Dijon mustard, whole grain mustard, dill, 1 teaspoon of salt, and 1 teaspoon of pepper. Set aside.
When the potatoes are cool enough to handle, cut them in quarters or in half, depending on their size. Place the cut potatoes in a large bowl. While the potatoes are still warm, pour enough dressing over them to moisten. Add the celery and red onion, 2 teaspoons of salt and 1 teaspoon of pepper. Toss well, cover, and refrigerate for a few hours to allow the flavors to blend. Serve cold or at room temperature.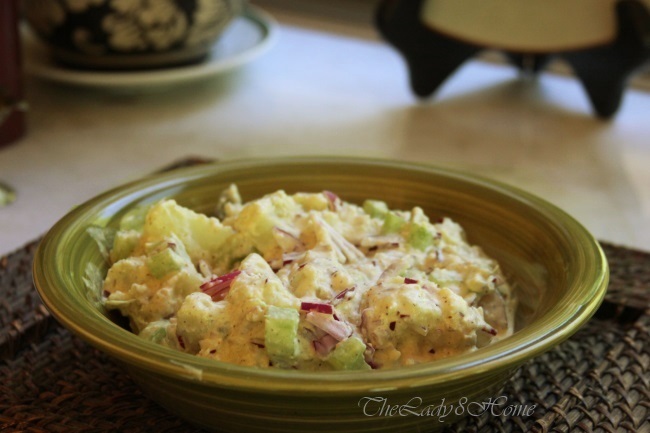 The first Friday of the month, an enthusiastic group of food bloggers blog their take on a recipe taken from celebrity chef Ina Garten's repertoire. Do visit to find out what my fellow Ina Garten bloggers are up to this month 🙂