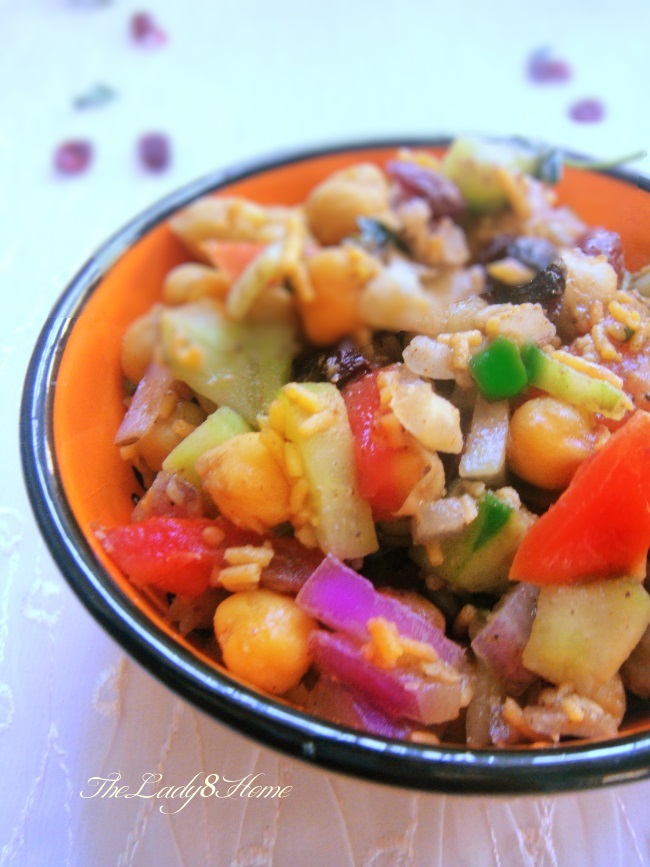 A little while ago, when my parents were visiting, I had a get together at my home back in California where I invited a close group of friends. My parents were happy meeting everyone, and as it often happens, they tried to match the couples with each other, figuring out who was whose spouse so that they didn't make any mistakes – like making Mrs smith the wife of Mr John.
After everyone left, I heard my parents arguing. "No, he was by himself.' 'No!" my Mom contended," I met the wife, she was there."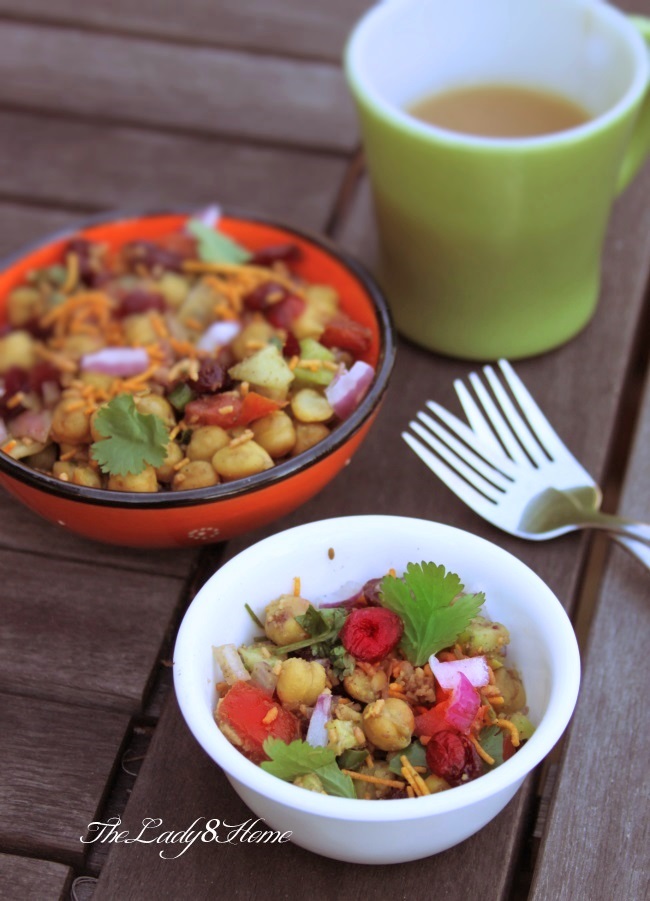 Finally they turned to me to solve the problem. My dad was confident. 'The only person who didn't come with his wife was the tall gentleman with salt and pepper hair, right?"
Confused, I said, 'No, his wife did come'.
"Then how come I didn't meet her, it was a small group and I met everyone, including his daughter, the pretty little girl. So how did I miss her?"
Perplexed, I looked at him, 'but Dad, his daughter didn't come, he came with his wife…" and then it dawned.
The thing is, my Dad had heard a lot about this couple from us, both doctors. He was looking forward to meet them, so was highly disappointed when he only met the gentleman. And his daughter.
Horrified, I looked at him and said, 'Dad, that was his wife! And she is ONLY two years younger to him.'
They have a 15-year-old daughter, and both Mom and daughter do look twins. No kidding. And the fact that he has had salt and pepper hair since he was 20 something does not help matters. So my Dad could be forgiven for taking her for the daughter despite chatting with them for a good half an hour.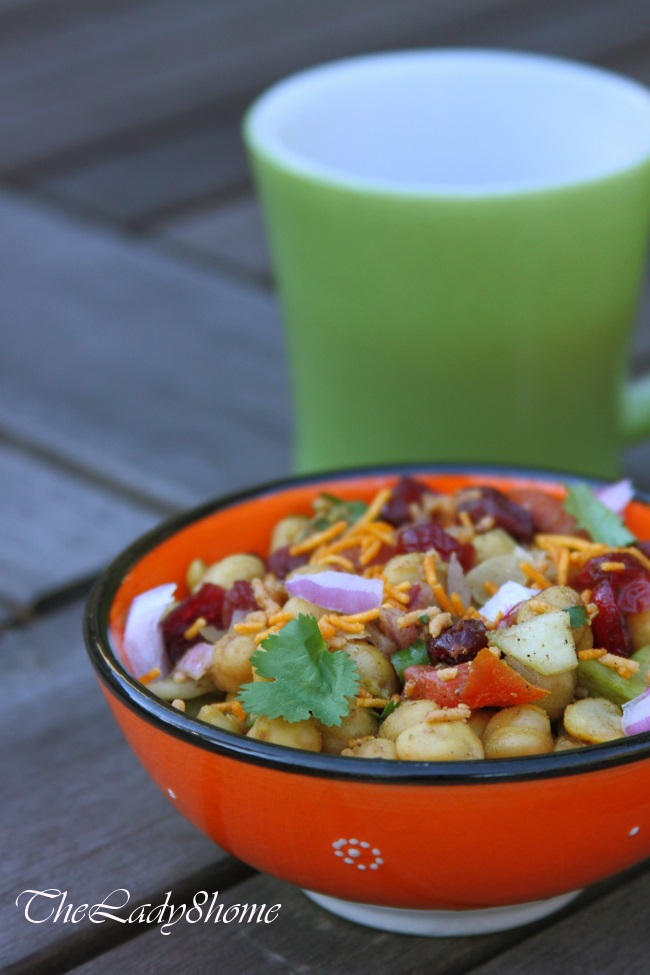 My friend's husband, it seems, wasn't surprised. You see, he knows this, and is quite proud of it. 'I get best of the both worlds. I have a beautiful trophy wife, you know – that old guy with a young pretty thing on his arm when in reality  she is my partner of the best kind.' They were medical college sweethearts and have been together for almost 20 years now.
We have been at the receiving end too. Once we went out on a girls night out, and ordered drinks. The waiter appeared and asked for her license. There were six of us, and she was the only one who didn't drink. Yet she was the one singled out for the 'honor'. While handing out her license, this petite, exceptionally beautiful lady added for a good measure, 'Do you know I am oldest in this group?' The attendant's eyes widened while he looked sheepishly at us, and proceeded to ask the next one for her ID – who handed it and winked, ' you don't really need to see this for us, right?' His expressions were priceless, especially as the lady whose ID he now had in hand was at least 5 years younger to our forever 21 friend.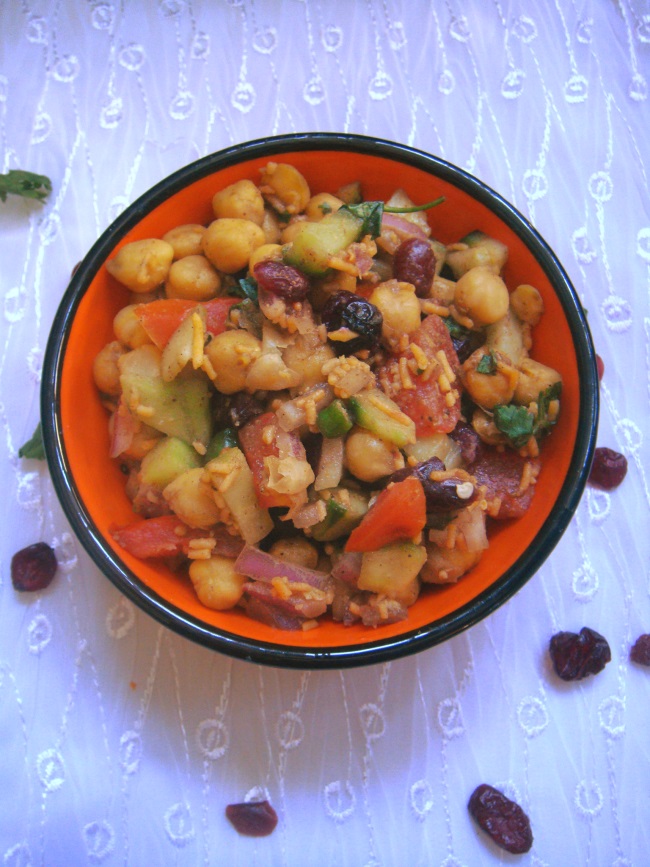 She also makes this absolutely mouth-watering chick pea salad or chana chaat. It's a Sindhi recipe and so delicious and fresh that you could finish a whole bowl by yourself and still yearn for more.The only thing I have added extra are the dried cranberries because I did not have enough pomegranate.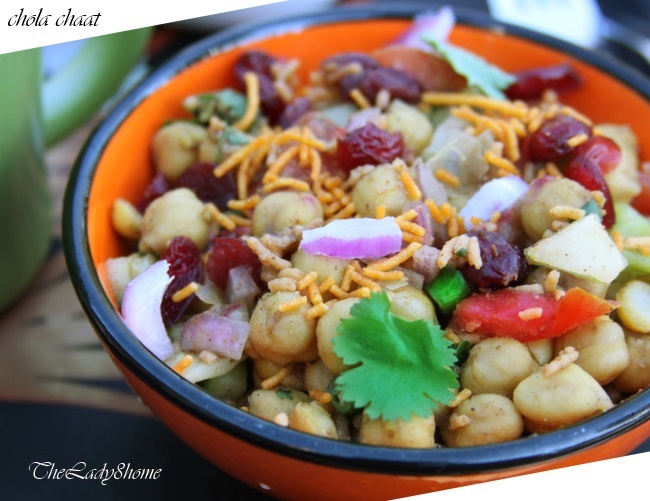 Chola Chaat - Chickpea salad spiced and healthy
Author:
Minnie@thelady8home
Ingredients
Dry chick peas: 2 cups soaked overnight
1 tsp turmeric
1 tsp salt and more to sprinkle
Cucumber : 1 cup finely diced
Red onions: 1 cup finely chopped
Tomatoes: ½ cup
Fresh pomegranate: ½ cup
Dried cranberries: ½ cup
Potatoes boiled, peeled and diced ½ cup (optional)
Spices:
chat masala: 2 tbsp
garam masala powder : 1 tsp
red chili powder: 1 tsp
Fresh cumin roasted and ground: 1 tsp
Amchur powder : ½ tsp
Lemon juice : 2-3 tbsp
Tamarina sauce (Maggi tamarind sauce): ¼ cup,
Fresh green chilies: 1 tbsp
Garnish
Fresh green coriander leaves chopped fine: ½ cup
Sev (bhujiya) or dried potato strings (see note): ¼ cup (optional)
Instructions
Boil chickpeas in 6 cups of water with 1 tsp salt and turmeric till soft.
Drain and let it cool to room temperature.
Add all the vegetables and fruits and mix well with a fork.
Now add the spices.
Note: add salt and lemon juice according to taste
Pour the Tamarina sauce and toss the chickpeas around well so that all the spices are nicely coated.
Refrigerate for two hours.
Garnish with fresh coriander and 'sev' and serve.
Note:
# Aloo bhujiya or 'sev' is fried potato strings that look like little noodle pieces and are a very popular snack in India. This is added for crunch.
# Making your own garam masala adds more punch. Roast 1" cinnamon, 3 green cardamoms, 1 clove, and ¼ tsp peppercorns, cool and grind to a fine powder.
#Tamarina sauce is made of tamarind and is sweet and sour, so gives a tangy sweet and sour taste to the salad. It is easily available in Indian stores.
This is what 'aloo-bhujiya'  looks like: