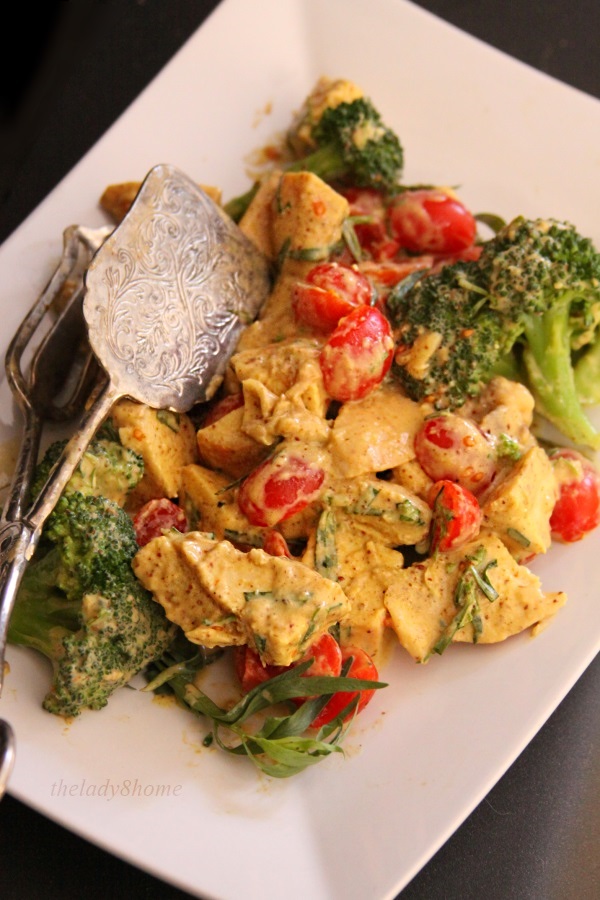 Wednesday we had snow day, thanks to the 14th snowstorm of this winter that still has some distance to go. It royally messed up the week. Some of my friends felt it was Monday again, while I was totally zoned out, mistaking Thursday for Wednesday, as if the snow day never happened and hastened the week along. It wasn't necessarily bad, just that I missed my grocery day and had to play catch up today.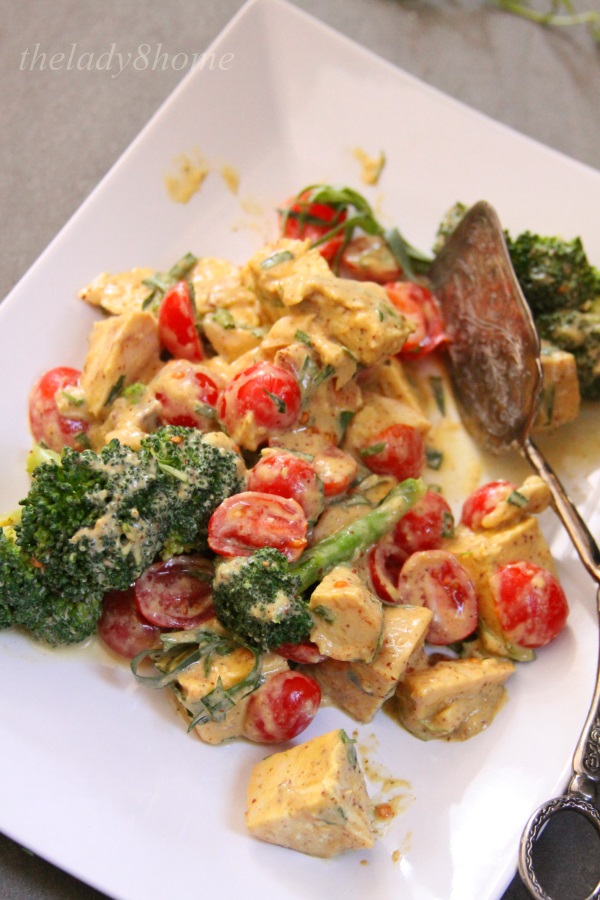 That meant everything got delayed. We are invited to a birthday party this weekend, two sisters, the younger is turning one and the older, thirteen. I had to shop for gifts for the girls, and being the mother of two boys, it isn't the easiest of things.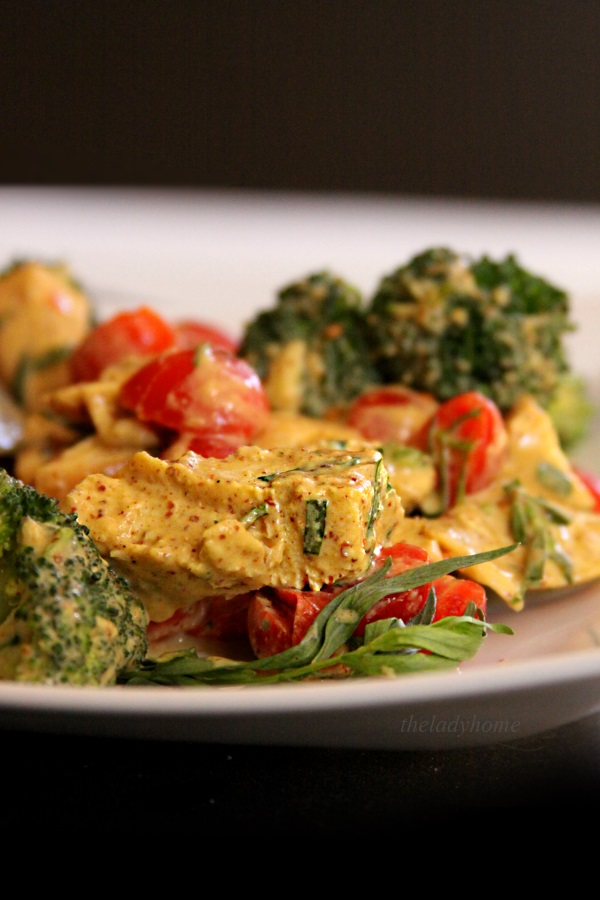 Still, shopping for girls is still easier as there are a lot of choices out there. I have hard time shopping for my own teen son, let alone shop for other boys for the same age group. So gifts for them often mean requests of electronics things whose uses are difficult for me to comprehend. Much easier to go and shop for a stylish looking purse I tell you!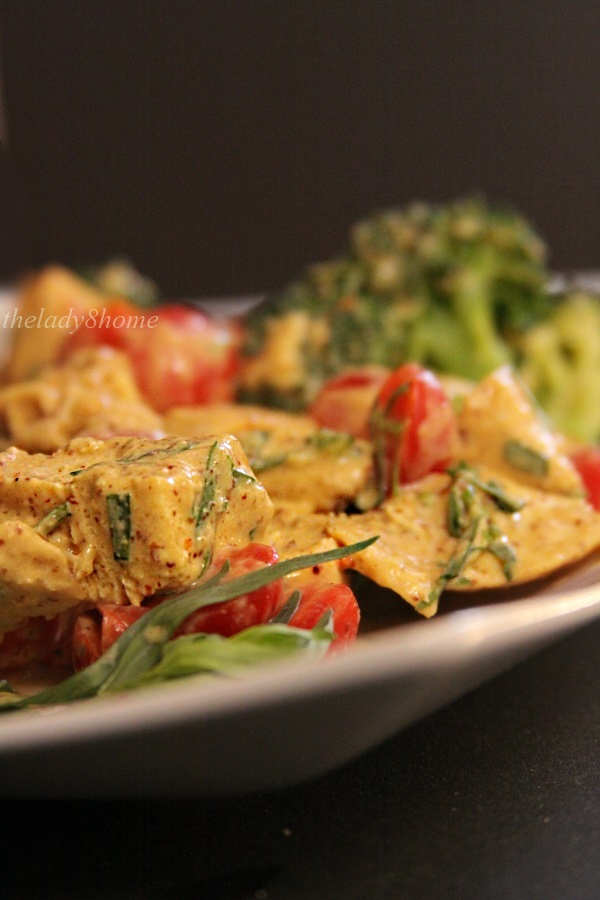 It's Ina Friday again and this time it's main course. I made some chicken in mustard sauce.I made this for the first time, and while I liked it fair enough, it is not one of my top favorites from Ina's Kitchen. Next time, I am going to try make some changes to see if it's more to my taste.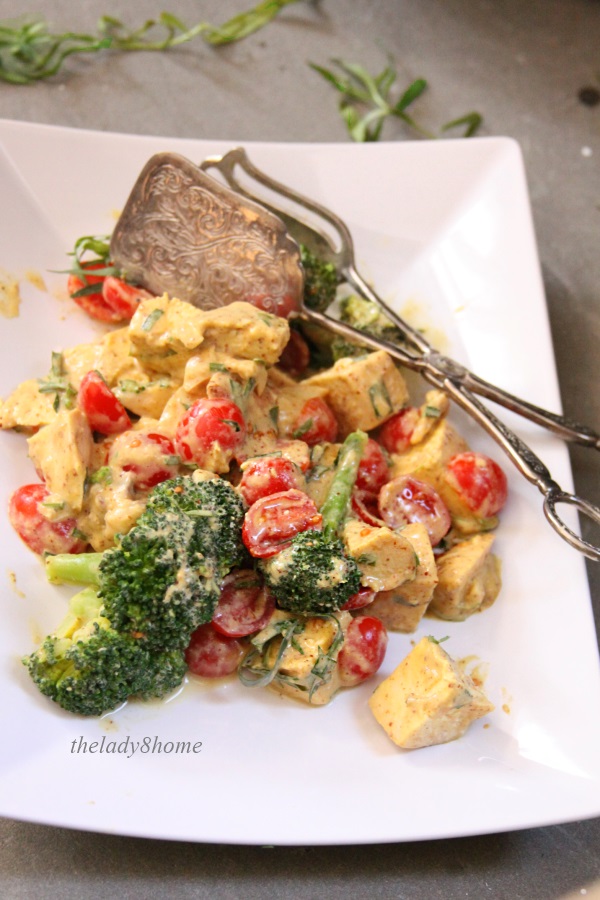 Adapted from Food Network, UK, Ina Garten recipes

Mustard Chicken from Ina Kitchen #InaFridays
Author:
Adapted fron Ina Garten
Ingredients
2 whole chicken breasts, bone-in, skin-on
Good olive oil
Salt and freshly ground black pepper
140g broccoli florets
350g good mayonnaise
30ml dry white wine
60g Dijon mustard
45g whole-grain mustard
5g minced fresh tarragon leaves
150g cherry or grape tomatoes, halved
Instructions
Place the chicken breasts on a sheet pan, rub olive oil all over, and sprinkle salt and pepper. Set the oven to preheat at 350 F. Let the chicken sit while the oven preheats.
Roast the chicken for about 35-40 minutes till just cooked. Cool, and discard the bones and skin. Dice the chicken into bite size squares.,
Immerse broccoli in salted boiling water for 1 minute. Drain and dip into ice water. The broccoli will stay tender but crisp and retain its bright green color.
Prepare the dressing by whisking together the mayonnaise, wine, mustards, 1 tbsp salt and ½ tsp pepper.
Toss the diced chicken with sauce so that the pieces are nicely coated and moistened.
Combine the moistened chicken pieces with tarragon, broccoli and tomatoes and mix gently to combine.
Refrigerate for a few hours to allow the flavors to blend . Serve at room temperature.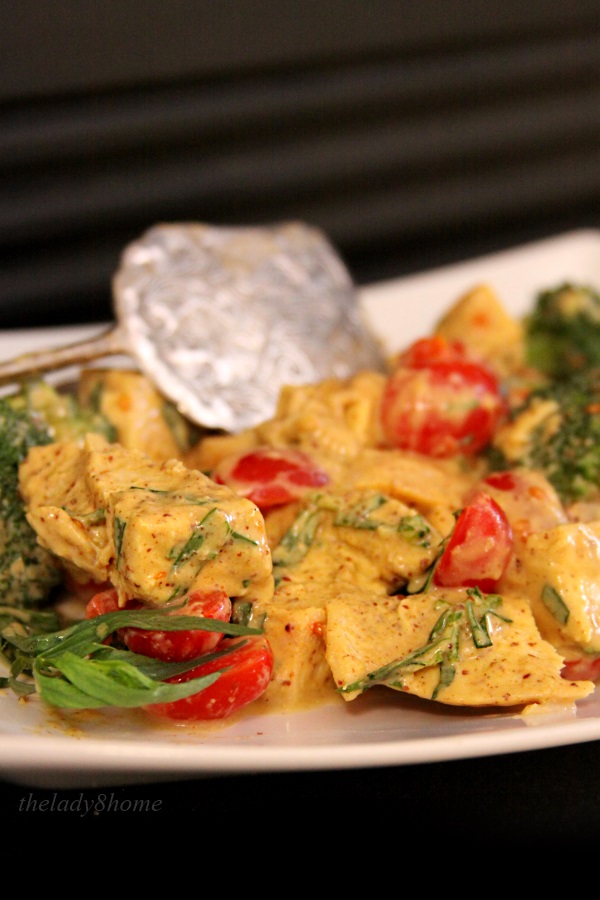 I am a part of this wonderful group who blog a dish from Ina Garten's vast repertoire of dishes on the first Friday of every month.
I dedicate this post to our fellow Ina Friday blogger Chaya from Bizzy Bakes who is going through possibly the most difficult time of her life. Losing a child is the worst thing that can happen to a human being, and Chaya lost her daughter recently, right after her grandson got married. So even while she celebrates the joy in her grandson's life, she struggles to come to terms with a loss that is a mother's worse nightmare. I can only share something that touched my heart, for I have witnessed the struggle that a parent goes through during such a time, and nothing really makes sense, or even makes a difference, other than the thought that their loved one is looking down upon in peace, and is a happy soul somewhere.