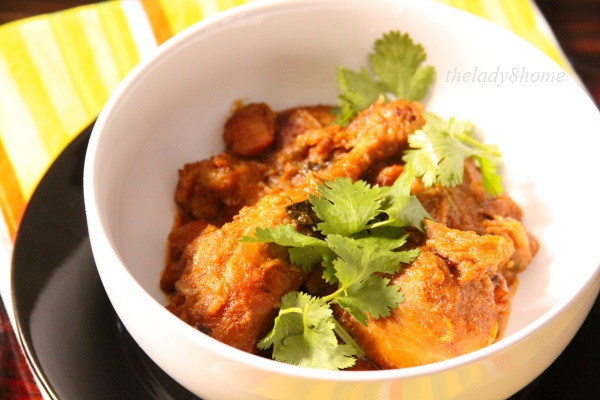 'Kosha Murgi' means chicken that has been slow cooked till the gravy has turned dry. We Bengalis call it 'ga maakha' , or gravy that just about coats the meat. It's thick, rich and delicious. It uses little or no water, and often is oil based. However, addition of other sauces and liquids also means it cooks in flavors that marry to create this lip smacking recipe. Kosha Murgi can often be found on lunch/dinner menu that has been spread to impress the people at the table. And Bengalis don't cook just to eat, but they cook to impress, their ears cocked to hear those ecstatic noises that emit when one is savoring culinary marvels.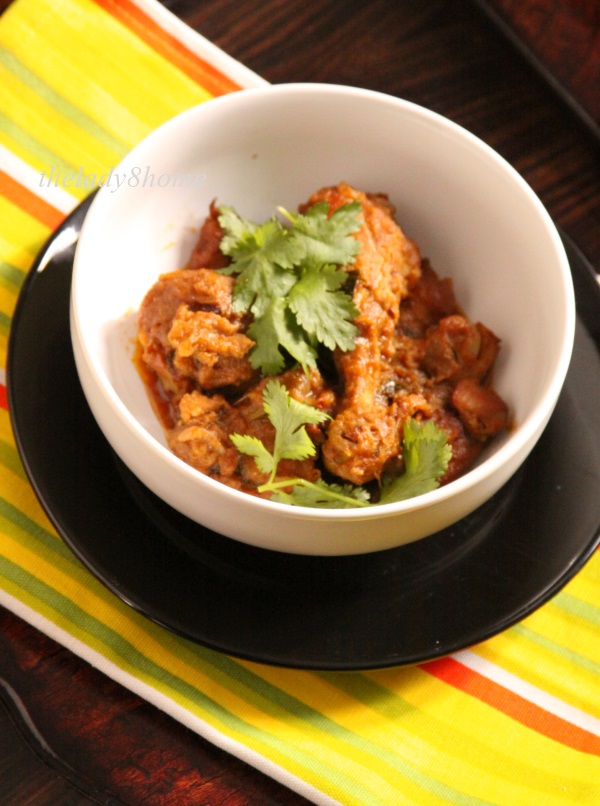 Kosha murgi - Chicken masala
Author:
Original recipe by Minnie@thelady8home
Ingredients
2 lbs Cornish hen cleaned and cut (you can also use any other chicken that you like)
3 large onions finely sliced
2 tbsp paste of ginger,garlic and green chili
1 tsp fennel powder
1 tsp cumin powder
1 tsp of coriander powder
1 tsp red chili powder
2 tbsp soy sauce (less sodium preferable)
1 tbsp vinegar
½ piece star anise
2 pieces of javitri
1 pinch of nutmeg powder
2 pods green cardamom
2 pods black cardamom
1" cinnamon stick
½ tsp cracked fresh pepper
¼ cup olive oil
2 tbsp fresh green coriander/cilantro leaves chopped fine
2 thai green chilies split
Instructions
Heat oil
Fry onions till light brown
Add chicken pieces
Ginger garlic chili paste
Add fennel powder and salt to the chicken pieces, stir
In soy and vinegar, add chili, coriander, cumin, turmeric and make a paste
Combine with the chicken and stir with spatula till well coated.
Fry till chicken looks nicely browned. Add rest of the spices and black pepper
Add half cup water, bring to boil, then cover and simmer the chicken till oil leaves sides.
Add fresh cilantro leaves and Thai green chilies.
Serve hot with naan, roti, paratha, poori or rice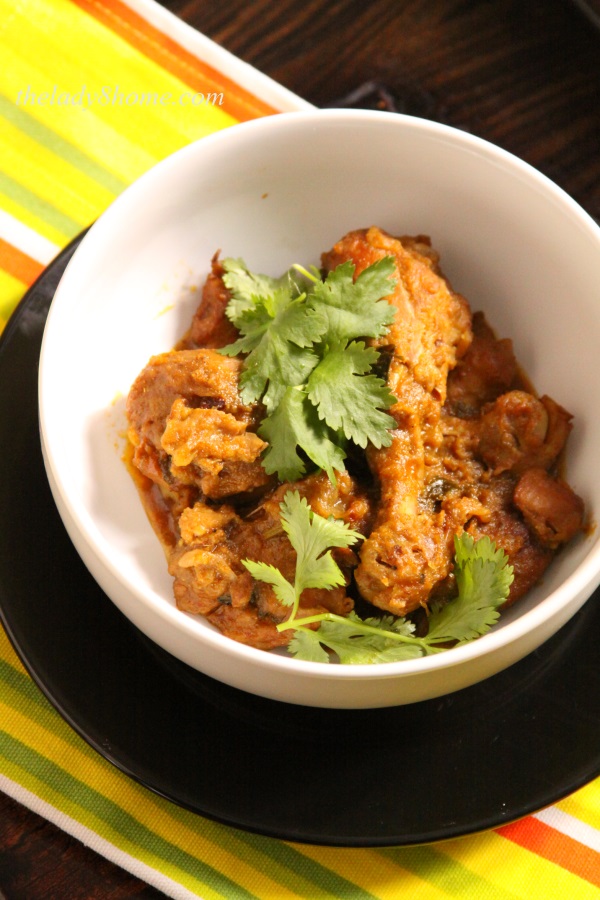 So tell me dear reader, do you ever cook to impress someone?