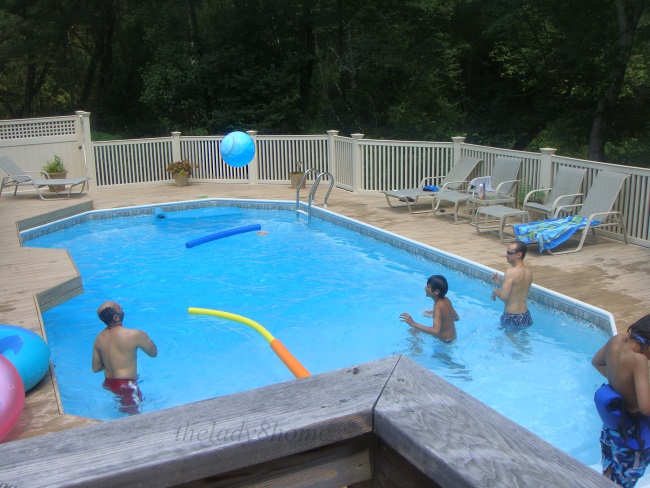 I have had quite a few queries from my readers on pool installations since my post on Salt Water pools here. Now, we bought this house with the pool already installed, and I have personally never seen a pool installation earlier.
Last year, our pool liner got damaged and we called in the experts to change it. At that time we got to know that our pool was an above ground pool. We were really surprized, because we always thought it was an inground pool.
So why an above ground pool? Installing an above ground pool against an inground pool is a personal choice that depends on a lot of factors. For those of us who live in the East Coast, above ground pool makes more sense because in case of damage from excessive snow or high ground water levels, maintenance becomes easier.
And this is just one minuscule part of it.
Above Ground Pool Installation Considerations
So, suppose you do decide to install an above ground pool before the summer season, and want to have that pool ready to jump into when it gets warm enough, you automatically come to the next step: What is involved with an above ground pool, and what does the homeowner need to keep in mind about the installation?
How big a pool do you choose? That will largely be determined by the size of the space that is available. You don't want to pick out a pool, have it installed, only to discover that it has filled up the entire back yard. Do some measuring before selecting pool, and be sure to allow plenty of space for things like an outdoor barbeque, or a swing set for the kids.
For example, our house sits on a hill and the sloping backyard of our house merges with a wetland home to many wild species of New England. For our previous owner, it made more sense to install a multilayered deck to hold the pool than dig the slope and put a fence in which would actually have reduced the area for the pool.
Budget considerations. Many articles suggest that above ground pools are cheaper, and while it is true to a great extent, but unless you are looking to place a tetra large tub in the middle of the yard (nothing wrong in it if done right), putting in an above ground pool that looks and works as an inground one can be an expensive affair as it invariably needs a deck to surround it. In that case, it is best to work with a Spa company that has ties with companies that specialize in putting decks that support a pool.
As I mentioned above, an above ground pool can be pretty expensive, depending on the model selected. Consider how much of the family budget can be allocated for the project. There may be room in the back yard for a very large pool, but if money considerations dictate a more modest pool, choose that option. Remember, there will be other expenses for pool accessories and chemicals.
Preparing the area. The site where the pool will be set up needs to be flat, so take time to measure and mark out the footprint, and get the yard in that spot as level as possible. Be sure to level an area larger than the pool itself. For a better idea of what is involved, check out the information found in the article on installing a pool found here, or the two planning articles here and here.
Think about accessories. The pool will need things like a ladder, a pool cover, and pool lights. Don't forget to purchase these items, because it wouldn't be good to have the pool arrive and not have a ladder to get in the water. Include pool chemicals in this list, to make sure that the water can be properly treated when filling the pool for the first time.
What about a permit? Check with the local authorities to see if a permit is needed, and make sure that is secured before the pool arrives. The requirements differ from place to place. Some localities require a permit, and in other places there just will be regulations for the homeowner to follow regarding the pool.
Take care of the water needs. Take some time in the planning stages to determine how you will access fresh water, and how to drain water when necessary. Talk with a plumber or an expert to determine the water usage for the size of pool you choose, to avoid later problems.
Who installs it? Are you a do it yourself person, who can read and follow the instructions for installing an above ground pool? If you are, enjoy letting your handyman come out and successfully put in your pool. If you're not that kind of person, but would rather just walk out into the yard when the pool is ready – consider hiring someone to install and set up the pool. For example, we have a local Pool and Spa store we go to for all our needs, and twice a year, they send people over to properly winterize the pool and open it when the summer arrives. It can add to the expense, but to me, it's worth it. However, if you feel confident enough to take care of it yourself, please go right ahead.
Whether to attempt an installation will also be influenced by the size and complexity of the pool selected. When the pool is delivered, make sure to check the packing list, to make sure all the parts have been included.
To enjoy the pleasure of owning an above ground pool, take the time to consider all the factors involved, such as the size of the area, and have a plan before ordering the pool. Taking time to cover all the details at this point will greatly smooth the process. Then just jump in the water and smile as you and the family begin to play and enjoy your new pool.
This article was researched and compiled with the help of Patricia Hogenes. After many years working as an apartment leasing agent, Patricia Hogenes told her husband she'd like a break from that job. He supported her move to begin working as a freelance writer. She says the best thing about the job is that she's not spending all day on her feet showing apartments.