A few days ago I had posted about how we bought our first house and how 'bathroom' had been one of right on top of the list of my priorities before reality set in and we settled for more house and less bathroom.
Right after, I recived a few emails asking me about ideas as to how to give a makeover to an old bathroom without going for a complete remodel. That set me thinking. There are actually a lot of great bathroom ideas that can give an instant facelift to an old and tired bathroom. How? Well, here is how.
Go for a paint makeover. You can go bold, or muted, whatever your choice is. Pick a color, pick up those paint buckets and go to work. You can also choose to texture one wall. Contrasting a bright colored wall with muted tones on the rest gives a spacious feel to the bathroom.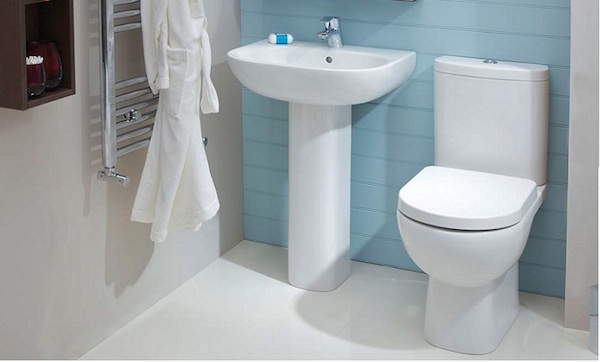 Look at the beautiful contrast this bathroom presents.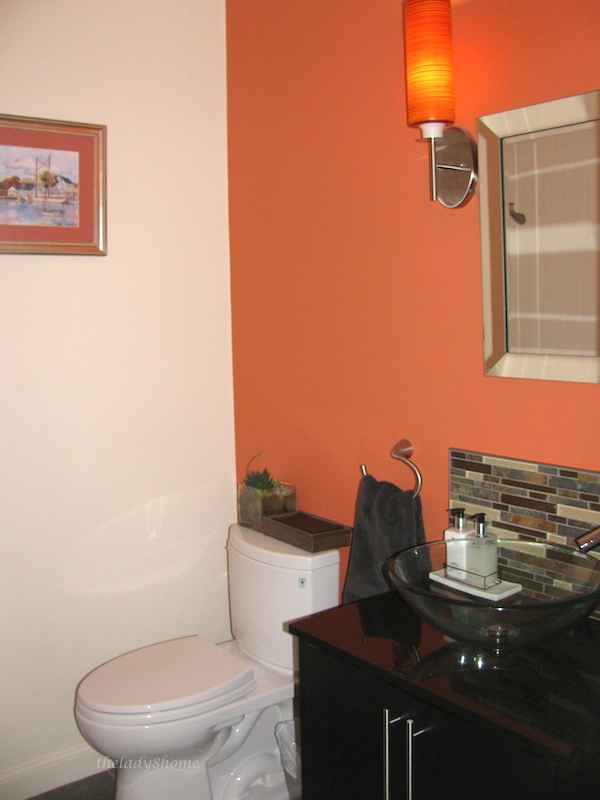 A simple textured dark colored wall has added oomph to an ordinary bathroom.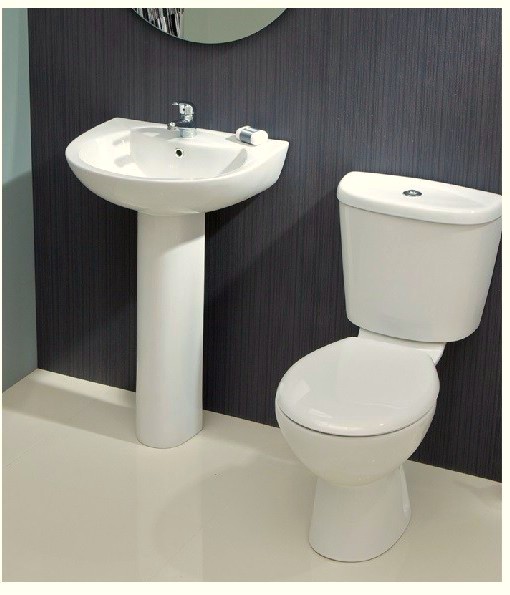 Accessorize, accesorize, accesorize. Pick up those unique knick knacks that would give that unique touch to this great space a lot of us end up spending a lot of time in.
Candles
Glass tumblers
Go creative and give a personal touch to something that you like. Like this book holder.
Look at this beautiful hand painted book holder. Not mine though, picture is courtsey a dear friend of mine.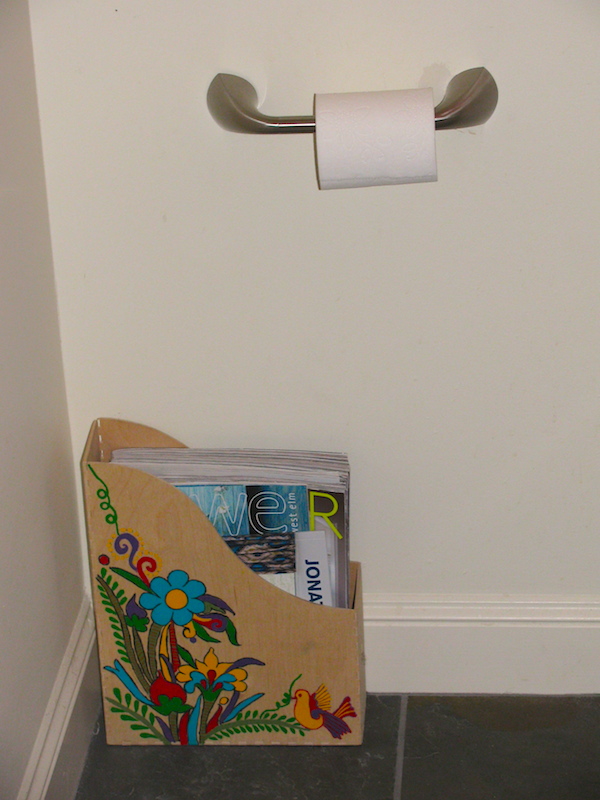 If you have a personal space in your bathroom, his or her closet, or anywhere that you can call your area, you can add personal momentos too. I have this beautiful hand sticthed wall hanging from my best friend from school hanging from across my basin mirroe where I can see it everyday in the morning.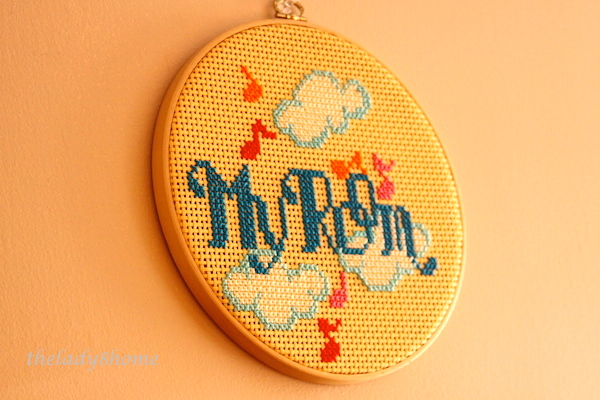 I love buying organic handmade soaps. It not only is healthy for skin and aromatic, it also adds dollops of glam factor.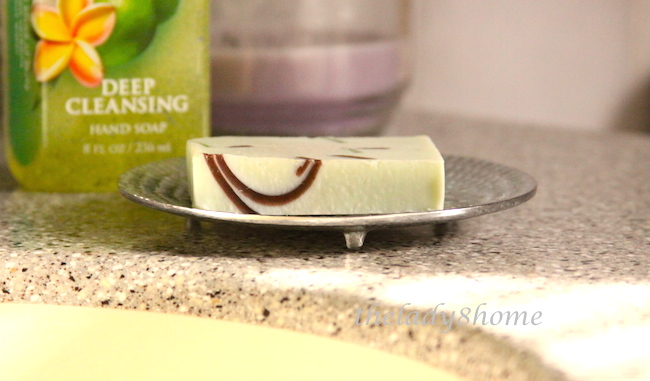 Hanging storage rack can be used efficiently for storage as well as decorative piece.
Give a pop to the bathroom by adding a great picture to the wall.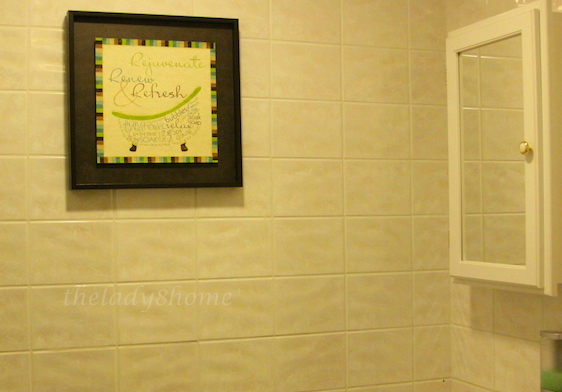 Pretty storage boxes can also add a pop as well as organize the clutter in the bathroom. In the picture below, I have used a craft cup made by my 6 year old son as a holder for assortment of make up brushes, eye and lip pencils, scissors etc.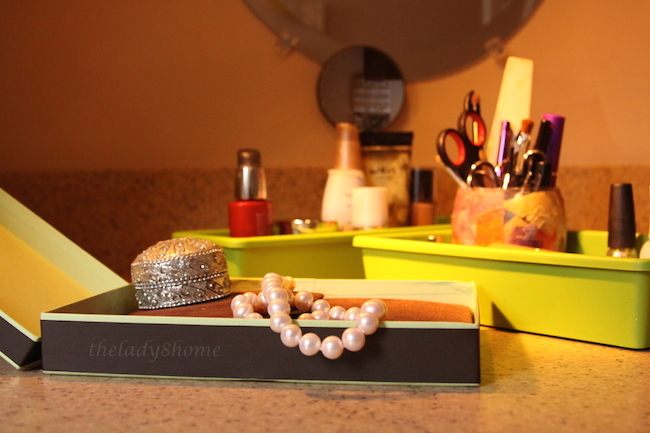 Go for decorative hanging accessories on the wall.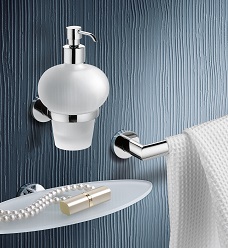 Mirrors often add glamor and space to a bathroom. The right morror, irrespective of its size, will accentuate a bathroom like nothing else.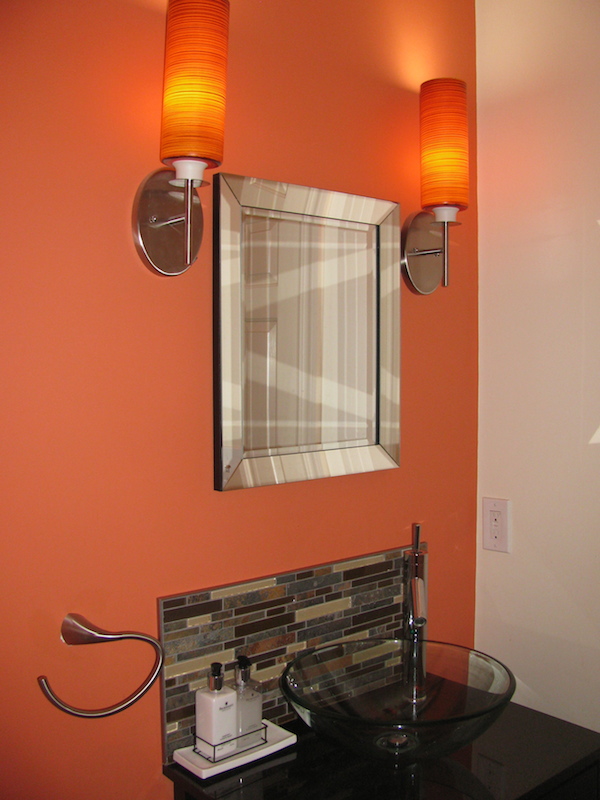 Basin mirrors are important, and investing in a new mirror can change the look of the bathroom in an instant. You can install cabinets that have mirrors. These save space, give storage and look chic.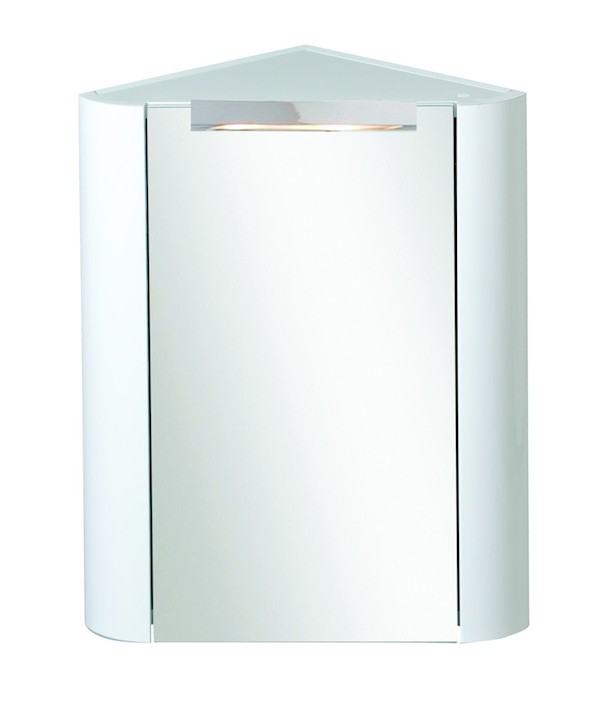 If you are open to spending a little more, invest in a great looking basin that fits your bathroom style.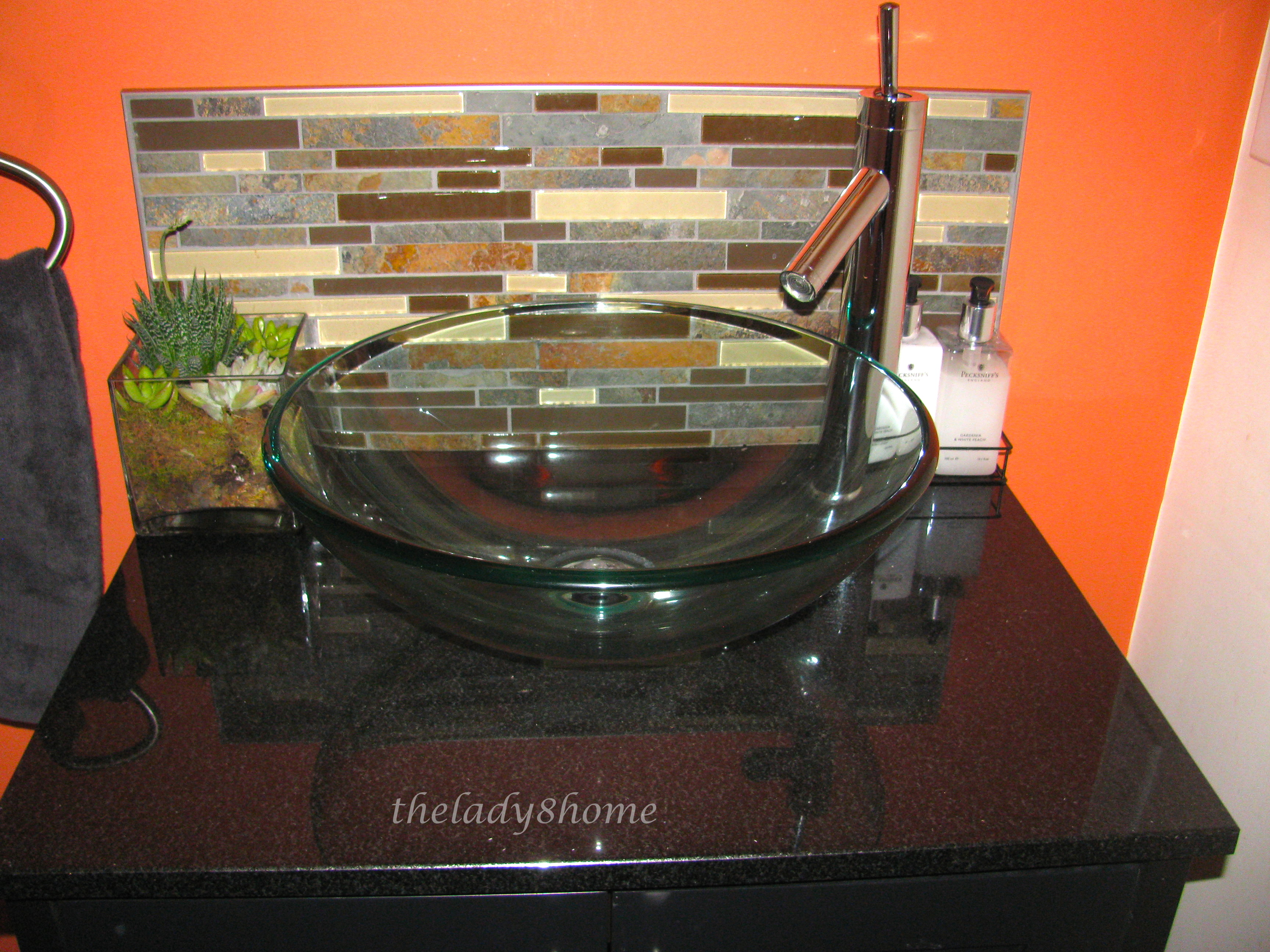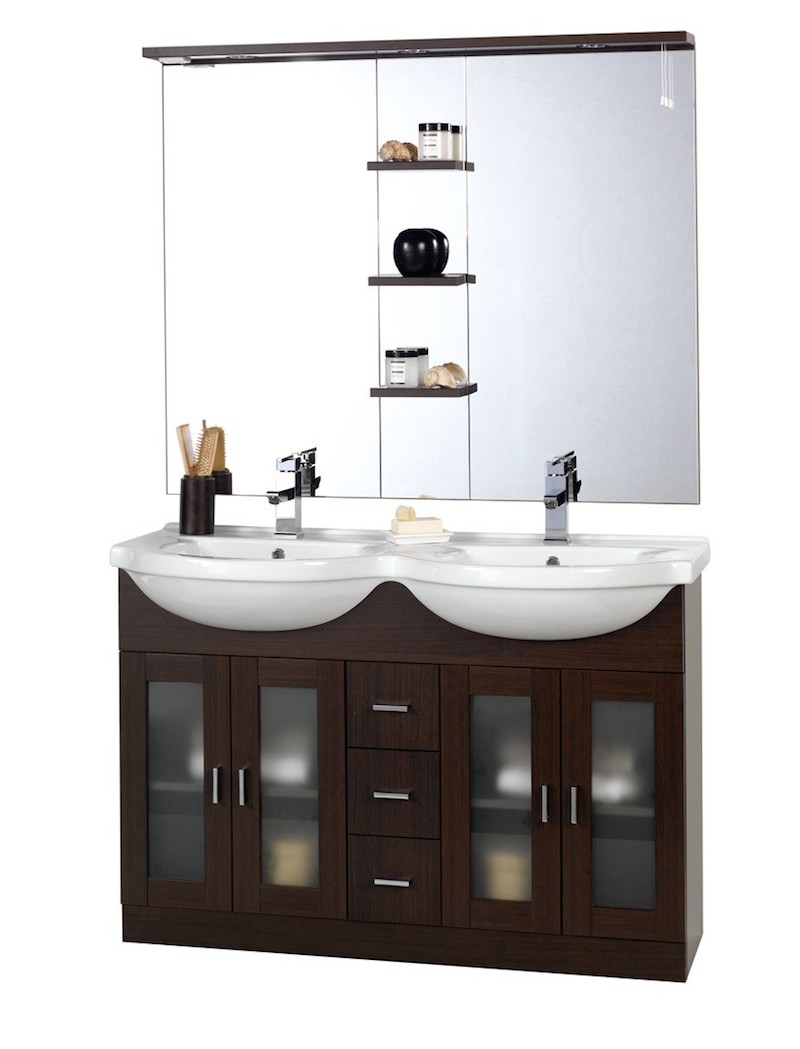 Don't forget the lights. It's tempting to put in bright bulbs all around and leave it at that. But good lighting makes a lot of difference between an ordinary looking bathroom and a great looking bathroom.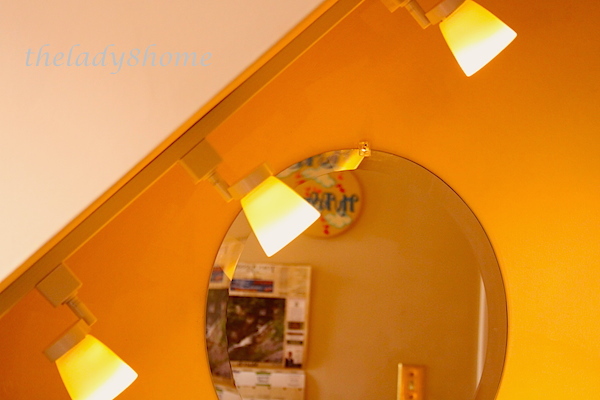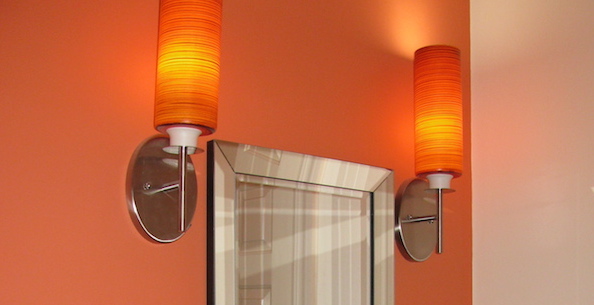 Canned lights are good a good option as they give the flexibity of focus as well as general lighting.
Bottom line is, be creative. From high end shops to thrift stores, the sources are plenty if you know what to look for.
Hopefully these tips will help motivate you to give your existing bathroom a facelift.
Do you have more bathroom ideas to share? Please put your thoughts and ideas in the comments. I would love to know your ideas.
A very special thank you a my friend Hema for giving me pictures of her basin, color contrasted bathroom and book shelf, especially clicking them and sending them over at the last moment.