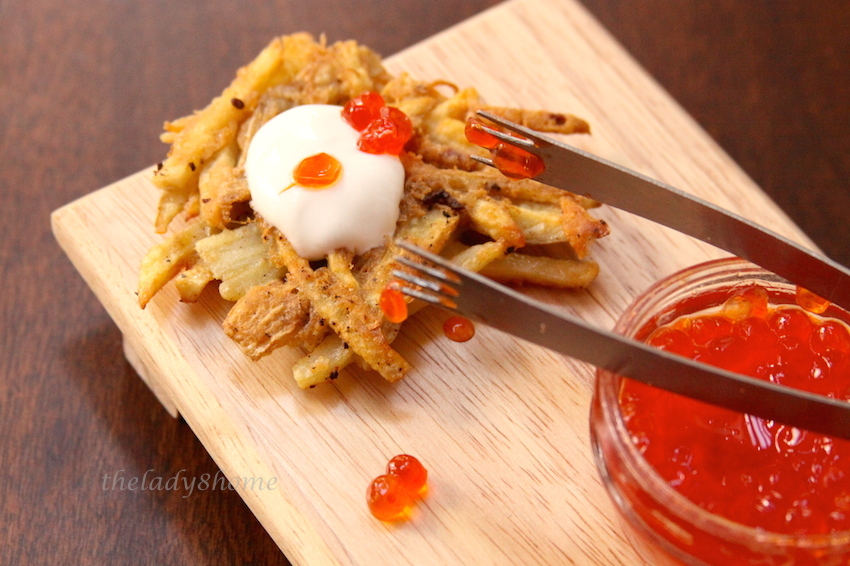 Ina Friday is back. First Friday of the month already, how time flies! This time, I wanted to try something I had never tried before. I settled for a very interesting dish that called for caviar.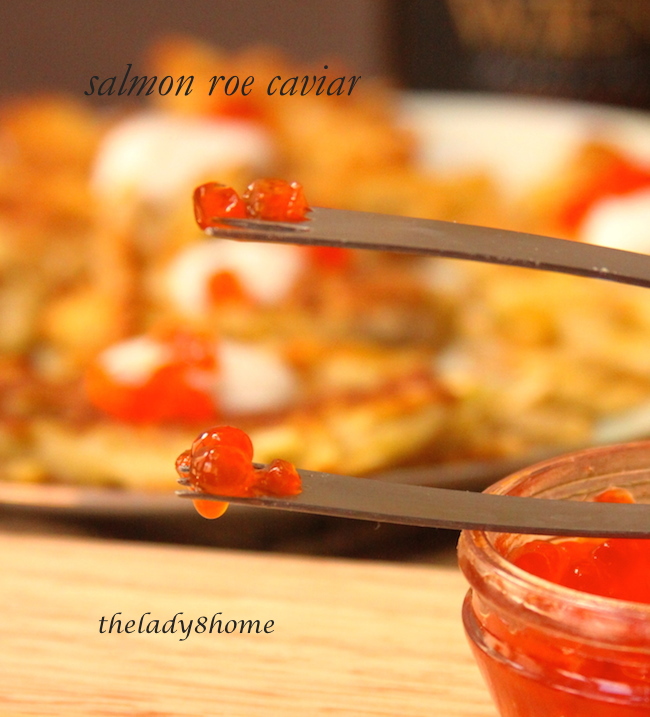 I have had very little experience with caviar. I am generally not fond of fish eggs. Being a Benagli has meant fish eggs are a prized food ingredient, but I never grew a taste for it. My family loves me when they cook fish eggs. Most end up getting more in their share, lol! I didn't have high hopes for caviar either, still, this sounded so intriguing that I knew I had to try it. After all, what's life if one does not take some risks?
My first challenge was to buy the exotic fish eggs. I searched for local stores, and came up empty. Maybe I could buy caviar online? It can be a tricky deal to search for an unfamiliar ingredient, especially when it's not something that is widely available.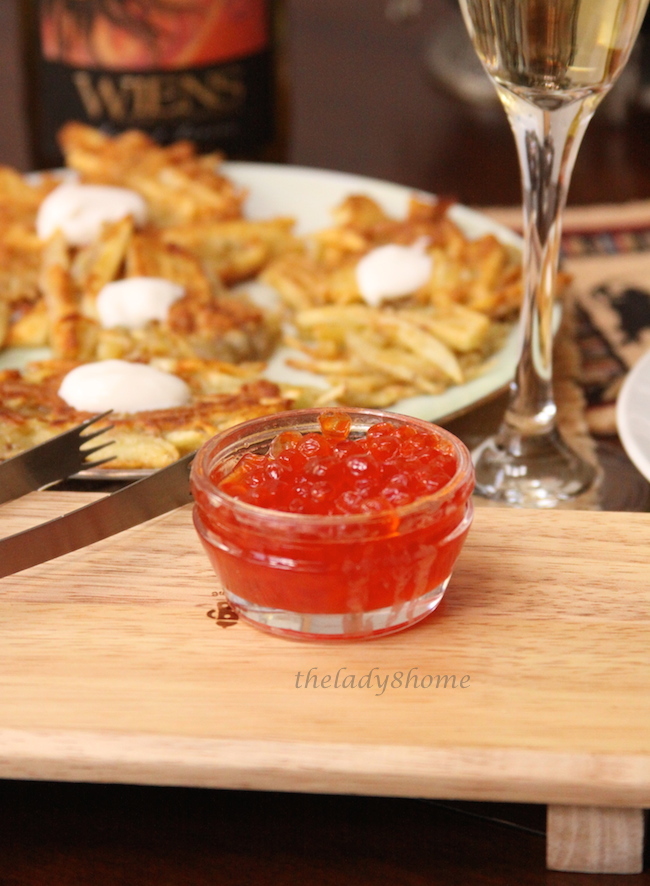 Buying caviar online can be a pretty expensive affair, though one does get great stuff. Buying local is equally expensive, but more difficult to source. And then of course there is a little matter of what kind of caviar to buy. I finally settled for Salmon Roe caviar. Not only I could get it from my local Whole Foods store, but it is the best money can buy in a limited budget, and the good part is, this is what Madamoisellle Ina suggested in her recipe.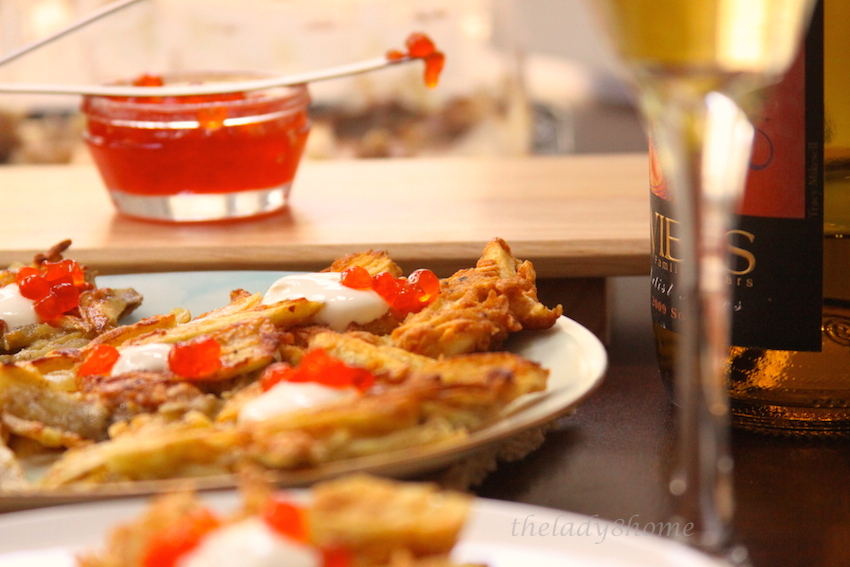 But Caviar was not what attracted me to this dish. It was the fact that it was a hash of potatoes fried in clarified butter. It is so rare to see a western chef use clarified butter as a medium that I was intrigued. And then it calls for a pairing with Caviar. This is fusion – for want of a better term – at its best. Clarified butter – or 'ghee' is widely used in India as a cooking medium. Some of the dishes call exclusively for ghee and do not taste as good when subbed with oil. Seeing it being used by Ina Garten in a caviar recipe got me all excited.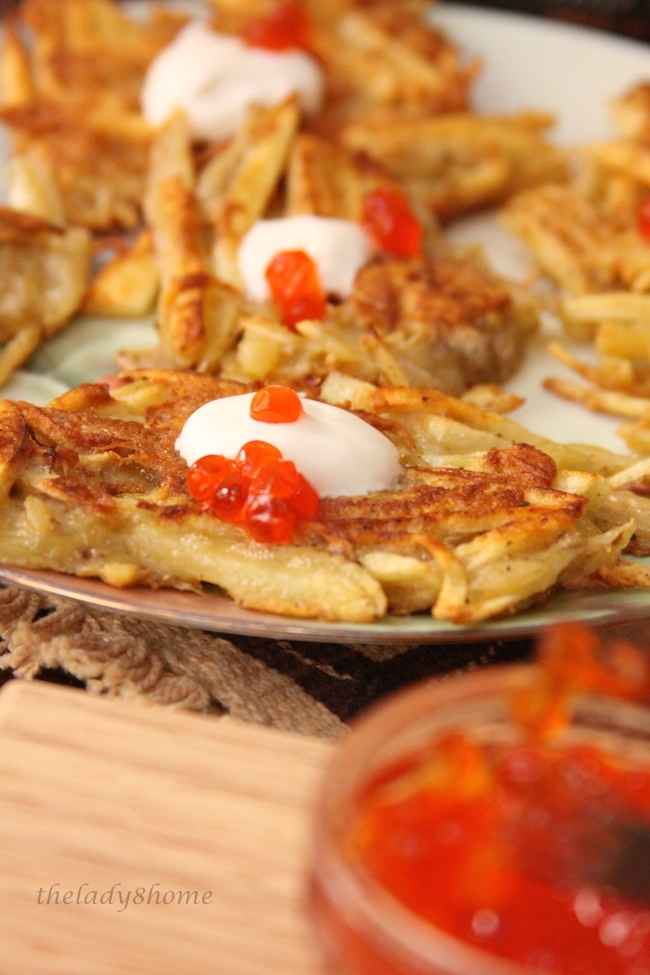 Assembling this was easy. And guess what? I like fish eggs after all. But in a caviar form. I think I am ready to do a lot more experiments with caviar from now on.
First Friday of every month, a group of exceptionally talented bloggers come together and post a recipe from Ina Garten's vast recipe repertoire. This month's theme was appetizer as you already might have guessed by now.
Check out what my fellow Ina bloggers have done this month: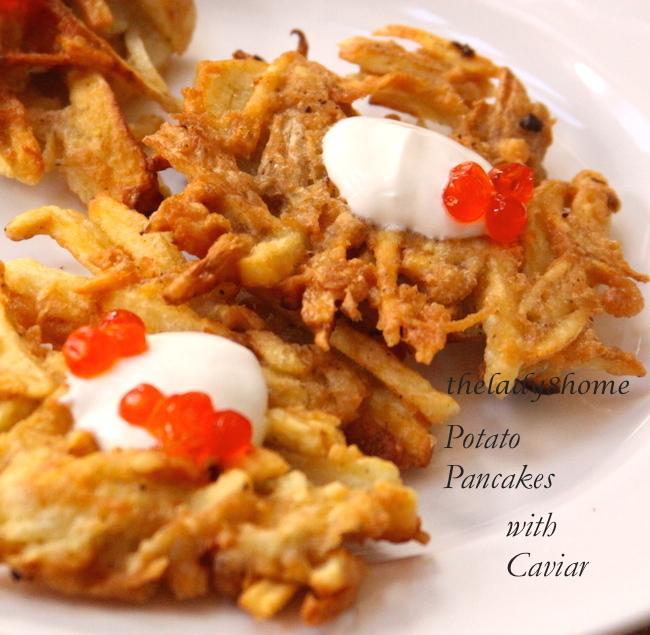 Pancakes with Caviar #InaFridays
Author:
Adapted by Minnie@thelady8home
Prep time:
Cook time:
Total time:
Potato pancakes with caviar
Ingredients
2 large baking potatoes (I took really large potatoes)
1 large egg
3 tbsp AP flour
1-1/2 tsp salt
1 tsp fresh cracked pepper (adjust according to taste)
6 tbsp clarified butter (ghee)
50 grams of good quality salmon roe caviar
2 tbsp sour cream
Instructions
Wash, dry, peel and grate the potatoes.
Using a paper towel, squeeze them as dry as possible.
Now combine the grated potatoes with flour, salt, pepper and egg.
Heat clarified butter in a skillet.
Scoop 1tbsp of potato mixture and plop in in the sizzling butter. Flatten it with a spatula and fry for two minutes. Turn it over and fry for another two minutes.
The pancakes should be crispy golden from outside, nice and soft from inside.
Serve with a dollop of sour cream and caviar.
The recipe I have taken from Barefoot Contessa Ina Garten.
!Note: I served exactly per the instructions, but I liked them more without the sour cream, just with the caviar. My son, on the other hand, loved the sour cream and caviar combo.
My younger one ate the pancakes unadorned. The pancakes themselves are delicious and also did great with green chutney.
Sigh, talk about Indianizing a palate…..