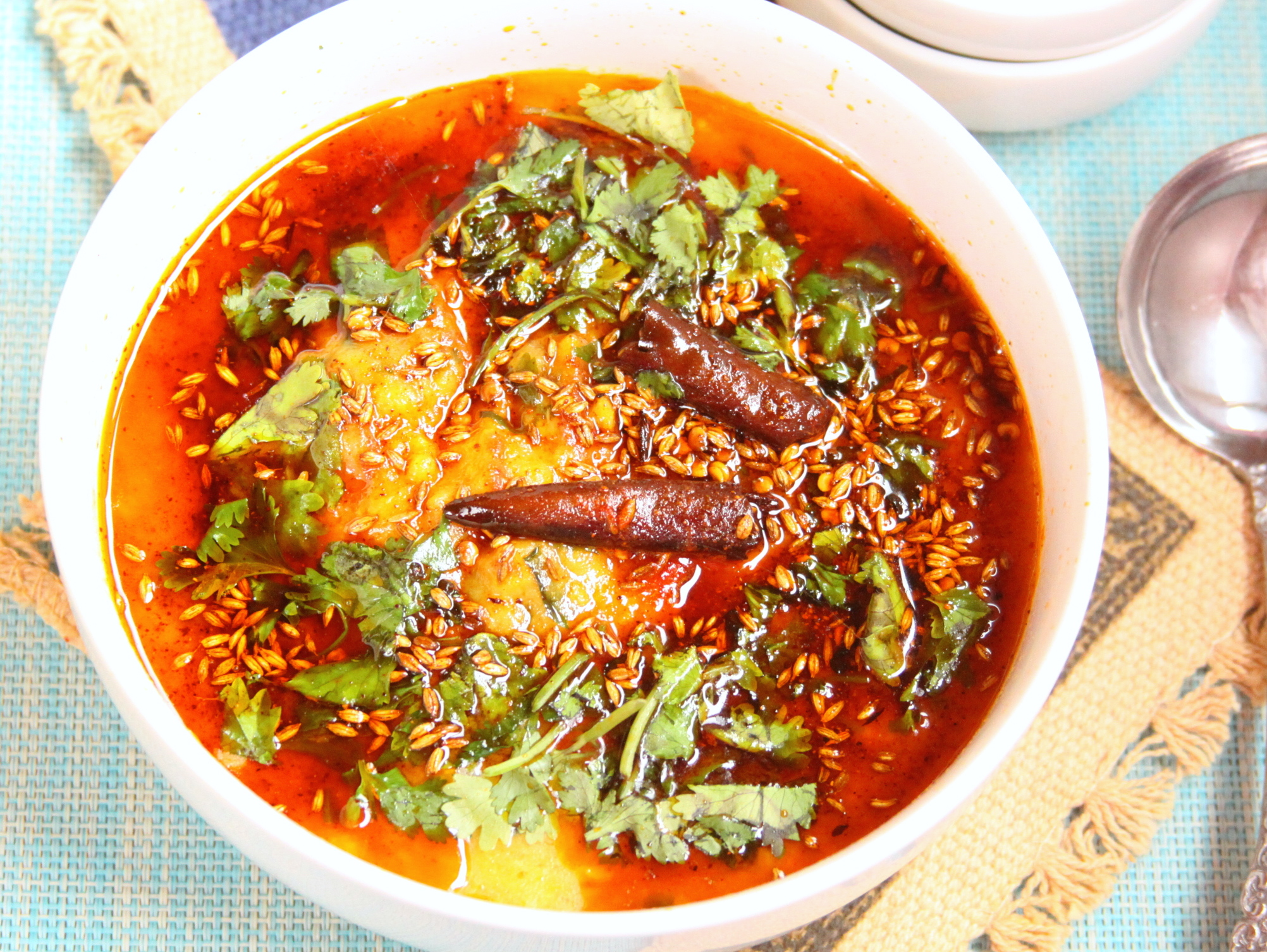 Few posts ago, I wrote about how to make 'roti/chappati' at home. I posted a picture of dal tadka there with a promise to come back with the recipe.
Thing have been on the crazier side since. Not that it never is, but a bit more so as hubby is out of country visiting his sister, my beautiful sister-in-law Shundori in Dubai. As a result, a lot of my time goes in Skype, as I don't want to miss out on any of the juicy fun conversations that a family reunion always has.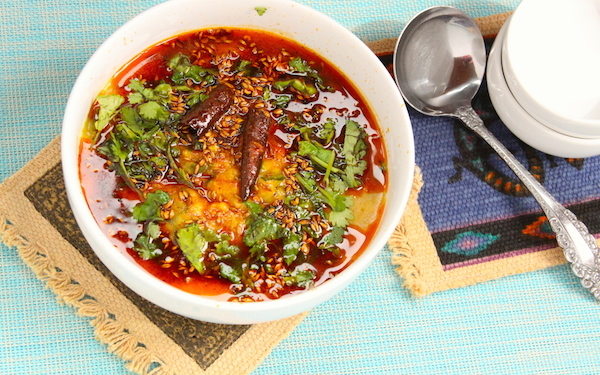 Combined with my trying to settle down in a new job, and my sons' Spring vacation, my hands have been rather full. Good thing is all the Sports activities have been put on hold due to the vacation, Easter and Passover, and hence a bit of a breathing space as I don't have to ferry them much on top of everything.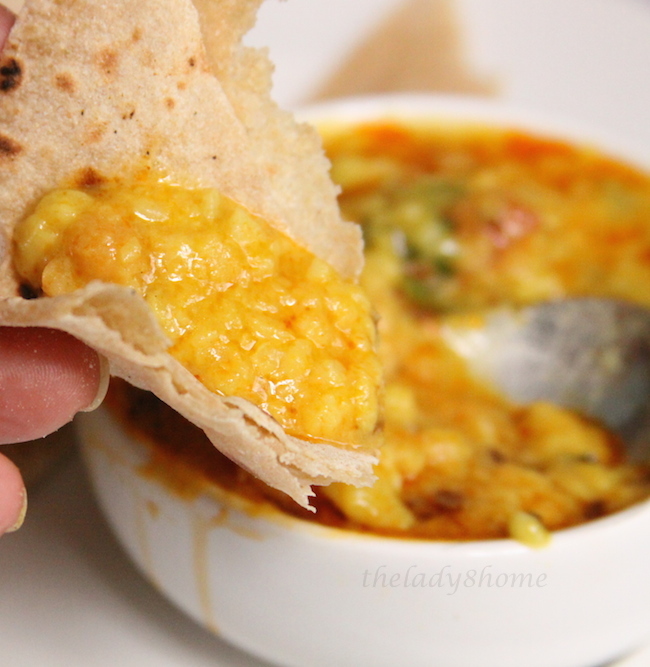 We did catch up 'Captain America and the Winter Soldier'. It's a lovely movie, and Captain America, all of 95 years, is a true eye candy. Is something brewing between him and Black Widow? While their 'kiss' was possibly the most uninspiring one filmed in the entire series, Black Widow and Captain America's chemistry sparkles. I must say they do look cute together.That would be interesting. The story wasn't bad either, and the 'Winter soldier' looks rather sexy. However, I missed Stark. While he was mentioned at least half a dozen times in the movie, surpisingly he wasn't called even when one of the greatest hack of the computer system was taking place. Hello? Shied's computer gets compromised and Stark is no where to be seen? A bit far fetched. But I guess our dear Iron Man has a way of taking over the entire movie the moment he walks in, so they probably thought to let Captain Rogers do everything that could possibly be done.
All in all an enjoyable Mon and sons evening. Go catch the movie if you are a fan of eye-candies/soft thrillers/sci-fi/superheroes/gorgeous-hunks/jaw-dropping stunts/ etc.
Did I mention I did a Pampered Chef party in the midst of all this? That's coming soon.
Meanwhile, this dal is relatively an easy one and delicious to boot.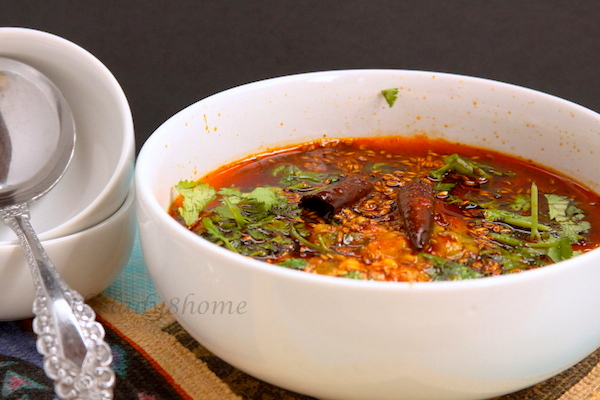 It's authentic Indian too. One can find this dal at the road side eateries lined up by the roads of northern India. Thes little informal eateries make piping hot food right in front of you and honestly it's the best Indian tasting food one can get.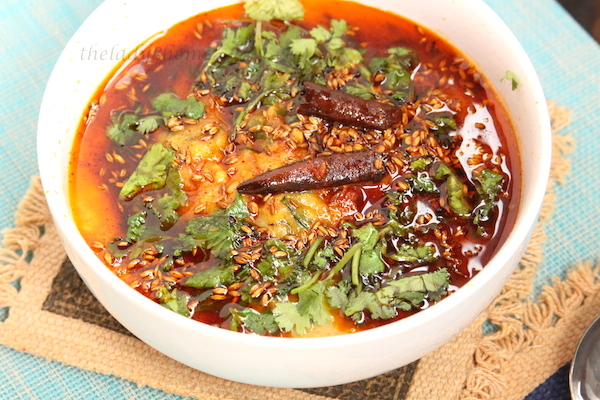 Dal Tadka
Author:
Minnie@thelady8home
Ingredients
¾ cup Mung beans
¼ cup Toor/Arhar beans
1 tbsp chana beans
1 large tomato chopped fine
1 tsp turmeric
1¼ tsp salt
1 tsp oil
1 stick cinnamon
1 bay leaf
1 tsp ghee
Tempering
¼ cup oil (or about 4tbsp. You can add less and it's fine too)
2 dry red chilies
1 heaped tsp cumin seeds
a pinch asaphetida (hing)
1 heaped tsp red chili powder
Instructions
Wash and soak the chana dal for 30 minutes
When ready to cook, drain the water. Wash tuvar and mung beans too and keep aside
In a pressure cooker, boil the dal with turmeric, tsp oil, salt and 3 cups of water. Before putting on the lid, let the dal start boiling. When the scum forms, skim and throw it and then put the lid on. Pressue cook for 5 minutes and let it cool.
Release the pressure, and check if the dal is soft if not, cook it for another 3-4 minutes. The dal should be soft but not gooey.
In a separate pan, heat ghee and add bay leaf and cinnamon stick. Pour dal. Add the remaining cup of water and bring it to boil. Add chopped tomatoes and cook till soft. Garnish with coriander leaves.
Temper:
In a laddle, heat 2-4 tbsp oil (I used about 4, or ¼ cup because, well, sinful food is that, sinful). Add the red chilies and let them darken. Then add asafetida and cumin seeds. Swtich off the flame and now add the red chili powder. Mix well and pour the oil all over the garnished dal. It will make a crackling noise. Cover and keep for one minute and then serve.
Note: If you don't have presssure cooker, don't fret. Boil the dal in a deep pan for about 1 hr minutes on the low, and make sure you keep removing the scum that rises on top. Stir and mash the dal every 15-20 minutes and add water if needed.
Note: The red chili powder should be added after switching off the flame while tempering. That will help retain its color and flavor.
Note: Many people don't season it before tempering but I prefer it that way, else I find the taste of the dal too 'boiled' for lack of a better description.