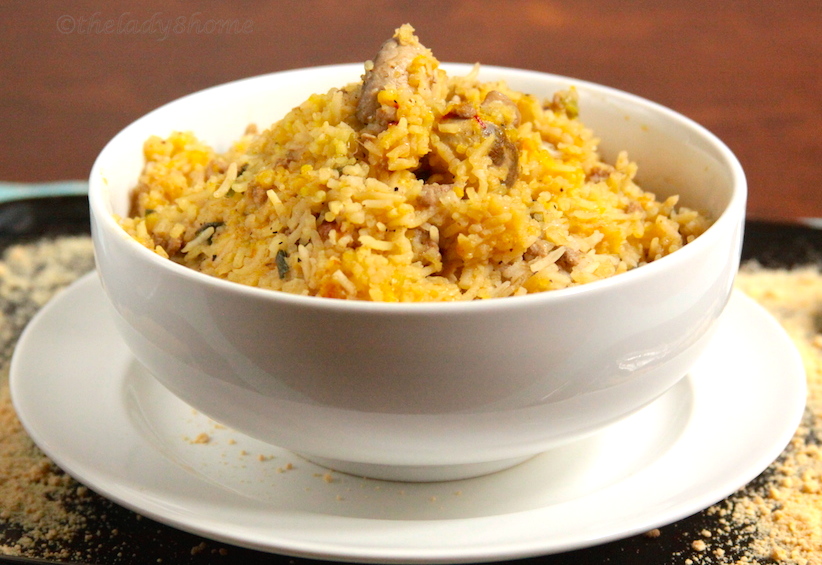 I have no salt at home. I have been planning to buy some for a while, but somehow it is escaping me. How do I run out of salt you ask?
Well, to stretch a short story long, I keep my pantry double stocked. Always. Which means I always stock up on everything. That includes salt. I always have one bottle extra when I open a new one and I immediately replace it. Sometimes, it means I buy too many. And then, at others, I get mixed up thinking I have it in the pantry when in reality I have run out.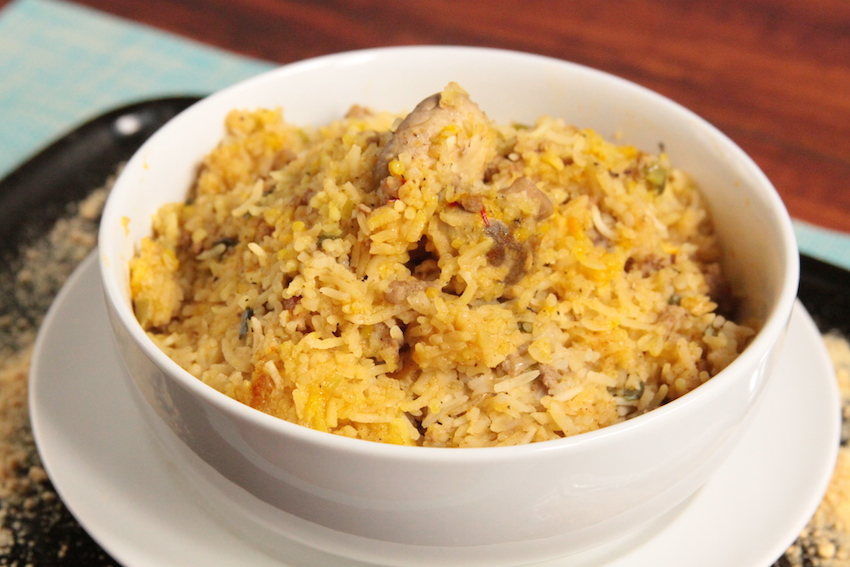 But because I tend to be such a forgetful person, I have a back up even for that. I stash away little bottles of non perishable stuff in tiny bottles that I dig out at such times. So I dig out one such tiny bottle with about 2 tbs worth of salt in it. By this time, 'I have run out of salt' has been repeated so many times that it is now seared in my brain. I don't even have to put it down on my list.
Which is a good thing because while I didn't have quite a few ingredients that could possibly be replaced, this risotto recipe could not really do without salt. This is a quick Ina Garten recipe, which I picked because I love mushrooms, love risotto, it's quick to make, and I figured I could make, click pictures, eat and post, all in a day's time (not really, turns out I couldn't). My little one was home sick, so it also looked like the perfect lunch recipe, but a quick one at the same time so that I could finish up my pile of (office) work for the day as well (which I did).
However, keeping in mind the ingredient restrictions that I had, I made some drastic changes.
For the original recipe, please click here. For my mauled adapted recipe please keep reading.
This recipe calls for wild mushrooms, which unfortunately I didn't have. But I did have lots of button mushrooms, so I used that instead. Also, I skipped the wine part completely and went with the chicken stock. My son's bowl had lots of parmesan, mine had none. But the biggest change was that I replaced pancetta with ground pork.
I don't know how much the taste would differ from the real one, but this came out pretty good.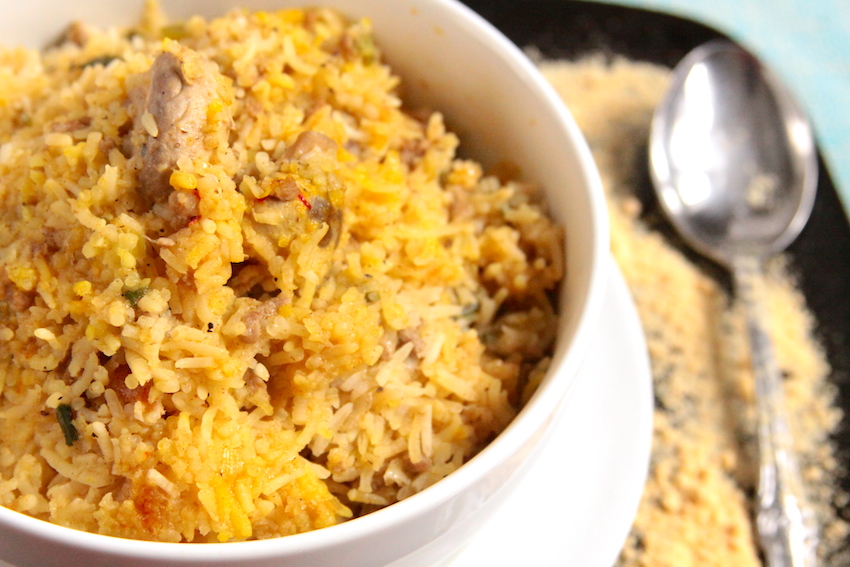 It even passed the most difficult test with flying colors….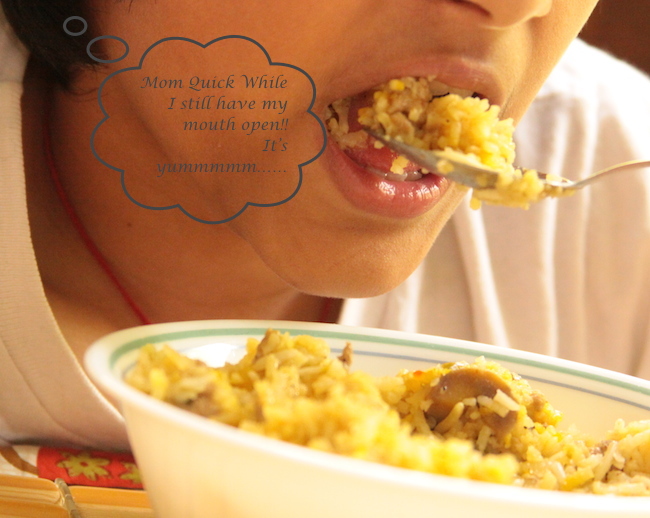 I added a generous dollop of saffron strands and that not only gave a great color, but also gave an awesome aromatic flavor.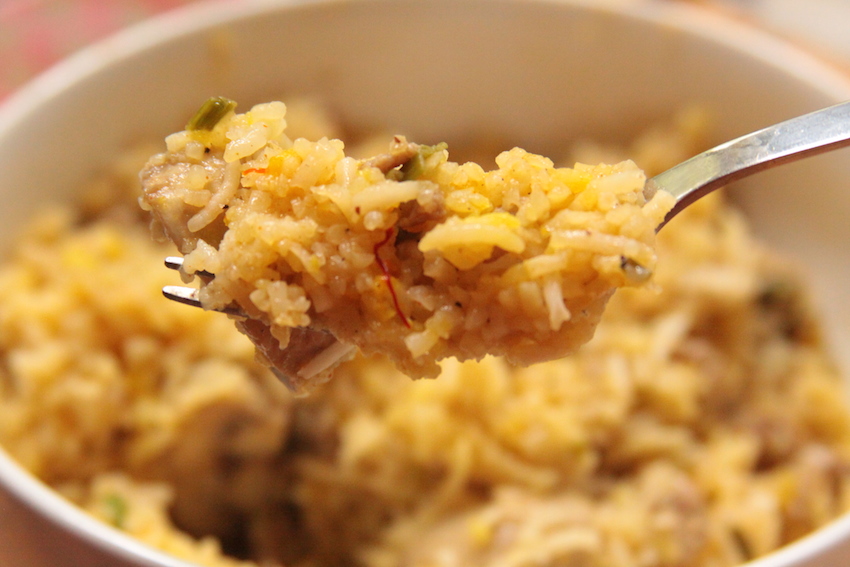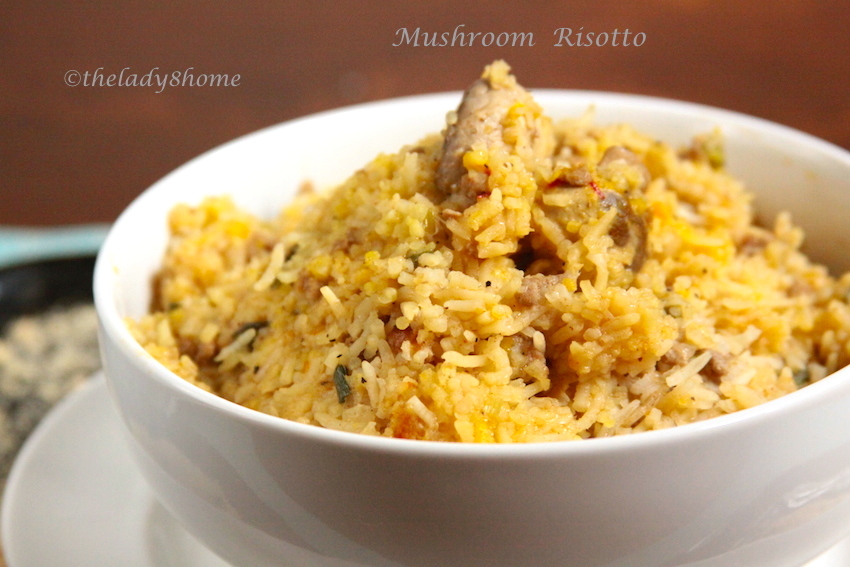 Mushroom Risotto
Author:
adapted from Ina Garten's wild mushroom risotto
Ingredients
1 cup basmati rice
½ cup ground pork (or chicken)
2 cups mushrooms of your choice
2 tbsp butter
½ cup chopped shallots
½ cup chopped spring onions
½ tsp paprika
3 cups chicken stock
fresh cracked black pepper
½ cup parmesan cheese
Instructions
Wipe the mushrooms clean and cut them into halved or quarters
Heat butter and saute shallots. Add spring onions.
Add the mushrooms and toss around for 2 minutes.
Add ground meat
Stir well and cook till mushrooms get a glaze and the meat looks browned.
Put in paprika and salt.
Add rice, stir some more
Pour in chicken stock.
Bring to a boil and then cook the rice for 20-30 minutes till done. You can add a bit more stock to make it a bit more mushy.
Add cracked pepper and parmesan cheese (optional)
Serve hot
Now my fellow Ina bloggers:
Alyce @ More Time at the Table
Anna @ Cheese with Noodles
Ansh @  Spice Roots 
Barbara @ Moveable Feasts  
Bhavna @ Just a Girl From AAmchi Mumbai..
Linda@ Tumbleweed Contessa
Mary @ The Egg Farm
Mireya @My Healthy Eating Habits
Patti @Comfy Cuisine
Peggy @Pantry Revisited
Rocky Mountain Woman @Rocky Mountain Woman
Veronica @ My Catholic Kitchen