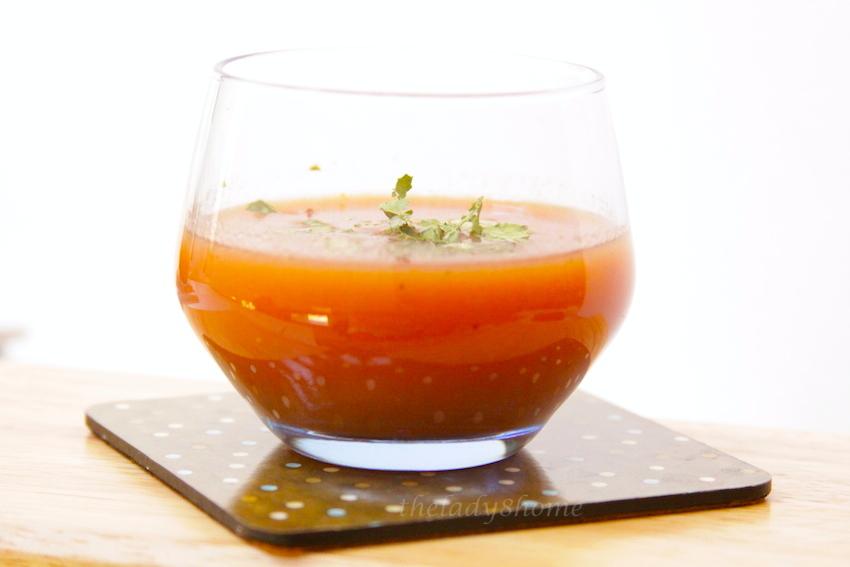 Recently, I was writing a long, detailed, rubble rousing email to our broker in California who was entrusted with the responsibility of selling our house back there and was making a mess of it. We were frustrated, and wanted something to move.
After I wrote a long drawn, crabby email, I sat on it for a while. I had vented out what I wanted to say, and now was doing a tread back. Should I send it? It didn't look right, but didn't know what else to write.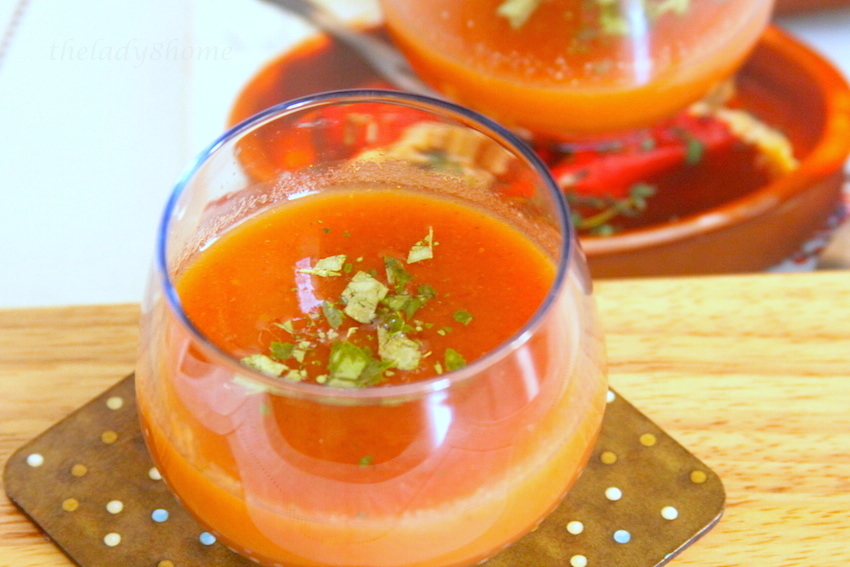 Mr L8H came over to where I was sitting and hammering away at the key board, paused, and then asked what was I doing. "You are writing that history paper to them? Keep it simple woman.'
Keep it simple. There. That was it. I reflected on what I really wanted to do, and realized that considering what was going on, my hubby and I had discussed about changing our realtors.
So I decided to keep it simple.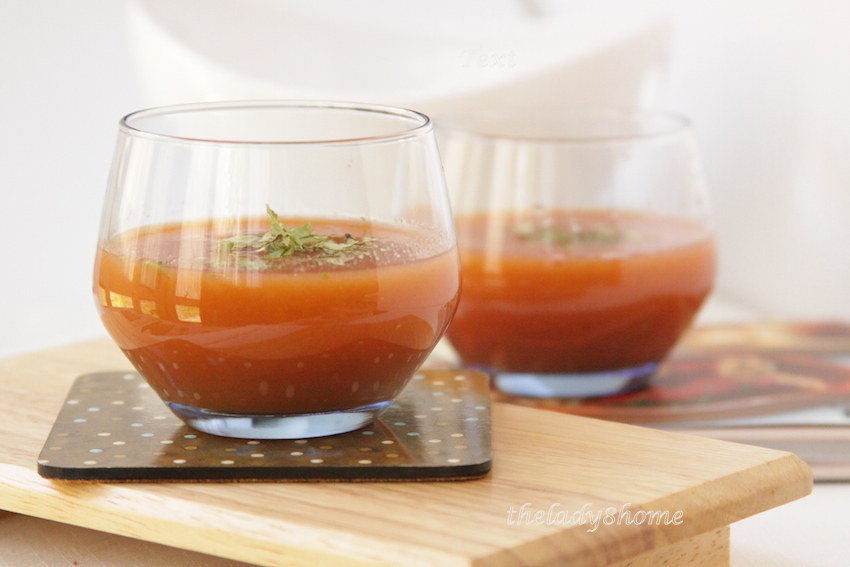 We now have a great realtor who are doing an amazing job of promoting the house.  If anyone looking for a house in a picturesque city of Southern California that has a stupendous school system and amazing panoramic view with a backdrop of wine country (2 miles from our house, no kidding), do email me.
That's the view from our street.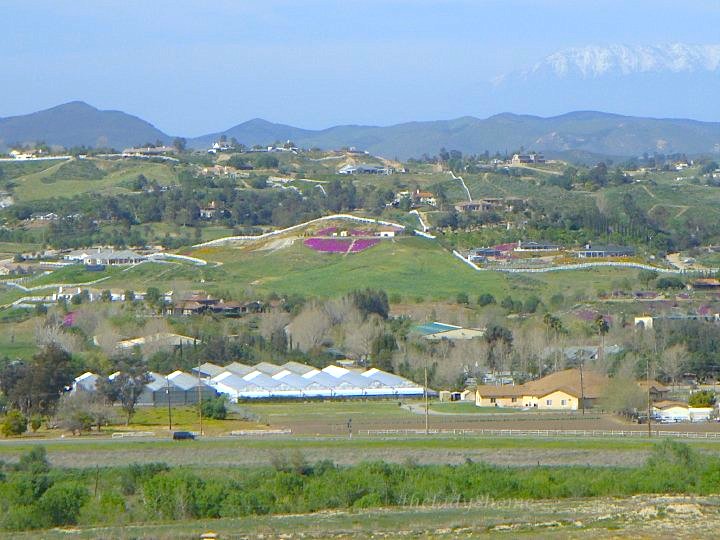 The mountains – we can see the tips of Big Bear and Idlewild.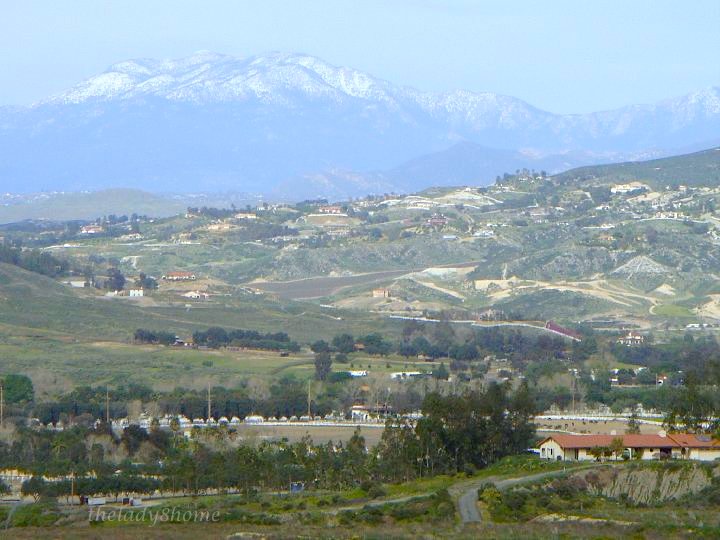 We also happen to live possibly on the best street in the neighborhood, across from a beautiful, large park complete with tennis court and dog park, and state of the art club house (with an 4 pools, one of them Olympic size) and of course, the house itself is beautiful. Just not getting the right buyer (looks like it's not hard to get a buyer, just the 'qualified' ones).
Here is a virtual tour of the house we loved and lived for a few years. Message me if you know someone house hunting in Southern California. In case you are interested, it also makes for a great investment property.
Used to live that is. Now we are in East Coast, and we miss all of that dearly. Though New England summers are beautiful, so no complaints there at present 😀
Keeping it simple in life can weed out a lot of stress. Much like this little glass of simple gazpacho. Simple, and yumm.
I picked this recipe up from a random tapas book I picked up from a thrift store. It's called 'tapas'. It has little gems from Spain and some truly easy recipes that can be whipped up in minutes. Unfortunately it is one of those publications that don't give author's names.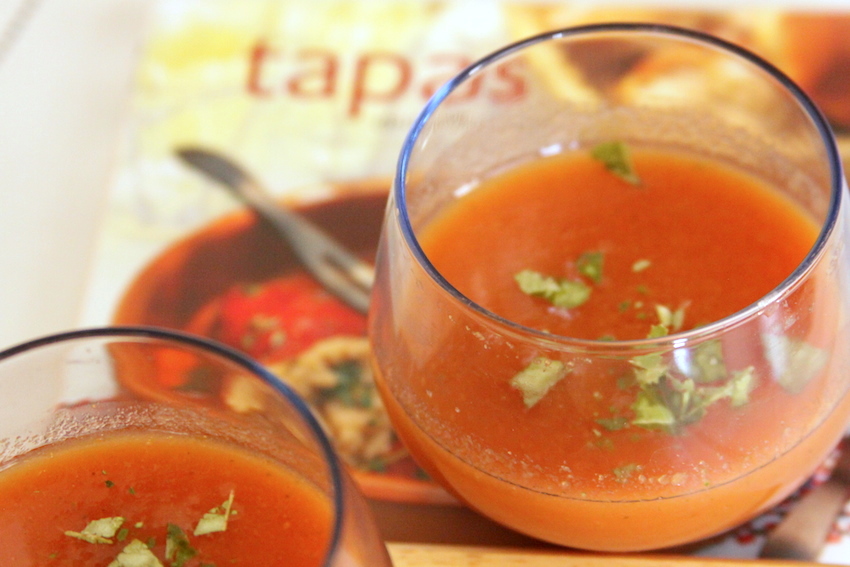 I made a small change in this recipe. Instead of cucumbers, I added some dried curry leaves crumbled for a spicier effect. While the cucumber recipe gives more of a cooling effect with more body, curry adaptation gives a kick resulting from a beautiful blend of garlic and red wine vinegar. I will give the original recipe here, with the changes that I made as notes.
Curry leaves are also called 'sweet neem leaves'. Fresh and green, they add the punch in most South Indian dishes that one can find in popular joints anywhere. These grow in tropical climate, so mostly they can be bought in dried form in most Indian stores. I have found them sometimes in local groceries under Asian section, but not in abundance. Wikipedia says: , "A 2011 study of girinimbine, a carbazole alkaloid isolated from this plant, found that it inhibited the growth and induced apoptosisin human hepatocellular carcinoma, HepG2 cells in vitro."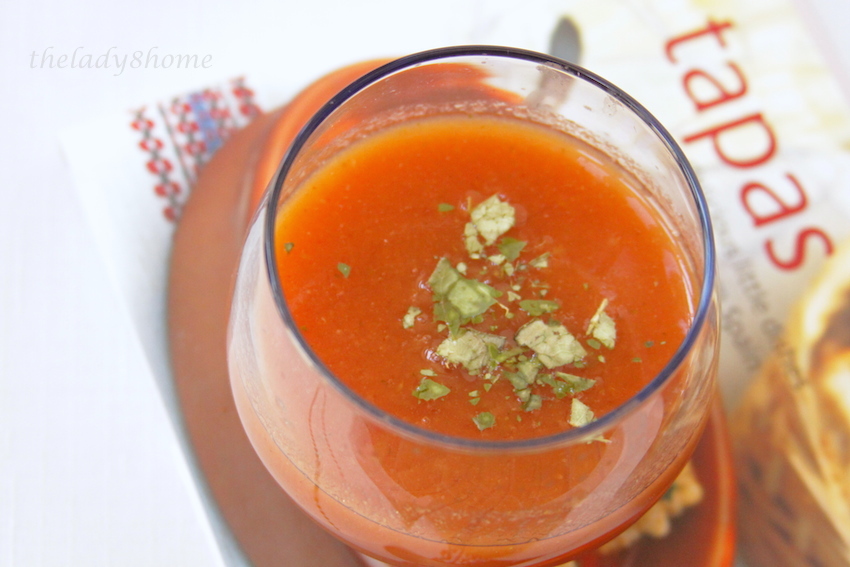 Gazpacho with a herb twist
Author:
Minnie@thelady8home
Ingredients
1 garlic clove
1 slice white bread, crusts removed
4 ripe juicy tomatoes, skinned and seeded
1 tbsp grated onion
/4 small cucumber, peeled, seeded, cubed plus extra to serve
1 tbsp Spanish red wine vinegar
2 tbsp EVOO
1 tsp sugar
sea salt and cracked black pepper
My addition: few crumbled curry leaves
Instructions
Grind the garlic with a pinch of salt in mortar and pestle
Put the bread in a saucer with a little water and let it soak for a few minutes. Squeeze the extra water out but don't make it dry.
Now put the ground garlic, bread, tomatoes, onion, cucumber, and vinegar in a blender and puree till smooth.
Keep the motor running (on low if you have the setting) and add the olive oil in a slow and steady stream (I do it through the opening in the lid of my blender).
Add sugar, pepper and salt to taste.
Strain the mixture into a bowl, and adjust the seasoning of salt, pepper and vinegar if needed.
Chill for 6-8 hours.
Serve in small glasses with little chopped cucumber on top.
Note: For my change, add a few dried curry leaves when blending to the mixture, and increase the amount of cucumber a bit while blending. Serve with crumbled curry leaves on top.
If you liked the post, please share it and spread the love.