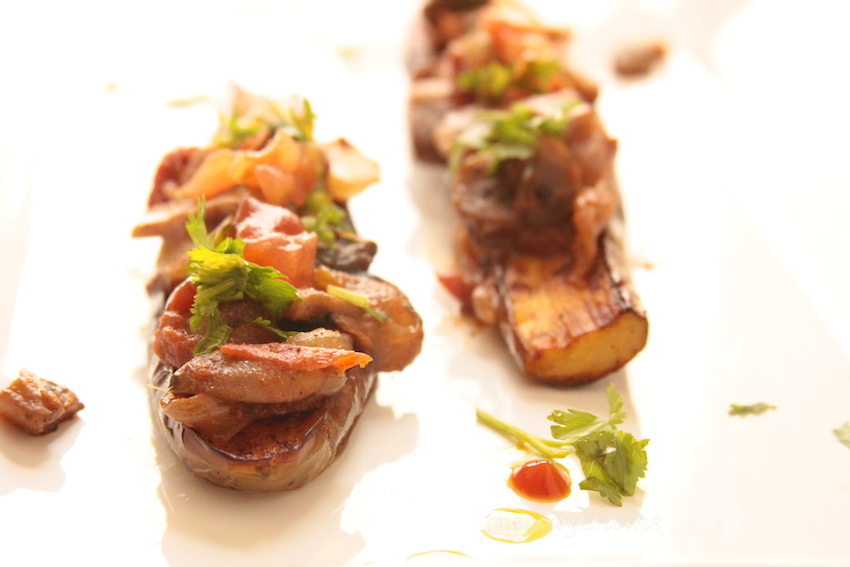 Once I worked with a really nice gentleman who was also social and a very cordial person. He was by nature helpful, and it was fun to work with him because he was always so positive.
Whenever anyone spoke with him, he gave them his undivided attention, listening to them with a rapt expression – and a twitching face. Now, whenever he concentrated on anything, his whole face would start twitching, especially his eyes, his face taking on a weird kind of lavicious expression.  Many people would get taken aback, even quit looking at him, their discomfort evident, while the poor guy was blissfully unaware of all the muscle gyrations going on in his face.
I don't know where he is today, but I hope this small drawback didn't hold him back from realizing his potential.
Today's dish is where the eggplant truly realizes its potential of being a terrific vegetable that's soft, succulent and versatile, rightfully deserving of its title of 'king of vegetables' (In India of course, but hey, this is an Indian recipe, so I guess it counts 😀 ). It's a simple dish, made to look great just by the way it's presented.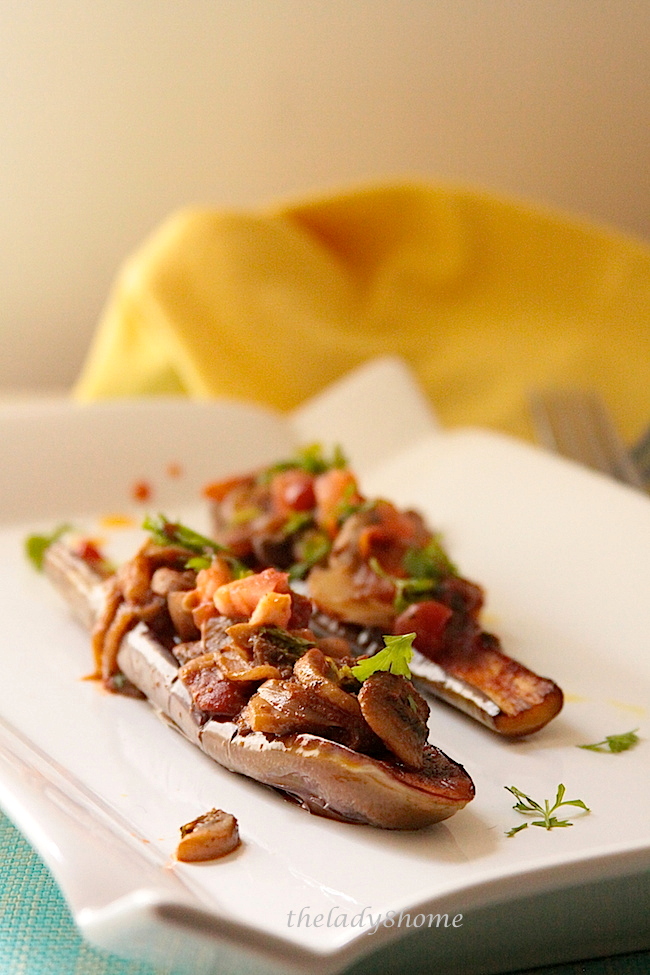 Instructions:
Slice mushrooms fine. Toss them around in salt and fry them in a tbsp oil. Slice chinese eggplants into halves. Marinade them with salt, turmeric, sugar and some oil. Keep aside.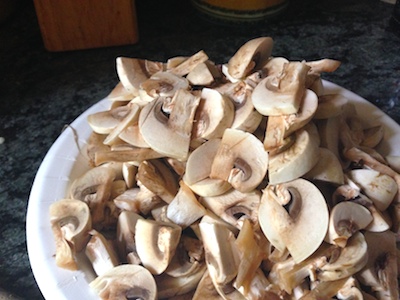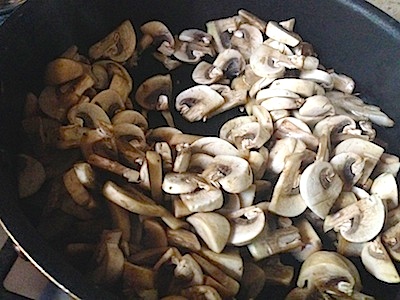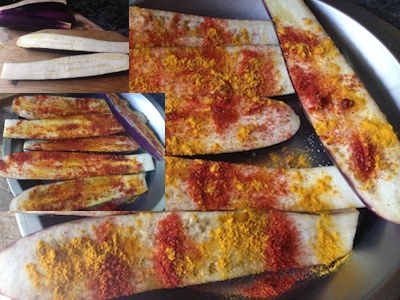 In another pan, heat 2 tbsp oil, and fry onions. Once they soften, add ginger garlic paste. Add tomatoes and cook till soft. Put in coriander powder, red chili powder, 1 ts vinegar, 1 tsp of garam masala powder.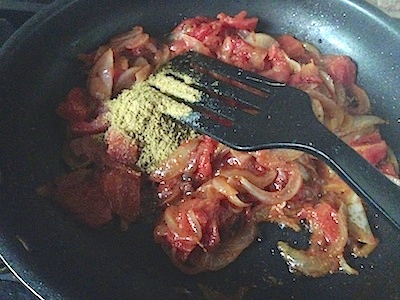 Add the mushrooms, and whipped yogurt and cook till done. You can also add kasuri methi (optional).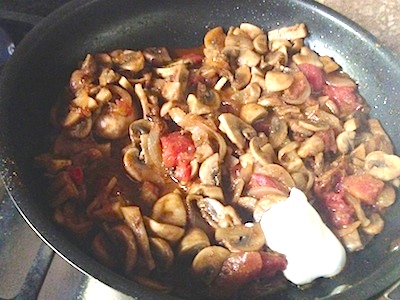 Heat some more oil in a non stick pan, and fry the eggplant slices till golden. Drain the eggplant, and lay them on a plate. Soak excess oil with a paper towel. Spoon on the mushroom mixture and garnish as you please.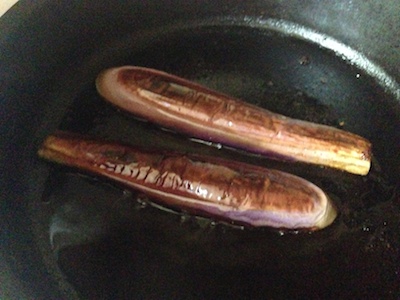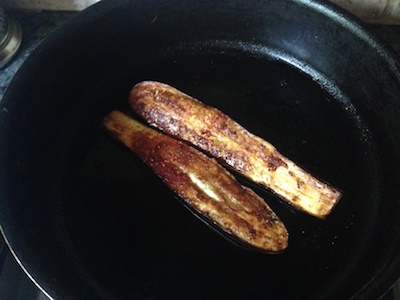 Serve hot.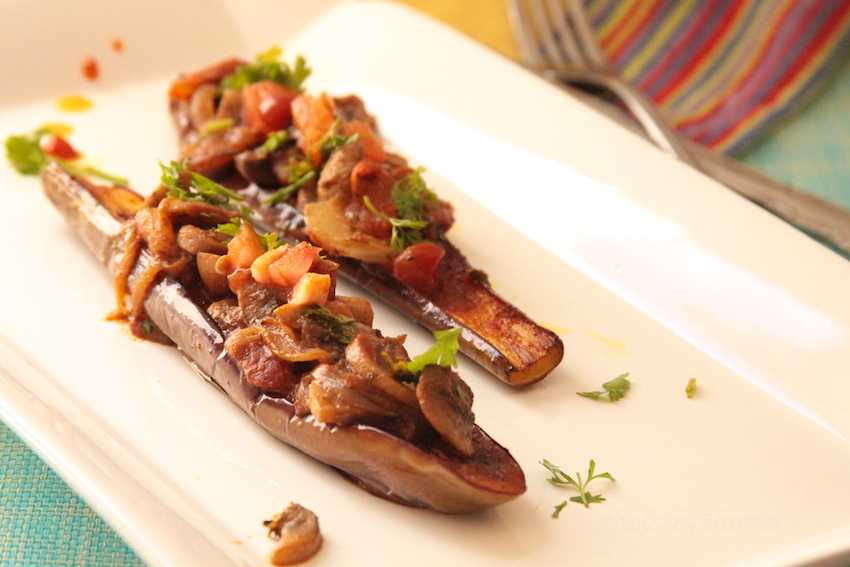 Eggplant mushroom boats
Author:
Minnie@thelady8home
Ingredients
Marinate: liberal sprinkling of salt, turmeric, red chili powder, sugar, oil
4 cups mushrooms (200gm) thinly sliced
2 cups onions sliced or grated
1 cup tomato cubed (or pureed)
1 tbp ginger garlic paste
red chili powder
1 tsp vinegar
1 tsp garam masala p
1 tbsp whipped yogurt
sugar and salt
1 tsp kasuri methi (optional)
Instructions
Wipe the eggplants with a damp cloth, cleave them into halves. Apply the marinade and keep aside.
Heat 1 tbsp in a pan and fry the mushrooms on high heat. Once they brown, remove and keep aside (you can add salt if you want).
In the same pan or a different one, heat some more oil and fry the onions. Once soft, add ginger garlic paste.
Once the onion starts turning golden, add tomatoes and cook till soft.
Add coriander powder, vinegar, red chili powder, garam masala powder.
Add the mushrooms.
Cook till done and oil starts floating.
You cna add kasoori methi at this point (optional).
To cook the eggplant:
In a frying pan, heat 2-3 tbsp of oil and shallow fry the eggplant till they are golden on the inside.
To serve:
Pat excess oil off the eggplant, line them on a dish and pile mushroom on top. Garnish with cilantro, ketchop, grated paneer or any other topping of your choice.
Serve hot.
This is a vegetarian recipe, and goes very well as an appetizer, or served in the main course with roti, naan or rice. A few things to note:
The eggplant needs to be young and firm. Look for the ones that are shiny, clean, light and free of blemish. If an eggplant feels heavy, it might mean it is full of seeds and the flesh is dense, older, and it will be bitter and leathery. If it has brown spots, then it will not cook well and parts of it will coagulate, almost making it inedible.